Commentary
Bell: Alex Smith looking strong, but not smart
49ers quarterback Alex Smith had his season cut short last fall because of a shoulder injury. The natural question coming into training camp this year was whether Smith's shoulder had recovered enough from offseason surgery to position him to lead the team this fall. Well, the answer to that question appears somewhat complicated.
[+] Enlarge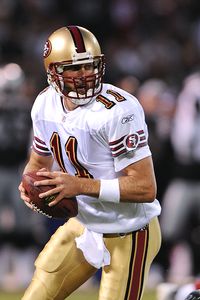 Kyle Terada/US PresswireAlex Smith is trying to come back from surgery and live up to his No. 1 status.
Smith suffered a Grade III shoulder separation in Week 4 of 2007, which means he disrupted the ligaments that anchor the acromioclavicular (AC) joint. The AC joint is where the most lateral point of the shoulder (the acromion) meets the collar bone (clavicle). This injury is common among quarterbacks because they constantly are being thrown or driven into the ground, with the point of impact being directly over the AC joint. The amount of separation is determined by the extent of ligament damage. A Grade III, or complete separation, is a complete disruption of the ligaments that support the AC joint. It often is initially treated non-surgically, unless pain or dysfunction prevents the athlete from returning to his prior level of competition (as was the case with Smith). Surgery is performed with the goal of stabilizing the joint, but the primary challenge for a throwing athlete after surgery is regaining adequate mobility to throw effectively. In addition to restoring normal motion, the athlete also must regain strength in his shoulder girdle. Smith had his surgery performed by Dr. James Andrews in Birmingham, Ala., and has been working his way back in rehab ever since.
Smith clearly has regained his shoulder mobility. His delivery is over the top of the shoulder, no matter how long the pass, so regaining that motion is particularly critical in his case. Although Smith recently has indicated he still is working on his arm strength for the deep ball, it certainly appeared in Sunday's practice that he could toss the ball down the field. If Smith felt the deep passes required more effort, it was not obvious. That's the good news. The less-than-good news is that Smith appeared to still be struggling. The limitations I observed appeared to have less to do with a shoulder that was recovering and more to do with decision-making and finesse. For instance, Smith delivered a couple of nice long balls on the day but seemed to struggle with the middle-distance passes. He appeared reluctant to give up the ball at times, situations that might translate into sacks in games.
The quarterback situation in San Francisco still is up in the air, according to coach Mike Nolan, who said that there are more practices before camp is over, providing the coaches plenty of time to determine who will start the season under center. But if Monday's practice was any indication of things to come, J.T. O'Sullivan spent the entire afternoon with the first team, while Smith remained with the second team.
[+] Enlarge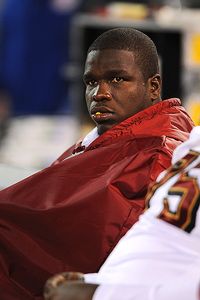 Kyle Terada/US PresswireFrank Gore will try to stay healthy for the whole 2008 season, which will be tough.
The quarterback situation might be cloudy, but the running back situation sure isn't, at least not at the No. 1 spot. Frank Gore, the hard-running, hard-working back out of the University of Miami, looked fantastic in camp. Granted, he has had some significant injuries in the past, but he is perhaps stronger and more stable physically after going through rehab on both shoulders and both knees over the past few years. In 2007, he suffered a bad ankle sprain that bothered him from that point on throughout the season, but he showed no ill effects on the field. I did notice that both of Gore's ankles were heavily taped, perhaps as a proactive measure, but he looked sharp cutting and darting through the defensive sets. And he ran hard. He ran through the plays, beyond the whistle, perhaps more intensely than any player I can recall watching recently. He also caught numerous passes out of the backfield, perhaps a sign of more to come with new offensive coordinator Mike Martz in the mix.
The 49ers are dealing with a couple of other injuries. Michael Robinson, who stepped in last year while Gore was out, injured his knee (torn meniscus) early in training camp and underwent a scope to address the issue. The injury itself did not appear to be terribly serious, but rehab following such a scope typically translates to a four- to six-week recovery period. Matt Maiocco of The (Santa Rosa) Press Democrat reported that Robinson has been doing quite a bit of stationary biking (which works on joint motion minus the impact) and is hoping to resume light running within the week. Bryant Johnson, the wide receiver who moved over from the Arizona Cardinals, currently is out with a right hamstring strain. Johnson injured the hamstring running a route Monday, and it sounds as if the 49ers are taking a cautious approach, indicating that Johnson is not expected to return for next week's preseason game. Better to get it healthy now so his services are available during the season. We have seen time and again how hamstring issues can linger, especially for running backs and receivers, so the Niners can't be faulted for playing it safe.
Finally, things have been shaken up just a little on defense. Linebacker Takeo Spikes, who was released by the Philadelphia Eagles in March and is trying to recover from major shoulder surgery, was just signed by the Niners. He passed his physical before signing, so the shoulder must be in good shape. He will complement Patrick Willis in what looks to be a solid linebacking corps.
Stephania Bell is an injury expert for ESPN Fantasy. She is a physical therapist who is a board-certified orthopedic clinical specialist and a certified strength and conditioning specialist.
Fantasy Sports
Senior writer for ESPN.com
Certified orthopedic clinical specialist and strength and conditioning specialist
Clinician, author and teacher
SPONSORED HEADLINES
FANTASY TOP HEADLINES
MOST SENT STORIES ON ESPN.COM