Commentary
Losing that 'go-to' guy
When a reliable receiver skips town, it's often his ex-quarterback who misses him most
"I dote on his very absence." -- William Shakespeare
Terrell Owens is like the "alcoholic ex-boyfriend" among the NFL's wide receivers. When you're with him, he loves you, then he hates you. He'll randomly defend you with tears in his eyes, then drunkenly accuse you of loving someone else more than you love him. Then he finally leaves town -- sometimes by virtue of a court order or, like, a trade or something -- and the air is sweeter, the birds sound happier, and you can't figure out what you ever saw in the dude.
Jeff Garcia and Donovan McNabb have already been through what Tony Romo is experiencing. They toiled under the talented yoke of T.O., and realized that while the living was sometimes quite high, the toll was exacting. They might miss the echoes of the manic highs, but they sure as shootin' don't long for those incredibly low lows.
Fantasy Football 2009

Ready for some fantasy football? With the most trusted experts and best features, we'll get you into the game -- all for free.
Sign up today
Let's face it: Neither Garcia nor McNabb has reached the statistical peaks he enjoyed during his association with Owens. From 2000 to 2002, Owens grabbed 42 touchdown passes from Garcia, and the Niners quarterback exceeded 3,300 passing yards in all three seasons. But when it all started to go bad in '03, Garcia faded to 2,704 yards and has never exceeded 2,712 passing yards (or 13 touchdown passes, compared to 31 in '00 and 32 in '01) since. McNabb threw a career-high 31 TD passes in 2004, the first year of his Owens experience, but suffered through a bitter '05 divorce and hasn't exceeded 23 since. Each signal-caller is happier without T.O. giving him headaches, for sure, but each guy is also a worse fantasy quarterback as a result.
So what fate awaits Romo? On the plus side, unlike the post-Owens 49ers and Eagles, the Cowboys do have a proven, legit No. 1 receiver left on their roster in Roy E. Williams. Sure, he stunk once he came to Dallas in '08, but he also had an injured foot. He's 27, has a 1,310-yard season under his belt, and definitely offers high-ceiling potential. But let's face it: He ain't T.O. He's injury-prone and was known as something of a diva in his own right in Detroit. Yes, Romo has Jason Witten and some potentially interesting complements in Patrick Crayton and Miles Austin, but the fact is, Owens' departure is a perfect excuse for the Cowboys to get away from their sometimes ridiculous gun-slinging ways and start running the ball more. They had the eighth-heaviest pass-versus-run mix in the NFL last year, throwing on 57.7 percent of offensive snaps. With the troika of Marion Barber, Felix Jones and Tashard Choice in the backfield, presumably offensive coordinator Jason Garrett would like to see a bunch more handoffs.
That doesn't mean Romo has suddenly gone from top-5 material to worthless in fantasy leagues. I still have him eighth among signal-callers. He's a talented quarterback, he's entering only his third full year as a starter, he has an above-average offensive line, and despite missing time in '08 with a broken pinkie finger, he finished in the NFL's top 10 in touchdown passes, yards per game, yards per attempt, attempts per game and quarterback rating. But it's pretty tough to argue that the weapons around him didn't get worse.
What about the other quarterbacks who lost important receiving targets? What fantasy fate awaits them?
Peyton Manning, Colts: The cleverest among us might proclaim that Peyton actually lost Marvin Harrison at the beginning of last season, because let's face it, Harrison was a shadow of himself in 2008. But now he's really gone. Manning threw the ball Harrison's way 107 times last year, and while the future Hall of Fame receiver didn't, by his standards, do all that much with them (60 catches, 635 yards, five scores), those looks will have to go somewhere else in '09. And while Manning did manage to win the NFL's MVP award in 2008, an actual perusal of his stats shows he threw his fewest touchdown passes since '02 and amassed his second-fewest passing yards since his rookie season. The simpatico relationship Manning and Harrison fostered through 11 seasons together isn't simply going to transfer to the next guy. Still, since Manning didn't have a supremely effective Harrison in '08, you'd have to say that his '08 production is probably about the worst he'll do in '09, and that's still pretty darned good. As to which receiver or receivers will pick up Marvin's slack? Anthony Gonzalez seems like a solid bet to start and see 100-plus targets, Reggie Wayne should go back to being a top-10 fantasy receiver, and Dallas Clark should be a top-5 tight end. Pierre Garcon, Roy Hall and Austin Collie will battle for third-receiver duties. Verdict: Peyton will be just fine post-Marvin.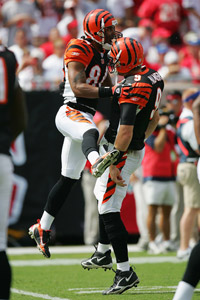 Paul Spinelli/Getty ImagesCarson Palmer (right) will miss the chemistry he had with Housh, especially in the red zone.
Carson Palmer, Bengals:
T.J. Houshmandzadeh
was the anchor of Cincy's passing game, grabbing 372 passes for 4,084 yards and 32 touchdowns over the past four seasons. Now he's in Seattle, and Palmer is trying to return from a serious elbow problem that cost him all but four games in 2008. Housh was Palmer's security blanket, running underneath and over-the-middle routes with nearly unparalleled reliability, and Housh's size and steady hands made him a terrific red-zone target, too. Now
Laveranues Coles
steps into the void opposite
Chad Ochocinco
, and he's a different kind of a receiver: an outside threat who runs nice routes but lacks size and top-end speed. That's not to say Coles
can't
go over the middle; he's as tough as they come. But he's a few inches shorter and about 20 pounds lighter than Housh. In my eyes, the Bengals now have two outside guys and no proven commodities over the middle;
Chris Henry
and
Andre Caldwell
both have big bodies and nice speed, but neither can come close to Housh's dependability. On the positive side, Coles also is a very good red-zone player, and could lead the Bengals in touchdown receptions just like Housh used to do.
Verdict: Palmer has a lot to prove after last season, and his lack of an established possession receiver sets him back.
Eli Manning, Giants: The Giants shape up as an absolutely incredible football team everywhere except at wideout. They have a bruising offensive line, a nice set of running backs, a couple of promising tight ends and a defense with so much depth you might see as many as 16 or 17 players rotating in regularly. But Plaxico Burress and Amani Toomer are both gone, and while the team doesn't lack for potential replacements, nobody here has ever been a full-time viable fantasy receiver. Domenik Hixon is the closest thing New York has to a veteran replacement for Burress. He's rangy and has good speed, and he led the team in receiving yards in 2008, but of his 72 targets last season, only five came in the red zone, which hints that Hixon won't be the touchdown-maker Plax used to be. Rookie Hakeem Nicks is a fine physical specimen, but he lacks high-end speed and isn't assured of a starting spot. Steve Smith might occupy Toomer's old flanker role and serve as a nice possession receiver, but he doesn't have elite upside. Mario Manningham and Sinorice Moss will also get looks in training camp. But there are a heck of a lot of questions here, and let's face it, Eli Manning hasn't proved he's an accurate or decisive enough NFL quarterback to limp along with a shaky group of receivers. Opposing defenses will do what they did at the end of '08: stack the line and dare Eli to beat them. He'll be able to do it sometimes. But unless the Giants unearth a true star at wideout, Eli doesn't look like a fantasy starter to us. Verdict: Eli will have the weight of this offense on his shoulders, and I'm skeptical he can deliver a big statistical season under those conditions.
David Garrard, Jaguars: Matt Jones, Reggie Williams and Jerry Porter are all gone from Jacksonville, but in this case I say good riddance. Jones had a fine season in '08 (65 catches for 761 yards in 12 games) despite having a cocaine-related suspension looming over his head, but he never came close to justifying the first-round pick the Jags spent on him in 2005. Williams scored 10 touchdowns in '07 but was never that good, and he's now facing his own cocaine and gun charges. And Porter was hurt throughout '08 and turned out to be a major free-agent bust, catching just 11 passes for 181 yards. Garrard gets the venerable Torry Holt as his new No. 1 receiver. Say what you want about Holt, but he's clearly better than anything the Jags had last year, and the team doesn't need to worry about knuckleheaded off-field issues with him. Personally, though, I don't think Holt has another big year left in him. This will be his first season playing his home games on a grass surface, and he was frustrated and disinterested as defenses focused on him last year in St. Louis … what does he think will happen in this Jacksonville offense? Mike Walker is the opposite outside starter, and he has a nice size/speed combo, but he also has a long history of knee injuries. Garrard's most valuable target is still probably Maurice Jones-Drew, which isn't exactly a ringing endorsement. The Jags' offense might hiccup a bit as it integrates rookie tackles Eugene Monroe and Eben Britton, which is why I just can't see Garrard as a fantasy starter. But it's pretty safe to say he's no worse off than he was in '08. Verdict: Garrard's accuracy and poise give him a chance to produce, but I wouldn't draft him as a fantasy starter.
Matt Hasselbeck, Seahawks: Hasselbeck played in only seven games in 2008 because of a bulging disk in his back, and now he returns to an offense that struggled to keep any wideouts healthy last year, only to find that his most reliable possession receiver, Bobby Engram, has jumped to Kansas City. In addition, there's no guarantee that Deion Branch will recover from a second knee surgery this winter. The Seahawks clearly understood this was an area of need, and they signed T.J. Houshmandzadeh to a huge free-agent contract this winter. But is Housh a good fit for a West Coast offense? He'll play in Branch's old flanker spot, which is more of a downfield role than he was used to in Cincinnati. He'll probably be fine, although I don't believe he'll be as statistically good as he was in his best days as a Bengal. What's troublesome in this receiving corps is everything else: There's no reliably healthy threat on the other side of the field. If Nate Burleson can recover from his torn ACL, he makes a difference. But who's Engram in this offense? Rookie Deon Butler? An outside guy like Ben Obomanu? Branch? Hasselbeck made his NFL bones with smart, quick decisions, and taking what defenses gave him; he rarely heaved it downfield. Behind a potentially shaky offensive line with a nondescript rushing game, he has one heck of a challenge ahead of him in '09, and that's if he can even stay healthy all year. Verdict: This has "trouble" written all over it.
Christopher Harris is a fantasy analyst for ESPN.com. He is a six-time Fantasy Sports Writing Association award winner. You can e-mail him here.
Fantasy
Senior writer for ESPN.com
Six-time Fantasy Sports Writing Association award winner
Author of "The Big Clear," a noir thriller
SPONSORED HEADLINES
FANTASY TOP HEADLINES
MOST SENT STORIES ON ESPN.COM