Commentary
Edwards not a fantasy starter with 49ers
When free agency began, Braylon Edwards no doubt had money wheels spinning around where his eyeballs are supposed to be. But it just didn't work out for him. While Sidney Rice got huge dollars and even Steve Breaston made $9 million guaranteed, Edwards got just a base salary of $1 million (and could make $3.5 million if he reaches some lofty incentives) from the 49ers on a one-year contract. His career-long problem with mental consistency and his off-field woes clearly caught up with him. The 28-year-old wideout will try to make bigger money after the 2011 season.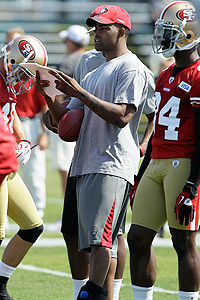 AP Photo/Jeff ChiuMichael Crabtree's foot injury is certainly cause for concern for fantasy owners.
It's actually rather tough to know what to make of this transaction. My instinct is to be very concerned about Michael Crabtree's foot. Crabtree reportedly has an injury timetable that could take him all the way into the regular season, and the Sacramento Bee speculated (and at this point it is pure speculation) that the regular-season PUP list could be a possibility. That would mean Crabtree would miss at least six games that count. The fact the Niners went out and got a clear NFL starter can be taken as a sign of deep worry for Crabtree, and I think fantasy owners are justified in thinking about letting someone else draft him this summer.
On the other hand, the 49ers obviously didn't make a massive financial commitment to the mercurial Edwards. This could absolutely be an insurance move just in case Crabtree can't go early in the year. Edwards may be flighty on the field, but he's a legit concern for opposing defenses, and even if he winds up bumping down the food chain to No. 2 or No. 3 (behind Josh Morgan?), maybe he's worth having around on the cheap. If this winds up being the case, the Crabtree panic will have been for naught, and he'll come at an attractive discount in fantasy drafts.
Which scenario is the truth? I tend to lean toward the former. Perhaps that's because I was already highly suspicious of drafting Crabtree anyway; I've seen what it looks like when Alex Smith is supposed to be targeting Crabtree a bunch. It's inconsistent and underwhelming. And now there's a chance that Crabtree's foot will keep him out of training camp entirely? Yuck. I think you're far better off just staying away from all elements of the 49ers' passing game not named Vernon Davis. That goes for Edwards, too, regardless of Crabtree's status. Between Braylon's inconsistency and Smith's noodle arm, I'm not envisioning many deep strikes down the sidelines. Oh, Edwards is draftable as a Niner, and I'll admit he'll get more draftable if Crabtree, say, winds up on the PUP list. But is he a fantasy starter even then? I have a hard time seeing it.
Christopher Harris is a fantasy analyst for ESPN.com. He is a six-time Fantasy Sports Writers Association award winner. You can ask him questions at www.facebook.com/writerboy.
Fantasy
Senior writer for ESPN.com
Six-time Fantasy Sports Writing Association award winner
Author of "The Big Clear," a noir thriller
MOST SENT STORIES ON ESPN.COM