Commentary
32 Q: Can Grant become the face of the Packers' offense?
Can Ryan Grant step up to be the face of the Packers' offense?
Note the careful wording of the question: "steps up to be the face of," not "steps up in the Packers' offense." Because if you're asking the latter, frankly, that's a heck of a slap in the face for Ryan Grant. He stepped up last year!
No, there's a clear difference between the two. It's one thing to step up, enjoy a stellar season and prove you can compete at this level. It's another entirely to do that, then take the next step and inherit the label "face of the franchise."
[+] Enlarge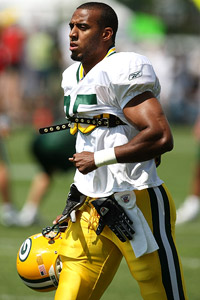 Jonathan Daniel/Getty ImagesRyan Grant could be one of the top five running backs for fantasy.
That's an important label in Green Bay, or at least it has been for the past decade and a half. You might remember the previous guy to hold the distinction. I'd print his name again, but I'll spare you having to rehash that old summer story. Besides, if you don't know where ol' No. 4 is playing today, I'd recommend you find yourself another fantasy sport.
So there's the challenge for Grant: go from out-of-nowhere breakout performer to "face of the Packers." And count me among the many who think he can do it.
Not that I'm about to call Grant nearly as successful as his predecessor was at his peak. A few things there: One, to ask this kid aged 25 and with 188 rushing attempts on his career résumé to match nine 10-win seasons and 11 playoff appearances in a 16-year span is wholly unrealistic. Two, it takes franchise-player types time, often years of elite production, before they draw that kind of attention on a national scale. Three, running backs, simply put, have a shorter shelf life, and are less media-prominent, than quarterbacks.
That said, Grant has the skills, and now the opportunity, to mount the kind of season we'll all be raving about come January. Maybe he'll never become the public figure Brett Favre -- OK, so I said his name, sue me -- was, but as far as fantasy owners (and I'd argue Packers fans) are concerned, a year from now he'll certainly be regarded as one of the game's best running backs, a Frank Gore/Marshawn Lynch/Clinton Portis type of offensive centerpiece. That's a very generous description for a player of his ilk.
We've all heard the comparisons to Dorsey Levens, another former Packers standout from the 1990s, and fittingly, Grant sports the same uniform number as Levens: 25. He's also similarly sizable, 6-foot-1, 218 pounds (Levens was 230), and was a Notre Dame product, just like Levens. Grant also managed an eight-game hot streak to finish last season not far off Levens' eight-game production in Weeks 7-15 in his breakout 1997:
Grant, Weeks 10-17, 2007: 770 rushing yards, eight total touchdowns, 5.5 yards per carry, 845 yards from scrimmage, 105.6 scrimmage yards per game.
Levens, Weeks 7-15, 1997: 769 rushing yards, 11 total touchdowns, 4.3 yards per carry, 1,038 yards from scrimmage, 129.8 scrimmage yards per game.
Sure, Levens' numbers were a little better, but consider that Grant was brand-new to the starting lineup at the time of his streak, and really a scrap-heap rescue project at the time. That he finished 2007 as strong as he did qualifies as nothing short of remarkable.
In fact, comparing Grant's Weeks 10-17 production to that of other top running backs:
Only one had more total touchdowns: LaDainian Tomlinson (10).
Only two had more rushing yards: Jamal Lewis (824) and Tomlinson (817).
Only two had more fantasy points: Tomlinson (156) and Brian Westbrook (135).
What's most distressing is that of the 11 running backs being selected ahead of Grant thus far in ESPN drafts, three averaged at least five fantasy points per game fewer than Grant from Weeks 10-17 of the 2007 season: Joseph Addai (10.1), Marion Barber (9.8) and the Vikings' Adrian Peterson (9.3). A fourth, Larry Johnson, was hurt that entire time. Only Tomlinson (19.5) and Westbrook (16.9) had better per-game averages than Grant.
Of course, us fantasy football folks want to know what lies ahead for Grant, and a comparison to Levens' 1997 isn't going to wow us. After all, Levens followed that season up with an injury-plagued, unproductive 1998.
Some key differences between the Grant of 2008 and Levens of 1998:
• Grant is three years younger than Levens was (he was 28), and has fresher legs, with 188 carries to Levens' 329 in their breakout campaigns.
• With Favre gone, the Packers will lean a lot more on their running than passing game, something that wasn't at all the case in 1998. Grant is at a prime point in his career to handle 300-plus carries, and he'll need to be, because he'll probably get that many as the Packers look to ease new quarterback Aaron Rodgers' transition to starter status.
Now, you might be thinking, Rodgers' presence limits the appeal of the entire Green Bay offense, right? Wrong. Lost in the Favre mess was the fact that he left behind a remarkably strong, balanced offense, one that could be argued was actually on the rise.
Talented receivers? Check. The Packers retain veteran Donald Driver, coming off four straight years of at least 80 receptions and 1,000 receiving yards; Greg Jennings, who's only 24 and coming off a 12-touchdown campaign; and James Jones, an underrated No. 3 receiver with great hands. That's a pretty solid group.
Strong offensive line? Check. Chad Clifton was a 2007 Pro Bowler, and up-and-comers Allen Barbre, Daryn Colledge and Jason Spitz should hold up the tackle spots nicely.
Good offensive system? Check. Mike McCarthy's zone-blocking scheme was a rousing success late last season, as evidenced by the team's resurgence and Grant's impressive second-half numbers. Now it's time for Grant to take it to the next level.
Tristan H. Cockcroft covers fantasy sports for ESPN.com. You can e-mail him here.
Fantasy
Senior writer for ESPN.com
Co-host of the Fantasy Focus Baseball podcast
Two-time LABR, two-time Tout Wars champion
Member of the FSWA Hall of Fame