Commentary
32 Questions: Who will be the primary receiving options in Jacksonville?
Updated:
August 21, 2008, 8:44 AM ET
By
AJ Mass
| Special to ESPN.com
Who catches the ball for the Jaguars?
As the 2007 season got underway, Jaguar fans hoped the gamble by coach Jack Del Rio to release returning starter Byron Leftwich and give the quarterback job to the inexperienced David Garrard would pay off.
It certainly did.
In the 12 games that Garrard started -- he missed about a month of the season with a left ankle sprain -- he threw for more than 2,500 yards and the Jaguars went 9-3. Garrard wasn't a flashy, throw-the-ball-deep kind of quarterback, as only 10 completions went for more than 30 yards, but he did complete 208 passes on the season. Given a full injury-free 2008, there's a good chance Garrard reaches the 3,000 yard plateau with around 250 completions. Somebody is going to be on the receiving end of those completions … but the question fantasy owners want to know is, who is that going to be?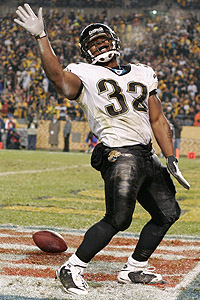 Chris Gardner/US PRESSWIREDavid Garrard is thankful that Maurice Jones-Drew is such a good receiver out of the backfield.
Certainly, a large portion, perhaps as much as 20 percent of Garrard's passes will be caught by Maurice Jones-Drew. He's certainly a favorite target of Garrard, and last season he ranked sixth among running backs in receiving yards. That's not likely to change, especially given the team's somewhat conservative approach to offense. But that still leaves about 200 receptions up for grabs. The team's leading receiver (in receptions) from 2007 is out of the mix, as Ernest Wilford opted to sign with the Dolphins as a free agent in the offseason. Reggie Williams, who led the team in both receiving yards (629) and touchdowns (10) is returning, but he needed to have surgery on his right knee in July after reinjuring it in training camp. His recovery is going well, and he even resumed practicing earlier this week, but the team likely eases him back into action.
Realizing the team needed an upgrade at wide receiver, the Jaguars brought in Jerry Porter, who never quite fit in as a Raider, to be the go-to guy. Unfortunately, Porter had hamstring surgery this summer and had to miss all of training camp and likely misses the entire preseason. The Jaguars also traded for Troy Williamson, who underwhelmed the Vikings with his penchant for dropping passes. Problems with his groin and hip have limited his ability to play this preseason as well. It's hard enough for a quarterback to get on the same page with receivers he's been playing with for years, and it's nearly impossible to build chemistry with guys he's never played with when they are unable to even step on the field. While both receivers might eventually make it to the Jacksonville huddle, they'll be playing catch-up with Garrard, rather than simply playing catch, all season long.
Until the injured trio of receivers is up and running, the options at wide receiver are Dennis Northcutt, Matt Jones, Mike Walker and Ryan Hoag. Northcutt had a decent 2007 for the Jaguars, catching 44 balls for 601 yards, but even he doesn't think it's a good idea for him to be the team's top option, which appears to be the case as Week 1 steadily approaches. "If I'm a starter that means we're hurting somewhere," Northcutt told reporters last week. "A lot of guys say, 'Yeah, I wish those guys well,' but once a guy gets hurt they're thinking, 'I have a chance to step up here.' I've been there, done that. I really do want Jerry and Reggie to get back here because that makes us better as a team." The honesty is refreshing, but it certainly makes you less likely to want Northcutt on your fantasy team, because even if he flourishes in the first few weeks, he's more than happy to return to the backseat.
Jones has performed well in the preseason. The problem with him has never been one of ability, but rather injuries and the perception that he wasn't giving his full effort. However, now that Jones seems to have put it together on the field, off-the-field issues might play havoc with his 2008 season with Jones facing an October trial date on drug possession charges. Walker spent all of last season on injured reserve with a bum knee and has shown some of the ability that made him worthy of a third-round draft pick in 2007, but has also had several drops this preseason. That's probably going to keep him on the bottom of the depth chart as the walking wounded start to step up to reclaim their starting jobs. Hoag has been the team's best receiver thus far in the preseason, but the 2003 draft's Mr. Irrelevant and former contestant on "The Bachelorette," won't likely launch himself into fantasy relevance.
And lest we forget about the tight end position. All of the possible candidates there have injury issues and offseason surgeries to overcome. Marcedes Lewis should emerge as the starter by default, because he seems to be healthier than George Wrighster and Greg Estandia.
So who catches the ball for the Jaguars? The answer: Everyone will. For the first half of the season, we're going to see receivers jumping in and out of the lineup as their health allows. In the end, though, Garrard probably looks for Porter and Williams in the end zone during the fantasy playoffs. But if those weeks still matter for you and your fantasy team, you've probably been wise to avoid this whole muddled mess in the first place. Feel free to draft Garrard and reap the benefit of the collective Jaguars receiving corps, but don't try to look for a true standout in the bunch. There simply isn't going to be one.
A.J. Mass is a fantasy football, baseball and college basketball analyst for ESPN.com. You can e-mail him here.
MOST SENT STORIES ON ESPN.COM