Commentary
32 Questions: Are any of the Seattle backs fantasy worthy?
I know precisely when I lost confidence in the Seattle running game. It happened in March 2006, a few months after Shaun Alexander completed his dream 2005 campaign of 28 touchdowns, and nearly 1,900 rushing yards. It was when monster offensive guard Steve Hutchinson got a seven-year deal for $49 million to skip town for Minnesota, and the Seahawks let him go. Then everything changed. Not only did the line become weaker, but so did those running behind it.
Do you think Alexander totally stopped being a decent running back after that, or was this more proof that there's only so much a guy can do behind average offensive linemen? Sure, it was probably a bit of both. Alexander was getting old and once he got paid one could certainly wonder how that affected his, shall we say, motivation, but the bottom line was a very good offensive line suddenly wasn't, and I was avoiding Seattle running backs.
You know what, I still am.
[+] Enlarge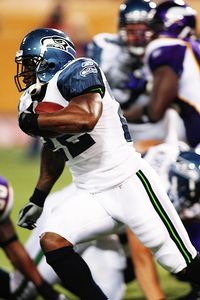 Scott Boehm/Getty ImagesJulius Jones is trying to capture the majority of carries in Seattle.
On paper, it would appear good for
Julius Jones
that he escaped the goal-line shadow of
Marion Barber
in Dallas and got a four-year deal in the Pacific Northwest, but I remain awfully skeptical about his ability to be a big-time lead running back. I don't think the Seahawks have the kind of offensive line, or weapons at wide receiver now that
Bobby Engram
is gone, to scare opposing defenses into fearing the run. And there's the other problem of Jones sharing carries with others. Add it all up and I don't expect much from the Seattle running game, which is a problem since Julius Jones is ranked as a top-30 running back by ESPN Fantasy.
Let's start with Jones: Was he a victim of the system in Dallas, or is he just a pedestrian running back who lacks the size and speed to put up big numbers? He wasn't a pass-catcher in his old haunts, though the Seahawks claim they are going back to that part of their offense, which they ignored in recent seasons. Jones rushed for 1,000 yards in 2006, and he would have the year prior had he not missed three games with injuries, but he scored a combined nine touchdowns those two seasons. There's a reason why Barber emerged, and it wasn't just because he was talented. There was opportunity. The Cowboys weren't sorry to see the unrestricted free agent bolt.
NFC West Blog

Mike Sando covers the NFC West for ESPN.com. He breaks down every team, including the Seahawks.
NFC West Blog
Alexander was released upon Jones being hired, but it shouldn't be used as proof the new guy will be used the same way, as a lead back expected to receive 25 or more carries per game. Jones just isn't that guy.
Maurice Morris
isn't likely to become a star, either, but as the preferred third-down back he will cut into Jones' chances, and then there's that really large guy brought in from Detroit, Mr.
T.J. Duckett
. He's big, really big, and while his role remains problematic, one would think he'll figure into the goal-line situation at some point.
So, who will end up with the touches from the Seahawks' backfield, and what is each back's worth?
Jones is being drafted as the No. 29 running back in ESPN average live drafts, and 63rd player overall, so it's not as if you're drafting him as a surefire starter for your team. That's good. Jones is likely to receive enough carries to top 1,000 yards, but then again, 17 running backs accomplished that feat in 2007, so it's not rare. At best, I think Jones could reach a career best in rushing yards, maybe in the 1,200 range, but I don't expect him to have much of a role in the passing game, or score more than five or six touchdowns. For where he's being selected in drafts, that seems about right. It's as if fantasy owners realize Jones is not in the perfect situation to succeed, and are being cautious. That's wise.
[+] Enlarge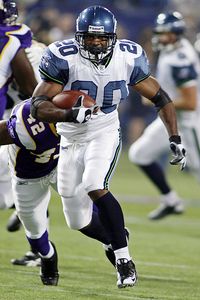 Bruce Kluckhohn/US PresswireMorris is looking at another year of split carries.
Morris got the start in the first preseason game for the Seahawks, and ran for 62 yards on six carries on the first three drives, against the Vikings' starting defensive line. I wouldn't read much into that. For one, Morris is unlikely to be the starter in regular-season games, unless Jones performs poorly or gets hurt, and either of those options is, of course, legitimate. But even if Morris does get a full-time opportunity, haven't we been down this road before? Alexander missed plenty of time the past two seasons, and Morris, one of the more popular handcuff running backs in fantasy, hardly took advantage. He rushed for 600 yards each season, and had the occasional big game, like when he ran for 138 yards in Week 9 of 2006 against the Raiders, but he's still a reserve for a reason. Morris is 28, and while he should receive a few carries per game and possibly reach career marks in receptions, don't expect more than 500 yards rushing for the season. Morris is the 56th running back being taken in ESPN drafts, behind luminaries like
Leon Washington
, which again seems to indicate people really aren't relying on him.
As for Duckett, I'm seldom a fan of carrying a running back whose greatest, and possibly only, value to fantasy owners is as a goal-line back. This isn't Jerome Bettis we're talking about, and even when The Bus was scoring a touchdown per week, I thought it was risky to activate him, depending on the scoring format. There's no proof Duckett, who was given a back-loaded contract full of unachievable bonuses, will get enough run to be worth drafting at all. Yes, this guy did score 27 touchdowns from 2003 to '05, but his usage is likely to be so haphazard, it's best to use your late-round picks on younger running backs with upside.
It doesn't appear the Seahawks have anyone right now who fits that description, no hotshot rookie or even a Ryan Grant lurking and waiting for his chance, which means we might be writing this exact same article a year from now, but with some of the names changing. For now, it seems fantasy owners are aware of the limitations the three-headed Seahawks running back situation brings with it, which is a good thing, because this team might really have to rely on the right arm of Matt Hasselbeck, its defense and a sweet schedule to earn the right to play January games.
Eric Karabell is a senior writer for ESPN.com who covers fantasy baseball, football and basketball. He has twice been honored as fantasy sports writer of the year by the Fantasy Sports Writers Association. You can e-mail him here.
ESPN.com Senior Writer
ESPN contributor on TV, radio, podcasts, blogs, Magazine
Charter member of FSWA Hall of Fame
Author of "The Best Philadelphia Sports Arguments"