Commentary
Week 3 pickups
Updated:
September 23, 2009, 3:22 PM ET
By
Matthew Berry
| ESPN.com

"These are the times that try men's souls."
In 1776, when the great Revolutionary War author Thomas Paine wrote those words, it was clear he was talking about owning Steve Slaton. He probably had Green Bay or Tennessee in his Eliminator Challenge game, too.
From 1776 to 1783, Paine wrote a series of pamphlets about the Revolutionary War called "The Crisis," which was, it should be noted, insanely popular. The series, not the war. In it, he discussed the challenges and questions facing the average fantasy football owner while the country was being torn apart. The pathos and anguish one must endure when not only fighting for his freedom but also recognizing that he spent a top-five draft pick on Matt Forte. At least, that's how I interpret his stuff.
If research, drafting, scouting, making shrewd trades and waiver pickups all while making the best lineup decisions are paramount to successfully seceding from England, er, beating your opponent, there is no greater skill than patience in helping you do all those things.
They say it's a virtue, patience is; and this week, more than ever, they are right.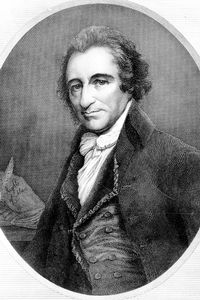 Hulton Archive/Getty ImagesThomas Paine believed in life, liberty and drafting WR/WR when he had a late first-round pick.
Easy to say, of course, when you're not sitting there at 0-2, getting crushed in a league and being filled with panic. And yet, I am. I played against Drew Brees and Adrian Peterson in Week 1. Frank Gore and Andre Johnson faced me in Week 2, as my quarterback, Tom Brady, threw for the same number of touchdowns as Ben Franklin. I can't remember a week when there were so many "if you had that guy, you won" performances, what with Gore, Chris Johnson, Andre Johnson, Matt Schaub and George Washington.
But as I sit at 0-2 in this league, with Brady and Slaton among others on my roster, I look it over and say, "I like this team." The scheduling gods have been cruel so far. That disadvantage will even out, and I will win some weeks when I'm not supposed to, I am sure.
Still, I can't tell you how angry I was while watching football this past weekend. I've mentioned many times that when watching games, I root much harder for my fantasy recommendations than I do for my real-life teams. Getting calls correct such as being high on Schaub, Fred Jackson and Willis McGahee were counteracted by being dead, dead wrong on Philip Rivers, Carson Palmer and Ronnie Brown. Ugh. I live and die with every pick I make, and the "wrongs" crush me a lot more than the "corrects" make me feel good. If you rewind the game tape and look closely, you actually can see Brown saying "F you, TMR" as he crossed the goal line the second time Monday night.
I understand the desire to want to trash everything and start over. To say, "We can't take this anymore, so fine, I'll stay British." Or to say, "To hell with the season," and sign up to play free fantasy hockey and free fantasy basketball, both with free live scoring and auction draft capabilities, now on ESPN.com." I understand, empathize and relate to you, my friend.
But you need to not panic. To resist the temptation to overhaul or just to chuck it. You must continue to fight and just tweak your roster. To insist on not having taxation without representation. To grab a musket and head into Week 3 while reloading for the battles ahead.
Ownership percentages listed in parentheses are for ESPN.com standard leagues (10 teams). I know some people wish this were for 12-team or deeper leagues, but this column is geared toward 10-team ESPN.com standard leagues because, you know, ESPN signs my paychecks. I, specifically, am not fighting for freedom.
Don't look back in anger
Here are some guys (in the order in which I would grab them) who were mentioned in last week's column and are still available in many leagues. To read about them, click here.
Steve Smith, WR, Giants (25 percent); Mike Bell, RB, Saints (42 percent); Todd Heap, TE, Ravens (21 percent); Nate Burleson, WR, Seahawks (25 percent); Isaac Bruce (17 percent); Michael Clayton (4 percent).
"Say, Baby, Haven't I Seen You Somewhere Before?"
Pickups of the week
Laurent Robinson, WR, Rams (1 percent): Mentioned in last week's "Mendoza line" section, he makes the jump here based on a six-for-54-plus-a-score day. After spending weeks locked in a closet watching film and breaking down game tape, I've come to the conclusion that the Rams will be down and throwing a lot.
Bobby Wade, WR, Chiefs (1 percent): In the preseason, one of my deep sleepers was Bobby Engram. The thought process was solid. Engram is a slot receiver, and in a Todd Haley system, the slot guy gets solid looks (see Breaston, Steve in '08). Plus, we saw how often Matt Cassel looked to Wes Welker last season in New England. With Tony Gonzalez off to Atlanta, Cassel will need a safety valve, and there could be some decent value for a guy it won't cost much to acquire. The thinking was dead-on. It was just the wrong last name. Days after he was scraped off the waiver wire, Kansas City sticks Bobby Wade onto the field, and he responds with a six catches-for-72 day (on nine targets). The Chiefs have attempted 63 passes in two weeks, and let me ask you this: If you were a coach, would you hand off a lot if Larry Johnson was whom you had to hand off to? There you go.
Tashard Choice, RB, Cowboys: With Marion Barber looking like he could be out for a week or two, Choice would get a lot of play for a Cowboys team thatleads the NFL in rushing yards. Just sayin'.
Justin Forsett, RB, Seahawks (1 percent): He was a stud during the preseason, and I mentioned him briefly in my "Love/Hate update." I know they really like him up in Seattle and are trying to find ways to get him onto the field. Julius Jones is still the starter, and his struggles are at least partially due to a very banged-up offensive line. But if Jones loses his gig, my guess is it's Forsett and not Edgerrin James who will take it. He's a good pass-catcher and has been playing on third downs (six receptions for 57 yards) to go along with five carries for 35 yards, and 92 yards on just 11 touches against a good defense with your starting quarterback out is something to note. I've put him this high up on the list because I feel his upside is that strong.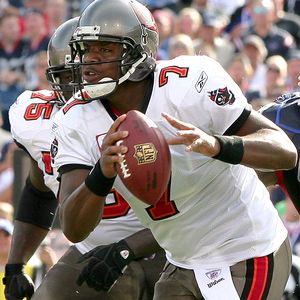 Luc Leclerc/US PresswireThrough two weeks, Byron Leftwich has outscored Tom Brady, Aaron Rodgers and Kurt Warner, among many others.
Byron Leftwich, QB, Buccaneers (5 percent): A funny thing happened on the way to fantasy obscurity. Someone forgot to tell Byron Leftwich. Or forgot to tell the Bucs to play defense. Or, more than likely, just didn't care. If Laurent Robinson is the poster child for "junk time still counts," Byron Leftwich is the Fathead of it. He's averaging 17 fantasy points a week through his first two games and has thrown for at least 275 yards in each contest. As long as you don't have to actually watch him play (it's not pretty, I can tell you that much), he'll be reasonably productive.
Correll Buckhalter, RB, Broncos (17 percent): If there's one thing I screwed up in last week's column, it was not mentioning him. After Week 1's performance (10 touches, 57 yards) I was told Knowshon Moreno would be getting more of the work, so I ignored Buckhalter, just as 83 percent of you have so far. And Moreno did get more work, getting 19 touches to Buckhalter's 10. But that doesn't mean Buckhalter won't have value. Yes, he had one big 45-yard touchdown run. But take that out, and you still have nine touches for 61 yards.
Devery Henderson, WR, Saints (44 percent): Last week, I said I wasn't buying Robert Meachem or Henderson. Well, one week later and, um, I'm half right. Honestly, I still think once Lance Moore is 100 percent healthy, Henderson will lose a lot of value (so if I were in a deeper league and could sell high a bit, I totally would), but right now, the Saints' offense is ridiculous, and there's a decent chance I'll start at running back for them next week. Henderson had three catches for 71 yards, which was mostly on one play. But because that one play can come again at any time for the Saints, he makes the list.
Mario Manningham, WR, Giants (5 percent): Another guy who was on last week's "I'm not buying" list, and I'm still not sold on the Giants' high-flying passing attack. But injuries to Domenik Hixon and Hakeem Nicks plus scores in two straight weeks are enough to have me recommend putting Manningham on your roster and dealing with the gloating of my podcast co-host, Nate Ravitz.
Julian Edelman, WR, Patriots (0 percent): You may think I'm a corporate shill sometimes, and I definitely cop to being an enthusiastic user of our product, not to mention a company man. But even the most cynical of you have to admit this was pretty good. Anyone watching our Sunday morning show "Fantasy Football Now" (11:30 a.m. ET until kickoff here on ESPN.com) saw us announce that Wes Welker would be inactive and then saw Tim Hasselbeck say (and me agree) that you must go out and add Edelman, who'd had a huge preseason and whom Brady would target often with the expected Jets pressure. He got eight catches for 98 yards on a day when much didn't go right for New England, and if Welker misses any amount of time, Edelman will have a lot of value.
Brent Celek, TE, Eagles (17 percent): A touchdown in Week 1 and more than 100 yards in Week 2, Celek is yet another reason tight end is such a deep position this season. And with it looking more likely that Donovan McNabb will miss Week 3, Celek makes an interesting play as Kevin Kolb's safety valve against Kansas City.
Johnny Knox, WR, Bears (1 percent): Another Mendoza guy from last week, he had another strong week. His nine targets are even more impressive to me than his six receptions, but with 70-plus yards for two straight weeks, a touchdown last week and Seattle on the schedule for Week 3, it makes things interesting.
Just below the Mendoza line
It's a baseball saying, but it's appropriate here as well. Here are some guys who shouldn't be picked up (except in deeper leagues) but whom I like and you should keep an eye on.
Malcolm Kelly, WR, Redskins: Mentioned during the preseason, Kelly is a big target, and because the Redskins can't play the broad side of the barn at wideout, he is as good a guess as any for someone Jason Campbell might be able to complete passes to. I'm a bit down on my Redskins, if you can't tell. Four for 44, and they get the Lions next. Just saying.
Brandon Stokley, WR, Broncos: Honestly, I don't know what the hell to do with Stokley. Second straight week of solid value (five receptions, 70 yards), but almost all his Week 1 value came from a fluke play. Kyle Orton is looking for him, but being gut-level honest, I can't imagine a scenario in which I'd feel confident starting him at any point during the next few weeks. Sort of like, I know the colonies should win the Revolutionary War, but I still am taking the British in Country Pick 'Em. Just too big a favorite. Which is why Stokley is here in the Mendoza section instead of among the pickups. His teammate, Jabar Gaffney, also had a good game and, as a veteran of Josh McDaniels' system, bears watching.
Pierre Garcon, WR, Colts: I still like Austin Collie more, but Garcon did catch the winning touchdown Monday night. ...
Hank Baskett, WR, Colts: He's worth noting because he has talent, is now on the Colts and is married to Playboy model Kendra Wilkinson. Three things that don't necessarily apply to me.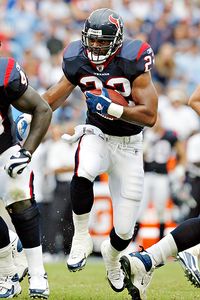 Andy Lyons/Getty ImagesChris Brown could eventually work his way into fantasy relevence.
Chris Brown, RB, Texans: He's here in the Mendoza section as a guy to keep an eye on, but if you own Slaton, you should think hard about grabbing him. Because although I don't think Slaton is in any danger of losing his job, it's worth noting that while Slaton struggled again on the road at Tennessee, Brown had 25 yards on eight carries. Great? Not at all. But better than 34 yards on 17 attempts, which is what Slaton put up.
Other random notes: Clearly, if McNabb is to miss any more time, Kolb can put up numbers. ... Like all the Browns, Robert Royal performed poorly in Week 2, but he scored in Week 1, and more often than not, Brady Quinn will be looking for a dump-off guy. ...With Troy Williamson gone for the season, the six catches for 106 yards and a score of Mike Sims-Walker appear more interesting. ... Same goes for his teammate, tight end Marcedes Lewis (3 for 62 and a touchdown in Week 1). ... And among defenses, the Redskins will play Detroit this week, and if you are looking ahead, the Bengals' defense/special-teams unit has put up seven points in two straight weeks and will play the Browns in Week 4.
I'm not buying it
Here are some Week 2 stars whom I am not buying based on the fact that I don't feel they'll continue to get the opportunity or because of the circumstances in their Week 2 games: Jason Avant, Jacoby Jones, Kelley Washington, Jason Snelling, Dante Rosario, Jerramy Stevens, Maurice Stovall and Matt Spaeth.
Welcome to Dumpsville, population: you
Truthfully, there are few guys I love this week more than currently rostered players. But I definitely like this week's pickups more than these guys. Here are some guys you can cut to make room for the pickups (along with their current ownership percentages):
Jason Campbell (22 percent); Brady Quinn (11 percent); Jerious Norwood (53 percent); Earnest Graham (31 percent); Rashard Mendenhall (47 percent); Sammy Morris (58 percent); Le'Ron McClain (85 percent); Anthony Gonzalez (87 percent); Patrick Crayton (89 percent); Ted Ginn Jr. (87 percent); Bobby Engram (61 percent); Josh Morgan (84 percent); Kevin Curtis (47 percent); Chris Chambers (57 percent); Ben Watson (22 percent); Bo Scaife (16 percent); New England D/ST (46 percent); Carolina D/ST (68 percent).
So, for those of you sitting at 0-2, hang tough. As Thomas Paine wrote, "By perseverance and fortitude we have have the prospect of a glorious issue; by cowardice and submission, the sad choice of a variety of evils."
Now come on. You can't tell me he's not talking about fantasy football.
Matthew Berry -- The Talented Mr. Roto -- can't believe Jordan won "Big Brother." He is also the creator of RotoPass.com, a Web site that combines a bunch of well-known fantasy sites, including ESPN Insider, for one low price. Use promo code ESPN for 10 percent off. Cyberstalk the TMR | Be his Cyberfriend
Fantasy
• Senior Fantasy analyst for ESPN
• Member, FSWA and FSTA Halls of Fame
• Best-selling author of "Fantasy Life"

MOST SENT STORIES ON ESPN.COM