Commentary
The Commish's Court: Weathering the storm
Updated:
September 16, 2008, 2:00 PM ET
By
AJ Mass
| ESPN.com
Sometimes things take you by surprise. It's just a fact of life. What a boring world this would be if everything went according to plan. Unfortunately, not all surprises are pleasant, such as the arrival of Hurricane Ike and the subsequent damage it inflicted on Reliant Stadium in Houston.
Certainly we don't want to equate any inconvenience the postponement of the Ravens-Texans game caused fantasy football leagues to those who lost their homes -- or worse. But the unexpected bye week for two NFL teams in Week 2 did force some league managers to have to make some decisions on the fly. Not all of them made the right choice.
I'm all for making your decisions based on the letter of the law, but when extraordinary circumstances arise, a little common sense in the application of certain rules is called for. Just ask fans of Jake Locker and the Washington Huskies about this concept. Or consider the case of Brocken, the highest mountain in Germany. When measurements by geologists in 1997 discovered that the peak was only 1,140 meters high, instead of the 1,142 meters previously listed on maps, it was clear to town officials what needed to be done. They didn't just print new maps. Come on now, that would be too easy! No, they hired a construction company to stack 19 tons of granite on top of the mountain to raise its height by two meters.
When word first came down from league officials Saturday that the game in Houston was going to be postponed, there was still a possibility that the game might be played Tuesday. Before the final ruling actually came down shortly thereafter (that the game would be moved to Week 10), some leagues might have already made a mountain of a molehill by making decisions that did not yet need to be made.
For example, I was made aware of the following (excerpted) League Manager note one commissioner sent along in an ESPN league: "If the game is postponed to later in the week at an alternate site, then you can play your Texans and Ravens like normal. If we don't find out [Saturday night] what the decision will be, then we can institute the following plan: First, bench your Texans/Ravens player. Find a player on your bench that you can use in the event that the game is cancelled or postponed. Play that player, but be sure to let me know you wish to have played your Raven/Texan player in his place. Alert me before Sunday's action begins. Should the game be played [before next week's games begin], you will be awarded the score of your Raven or Texan. If you do not inform me of this desire, you will be forced to take the substitute player regardless of the outcome of the Houston situation. If you are forced to drop a player to replace a player (as in, if you have no backup defense, tight end or kicker and/or have nobody on your bench to fill in for your Raven or Texan), you can drop a player and pick a player up to do so without losing your dropped player permanently. But once again, you have to inform me that you are doing this. Just let me know you are attempting to do this and you will be allowed (in fact, you will be forced) to reverse the add/drop maneuver after this week's game and you will be guaranteed your player won't be picked up by anybody else …"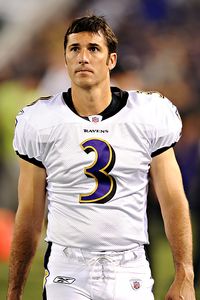 James Lang/US PresswirePostponed games don't really kill the owners of Andre Johnson, but they hurt owners of kickers such as Matt Stover (above).
What a headache! While I admire that there was an attempt made to cover all bases in this situation, in the end, this situation took care of itself, and this whole "Plan B" was rendered moot. However, in leagues that allow free-agent pickups only once a week, the deadline for moves likely had already passed when the final decision to reschedule the game was made. This meant that an owner who had only
Matt Stover
or
Owen Daniels
on their roster -- and didn't bother to stash a backup kicker or tight end since they weren't going to need one for several weeks -- was stuck with an empty roster spot. In my long-time keeper league, not only had our free-agent moves for the week been completed, but we also have a rule that starting a player who is on a bye week results in a five-point penalty. So what do I say when my phone rings and the owner who has Stover -- and nobody else -- as their kicker calls me to ask what they can do?
I decided not to allow an extra free-agent pickup in this case. It was this owner's choice to carry only one kicker on their roster. If Matt Stover had broken his leg Saturday morning in a freak accident, I wouldn't have bent the rules to allow for a new pickup. While unfortunate, these things happen. Deal with it. Besides, there were several teams who did have a backup kicker, and trading is certainly allowed in this league. Therefore, there was a potential avenue of escape for this owner should they be able to quickly broker a deal. But what I wasn't going to do was assess the five-point penalty for starting a player on a bye week. That would not be fair. The point of that rule is to force owners to pay attention to their rosters, and plan ahead for when their roster is going to be short-handed. It also encourages player movement, as teams will often have to cut or trade a player in order to avoid a substantial points deduction. In this situation, there was no way for this owner to know Tuesday (our only day for free-agent pickups) that they would be in violation of this rule. Certainly not in Week 2, when no NFL team was originally scheduled for a bye. Therefore, adding a penalty on top of the zero for Stover would have been simply cruel.
So while I stood firm in one aspect of my league rules, I was also willing to take circumstances into account and bend them a bit for this very unique case. I also didn't rush to make a ruling (and set a precedent that I might not want to live with) on what would have happened if the move to Week 10 had been announced too late for action to be taken, and an owner had left, say, Matt Schaub in his lineup. Sure, I might have set up some sort of contingency plan, saying that the stats for the Ravens-Texans game, whenever it took place, would count for this owner in Week 2. But that call could have been as bad as Ed Hochuli's in that Chargers-Broncos game Sunday. I mean, what if this owner were to trade Schaub in Week 6, and his new owner starts him for his team in Week 10? What a fiasco that would be, for one player's stats to count for two different teams, in two different weeks. And if I had already ruled that the Week 10 Texans-Ravens game was going to count retroactively for Week 2, then what do I do for Andre Johnson and Willis McGahee owners who have no other options in Week 10 due to bye weeks? And then you have the Bengals-Texans game originally slated for Week 10 moved to Week 8. What of that? I've already established that the Texans-Ravens game will count in its originally scheduled slot; why shouldn't these stats do the same?
It's not too late! Leagues are forming and drafting until Sep. 20, with scoring retroactive to Week 1.
Sign Up Today!
My advice to you is to not make any decisions before you absolutely have to. For one, your knee-jerk reaction isn't always the right one, even if you have the best of intentions. Plus, there's no need for a heated debate to arise among the owners in your league about whether or not Plan A is better than Plan B, or how about Plan C? As we saw this week, usually the situation does work itself out. The hurt feelings and ill will that arise from arguing the best plan of action in a not-so-terrific situation can cause its share of destruction to a fantasy league. Why not keep yourself on higher ground and out of harm's way as long as humanly possible?
AJ Mass is a fantasy football, baseball and college basketball analyst for ESPN.com. You can e-mail him here.
MOST SENT STORIES ON ESPN.COM