Commentary
Trendspotting: Not worried about Smith
Ken Daube looks at the trends that portend future productivity
Updated:
September 16, 2009, 2:39 PM ET
By
Ken Daube
| Special to ESPN.com
With Week 1 in the books, the savviest of fantasy owners have already begun to adjust how they are valuing each NFL player. Some stories that affect the values of players are obvious. Others? Not so much. This column will aim to give you a better perspective on both the trends that are emerging and those players who are susceptible to having their values impacted by having either an unusually easy or difficult upcoming schedule. That way, you can pick up, drop, trade for or trade away these players before your opponents are the wiser.
For starters, it's no secret that wide receiver production is extremely volatile. If you owned the Carolina Panthers' Steve Smith this week, you were terribly disappointed by his lackluster line of three catches for 21 yards. Obviously, that level of output isn't what you want out of one of your first four picks, but how concerned should you really be? The answer: not at all. You see, Smith was targeted (i.e. his quarterback threw passes to him) 13 times on Sunday. To put that target number in proper perspective for you: only three receivers across the NFL saw more attempts come their way during Week 1.
On target
Now that we have Smith's owners pulling back from their ledges, here are some other interesting stats focusing on targets.
Earl Bennett of the Chicago Bears had 14 targets on Sunday night. One might think that this was because the Bears trailed the Green Bay Packers for a significant portion of Sunday night's game. This isn't the case, as Bennett was targeted five times in the first quarter alone, and that quarter ended in a zero-zero deadlock. Since many expected either Devin Hester or Greg Olsen to lead the Bears in receiving this year, I think it's only fair to point out that they had four and six targets, respectively.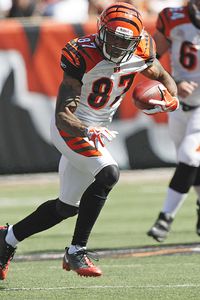 AP Photo/Ed ReinkeAndre Caldwell had six catches for 54 yards against the Broncos on Sunday.
Nate Burleson and Justin Gage are each owned in fewer than 40 percent of ESPN.com leagues and that needs to change now. Each saw 11 targets during the opening week games and each has the potential to stake claim to the role of No. 1 receiver. Burleson's road to that role is more difficult, as he's competing with both T.J. Houshmandzadeh (nine targets) and John Carlson (eight targets), but that's not enough of a reason not to claim him this week if he's available in your league.
Those in deeper leagues should take note of Andre Caldwell of the Cincinnati Bengals. He isn't just the brother of Reche, he's a receiver that isn't likely to be owned in any leagues that aren't based out of the greater Cincinnati area. Caldwell's eight targets not only led the Bengals, they were six more than popular sleeper Chris Henry managed.
Popular late preseason sleeper candidate Jermichael Finley is safe to drop for those of you hoping to catch lightning in a bottle; he received just one target and shouldn't be expected to be a major part of the offense.
Big plays and up close
The production of running backs can often be gauged by two metrics: big play rushes (i.e. rushes of 10 yards or greater) and production inside the opponent's 10-yard line. In fact, it should come as no surprise that the runner who led in both of these metrics this week was none other than the Minnesota Vikings' Adrian Peterson. All Day had six carries inside the 10 and five carries that went for more than 10 yards.
What might surprise you are the names that follow Peterson on the big play rush leaderboard: Mike Bell, Leon Washington and Cadillac Williams. Washington didn't see any action inside the 10, but both Bell and Williams received some carries. Williams converted his lone carry in that situation into a score, so if he's still available in your league, scoop him up right away regardless of how ugly the time share for the Tampa Bay Buccaneers is looking right now.
Many drafted Darren McFadden in the fourth or fifth round with visions of first-round production in their heads; it's time to crash back to reality for those owners (a group in which I count myself). McFadden received no carries inside the 10, while teammate Michael Bush was handed the rock three times. It looks very much like head coach Tom Cable will be utilizing Bush as the goal-line back and that amounts to a nasty hit to McFadden's potential.
Sizing up the schedule
Finally, it should come as no surprise that who your players are matching up against from week to week will impact their performance. While it isn't the best idea to assume that this season's defensive production will mirror what happened last season, right now it's the best guide available. With this in mind, here are a handful of players that appear to have significant fluctuations within the quality of defensive opposition they will be facing.
Knowshon Moreno's early season schedule is crazy easy. Getting to run against the Cleveland Browns and Oakland Raiders should be just the medicine the rookie needs to grab hold of the starting gig. However, from Week 8 to Week 12, Moreno's schedule becomes insanely difficult, as he faces the Baltimore Ravens, Pittsburgh Steelers, Washington Redskins, New York Giants and San Diego Chargers. If you own Moreno in a non-keeper league, the right time to trade Moreno is before that stretch begins.
Similarly, if you own LeSean McCoy and are waiting for a Brian Westbrook injury to recoup the value of that mid-round pick you invested in acquiring McCoy, you better get your voodoo dolls out early. The Philadelphia Eagles have a brutal stretch of their own from Week 7 through Week 12, facing each of their NFC East rivals, including the Redskins twice, as well as matchups against the San Diego Chargers and Chicago Bears.
In the preseason battle of ranking the No. 1 quarterback, Peyton Manning was largely ignored. Drew Brees eventually edged out Tom Brady in that debate and I'm sure many think that Brees' six-touchdown effort is enough to place him as the frontrunner right now. Let's remember that we only care about this point forward and that Brees will have six games this season against defenses that finished among the top eight in passing yards against, quite a difference from the porous Lions' defense he shredded Sunday. Meanwhile, Manning faces only one such challenge. From this point forward, there's a good chance that Manning will outproduce both Brees and Brady to reclaim his title as fantasy's most valuable QB.
Ken Daube is a fantasy football analyst for ESPN.com. His ESPN.com fan profile is available at: myespn.go.com/KenD17.
SPONSORED HEADLINES
FANTASY TOP HEADLINES
MOST SENT STORIES ON ESPN.COM