Commentary
D Up!: Getting by the bye weeks
Updated:
October 9, 2009, 2:07 PM ET
By
Jim McCormick
| Special to ESPN.com
Bye weeks are pretty fun for a football fan. When your team of choice is resting, you get to watch the league unfold without worry. The editing capabilities of the RedZone Channel and successfully scaling a mountain of wings are your chief concerns. But in fantasy, the byes can wreak havoc on your roster.
The toughest element of the bye weeks isn't finding suitable fill-ins, but rather retaining the quality of your roster while doing so. Most fantasy teams face one or two particularly crippling weeks and must dig deep into their bench depth, but are sometimes one or two players short of a full roster, even when the bench is called on. While it's tough to keep a roster completely intact during the lean weeks, getting creative with your defenders can be a salve to your bye-week woes. I often advise trimming down the depth of a defensive roster in order to maximize the offensive side, as there is simply more depth and value on the wire when it comes to defenders.
Essentially, while you shouldn't be cutting elite fantasy defenders to accommodate your kicker slot, you should sacrifice defensive depth for offensive production since recovering that lost defensive talent is often much easier than on offense.
Front Four: The weekly word on the world of defenders
Rewarding loyalty: Those faithful owners who have stuck by the likes of James Harrison, D'Qwell Jackson and D.J. Williams have finally seen some returns on their investments. Still waiting on DeMarcus Ware, Mario Williams and Jon Beason? Continue to hold steady, as they're due to produce, but also keep an eye on the market, as there are some amazing upstart talents that could save your season. Check the bargain bin below for some of those names.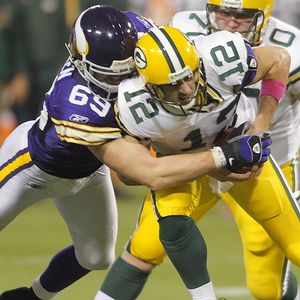 AP Photo/Tom OlmscheidJared Allen exploited the Green Bay Packers' offensive line for 4 1/2 sacks on Monday.
Sackology: Nearly every IDP league asks that you roster defensive linemen. From these spots we seek sacks and little else, with a premium on the rare consistent pass-rushers. Consistency and pass rushing don't really blend well given the realities of the position; double-teams, exotic blocking schemes and 3-step drops are all tactics employed to avoid the rush. The top 5 sack artists so far this season are Antwan Odom and Elvis Dumervil with 8, Jared Allen with 6.5, and the Colts boys rounding out the group with Dwight Freeney at 5 and Robert Mathis at 4.5. Of these sacks, 16 have come from the generous lines in Green Bay (9.5), Arizona (3) and Seattle (3.5). Predicting sack totals for an individual game is nearly impossible given the variables, but if you target talents who play against sieve lines, it's obviously a more fertile environment for production, as the Packers prove on a weekly basis. Dumervil's dual eligibility in most formats as both a defensive end and linebacker affords him even more value than his wicked numbers amount to, affording him particularly high value as a defensive lineman.
So long, suspensions: Two valuable assets return to the fantasy market, as Calvin Pace of the Jets and the Bucs' Tanard Jackson are active this week. Pace had a prolific 2008 debut with the Jets posting a rare blend of tackles (80), sacks (7) and forced fumbles (5). Maligned youngster Vernon Gholston did little in Pace's place, so the snaps are there for the taking. Consider Pace a great bye-week addition with an eye on enduring value, given his Terrell Suggs role in Rex Ryan's defense. Also consider that Pace is eligible as both a defensive end and linebacker in ESPN leagues, adding to his value as a discounted fantasy asset. Jackson, meanwhile, is worth targeting as a depth consideration but doesn't merit ownership just yet. As a safety playing behind Tampa's leaky front seven, though, Jackson has the potential to become relevant in just a few outings.
Infirmary: A light week in the injury department in terms of notable fantasy names. Giants linebacker Michael Boley suffered a torn meniscus that will likely keep him out for a month, while Dallas' Gerald Sensabaugh broke his thumb and will be out for several weeks. It's been a lucky season so far on this side of the ball in terms of impact injuries, on both sides, really. (Why do I think I just told the pitcher he had a no-hitter going?)
IDP Rankings Week 5: The Top 10 linebackers, lineman and defensive backs So that we're working from agreed parameters, we'll use what many consider traditional scoring modifiers for an IDP league: Tackle - Solo (1), Tackle - Assist (0.5), Sack (3), Interception (3), Forced fumble (3), Fumble recovery (3), Touchdown (6), Safety (2), Pass defended (1), Blocked kick (2).
Bargain Bin: Worthy defenders available in more than half of ESPN leagues
Daryl Smith may refuse to add a second "R" to his name, but he more than makes up for it with his consistent production and wide availability. … Curtis Lofton, the guy who had 19 tackles in Week 3, is available in more than 60 percent of ESPN leagues. If this persists, we're going to need a call-a-thon to get his ownership up, because the kid is on pace for 200 tackles. … Keith Bulluck gets the interviews, but Stephen Tulloch puts up the numbers and is the most valuable defender for the Titans. Manning the middle behind a patchwork defensive line, Tulloch is well on his way to an elite fantasy campaign. … Defensive back is a decidedly down position this season, with few statistical stars to call on, making Louis Delmas' weak ownership that much more confusing, as he's on his way to a solid rookie season. … For a volume of tackles on a consistent basis, few options are better than Detroit's Larry Foote. For those hunting for some bye-week help, Foote plays the Steelers, his former team, and he may well like to remind them of what he can do. … Brian Cushing is just a beast. That's a good thing. He's owned in only 15 percent of ESPN leagues and is likely outperforming 60 percent of rostered linebackers.
Mailbag
Todd Koch: Please help me with a bye-week issue. This is my first season of an IDP league, still learning the ropes! We start 2 LB and 2 DL, and I have Kampman on a bye, so I need a DE. I have Osi starting at DE 1, so I need to drop EJ Henderson, Curtis Lofton, or DeMarcus Ware and pickup a lineman.
Whom do I drop, probably between Henderson and Ware? Ware has been awfully disappointing and I feel like Henderson has a good matchup tackling Steven Jackson. What do you think? Drop Ware and pick up maybe Jason Taylor, Patrick Kerney, or John Abraham? Thanks for the consideration.
Jim: Hey, Todd. I think I'm going to go around your question here and suggest that you drop Aaron Kampman instead of one of your stud linebackers. Kampman's transition in the 3-4 scheme hasn't been extremely smooth, and I believe you'll be able to fill out defensive end going forward and are better served holding onto those considerably talented linebackers. Maybe seek to trade a linebacker going forward, as Ware will likely go off soon (this week against the Chiefs?) and will afford you some mobility. For this week I like Jason Taylor slightly over Abraham, as he's more likely to notch some tackles for you.
Collin Smith: Gibril Wilson owes me a Coke. I'm in a league that gives bigger-than-average points to defensive players, so I drafted Wilson early thinking his tackle numbers would be a big advantage over other safeties in the league. Maybe this was rosy thinking, since he went to a team that already had a topflight safety to share the field with in Yeremiah Bell. Do I need to start worrying? I just missed out on getting Antoine Bethea off the wire because I didn't want to roster two safeties, but is it time to cut bait on Wilson?
Jim: It's not looking great for Wilson down in Miami. You hit it on the head, as did some well-informed commenters a few weeks ago, in that Wilson has lost value playing free safety paired with Bell at strong. There are only so many tackles to be made out of the secondary. Word is that Tyrone Culver is getting on the field in Wilson's place on some passing downs, putting Wilson's grip on the gig into question. Maybe consider Tanard Jackson, Abram Elam or Jacksonville's Reggie Nelson. Point being, I would cut bait on Wilson despite the draft price you paid, rather than wait for a return to his 100-tackle days, as this is just as much a matter of his position and circumstance as his ability.
Jim McCormick is an IDP and fantasy football analyst for ESPN.com, as well as the editor and publisher of Blitz Magazine, a print and online publication covering football from prep to pro. Contact espn.idp@gmail.com with all of your IDP concerns.
Fantasy Football
Jim McCormick is an IDP and fantasy football analyst for ESPN.com.
SPONSORED HEADLINES
FANTASY TOP HEADLINES
MOST SENT STORIES ON ESPN.COM