Commentary
D Up!: Steelers LBs about to go off
Updated:
December 4, 2009, 5:36 PM ET
By
Jim McCormick
| Special to ESPN.com
Most NFL coaches have a signature moment or defining style on the postgame podium that in some ways develops their legacy. For Philadelphia Eagles fans such as myself, we have endured Andy Reid's unending series of groans and vague guttural rumblings. At some point, he might as well just say, "grunt, grunt, we need to run the -- grunt, ahem, cough -- ball, ahem, more."
Suffice it to say, while these pressers can be entertaining and eventually spun into lucrative beer-commercial fodder, there is often little takeaway from a fantasy perspective. That is, until Pittsburgh Steelers head coach Mike Tomlin went on what will assuredly be a definitive rant this past week.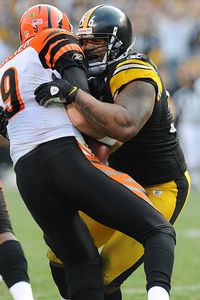 Al Messerschmidt/Getty ImagesAfter just two sacks in his first eight games, LaMarr Woodley has four in the past three weeks.
Following a bitter loss to the
Baltimore Ravens
, Tomlin promised that his reeling Steelers would "unleash hell" on their December opponents. Is there any definitive fantasy value to garner from this impassioned promise? Most will assume that there is little to none, but you've got to imagine that in their next three contests the Steelers' famously violent defense will be just a tad more masochistic. If any of the Pittsburgh 'backers not named
James Harrison
--
James Farrior
,
Lawrence Timmons
and
LaMarr Woodley
-- are available in your league, find room for them on your roster and in your lineups for the stretch run.

I'm not endorsing these guys solely because their coach invoked the fires of hell for upcoming opponents, although that helps, but rather I find value in their recent individual merits and the incredibly inviting upcoming schedule of the Oakland Raiders, Cleveland Browns and Green Bay Packers. Consider that all three are available in the majority of ESPN leagues and bear value for different reasons. Farrior has immense upside as a high-tackle inside linebacker with the potential to get to quarterback. Timmons has three sacks in his past two outings and is being deployed on blitzes more than ever in his young career. Woodley, the most interesting of the bunch, has defensive end eligibility in ESPN leagues and has become a weekly consideration at defensive line in the IDP rankings. The exorcism begins with the Raiders this week, and it should be quite profitable from a fantasy perspective.
Front Four: The weekly word on the world of defenders
• Top billing: Patrick Willis is just behind Curtis Lofton for the league lead in tackles. But for our purposes, the real story is that Brian Cushing is just behind Willis in most fantasy leagues. The young Houston Texan was already considered a promising commodity coming into the campaign, but his amazing production over the past six games has him in rare statistical company with the likes of Willis and David Harris. Just as Willis forced his way into lineups and into fantasy stardom as a rookie in 2007, "Cush," somehow still available in a third of ESPN leagues, is making his bid as fantasy's top defender. Thanks to a savory stretch of opponents to finish the season and a number of playmakers around him in Houston, he might just steal the crown.
Richard C. Lewis/Icon SMIYeremiah Bell has at least six total tackles in nine of his 11 games this season.
•
Saved by the Bell
: With safety
Gibril Wilson
proving to be a
Matt Forte
-esque bust this season, it seemed that hope was lost on the
Miami Dolphins
having any enduring value as a defensive fantasy source. Thankfully, though, the Dolphins' incumbent fantasy stud,
Yeremiah Bell
, has stepped up recently with a string of elite outings and after a slow start is back on pace for some linebacker-like totals. For those burned by Wilson or any other of the many defensive back busts -- or those merely keen on the name Yeremiah -- Bell makes for a steady and safe option in these critical weeks at the historically volatile defensive back position.

• Really good son: Charles Woodson put on a show for the ages last week against Detroit and likely swayed the fortunes of innumerous fantasy seasons in the process. His final stat line included some numbers that would look acceptable for a season of production from a cornerback, posting a sack, forced and recovered fumbles, two picks, seven tackles and a visit to the end zone. In my years of covering IDPs, only Antonio Cromartie's monstrous stretch in 2007 or Osi Umenyiora's six-sack pillaging of the Eagles in that same season match what Woodson did on Turkey Day. Like Cushing, Woodson remains available in a third of ESPN leagues and certainly merits a roster spot in even the shallowest of leagues.
• Infirmary: Some impact injuries hit the defensive backs ranks as tackle maven Eric Weddle will miss a few weeks with a knee injury. A 5-foot-11 kid from Brooklyn, Steve Gregory, will fill in for Weddle and should be a nice value in leagues that roster cornerbacks, as he's eligible in ESPN leagues. … In Cleveland, Brodney Pool is done for the season, so Mike Adams steps in and immediately has value as he plays behind the suddenly sans-Shaun Rogers line that will likely feed him a volume of tackles over the next month as teams run all over the Browns. … Shawne Merriman is likely to sit this week, making Larry English a compelling play in deep leagues with a promising potential blend of tackles and sacks.
IDP Ranks Week 13: The top 10 linebackers, linemen and defensive backs
So that we're working from agreed parameters, we'll use what many consider traditional scoring modifiers for an IDP league: Tackle -- Solo (1), Tackle -- Assist (0.5), Sack (3), Interception (3), Forced fumble (3), Fumble recovery (3), Touchdown (6), Safety (2), Pass defended (1), Blocked kick (2).
Bargain Bin: Worthy defenders available in more than half of ESPN leagues
With Antonio Pierce hitting the IR this week, Chase Blackburn is now the Giants' starting "Mike" (middle linebacker) going forward and merits consideration in deep leagues that covet volumes of solo tackles. … Darnell Dockett has been dominant of late and enjoys one of the most inviting fantasy playoff schedules of all defensive linemen. Add in the fact Dockett is eligible as a defensive tackle for those leagues that specifically roster the position, and he becomes an elite value that is somehow still widely available in ESPN leagues. … Joey Porter is back to his pocket-collapsing ways and should make his way onto rosters in deeper formats. … The 49ers' Dashon Goldson is on pace for more than 100 tackles and a nice blend of turnovers but continues to get no love in ESPN leagues (owned in just 22.2 percent of leagues). … The Colts' duo of Clint Session and Gary Brackett have been quietly elite over the past month and should continue to produce as the team faces several sloppy offenses to finish out the campaign.
Mailbag
Tom: I know they played in Toronto last night, but doesn't Reggie Corner get some love for his name alone?
Jim: I agree, Tom, and thank you for bringing this up. The fact the Bills' Reggie Corner is a productive cornerback that has put up some nice tackle numbers since their Week 9 bye is worthy of mention alone, but the real news is in his name. Imagine a Timmy Tailback, or Wally Wideout. They'd be superstars if they were even marginal contributors. From Taco Wallace to Webster Slaughter, the NFL has hosted its fair share of spectacular names, and Mr. Corner only adds to the legend.
Jim McCormick is an IDP and fantasy football analyst for ESPN.com, as well as the editor and publisher of BLITZ Magazine, a print and online publication covering football from prep to pro. Contact espn.idp@gmail.com with all of your IDP concerns.
Fantasy Football
Jim McCormick is an IDP and fantasy football analyst for ESPN.com.
SPONSORED HEADLINES
FANTASY TOP HEADLINES
MOST SENT STORIES ON ESPN.COM