Commentary
D Up!: It pays to take a chance in IDP leagues
Updated:
December 5, 2008, 2:30 PM ET
By
Jim McCormick
| Special to ESPN.com
Don't get too cute.
Not assuming that my loyal core of readers is the cutest group of people and/or have the potential to get "too cute," I'm merely referencing a common fantasy anecdote. The idea of getting too cute is, for example, sitting Brandon Marshall for Davone Bess. Sure it could work out, but it has significant backfire potential and is unlikely the salve you're looking for. There are certainly times to be brazen and make dramatic moves, but sometimes we can over- and out-think ourselves at our team's expense. A mixture of trust and risk got you to your league's playoffs, so don't pervert the balance with some last-second dramatics.
Now, forget the previous paragraph when thinking about your individual defenders. Or at least don't be too rigid with your defensive roster. In most cases the fantasy playoffs have us playing the best teams in our respective leagues. Given this reality, every point truly counts. I've long espoused the idea that you should forget names in the IDP format and only focus on numbers. While the fantasy public and, subsequently, your league-mates are well aware of the scenarios that influence the offensive side of the ball, there is simply less scrutiny afforded to the defensive side of the ball, particularly with individual defenders. Play to this reality and get the most out of your IDP production. If you could just cover your left eye and look solely at the numbers you might find that a host of the names mentioned below are available for the click of a plus symbol in your league and could help you stay alive in the race for fantasy glory.
Starters
Consider using these players if you are in immediate need of impact defenders.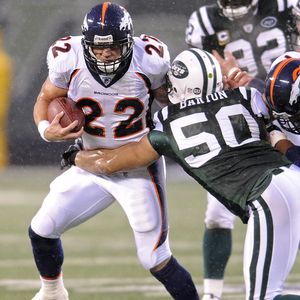 AP Photo/Bill KostrounEric Barton has 43 tackles in his past four games.
Linebackers and linemen:
Dwight Freeney
and
Robert Mathis
have been the catalysts for the Colts while the offense is mired in mistakes. Mathis is the safer of the bunch given his steadier production and higher tackle clip, while Freeney is the definitive boom-or-bust type of fantasy talent. Both are widely available and merit serious consideration against a Bengals line that allows nearly four sacks per. …
Eric Barton
ranks among the top fantasy defenders over the past month, and it's somewhat sustainable production. In his role as the lead ball-carrier pursuer, his tackle numbers should stay healthy, all while he has some nice turnover and sack potential to boot. He'll be chasing down
Frank Gore
and potentially
Vernon Davis
throughout the afternoon. … Seattle's
Julian Peterson
would get much more fantasy love if people looked past the otherwise anemic Seahawks defense. With a rare blend of sacks and tackles and the very sackable (my new word)
Matt Cassel
and
Marc Bulger
on the docket, a man named Julian could lead you to a fantasy title. …
Channing Crowder
is like the
Wes Welker
of individual defenders. He rarely posts anything spectacular but his incredible consistency makes him a valued commodity. Available in a significant majority of leagues, the Fins' middle man hasn't put up fewer than five fantasy points since Week 5 and faces a run-heavy schedule to finish out. … Paul Posluszny's year so far is similar to Jon Beason's 2007, a volume of solos but few peripheral stats to bank on. While Beason was and is a much better fantasy option, there's an inherent value in being the "mike" 'backer in a traditional 4-3, meaning that "Poz" is not only a nice option for now, but that next season we could see him flourish (attention, keeper leagues). …
Freddy Keiaho
should post a double-digit tackle outing manning the middle for Indy with
Gary Brackett
ailing.
Defensive backs: Charles Woodson is available in nearly 60 percent of ESPN leagues and will be blanketing the heavily targeted Andre Johnson this week, which should lead to a nice collection of tackles and passes defended. … Kevin Payne is available in nearly 65 percent of ESPN leagues but is literally a top-20 fantasy DB who averages more points in a standard scoring format than the vast majority of tight ends. Yet for some reason, most fantasy owners don't apply the same amount of analysis and scrutiny to their defensive backs that they do their tight end. … Savvy vet Ronde Barber must have needed that Week 10 bye considering that he's been looking like his former elite self with a potent blend of picks, tackles and passes defended. With Carolina's Steve Smith up this week and Roddy White the next, the awesome numbers should continue for Barber and the quarter of you who own in him ESPN leagues. … Often knocked for overpursuing and being out of position, Antrel Rolle is a great example of a player who hasn't been great in "real" football per se but has been a nice fantasy value thanks to his production. With two sloppy signal-callers on the way in both the Rams and the Vikings, Rolle is a solid option and widely available on the wire. … Champ Bailey is owned in just over a quarter of ESPN leagues thanks to his prolonged absence due to a groin injury. He's been limited in practice all week, and if he doesn't return against the Chiefs, stash him anyway for the stretch, as he might just swing your fate if you're in need of a productive defensive back for the final weeks. … Quintin Mikell has wallowed on the wire in far too many leagues this season, while managers continue to roster bigger-named yet less-productive options. Look for Mikell to post a solid line chasing down the Giants' duo of tailbacks. … Bernard Pollard and Michael Lewis are two linebacker-esque safeties that rack up tackles weekly as their teams ask them to play up in the box in run support. Both face run-heavy offenses and are widely available in ESPN leagues.
Sleepers
Target these guys for depth with an eye on their potential to be full-fledged starters.
Linebackers and linemen: Running backs often run wild on the Bengals thanks to their overwhelmed patchwork defensive line. By consistently allowing backs to get into the second level, the Bengals' linebackers have racked up a volume of tackles, and lately Brandon Johnson's numbers have swelled as he has averaged nearly 10 fantasy points in the past three games. … Similarly to Johnson, Detroit's Ryan Nece plays behind a sieve of a line and should tally some legit numbers these next few weeks chasing down Adrian Peterson and Joseph Addai. … Ryan Denney has filled in ably for the injured Aaron Schobel and has been particularly torrid lately with frequent visits to the quarterback's back. While his matchup with the Dolphins will see him battling super rookie Jake Long, he still merits consideration in deeper leagues and should be of use down the stretch as the team's best pass-rusher. … Gary Guyton has filled in capably for the Pats' patchwork linebackers' corps and should have a nice outing against a messy Seattle offense.
Think you know who will win all 34 bowl games this season? Put your prognosticating skills to the test in College Bowl Mania, featuring both confidence-style and straight-up selections. Sign up and play for free

Defensive backs: Corey Graham has been quietly stellar all season in place of the oft-injured Bears starting corners. Now that Graham has a starting gig for the rest of the way, at least do yourself the favor of bringing up his game logs and comparing him to your current defensive backs. What you find might just compel you to roster Graham. … No relation to Jason, Abram Elam was burnt for big plays last week, but his 12 tackles keep him relevant in the IDP realm. Consider Elam as a nice spot-starter this week as he faces the short-pass-heavy San Fran offense. … Jacques Reeves is rostered in less than 3 percent of ESPN leagues but deserves a more loyal following, as he's been an elite producer for the past two weeks. Reeves will be covering the heavily targeted Green Bay wideouts, which should lead to another nice day for his few fantasy faithful. … If Atlanta's Erik Coleman were forced to wear sweats on the sideline this Sunday, rookie special-teams standout Thomas DeCoud would get the start. If Coleman does sit as expected, consider DeCoud only in abyss-deep leagues or formats that start a high number of defensive backs. … Houston safety Nick Ferguson is literally unowned in ESPN leagues, a confounding reality given his solid numbers of late and his savory looming matchups.
Fantasy Sports
Jim McCormick is a fantasy football and fantasy basketball analyst for ESPN.com.
SPONSORED HEADLINES
FANTASY TOP HEADLINES
MOST SENT STORIES ON ESPN.COM