Commentary
Grand Theft Roto: Low risk, high reward
Updated:
October 8, 2008, 11:39 AM ET
By
Shawn Peters
| Special to ESPN.com
It's always interesting when a nation's economy mirrors fantasy sports.
Whether you're a teenager who has a better chance of getting a curling scholarship to Florida State than a decent college loan, or a Baby Boomer whose retirement fund has shriveled like certain body parts after a swim in the ocean, the past month has been nutty. So much turbulence. So much volatility. It's even gotten personal.
As someone who thought he was "buying low" when I purchased a new home in August, only to find that I now have to sell my current home even lower or risk carrying two mortgages during the worst lending crunch in history, I've been feeling every bump in the economy like a guy off-roading in a '79 Pinto with no shocks.
But the mayhem has reminded me of a quality that is underrated, both in fantasy and in reality, and that is stability. Sure, a little roller-coaster ride is fun every now and again, but when it comes to my investments and my fantasy players, consistent production beats unpredictable greatness every time.
Casing the joint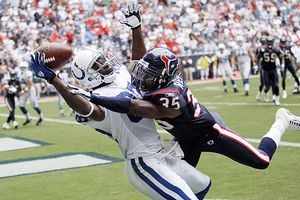 AP Photo/David J. PhillipReggie Wayne can be counted upon for decent stats each week with the potential for a big game.
In head-to-head football leagues, you can't control what your opponent does. He or she may go off and lead your league in points for the week, thereby spoiling your team's strong performance. Or he or she may have an entire lineup of guys who forget to show up, giving you an easy win even when your team is very mediocre. But in general, you'll win more games over the course of the year by having a team that always scores at or above the league average than you will with a team that alternates between being the top dog and the bottom feeder. In short, if you have a team full of solid performers, you'll be in the game more often than not.
Ask anyone who won his or her league thanks to drafting Brian Westbrook a year ago, and they'll tell you that what made him special wasn't just his great games; it was the fact that in even in his off weeks, he still managed at least 90 total yards. That meant he was no worse than an average back during his worst games. Meanwhile, Adrian Peterson's owners felt like they had the best back in fantasy, yet in the second half of the season, All Day's owners watched him miss two games with injuries and then do nothing in three of the final four weeks of the year.
In general, fluctuations are even wilder at wide receiver, since it's a position often dependent on the team's quarterback. That's why owning Terrell Owens a year ago, when he scored 15 touchdowns and 1,355 yards, was wonderful. That is, except when he disappeared in Weeks 4 and 5, averaging 29 yards per contest, and then vanished again in three of the final four weeks. Reggie Wayne scored five fewer touchdowns than T.O., but he also didn't have a single week where he didn't either top 65 yards or score a touchdown, and he got in the end zone in nine of his 16 regular-season games. I know which guy I wanted more going into the year, and I still feel that way, even though Owens' and Wayne's point-per-game averages are very similar.
I don't want to make blanket statements and say that every team should prize consistency over combustibility. If you're winless, you need to take a risk. If you're in first, you probably have the wiggle room to grab a guy with peaks and valleys, and gamble on knowing which week will see spikes. But for the rest, I say invest in consistency and you won't need a bailout.
Three I'm stealing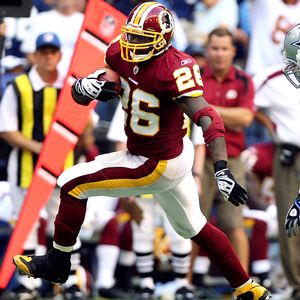 Matthew Emmons/US PresswireClinton Portis' worst game this season still resulted in eight points, something fantasy owners would be accept.
Clinton Portis, RB, Redskins:
How do you steal a running back who is averaging a smidge more than 15 points per game? Well, you offer someone who appears to be every bit as good. Both
Matt Forte
and
Marion Barber
have the same production on the year as Portis, but the Skins' featured back had his worst outing, eight points, in Week 1, and has scored at least 13 points with 20 carries or more every week since. With
LaDainian Tomlinson
's toe problems and Westbrook's several injuries, I don't know if there are any backs I'd take over Portis right now, and that includes Adrian Peterson, who only managed 41 total yards against the Saints on Monday night.
Dwayne Bowe, WR, Chiefs: I'm fully aware that the Kansas City Chiefs will likely be the least consistent, least dynamic offense in the league this season. However, you can't deny the fact that Bowe is the most targeted receiver in the league so far, despite having three subpar quarterbacks throwing the ball to him. Granted, more than half of those passes aren't getting to him, but opportunity breeds production. If a player has at least nine balls thrown his way every week, as Bowe has, he'll end up scoring some fantasy points. Plus, since the Chiefs will often get into an early deficit, there will always be reason to air out the ball in K.C.
Chris Cooley, TE, Redskins: Man, I guess I finally believe in the Redskins, eh? Cooley had an awful first week when he was targeted only once. Since then, he's seen an average of eight passes come his way each week. The Redskins' offense is clicking, and Cooley's involvement is one of the linchpins in Jim Zorn's West Coast offense. If your league rewards receptions, Jason Witten is the only tight end who's a genuine upgrade over Cooley. However, Antonio Gates and Kellen Winslow are probably valued more highly by your leaguemates. Why not call them and find out if that's the case?
Three I'm dealing
Larry Johnson, RB, Chiefs: It's not just because LJ had only two rushing yards on seven attempts against the Panthers. I swear. It's the fact that Johnson has been the ultimate boom-or-bust player this year, amassing 47 of his 58 fantasy points in two great games and averaging fewer than four points a week in the others. For the same reason I said I like Bowe -- namely the fact that the Chiefs will be trailing and passing often -- I am ready to sell Johnson for something I can rely on. He simply isn't the same back from a few years ago who could grind out yards and rip off long runs against eight-man fronts.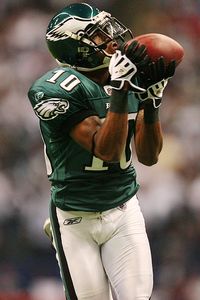 Nelson Chenault/US/PresswireDeSean Jackson may be crashing back to earth after a hot start to the season.
DeSean Jackson, WR, Eagles:
ESPN's own Mark Schlereth mentioned this week about just how dependent the Eagles' offense is on a healthy Brian Westbrook. Well, I no longer believe Westbrook will be close to fully healthy the rest of the year, and as such, I'm downgrading most of the Eagles' offensive weapons. Jackson gets called out because he's got several things working against him. First, he'll be facing defenses that won't be as concerned with the backfield, and second, now that
Reggie Brown
is back, there will be a redistribution of attention. Brown saw five targets in Week 5, while Jackson saw only two. Throw in the fear of Jackson hitting the rookie "wall" and we've got three bells ringing "sell."
Kyle Orton, QB, Bears: This is pure "sell high" stuff, but let's face it, we've seen this before from a Bears quarterback who plays really well for a few weeks and becomes "sexy." I know Orton is steadier than his predecessor, Rex Grossman, but I also know that the Bears are built to run the ball and play great defense. They'll revert back to that identity as the weather gets colder and the playoffs get nearer. Right now, Orton is coming off a huge week and getting buzz as a viable starter, but who is his go-to receiver? I guess it's Brandon Lloyd, but he's hurting, and he's never proved himself ready to take that role in the past. Would I like Orton as my second or third quarterback? Sure. Would I sell him to someone who thinks he could be their starter? Yes, in a heartbeat.
Pulling the job
Maybe I'm gun-shy after my current real estate debacle, but I wasn't able to get anything of note done this week.
Oh well -- I'll renovate my rosters, get back out on the market and hold an open house so that I have a sale to report by next week.
Until then, don't just win your league. Steal it.
Shawn Peters is a fantasy baseball, football and golf analyst for ESPN.com. You can e-mail him your own grand theft rotos by clicking here.