Commentary
Finding inexpensive fantasy band-aids
Updated:
November 5, 2008, 2:05 PM ET
By
Shawn Peters
| Special to ESPN.com
As a father of two young children, I'm used to triaging minor wounds. Granted, if it requires stitches or splints or a surgical-reattachment team, I leave the job to the professionals. But hardly a day goes by when one of my kids hasn't scratched a knee, scraped an elbow or suffered the dreaded paper cut on the pinkie.
Of course, when I was new to this whole daddy thing, I'd insist on stocking boxes of top-shelf, anti-bacterial-ointment-treated, jumbo-sized bandages at all times. Of course, more often than not, all the kids really wanted was a Band-Aid with "Little Einsteins" or "Toy Story" characters on it, and using the bandages I'd chosen just resulted in arguments, crying and wasted assets. Heck, half the time my children want to keep wearing band-aids for about a week after the wound is gone because they like the way it looks and hate how it feels when those adhesive strips are peeled off.
So what have I learned? The value of getting the right bandage and knowing how long it needs to last. It's a lesson that works for children and injured fantasy football rosters alike.
Casing the joint
How often have you gotten the e-mail that you know is coming?
Within minutes after your starting quarterback, Matt Schaub, leaves the game with an injured MCL, even before his knee has had a chance to fully swell, you get an offer from some lucky schlub who drafted Peyton Manning and Kurt Warner. He'll give you Manning for Clinton Portis or LaDainian Tomlinson or some other player you can't possibly win without.
The pitch is always the same: "You're hurting at quarterback, and I have two of the top guys. I can start only one of them."
The issue, of course, is that once Schaub comes back, you'll be the one who has a stud you can't start each week. By then, the trade deadline will have passed, and you'll be looking at Thomas Jones as your best starting back.
Simply put, you don't need Manning to survive while your team plays without Schaub, Tony Romo Kyle Orton.
I have the same message if you have been stung by "not injured, but not healthy" running backs such as Steven Jackson or Willis McGahee. Sure, you could trade those suddenly unreliable backs for 50 Selvin Youngs on the dollar, but how will that help you when they all get healthy and on track, possibly during your fantasy playoffs? It's not what you need.
You need a band-aid; someone to help you through the next month. You want someone who has been relatively consistent and a little productive, and who has a nice schedule for the next three or four weeks. That's it.
I'm talking about the kind of player you should be able to acquire without giving away an every-week starter. Essentially, you're looking to lease, and like leasing a car, you're not worried about whether it'll retain its value five years down the road. You want a vehicle that's reliable and gets good mileage until your lease runs out.
So that's why I'm targeting less-than-marquee players who are owned at least half of ESPN leagues but are about to see a rise or fall in their productivity in the next month. If you can grab a fill-in by offering a throw-in, you're stealing your way back into contention despite your injury woes.
Three I'm stealing
Chad Pennington, QB, Dolphins: I know I mentioned him last week as a guy whose production trend had raised his trade value, but he's still owned in less than 75 percent of ESPN leagues, and only two-thirds of his owners even started him a week ago against the woeful Broncos defense. Eight quarterbacks were more popular than Pennington in Week 9, and that's crazy, considering it was a week when both Drew Brees and Philip Rivers were unavailable. It's all proof positive that his owners don't value him all that much, even though his next four games are against the Seahawks, Raiders, Patriots and Rams and the first three of those games at home. Whether you're suffering from Orton withdrawal or have the Schaub shakes, Pennington can get you through, and he shouldn't cost a top-20 back.
[+] Enlarge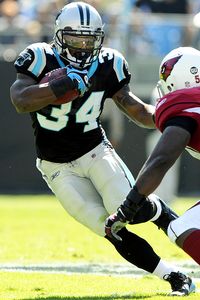 Bob Donnan/US PresswireAlthough Williams is sharing carries right now, he has a great schedule.
DeAngelo Williams, RB, Panthers: Coming off a bye, there may be no "flexy" back I find as sexy as the Panthers' Williams. The fact that he does split carries with Jonathan Stewart probably makes him a fringe starter for his owner, even though he is owned in 19 out of 20 leagues. But when I see the Raiders, Lions, Falcons and Packers all lined up in a row for the Panthers, he becomes a very solid second back for any team through November. You'll have to offer more for him than you would for some team's flex back. But if you live in fear of another week of starting Mr. McGahee and then watching him watch the action from the sideline even though he's active, Williams is the perfect sub, and I'm not talking about sandwiches.
Jamal Lewis, RB, Browns: Owned in just about every league but started in only 63 percent of leagues in Week 9 against the Ravens, Lewis is part of that very disappointing Cleveland offense. However, Brady Quinn will take over at quarterback just as the Browns enter a stretch against the Broncos, Bills, Texans and Colts. That schedule, plus the kind of semiconservative play-calling one might expect as the team breaks in a new quarterback, suggests that a ground-game surge is coming. We all know the Browns are better than they've shown, and if the team rallies around its new signal-caller, the tide could raise all boats. He's another tremendous stopgap for Steven Jackson owners or fantasy GMs who anxiously await further news on Earnest Graham.
Three I'm dealing
Cedric Benson, RB, Bengals: Benson, who will be owned in more than half the leagues once waiver claims are processed, has turned quite a few heads in the past few weeks, including the one sitting atop the shoulders of our own Talented Mr. Roto, Matthew Berry. I say he's the perfect suddenly sexy name for you to move to acquire that band-aid I've been talking about. Yes, I know he just busted out for 104 rushing yards and a score against the Jaguars. But now he has a bye, which he doesn't need because he had all of training camp and the first four games of the year off, and then he'll play the Eagles, Steelers and Ravens. Who knows whether he'll still have his starting gig and a working spine after that stretch?
Vincent Jackson, WR, Chargers: Averaging a smidgen less than 10 points per game in ESPN.com leagues, Jackson has been the Chargers' top wide receiver. San Diego is coming out of its bye rested, fresh and ready to reclaim its AFC West birthright. But here's the thing. LaDainian Tomlinson is starting to look healthy, and that means fewer touches for everyone else. Antonio Gates is feeling better, too. Ditto Chris Chambers. And now the Chargers have a four-week stretch of opponents -- Chiefs, Steelers, Colts and Falcons -- that are tougher than average against opposing wide receivers. Although Jackson still ranks in the top 15 in terms of average points per game, now is the time to deal him.
[+] Enlarge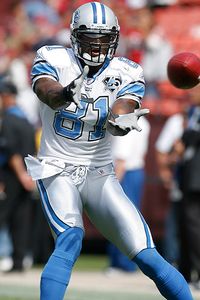 Greg Trott/Getty ImagesMight Johnson be the Randy Moss to Daunte Culpepper?
Calvin Johnson, WR, Lions: This is the second time I've warned you to trade him in the past month, but I felt I could justify it because he was great against the Bears and Redskins, two teams I thought would shut him down. Bzzzz. Wrong. But just as I was starting to believe in the Dan Orlovsky-to-Megatron Connection, the Lions signed Daunte Culpepper, and he might start as soon as Week 10. What? Haven't we seen this exact movie before in Oakland? Johnson has all the talent in the world, but with games against the Jags, Panthers, Bucs and Titans coming up, and a quarterback controversy brewing, I believe he has too much trade value and too much regression potential for you not to test the market and see what you could get for him.
Pulling the job
I don't have a deal to report this week, but I'm thanking several deities and whatever Tom Cruise prays to that one of my offers wasn't accepted.
In my main PPR league in which I've been struggling to replace Tony Romo, I found myself with two of the top defenses -- Ravens and Bucs -- and an expendable Kevin Faulk. Meanwhile, an old friend who had Aaron Rodgers, Kyle Orton and Chad Pennington was looking like he'd have to start Justin Fargas and Leon Washington as his two backs. I offered Faulk or the Ravens' D for Orton, and likely would've given both if he'd countered. If he'd countered with Pennington instead of Orton, I was ready to accept as well.
However, my offer went ignored, and then, on Sunday, my potential trading partner dropped Pennington for a tight end he didn't even end up starting. Well, by now we know that Faulk had a decent day in points per reception leagues and that Orton was lost in the middle of the game for a month.
Just a reminder that sometimes the best deals are the ones never accepted.
Shawn Peters is a fantasy baseball, football and golf analyst for ESPN.com. You can e-mail him your own grand theft rotos by clicking here.
SPONSORED HEADLINES
FANTASY TOP HEADLINES
MOST SENT STORIES ON ESPN.COM