Commentary
Forsett should be the man in Seattle
Jim Mora might yet have himself a reliable starting running back.
Justin Forsett, who began the season third on the Seattle Seahawks' depth chart, picked up a second consecutive start on Sunday and made it count. He ran 22 times for 130 yards and two touchdowns for 25 fantasy points, which set a career high while also pacing all running backs in Week 12 to this point.
So much for all that early-week talk that Julius Jones was still Mora's starter if the veteran was healthy. Jones' rib/lung injury wound up keeping him on the sidelines for the second consecutive week, and one must wonder whether Mora would make the same proclamation again. Fantasy owners sure aren't happy about it; some of them might have slotted in a healthy Thursday option facing the threat that Jones would be the active starter, relegating Forsett to a little-used reserve role.
If you count Forsett's relief work in Week 10, he now has 368 total yards and four touchdowns on 60 touches in his past three games. Those include the numbers from his first start -- in Week 11 -- which came versus the game's stingiest run defense (Minnesota Vikings). If there was any doubt about how Forsett fits into Mora's zone-blocking scheme, he certainly has answered those questions.
What of Mora's offense? Keep in mind that before Forsett's ascension to the top of the depth chart, the Seahawks leaned more toward a pass-heavy offense, typically an anti-Mora strategy. Since Forsett's installation as starter (Weeks 11-12), the Seahawks' snap breakdown has been 43.6 percent running plays, 56.4 percent passing. By comparison, through Week 10, their numbers were 35.7 and 64.3. This is an offense shifting back toward being run-based, and that suits Forsett just fine.
Looking forward, the Seahawks battle the San Francisco 49ers, Houston Texans and Tampa Bay Buccaneers the next three weeks, which suits their running game well. Assuming Forsett's two-week performance has earned him the permanent starting gig, he'll be a solid No. 2 fantasy option for those three games … and perhaps through the remainder of the season.
Tristan's MVP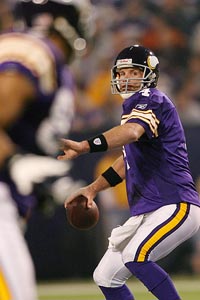 Elsa/Getty ImagesWhile Brett Favre has thrown just three interceptions this season, he has five games with at least three TD passes.
It's Brett Favre, who appropriately went on a rampage at Mall of America Field on the Sunday sandwiched between "Black Friday" and "Cyber Monday." But are you really surprised to hear that Favre had another monster outing in a home game? He has now played six of his eight scheduled home games this season, and check out his fantasy point totals in them: 18, 22, 23, 17, 24 and 27. Wow.
But what fantasy owners have to like is how Favre has shown no signs of slowing down as our playoffs approach. It was right around this point in 2008 when he collapsed statistically; from Week 12 on, he averaged 205.8 passing yards with four touchdowns compared to 10 interceptions. In three games since the bye this year, by comparison, he has averaged 316.3 passing yards with eight touchdowns compared to zero interceptions. The Vikings might have been well served to give Favre another early hook this week with the game decided, but for the most part have done an impeccable job maintaining their veteran quarterback's arm. Though the Cincinnati Bengals (Week 14) and Carolina Panthers (Week 15, on the road) matchups might challenge Favre, he'll be an elite play in games versus the Arizona Cardinals (Week 13, road) and Chicago Bears (Week 16, road).
Four up
• Terrell Owens: There's apparently something to this T.O. hot streak. Was it the coaching change? Perry Fewell's subsequent decision to install Ryan Fitzpatrick as his quarterback? A favorable schedule? Whatever the cause, Owens sure has looked the part of No. 1 receiver the past two weeks, during which he has totaled 14 receptions (on 19 targets) for 293 yards and two touchdowns. By comparison, in those games, Lee Evans has three catches (on 11 targets) for 55 yards and no scores. I'm not about to say "it's time to totally buy in on T.O.," mainly because he has a dreadful matchup versus the New York Jets and Darrelle Revis up next, but after that he gets the Kansas City Chiefs in Week 14 and Atlanta Falcons in Week 16. It's a convenient time for him to be regaining his owners' trust.
• Jamaal Charles: Kudos to the Chiefs for recognizing Charles was deserving of the opportunity to nail down a job as the every-down back in the wake of Larry Johnson's release. In an otherwise forgettable game, Charles managed 147 total yards and a touchdown on 17 touches, and in his past three contests he has averaged 5.2 yards per carry while totaling three touchdowns (two rushing, one receiving). He's a speedy fella, averaging more than 5 yards per carry for his NFL career, but it's his receiving contributions that are most encouraging. After all, on one of the league's weaker teams, Charles can sure use those numbers in order to be a regular No. 2/flex candidate the remainder of the year.
• Percy Harvin: While Sidney Rice and the aforementioned Brett Favre must have by now convinced the fantasy football world of their elite level of chemistry, the Favre-Harvin connection apparently isn't lagging far behind. The rookie was the Vikings' Week 12 standout, hauling in six passes for a team-high 101 yards and a touchdown. It's the third time in his past four games Harvin had a touchdown reception, and Harvin's target total (8) compared favorably to Rice's (10). While the rookie, who is explosive yet still developing, might be a bit more of a boom/bust fantasy play than the clear-cut weekly starter Rice, Harvin's upside is well worth having him as a No. 2/3 in most remaining matchups.
• Thomas Jones: Though Jones could have done better against this mediocre Panthers defense, the fact remains that he managed an eighth consecutive double-digit fantasy performance, impressive for a man of his age and with the amount of miles on his legs. Here's what else fantasy owners will like: His remaining schedule includes games versus the Bills, Buccaneers, Falcons, Colts and Bengals, which ranks among the most favorable in the game.
Four down
• Steve Slaton: While he's back as the Texans' "starter," all that really seems to mean these days is a passing-down option who gets the bulk of his rushing attempts between the 20s. Slaton actually had fewer rushing attempts (10) than Chris Brown (11), and he carried the football but twice after halftime. Unless you play in a PPR league, you're not squeezing maximum value out of Slaton, and coach Gary Kubiak simply doesn't seem to trust the guy in a critical situation. There's a significant downside to using Slaton down the stretch.
• Rock Cartwright: Well, there's a reason he was a third-stringer on this Redskins team, and a backup/depth guy for all eight seasons he has been with them, in fact. It's that Cartwright simply isn't the kind of talent that a Clinton Portis or Ladell Betts is; he can't break tackles and he's not particularly adept at finding holes. Not that we should lambaste Cartwright for a so-so performance on the road versus a stout Eagles defense, but when new third-stringer Marcus Mason looks like the better runner in limited work, there has to be a time-share concern looking forward. Cartwright belongs on fantasy owners' radar for now, mainly because he's the "starter," but he's not looking like he's going to be much more than a flex option when the matchups call, and they really don't that often the rest of the year: New Orleans Saints (with Sedrick Ellis) in Week 13, New York Giants in Week 15, Dallas Cowboys in Week 16.
• Devin Hester: I'd have picked Matt Forte for this honor if most fantasy owners weren't already on board with the idea that Forte is a season-long bust. So Hester gets my nod, and it's because despite the Bears' tendency to pass, pass, pass, Jay Cutler simply isn't getting the football into the hands of his most capable deep threat. Hester was targeted just twice on Sunday, which demonstrates what can happen when the Bears face a ferocious pass rush like that of the Vikings. The Green Bay Packers, Baltimore Ravens and Vikings loom large as fantasy-playoff matchups, so Hester might be destined to disappoint you in our most critical weeks.
• Larry Fitzgerald: For once, there actually wasn't a plethora of "Four Down" choices, so while Fitzgerald fits here thanks to his four-catch, 34-yard, no-score performance, it hardly means I'm condemning his fantasy future. No, this one is more a concern for what it might mean to have Matt Leinart as his quarterback, and for all we know, that might have been a one-and-done for Leinart as the Cardinals' starter. Fitzgerald was targeted only five times all game; he didn't have a game with that few targets or receptions since Week 2. Leinart might have completed 67.9 percent of his pass attempts this season, but he has averaged 6.1 yards per attempt and hasn't completed a touchdown pass. To say he's going to shorten up the Cardinals' pass attack if he's a long-term starter -- which is always possible considering the nature of concussions -- isn't a stretch.
Injury report
For the latest injury updates, check back for Stephania Bell's analysis throughout the week and keep tabs on the Monday news conferences.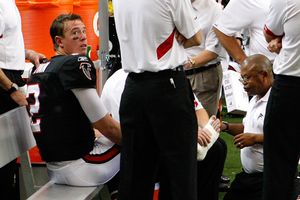 Kevin C. Cox/Getty ImagesMatt Ryan's day was finished after just three pass attempts against the Buccaneers.
• Matt Ryan (toe): He left Sunday's game following the Falcons' opening series, paving the way for Chris Redman to pull off the comeback victory in relief. Should Ryan's injury turn out to be serious -- it's unclear whether it's the dreaded turf-toe issue -- Redman would stand to start in Week 13 and beyond. Don't expect Redman to have the same kind of success if pressed into duty the next four weeks, when the Falcons battle the Eagles, Saints, Jets and Bills. Heading into the Monday night game (Patriots-Saints), those four teams have combined to allow 9.1 fantasy points per game to opposing quarterbacks.
• Eagles CB Sheldon Brown (hamstring): He aggravated the hamstring injury that plagued him a couple of weeks back, and bears watching during the midweek practices. Should Brown be forced to miss a game -- he was able to grit it out last time -- the Eagles' secondary would take a significant hit.
• Michael Turner (ankle): He aggravated his ankle injury midway through the third quarter, and was unable to return to the game. Though Jerious Norwood technically replaced Turner at running back and finished the game second on the team in carries (6), he had only two of the team's seven rushing attempts after Turner departed, though the Falcons' offense was pass-happy at the time trailing by four entering the fourth quarter. Norwood, not Week 11 standout Jason Snelling, might be next in line to start should Turner need further rest, but Snelling's previous short-yardage success could mean he'll figure into the mix in the "vulture" role. Keep tabs on the Falcons' practice reports this week.
• DeSean Jackson: (concussion): Ah, the "C" word -- not the friendliest of terminology when it comes to Eagles offensive players. Following Sunday's game, coach Andy Reid said Jackson, who left in the third quarter following a hard hit from Redskins linebacker London Fletcher, suffered a concussion and will undergo further tests on Monday. If Jackson is forced to sit out Week 13, Jason Avant would likely move into the starting lineup with Reggie Brown moving up to No. 3. It'd be bad timing; the Eagles have a good matchup versus the Falcons.
• Steven Jackson (back): Give him credit, he's a gamer. Jackson, who didn't practice all week, cracked the game-day roster and totaled 116 yards and a touchdown, very respectable numbers considering the circumstances. He did tell the St. Louis Rams' official Web site afterward that his back bothered him all game and remains sore, so keep tabs on his health this week. As was going to be the arrangement this week if Jackson sat, Kenneth Darby and Samkon Gado would likely split the rushing chores, with Chris Ogbonnaya serving as their backup, if needed in Week 13. For fantasy owners' sake, let's hope Jackson grits it out again.
• Jason Campbell (head/arm): While it's unclear whether Campbell suffered a concussion, he admitted to the Washington Post following Sunday's game that he blacked out, his left arm went numb and he had the wind knocked out of him on the final play. He'll need to be watched throughout the midweek practices, but fantasy owners shouldn't be counting on Campbell if they can help it.
• Brent Celek (thumb): After committing three costly drops Sunday, Celek admitted to a teammate afterward that he played with torn ligaments in one of his hands. The Eagles termed Celek's injury a sprained thumb, and said X-rays were negative, but if Celek misses any time, the Eagles' pass attack would be precariously thin going into a critical Week 13 game versus the Falcons.
Go get 'em!
As you're preparing your waiver claims, keep these names in mind:
• Jason Avant: As mentioned above, Jackson's concussion potentially thrusts Avant into the spotlight in Philadelphia, though why not dish him a little love regardless of his specific spot on the depth chart looking forward? He plays for a pass-heavy offense, is used in a fair share of three-receiver sets, has good hands and a knack for picking up key first downs. What's more, Avant has 17 receptions (on 20 targets) for 276 yards and a touchdown in his past three games, so clearly the Eagles have recognized his contributions and increased his workload accordingly.
• Chris Brown: It sure seems like he's the Texans' short-yardage/goal-line back, doesn't it? Brown got the team's only rushing attempt in a goal-to-go situation this week, and converted on it for a 5-yard score. In the past two weeks, Brown has three such attempts to Steve Slaton's one, and while it's clear that Slaton will play all passing downs, Brown has 28 touches to Slaton's 27 overall during that span. This is an obvious time-share, and in a time-share divided this evenly it's traditionally the goal-line back you want. If you must pick one, that is.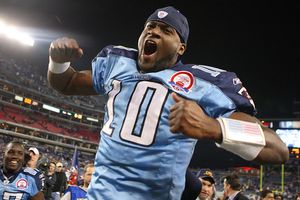 Streeter Lecka/Getty ImagesVince Young's 387 yards passing against the Cardinals were easily a career high.
• Vince Young: While I liked the Tennessee Titans' decision to hand him the starting job, Young isn't a player I expected to make a difference in fantasy this season. His 387-yard, one-touchdown performance in a comeback win versus the Cardinals, however, offers plenty of encouragement for him looking forward. He was remarkably effective this week and the Titans have favorable matchups coming up versus the Rams (Week 14) and Miami Dolphins (Week 15). He might be a solid option in two-quarterback leagues and a fill-in in deeper formats in those games.
• Kenny Britt: If I'm pro-Young, naturally it follows that I'd be pro-Britt, right? I'm actually fonder of the rookie wide receiver than I am the quarterback, and it's because it's clear he's starting NFL material and that his role is only increasing in this offense. It's the second consecutive week Britt has scored a touchdown, and it's his second 100-yard effort of the season. Britt has capitalized upon the injury to Justin Gage; the rookie could very well be a weekly No. 3 looking forward.
The matchups did the talking …
• Steve Smith (1 reception for 5 yards at Jets): Apparently the Panthers didn't get that memo about Darrelle Revis being one of the league's top cover corners; in spite of the fact Revis served as Smith's shadow for nearly the entire game, Jake Delhomme targeted him six times on Sunday. Among the uglier results: A ball off Smith's leg snatched by Revis and returned for a touchdown, another initially ruled as a touchdown catch but later overturned on a challenge and another deep pass picked off by Revis (his second career two-interception game). If you own Terrell Owens, Roddy White or Reggie Wayne, you cannot possibly be happy to learn that they'll each go up against Revis within the next four weeks.
• Alex Smith (27-of-41 passing for 232 yards, 2 TDs versus Jaguars): Those fantasy owners hurt by the late-breaking Kurt Warner news might have grabbed this fill-in candidate, and if they did, surely they were pleased. Smith did most of this in the first half, capitalizing both upon a Jaguars defense that generates practically no pass rush but also was missing its top cover corner, Rashean Mathis. Accounting for the matchup, it's dangerous to read too much into Smith's performance, but he does have another potentially favorable one coming in Week 13 versus the Seahawks. If you're in a pinch …
Now that wasn't part of the game plan!
• When Cedric Benson (hip) was declared inactive shortly before the 1 p.m. ET kickoff, most fantasy owners would have assumed that, like in Week 11, Bernard Scott would start and get the bulk of the carries (21 in Week 11), while Larry Johnson would serve as a change-of-pace backup (two carries in Week 11). Not so. Johnson led the way with 22 rushing attempts and topped 100 yards rushing for the first time as a Bengal, but most notably there seemed to be a distinct shift of the game plan to him in the second half. A leg injury that hampered Scott midway through the third quarter seemed to relegate him more to a return-man role, as Johnson picked up 14 carries to Scott's two after the rookie got hurt.
What's more, the one time the Bengals were in a goal-to-go situation -- which occurred before Scott's injury -- Johnson was handed the football for a 3-yard gain. It's also telling that reporters were asking Benson after the game whether he should expect to share time once healthy. Johnson apparently has a role in this offense and it has previously been reported that he's eager to play versus his former team, the Chiefs (Week 16), meaning that while he's not available in a huge number of ESPN leagues (37.2 percent), those who hung onto him (the other 62.8 percent) might yet be able to squeeze more than handcuff value out of him. If I'm a Benson owner, I'd be a little worried about this developing into a dreaded time-share.
Flash forward
A quick preview of what's in store for Week 13 …
• The NFL returns to Canada on Thursday, as the division-rival Bills and Jets battle in Toronto's Rogers Centre. Thomas Jones was the standout the last time these teams faced each other, in Week 6, as he ran for 210 yards and a touchdown en route to a season-best 28 fantasy points. Jones, in fact, has touchdowns in three straight games versus the Bills, averaging 6.6 yards per carry.
• The Panthers host the Buccaneers, and you might remember that in their previous meeting in Week 6, both DeAngelo Williams and Jonathan Stewart dashed for 100-plus yards. Stewart actually has managed two of his three career 100-yard rushing efforts versus that opponent, and in his past two games against the Bucs he has 225 yards and three touchdowns. Williams, meanwhile, has run for at least 100 yards and two scores in three of his past four games versus the Buccaneers. He has averaged 6.1 yards per carry in those four contests.
• The Patriots head to South Florida to take on the Dolphins, and that matchup the past two years has been an effective vacation in paradise for them. The Patriots won in Miami in 2007 by a 49-28 score, and in 2008, 48-28. Not that you'd ever sit the "elite three" (Tom Brady, Randy Moss and Wes Welker) of the Patriots' pass attack, but week-leading numbers might be in order. Moss has 247 receiving yards and five touchdowns in his past two visits to Miami, while Welker has managed 17 catches for 258 yards and two scores in his past two trips there. Brady also threw for 332 yards and a score in these teams' Week 9 meeting in Foxborough.
• The New York Giants, smarting from their Thanksgiving night loss in Denver, are faced with a must-win game versus the Dallas Cowboys. Eli Manning has actually been up to the task versus this opponent; he has averaged 230.0 passing yards with 16 touchdowns in his past eight games against the Cowboys (playoffs included). Three of his past four of those were Giants wins.
Tristan H. Cockcroft is an FSWA award-winning fantasy football analyst for ESPN.com. You can e-mail him here.
Fantasy
Senior writer for ESPN.com
Co-host of the Fantasy Focus Baseball podcast
Two-time LABR, two-time Tout Wars champion
Member of the FSWA Hall of Fame
SPONSORED HEADLINES
FANTASY TOP HEADLINES
MOST SENT STORIES ON ESPN.COM