Commentary
Instant Replay: 2009 fantasy wrap
End-of-season awards, labels, players to upgrade/downgrade, injuries to track …
Ah, Week 17. What better time to resume the age-old debate: Should NFL teams already locked into playoff seeding rest their regulars or play out meaningless games?
On one hand, you have critics of the Indianapolis Colts -- myself included -- who questioned their stance toward sitting players at the expense of their pursuit of perfection. Besides the obvious fantasy implications, the Colts seemed to prefer three weeks of rest (or at least partial rest) to potentially going down in history as the league's only undefeated team since the 1972 Miami Dolphins.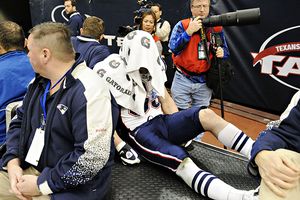 AP Photo/Dave EinselThe man with the towel over his head is Wes Welker, whose season is now over.
On the other hand, you have those who will point to the knee injury suffered by Wes Welker on Sunday as an example of why teams should avoid taking chances with regulars. ESPN's Adam Schefter reported late Sunday that Welker suffered tears to both his ACL and MCL, injuries that will cost him the playoffs and certainly threaten the start to his 2010. On a day when reports were abounding that commissioner Roger Goodell might consider creating incentives for teams that play starters, Welker's injury might instead guarantee that Week 17 remains a meaningless week in future years.
Not that this Week 17 was entirely meaningless. You had Brett Favre remaining in a blowout win plenty long enough to win fantasy championship matchups on his own. But you also had Willis McGahee, started in only 18.0 percent of ESPN leagues, racking up a whopping 34 fantasy points.
That's a fitting end to what was a wacky season, isn't it? The 2009 campaign was the type in which you should have expected the unexpected. With it now in the books, let's take a look back at the season that was …
Tristan's 2009 MVP
I don't care whether it's too obvious to pick fantasy football's No. 2 scorer as MVP; Aaron Rodgers is my MVP for a good reason. In a season when everyone seemed to prefer Drew Brees, Peyton Manning and Tom Brady, Rodgers outscored 'em all, and handily; he finished with 47 more fantasy points than Brees. He's also the only one of those four who had double-digit fantasy points in both Weeks 15 and 16, typically fantasy playoff weeks and the latter often a championship week. Here's the other thing to admire about Rodgers: He topped 300 fantasy points in a season in which he received little pass protection, having been sacked an NFL-high 50 times. Some owners might have worried about his health, or his ability to maintain an average of more than 20 fantasy points per game behind a patchwork offensive line, but those who retained their faith in Rodgers were rewarded.
Tristan's 2009 Bust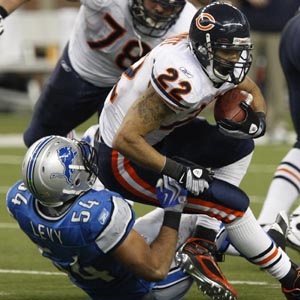 AP Photo/Carlos OsorioSorry, Matt Forte, but you deserve our "bust" label.
Jay Cutler might take a lot of flak for his miserable 2009, but Matt Forte's performance was the one most devastating to his fantasy owners. He was a first-round choice in most every league, the No. 5 pick overall (7.3 ADP) on average in the preseason, yet couldn't even get within 30 fantasy points of the top 10 at his position. He managed only seven double-digit fantasy performances in his 16 games, compared to six worth five points or fewer, and during our playoff weeks (Weeks 14-16), he totaled 17 fantasy points. Only twice all season did he manage as many as 100 rushing yards, and both games were against the Detroit Lions. Forte's stock seemed destined to soar with Cutler under center, as he's a skilled pass-catcher and Cutler was supposed to help keep opposing defenses honest. Yet Forte averaged 3.6 yards per carry, down from 3.9 as a rookie in 2008, scored only four touchdowns and caught just 57 passes, six fewer than last year.
Tristan's 2009 Unsung Hero
Every season has its "unsung hero," and my pick for 2009 is Jamaal Charles. Despite not stepping into the lead-back role until Week 10, Charles did enough in the season's final eight games to finish among the top 15 running backs in fantasy points. Seven of those eight games were double-digit efforts, his average fantasy point total was 19.4, and if you doubled his statistics in those contests, he'd have finished with 2,252 total yards and 16 touchdowns. What's more, Charles caught 23 passes in those eight games, so if you had any concerns about his ability to be involved on both sides of the football -- a concern for players on losing teams -- they were surely alleviated. He'll enter 2010 a fringe candidate for top-10 running back (and perhaps top-10 overall) status, and for good reason.
The year of the out-of-nowhere wide receiver
If there was any trend fantasy owners should have picked up on in 2009, it's the volatility of the wide-receiver position, at least beneath the top tier. Sure, four of the preseason top five (Larry Fitzgerald, Andre Johnson, Randy Moss and Reggie Wayne) finished in the top 10 at the position, but scroll down this year's leaderboard and you're looking at a slew of preseason afterthoughts: Miles Austin, Steve Smith (the one on the Giants), Sidney Rice, Robert Meachem, Mike Sims-Walker, Hakeem Nicks, Austin Collie and Pierre Garcon. Now look at the top 20 in terms of ADP: Steve Smith (the one on the Panthers), Terrell Owens, T.J. Houshmandzadeh, Roy E. Williams, Braylon Edwards, all of them disappointments. That's as good a reason as any that if you didn't nab one of the top-flight, first-two-round wide receivers, you shouldn't fall prey to a position run in the third through fifth rounds. It could be said that you're just as likely to succeed by waiting until the later rounds to grab a few sleepers to maximize your breakout potential.
Four up: 2010
In this week's edition, "Four up" are players whose stock seems most likely to rise heading into the 2010 season.
• Beanie Wells: Perhaps his final 2009 numbers will classify him as a fantasy disappointment, but considering his inactivity during OTAs and minimal role during training camp, Wells' rookie campaign wasn't all that bad. It did take him until mid- to late October to get into a groove, but once he did (particularly in that Week 7 game versus the Giants), he averaged 4.7 yards per carry and scored seven touchdowns in his final 11 games. Though Wells has work to do in the blocking department and had a checkered health history in college -- both of which probably will prevent him from playing enough snaps for a 300-carry season -- he's one of the more explosive backs in football. To declare him a 1,000-yard, double-digit touchdown candidate next season isn't a stretch.
• Joe Flacco: Though his better performances came before the bye -- four of his five 15-plus-point efforts -- Flacco showed us enough, accounting for his limited receiving arsenal, to be a breakout candidate in 2010. He's certainly capable of throwing it deep, as evidenced by his boost in yards-per-attempt average from 6.9 to 7.2, as well as three 300-yard performances in the first six weeks when the Ravens were playing it pass-heavy. Over the course of the season, though, they were still a run-based offense, something that might be addressed during the offseason should the Ravens choose to bring in a younger, top-shelf wide receiver (Brandon Marshall?). Flacco has the skills to be the leading man in Baltimore, and don't be surprised if he has the personnel to become one in 2010.
• Jonathan Stewart: This isn't only an homage to his standout Weeks 16 and 17 performances as the Panthers' starter; it's also a statement that his time as the permanent owner of that position has arrived. Now, anyone who has followed a John Fox team for the past decade knows the coach's loyalty to his veterans, but if Fox wants to win in 2010, he must realize that Stewart finished the season with comparable numbers to DeAngelo Williams in terms of YPC average (5.1 to Williams' 5.2), big-play runs (11 of 20-plus yards to Williams' seven) and goal-to-go efficiency (five scores on 22 carries, 22.7 percent, to Williams' 3-for-13, 23.1). Williams' contract expires after next season, so the Panthers might be wise to get Stewart ready to take over a leading-man role. He probably won't dominate the carries in 2010, but it can't be guaranteed that he won't.
• Percy Harvin: One of the most talented up-and-coming wide receivers in football, Harvin might actually have stood a chance at a top-10 fantasy season at the position this season if not for the migraines/neck problems that sidelined him in Week 14 and visibly hampered him in the next two games. Harvin stepped ahead of Bernard Berrian on the wide receiver depth chart and also served as a dynamic punt returner, and before getting hurt he scored in single digits just four times in 12 games. The Vikings' quarterback situation heading into 2010 is closely tied to his value, but with his talent alone Harvin should make the best of his chances, whether it's Brett Favre, Tarvaris Jackson or someone else throwing him the football.
Four down
Obviously, it then follows that "Four down" are players whose stock seems most likely to plummet heading into the 2010 season.
• LaDainian Tomlinson: Give him credit for a decent age-30 season, including 12 touchdowns, but a top-20 finish among running backs will do nothing more than overinflate his draft-day price tag yet again. Widely considered a top-10 overall pick this season, Tomlinson showed all the telltale signs of the aging process: His yards per carry dropped (to a career-worst 3.3), he failed to record a 100-yard rushing effort all season (for the first time in his career) and he surrendered his passing-down chores to Darren Sproles. Even if you choose to explain his mediocre YPC as an increase in goal-line work, well, removing his goal-to-go statistics results from his yards-per-carry average would have resulted in a 5.0 average in 2007 to a 4.0 in '08 to 3.6 this season. That's a significant regression. Sproles might not represent the Chargers' future, but neither does Tomlinson; I'd be treating the soon-to-be-31-year-old as a flex-play/matchups type at best.
• Brandon Jacobs: Don't you just hate this oh-so-common story: early-round draft pick struggles through miserable season, then only at year's end does it come out that he has been playing through a nagging injury? Not to say that Jacobs is making excuses -- far from it -- but it's convenient that now he's having knee surgery, only after seeing his yards-per-carry average sag to 3.7, his touchdown total dip to six and his fantasy production in the playoff Weeks 15-16 at only six points combined. It explains a lot, but it hardly inspires confidence in his future. Jacobs takes a beating, as physical a back as he is, and while he'll probably kick off 2010 as the Giants' starter, one must wonder whether he'll ever be able to hold up and remain productive for a 16-game season again. Perhaps there's a reason his best season came as part of a three-back system in 2009 -- he needs a breather more often than your typical back.
• Jay Cutler: Put aside his back-to-back 25-point fantasy performances to finish the season for a second. Cutler finished 2009 with a league-high 26 interceptions, six more than anyone else in the league and a number exceeded only 25 times in NFL history. Despite his talent, he was a poor fit in the Bears' system, and he lacked the weapons he had in Denver. Make the case if you want that Cutler gets a fresh slate in 2010, but here's the problem with that: This isn't a quick-fix situation. Would a new coach and/or offensive coordinator help? Maybe. Would adding a top-flight receiver help? Sure. But neither one is guaranteed to happen, and worse, neither is guaranteed to turn him around.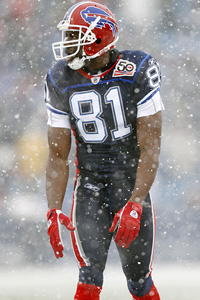 AP Photo/Mike GrollIf you think Terrell Owens will bounce back in 2010, think again.
• Terrell Owens: It's time to accept that T.O. is past his prime. He's now 36 years old and is coming off arguably his worst season (other than of course his injury-marred 2005 or terrible 1999), and those aren't coincidental. Don't put the blame for his lackluster numbers entirely upon his quarterbacks, because there were times this season when he was largely invisible while Lee Evans managed respectable numbers across from him. Even if Owens escapes Buffalo during the offseason, fantasy owners shouldn't hold out hope for a bounce-back season. At his age, the chances are becoming slimmer each passing year.
Injury report
This week's edition focuses on players who will enter 2010 with significant injury questions.
• Ronnie Brown (Lisfranc surgery): No whispers yet that his Week 1 of the regular season is in jeopardy, but considering he went under the knife Nov. 20, he'll be only eight months removed from the injury when training camp opens. Brown might not participate at all in OTAs, but we'll surely hear reports on his health as we reach those offseason stages. I still think he has top-10 running back potential for 2010, but he'll be a key name to track throughout the summer.
• Marc Bulger (fractured shin bone): Though he should be fine for next season, his time in St. Louis might be over because of his bloated $8.5 million salary in 2010. Bulger might be cut and have to settle for a backup role elsewhere.
• Chris Cooley (ankle surgery): Considering the Redskins held out hope for nearly five weeks that Cooley might be able to return from his injury this season, there's little doubt he should be fine for next season. What's more in question is his status with the team, as trade rumors are circulating after the emergence of Fred Davis in his absence. If Cooley indeed is dealt, both he and Davis might make cases for top-10 tight end status in 2010.
• Owen Daniels (knee surgery): He tore his ACL in Week 8 (Nov. 1), and the rehabilitation process can generally take as long as eight months or more. That puts Daniels' status at the onset of training camp in doubt, and one must wonder how effective he'll be come Week 1. He'd potentially be a top-10 tight end without any health questions, but until we get a read on his health when camps open in July, it's impossible to rank him that generously today.
• Jake Delhomme (broken finger): He endured a miserable season even when healthy, and he'll turn 35 in January, but $13 million (the approximate minimum he's guaranteed in 2010) goes a long way toward guaranteeing a guy a roster spot. Not that Delhomme should be guaranteed a starting job, by any means.
• Anthony Gonzalez (knee surgery): His rocky road to recovery this season -- delayed by Nov. 5 surgery to clean out loose particles -- can't help putting his 2010 season in some question, particularly because Pierre Garcon (and to a lesser extent Austin Collie) filled in so admirably for him. Gonzalez will presumably enter training camp at full strength, as he did attempt a recent return to the field, but there's no way he'll be the breakout candidate he was entering 2009. Even if he's 100 percent, his opportunity won't be nearly what it was this year.
• Clinton Portis (concussion): He insists his season-ending concussion isn't a career-ender, but he's 28 years old with 2,176 carries on his legs, and he looked like he had lost a step in the games in which he appeared this season. Portis probably will be the Redskins' starter come Week 1, but the team needs to start thinking about his future replacement. Perhaps they'll draft his replacement in April?
• Steve Slaton (neck): He's letting the nerve issue in his neck heal on its own for now, but come January, he'll be a candidate for surgery if it hasn't improved. Check back on him throughout the offseason, but he'll need some promising health reports in order to generate much buzz as a desired draft-day target. Whether Gary Kubiak is still his coach by then might also have an impact on his 2010 potential.
• Kevin Smith (knee surgery): Another player coming off surgery to repair a torn ACL, Smith went under the knife Dec. 23, and an eight-month rehabilitation timetable would make him a serious question mark for Week 1. He's the player who most distresses me in terms of injuries, because he'd have been a top-20-capable running back if healthy, but ACL injuries for running backs aren't exactly a good thing. For comparison's sake, I bring up Ronnie Brown, who averaged 5.1 yards per carry and 141.6 yards per game before having surgery on Nov. 1, 2007; those numbers dipped to 4.3 and 73.1 in 2008 (and might have represented a best-case scenario). If the Lions bring in a running back during the offseason, I won't be at all surprised, because they probably will need an insurance policy.
• Panthers' Steve Smith (broken forearm): The most recent of these injuries, Smith's hasn't raised any concerns that he won't be fine for 2010, but discussing him ties back into the Delhomme topic. Count me as one who would prefer that Matt Moore was his quarterback if forced to pick between the two.
• Matthew Stafford (knee surgery/shoulder): Give the kid credit for playing through both shoulder and knee pain, because there were visible signs how much they were bothering him for much of the year. The knee operation, conducted Dec. 29, was minor, and neither injury seems likely to bother him heading into training camp. Stafford performed admirably enough in his rookie year to potentially be ready for a step up to matchups/fantasy-backup status in 2010.
Flash forward
A quick preview of Tristan's top 10s by skill position for 2010.
Quarterbacks: Drew Brees, Peyton Manning, Aaron Rodgers, Philip Rivers, Tom Brady, Matt Schaub, Ben Roethlisberger, Donovan McNabb, Tony Romo and Matt Ryan.
Running backs: Chris Johnson, Adrian Peterson, Maurice Jones-Drew, Frank Gore, Michael Turner, Steven Jackson, Ray Rice, DeAngelo Williams, Cedric Benson and Ronnie Brown.
Wide receivers: Andre Johnson, Larry Fitzgerald, Reggie Wayne, Randy Moss, DeSean Jackson, Vincent Jackson, Brandon Marshall, Marques Colston, Calvin Johnson and Roddy White.
Tight ends: Dallas Clark, Antonio Gates, Vernon Davis, Tony Gonzalez, Brent Celek, Jason Witten, Kellen Winslow, Greg Olsen, Visanthe Shiancoe and Jermichael Finley.
Tristan H. Cockcroft is an FSWA award-winning fantasy football analyst for ESPN.com. You can e-mail him here.
Fantasy
Senior writer for ESPN.com
Co-host of the Fantasy Focus Baseball podcast
Two-time LABR, two-time Tout Wars champion
Member of the FSWA Hall of Fame
SPONSORED HEADLINES
FANTASY TOP HEADLINES
MOST SENT STORIES ON ESPN.COM