Commentary
Texans camp preview: Can Alex Gibbs improve O-line?
Updated:
August 18, 2008, 7:26 PM ET
By
AJ Mass
| ESPN.com
Editor's note: These camp previews are up to date as of the start of preseason games. For the latest changes since then, check our updated rankings, projections and profiles.
It's the age-old question: Is the cup half-empty or half-full? On the one hand, the Texans' 8-8 record in 2007 was the best in this young team's history. Then again, the team still finished last in the AFC South and was the only team from the division that didn't make the playoffs.
[+] Enlarge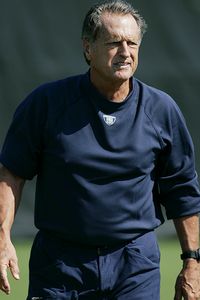 Brett Davis/US PresswireMatt Schaub and Ahman Green hope Alex Gibbs will help them out.
Matt Schaub appears to have fully recovered from the concussion problems and the shoulder injury that caused him to miss five games and parts of four others last year. And his favorite target, Andre Johnson, is also ready to put knee surgery behind him and return to his 2006 form, when he had 103 receptions. Few receivers in the NFL can match a healthy Johnson's ability. When he operates on all cylinders, teams will be forced to devote two defenders to him full-time. That'll open the way for Kevin Walter, Andre Davis and tight end Owen Daniels to get their catches.
But the key to this whole offense will be the offensive line and its blocking ability, both in the passing game and in the run. That's why head coach Gary Kubiak has brought in offensive line coach Alex Gibbs, the legendary guru who engineered the Denver Broncos' zone-block scheme back in the Terrell Davis era. By teaching the offensive line to block more effectively in the running game, the team won't have to rely so much on third-and-long situations and therefore won't be nearly as predictable as it has been in past seasons. Plus, not having to pass all the time should keep Matt Schaub off injured reserve and allow the team to choose its moments to take advantage of Johnson downfield.
What to look for in camp
Houston Texans

The biggest addition not listed here is Alex Gibbs.
Key Additions
RB
Chris Brown
OL
Duane Brown
OL
Chris Myers
RB
Steve Slaton
LB
Rosevelt Colvin
tr class="io-evenRow">
RB
Mike Bell
Key Losses
TE
Jeb Putzier
LB
Danny Clark
OL
Fred Weary
DB
Von Hutchins
Probable Lineup
QB1
Matt Schaub
RB1
Ahman Green
RB2
Chris Brown
WR1
Andre Johnson
WR2
Kevin Walter
WR3
Andre Davis
TE1
Owen Daniels
K
Kris Brown
Preseason Schedule
DEN
Aug. 9, 8 p.m.
@ NO
Aug. 16, 8 p.m.
@ DAL
Aug. 22, 8 p.m.
TB
Aug. 28, 8 p.m.
All times ET
Key position battles: Assuming his knee is healthy, Ahman Green should be the starter and the primary beneficiary of the improved offensive line. Should something happen to Green, the team no longer will turn to Ron Dayne, who's testing the free-agent waters, but instead will try either Chris Brown or Steve Slaton. Brown, who never has been the paragon of health either, comes to the team from Tennessee, where injuries always seemed to prevent him from becoming that reliable every-week back. He'll try to hold off Slaton, the third-round pick out of West Virginia, whose cutback ability might end up fitting hand-in-glove with the new-look offensive line.
Fitting in: Rosevelt Colvin joins the defense from New England, where his price tag simply got too high. He'll bring the experience of playing for a winner into the fold, but just because he'll be somebody else for the offensive line to worry about, he could provide enough of a distraction to the opposing line so that players such as Mario Williams and DeMeco Ryans shine even brighter. He may well be the final piece of the puzzle, and if so, perhaps the Texans will be able to win just one more game in the division. That could be all the difference between making the playoffs and watching them on TV.
On the line: Alex Gibbs has been hired by the team to work his magic with the offensive line, but given what he's inheriting, he definitely has a lot of work to do. David Carr's career ended before it began thanks to the constant physical abuse he received behind the Houston line, which started from scratch in 2002. Though the team has made baby steps the past few years and allowed only 22 sacks last season, the 3.8 yards-per-rush average won't cut it. That's where Gibbs and his zone blocking will come in.
The team acquired Chris Myers, who's familiar with the type of system the Texans will use, in a trade from Denver. He'll start at center. The Texans built around him and will use players such as Chester Pitts, Charles Spencer and first-round pick Duane Brown. This unit is sure to be a heck of a lot better in 2008, which bodes well for not only Ahman Green but also the entire offense.
The bottom line
Matt Schaub, Ahman Green and Andre Johnson, the team's top offensive weapons, were on the field at the same time only twice in 16 games last year … and the team still went 8-8. Would the Colts have fared so well if faced with the loss of Peyton Manning, Joseph Addai and Reggie Wayne? I'm not so sure. With all three healthy and ready for action, this year's cup definitely is ready to be filled all the way to the top.
AJ Mass is a fantasy football, baseball and college basketball analyst for ESPN.com. You can e-mail him here.
SPONSORED HEADLINES
FANTASY TOP HEADLINES
MOST SENT STORIES ON ESPN.COM