Commentary
Vince Young moving in right direction
Updated:
August 24, 2010, 9:56 PM ET
By
AJ Mass
| ESPN.com

Is Vince Young finally ready to become a fantasy factor?
It was Dec. 10, 2006. That was when Vince Young captured the attention of football fans everywhere with his 39-yard overtime touchdown run against the Houston Texans. Two weeks later, Young led the Tennessee Titans to a 30-29 victory over the Buffalo Bills, directing two scoring drives in the final quarter and putting his team on the verge of the playoffs. Although the Titans just missed out on the postseason, Young was named the AP Offensive Rookie of the Year and made the Pro Bowl. Fantasy owners were drooling over the prospect of owning such an explosive and exciting player, and yet, just as quickly as Young burst onto the scene, his bubble burst completely.
The growing pains of 2007, in which Young managed only nine passing touchdowns -- the worst team output in the NFL -- to go along with 17 interceptions, gave way to actual pain in 2008. Young hurt his knee in Week 1, and coach Jeff Fisher turned the reins over to veteran Kerry Collins. Young disappeared from the equation completely, and the Titans started the season 10-0. There was no way Young was getting back his starting job with that kind of success from Collins. So he sat and watched and waited. Fantasy owners did not have the same luxury, so they all moved on.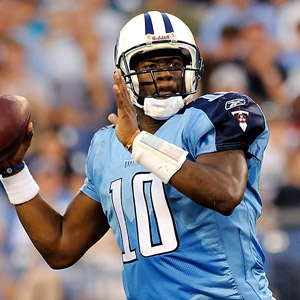 Jim Brown/US PresswireVince Young was the No. 24 QB in fantasy scoring last season despite not starting until Week 8.
By the time Young returned to the Titans' huddle after the team's dismal 0-6 start to the 2009 season, expectations were understandably low. However, Young nearly pulled the Titans all the way to the playoffs, as he led the team to an 8-2 record over the last 10 games of the season. He had 10 touchdown passes in those games, but none in the last two weeks of the season, when he also threw three of his seven interceptions. With Chris Johnson rushing for 2,006 yards, it's very easy to give him most of the credit, rather than Young, and as drafting for the 2010 fantasy football season has shown, that's clearly the case. Johnson is the No. 1 overall pick, while Young is not even being selected in every league, with an average draft position of 125.6, 19th among quarterbacks.
Now, while you'd have to be crazy to draft him as your No. 1 given his history both on and off the field, the truth is that the 2010 version of Vince Young absolutely is worth being selected as your No. 2 quarterback. Young now is in his third season under the tutelage of offensive coordinator Mike Heimerdinger, who developed Steve McNair, and watching the young quarterback in the preseason, it's clear he's a different player under center.
No longer is Young looking to sprint outside the pocket at the earliest opportunity. Instead, he's dropping back and waiting for the plays to develop and for his receivers to get downfield. Along with a newfound patience, there's an obvious increase in accuracy. Most importantly, whereas in the past there seemed to be two offenses in Tennessee, one with Collins at the helm and a completely different one for VY (full of end-arounds and other gadgetry designed to give Young room to roam), there now seems to be one unified vision in the Titans' huddle. The run can set up the pass, but it's just as likely the pass will set up the run. Defenses are likely to throw eight-man fronts at Johnson in an effort to make Young "prove it," and so far he has done so.
Kenny Britt, Nate Washington and Justin Gage, along with tight end Bo Scaife, likely will be getting plenty of one-on-one coverage downfield, so as long as the offensive line -- younger and more powerful this season with 39-year-old Kevin Mawae no longer at center -- can keep opposing defenses at bay, there's every reason to believe Young will have his best statistical season as a pro in 2010 and look more like a pro while accomplishing the feat.
Fantasy Football 2014

It's not too late; leagues are still forming right now. Don't miss out on your chance to join a league or start your own, all for free.
Sign up today
But let's face it. Even if you're not convinced Young will emerge as a top-15 fantasy quarterback, that's not why you will be drafting him. I can hear the argument now: "What do I need from my backup anyway -- one game during the season when my stud starter has a bye? I can just play the waiver wire when that week comes along." Even assuming you're lucky enought to avoid a major injury to your starting signal-caller, that's a bit shortsighted. When it comes to the fantasy playoffs, if you are relying on the likes of Drew Brees or Peyton Manning to take you to the promised land, history has taught us they might not be on the field for more than a few token snaps once they get you there.
Looking at the Titans' schedule over the last month of the NFL season, I think you'd be hard-pressed to find a better potential "Championship Game Plan B" than Young. From Weeks 14 through 17, Tennessee will square off with the Houston Texans (middle of the pack at best against the pass and without a solid pass rush), the Kansas City Chiefs (ranked 30th in defense in 2009) and not one, but two games against the Indianapolis Colts (who we've gotten used to packing it in early in preparation for the NFL's postseason).
Vince Young has finally come of age, and the time is now to add him to your fantasy plans.
AJ Mass is a fantasy baseball, football and college basketball analyst for ESPN.com. You can follow AJ on Twitter or e-mail him here.
ESPN.com's fantasy experts offer all the information you'll need to succeed in your draft this season.
Draft Kit Home
2010 Projections
• All players | Sortable projections
• Positions: QB | RB | WR | TE | D/ST | K
2010 Rankings
• Top 200 | Cheat Sheets
• Quarterback: Rankings | Preview
• Running back: Rankings | Preview
• Wide receiver: Rankings | Preview
• Tight end: Rankings | Preview
• Team defense: Rankings | Preview
• Kicker: Rankings | Preview
• IDP: Rankings | Primer
• Other formats: PPR | IDP | TD-Only
• Analysts: Harris | Berry | Karabell

Talented Mr. Roto
• Matthew Berry: You Heard Me
• Matthew Berry: 2010 Love/Hate list
• Matthew Berry: Draft-Day Manifesto
• Matthew Berry: Just the facts, ma'am
• Matthew Berry: Top 200 rankings
Stephania Bell
• Key injuries to know this year
Mock Drafts/Average Draft Positions
• August 31: Jones-Drew takes a fall
• August 24: Johnson back on top of Peterson
• August 23: Auction draft -- AP, CJ top bids
• August 5: 12-team PPR league
• June 14: Peterson over Johnson at No. 1
• Mock Draft Lobby
• Live Draft Results
Analysis
• Harris: Ten super-deep sleepers
• Harris: Ten must-draft players
• Harris: Debunking false arguments
• Harris: Advanced football metrics
• Harris: Who's No. 1? Johnson vs. Peterson
• Staff: 2010 sleepers and busts
• Cockcroft: The 'Curse of 370' revisited
• Harris: 2010 impact rookies
• Harris: 'Moneyball' wide receivers

Strategy
• McCormick: Basic guide to fantasy football
• Matthew Berry: Draft-Day Manifesto
• Harris: Value-based drafting method
• Harris: Flexibility should rule in your draft
• McCormick: Drafting in IDP leagues
• Mass: Drafting your league's constitution
• Mass: 10 ways to spice up your league's rules

Man 2 Man
• Randy Moss versus Andre Johnson
• Antonio Gates versus Dallas Clark

Team previews
• 32 Questions: Key issue for each team

MOST SENT STORIES ON ESPN.COM