Commentary
2011 fantasy football sleepers, busts
Updated:
August 10, 2011, 1:16 PM ET
By
Fantasy Staff
| ESPN.com
Now that the lockout is over and most of the frantic offseason player movement has subsided, it's time for our ESPN Fantasy analysts to revisit their sleepers and busts for the 2011 season at the primary fantasy football positions of quarterback, running back, wide receiver and tight end.
For the most part, our sleepers and busts reflect what our analysts believe are players who will either break through or underperform based on their current preseason ranking/draft-day value. For additional help, our analysts are also providing deeper sleeper picks at quarterback, running back and wide receiver; these players are mostly being undrafted in ESPN live drafts this summer.
Our analysts providing their picks time around are: Stephania Bell, Matthew Berry, Tristan H. Cockcroft, Shawn Cwalinski, Ken Daube, Christopher Harris, Dave Hunter, Keith Lipscomb, AJ Mass, James Quintong, Nate Ravitz and Brendan Roberts.
Additional notes on some of the sleepers:
Sam Bradford, QB, St. Louis Rams: The Rams added Mike Sims-Walker through free agency, and three of their first four draft picks were spent on potential pass-catchers of the future (Lance Kendricks, Austin Pettis, Greg Salas). If Bradford threw for more than 3,500 yards without any real weapons last season, what will he do with a Josh McDaniels-led arsenal? --AJ Mass
[+] Enlarge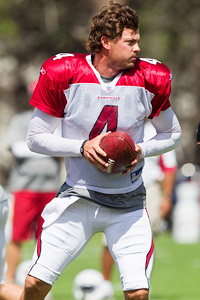 AP Photo/Matt YorkKevin Kolb landed in a solid situation in Arizona where he could thrive.
Kevin Kolb, QB, Arizona Cardinals: Regardless of what that Arizona QB Circus in 2010 showed, this is a good offense for a quarterback; the team throws the ball often (561 passes versus a league-low 320 rushes last season) and has a slanting, quick-strike attack that is a perfect fit for the accurate Kolb. --Brendan Roberts
Matthew Stafford, QB, Detroit Lions: Last year, the Lions as a team passed for more than 3,800 yards and 26 touchdowns with three different guys, and only two teams attempted more passes than the Lions. This is a prolific passing offense with a lot of playmakers. Stafford needs to stay healthy, but looking at the 26 fantasy points per game he put up in the two full games he played last year, you start to see the possibilities. Well worth a late-round flier. --Matthew Berry
Shonn Greene, RB, New York Jets: The Jets will run the ball a lot. Although LaDainian Tomlinson is still going to get carries, he'll get fewer this season than last. Greene won't be a top-10 fantasy running back but will be better than the 25th-best -- his current draft position. --Shawn Cwalinski
C.J. Spiller, RB, Buffalo Bills: I was spectacularly wrong on Spiller last year. So what do you do in that case? You double-down. Last year, a strong preseason ended up killing a lot of Spiller's sleeper value, exacerbating a bad rookie season. This year, you can get him in Round 11 or later, and I still believe he's the future of Buffalo's backfield. --Nate Ravitz
Austin Collie, WR, Indianapolis Colts: I'm a noted fan of "per-game" players, those whose production in their healthy games matches or approaches that of an elite player. Collie qualifies: In nine games in 2010, he topped 20 points three times, and his 11.9 points-per-game average would've resulted in a 190-point, 16-game season, which would've been fifth among wide receivers. Health is an issue, especially one with a a history of concussions. But what if the summer's rest keeps Collie off the trainer's table more than in 2010? It's a chance worth taking so late. --Tristan H. Cockcroft
Mario Manningham, WR, New York Giants: I was encouraged by the way he finished last season (three straight 100-yard games and four touchdowns), but even more so, I love his big-play ability for a receiver being taken as a No. 3 in fantasy leagues. Only four players had more catches for 25 yards or longer last season (Brandon Lloyd, Mike Wallace, Greg Jennings, DeSean Jackson). Even if Steve Smith gets healthy and re-signs with the Giants, Manningham clearly has a place in this offense and a quality QB to get him the ball. --Keith Lipscomb
Jimmy Graham, TE, New Orleans Saints: Pass on the early tight ends and turn to a sleeper with a prolific passing offense. Drew Brees kept Graham busy from Week 15 on, when he scored four touchdowns. With Jeremy Shockey out of the way, Graham should catch 60 passes and score at least six or seven times. --Eric Karabell
Additional notes on some of the deeper sleepers:
Colt McCoy, QB, Cleveland Browns: McCoy has the talent to succeed and will be given the chance to lead the Browns all season. He has recovered from shoulder issues, and although there are questions revolving around the Browns' new offense, McCoy's ability to be a leader and his accuracy make him a nice gamble. --Dave Hunter
Kyle Orton, QB, Denver Broncos: Tim Tebow might be the exciting youngster in Denver, but as things stand early in August, Orton is atop the depth chart. It's deserved; Orton had six games of 20-plus fantasy points in his first 11 games in 2010 and primarily lost his job after a two-game slump because the Broncos were out of the race and wanted to look at their rookie. The Broncos are smart to -- at the bare minimum -- showcase Orton for trade, so when you see him in there in Week 1, don't say you were surprised. --Tristan H. Cockcroft
Delone Carter, RB, Indianapolis Colts: If we learned anything from Javarris James last year, it's that anyone can have fantasy value on the Colts. With Joseph Addai's well-documented injury history, Donald Brown's well-documented suckitude and the fact that the Colts spent a fourth-round draft pick on the 225-pound Carter, this tells me he is guy who could easily emerge as the goal-line back with upside for more in a prolific offense. --Matthew Berry
Montario Hardesty, RB, Cleveland Browns: He was considered a sleeper heading into last season before he suffered a knee injury late in the preseason. I'm not convinced Peyton Hillis can repeat his surprise 2010 campaign (and he did stumble a bit down the stretch), thus opening a spot for Hardesty to contribute sooner rather than later. --James Quintong
Roy Helu, RB, Washington Redskins: There's no easy road to carries for Helu this season, but with the success that head coach Mike Shanahan has had with running backs in the past, I like Helu's chances to make an impact, especially when you consider the weak competition and history in Ryan Torain and Tim Hightower. --Dave Hunter
Rashad Jennings, RB, Jacksonville Jaguars: The Jaguars have been saying this preseason that they want to get Maurice Jones-Drew a lesser workload in 2011. Sure, we've heard that before, but this time around, the Jags have a backup who deserves extra work. Jennings shined when given opportunities last season -- he averaged 5.5 yards per carry and caught 26 passes -- and could even work himself into a time-share if the Jags are serious about cutting back MJD. --Brendan Roberts
Eric Decker, WR, Denver Broncos: It wasn't uncommon for experts to rank Decker as the third-best collegiate wide receiver in 2009 behind only Dez Bryant and A.J. Green. Decker's rookie season was knocked off track because of an injury, but he still has the skills and work ethic needed to contribute at this level. --Ken Daube
Jacoby Ford, WR, Oakland Raiders: Last season, Ford averaged 18.8 yards per reception and 15.5 yards per rushing attempt -- with two TDs -- and returned three kicks for scores. Ford has what the Raiders love the most in a wide receiver: a ton of speed. Don't be scared off by the broken thumb, Ford will be fine when the season starts and will be a nice late-round pick. --Shawn Cwalinski
Additional notes on some of the busts:
Ben Roethlisberger, QB, Pittsburgh Steelers: He's a tough guy and will play through the injuries that you just know are going to come; when they do, his performance will suffer. No disrespect. He's a winner, but in terms of fantasy, he's a step removed from the elite tier ahead of him, whose team gets into the red zone and takes all the air out of the ball. --AJ Mass
Michael Vick, QB, Philadelphia Eagles: Even putting aside the injury risk (which is hard to do), Vick is a terrible candidate to repeat. As defenses put more pressure on him from Week 11 on last year, he became a turnover machine. No quarterback who's rushed for eight or more touchdowns in a season has ever come back and rushed for even five the next year. That includes Vick himself in 2002. --Christopher Harris
Peyton Hillis, RB, Cleveland Browns: Even if one argues that Hillis simply wore down and it's the cause of late-season struggles, now he has to deal with a healthy Montario Hardesty and usable third-down back Brandon Jackson. Don't ignore Hillis, but last season's No. 4 overall running back shouldn't be relied on as a sure-thing top-20 player. --Eric Karabell
Michael Turner, RB, Atlanta Falcons: This is a gut call, because of the Burner's past workload. After all, what's not to like about 39 touchdowns in 43 games the past three seasons? However, he owns two of the top five single-season rushing attempt totals in those three years, and he's just one year from the dreaded age of 30. Truth be told, there aren't even 10 running backs I feel 100 percent sure about, but since I have my reservations about Turner's staying on the field this season, I'm hoping to land someone else as my No. 1 running back. --Keith Lipscomb
Dez Bryant, WR, Dallas Cowboys: During our rankings summit, Stephania Bell rattled off about seven different injuries that have afflicted Bryant in the past ... then hit us with the fact that all were in the previous 12 months. On a team that also has Jason Witten and Miles Austin, I'm supposed to trust Bryant with a fourth-round pick? Why? Because he "looks good in a uniform"? No thanks. --Nate Ravitz
Brandon Lloyd, WR, Denver Broncos: Lloyd's yards-after-the-catch last year was 15.9. In John Fox's nine years in Carolina, his top wideout averaged 10.2. Even if Kyle Orton really is the QB all year over Tim Tebow (which I doubt), Fox's offense won't go into Josh McDaniels "Jump Ball Mode" in '11. Let someone else draft Lloyd, because he's not sniffing the top 10 wideouts this year. --Christopher Harris
Marcedes Lewis, TE, Jacksonville Jaguars: If you aren't hesitant to group Lewis into the third tier of tight ends, you aren't paying attention. He had just seven touchdowns in 62 games before exploding for 10 last season. Throw in a probable change to a rookie quarterback during the upcoming campaign, and Lewis screams "bust." --Ken Daube
2011 Fantasy Football Draft Kit
ESPN.com's fantasy experts offer all the information you'll need to succeed in your draft this season.
Draft Kit Home
Profiles and Projections for 2011
Individual projections and profiles for more than 600 players, including defensive players.
Profiles & Projections | Sortable Projections
2011 Rankings
• Top 300 | Cheat Sheets
• Quarterback: Rankings | Preview
• Running back: Rankings | Preview
• Wide receiver: Rankings | Preview
• Tight end: Rankings | Preview
• Team defense: Rankings | Preview
• Kicker: Rankings | Preview
• IDP: Rankings | Preview
• Other formats: PPR | IDP | TD-Only
• Keepers: Harris' Top 200
The Talented Mr. Roto
• The Draft Day Manifesto
• Guys I love, guys I hate
• The TMR Top 250 Ranks
• The 100 Facts column
Mock Drafts
• Mock 1: Foster goes first
• Mock 2: Peterson No. 1
• Mock 3: 12-team PPR
• Mock 4: 12-team standard
• Mock 5: 10-team, 2-QB, PPR league
• Mock 6: Vick goes No. 1
Features
• Christopher Harris' 10 "flag" players
• Michael Vick: Risk versus reward
• Staff sleepers and busts
• Harris: Ten deep sleepers for 2011
• Does the two-QB strategy work?
• Why rookies are bad fantasy bets
• Don't go crazy over strength of schedule
Primers
• Strategy: Auction drafts
• Strategy: PPR leagues
• Strategy: IDP leagues
• Strategy: TD-only leagues
32 Questions