Commentary
2011 fantasy football sleepers, busts
Updated:
July 7, 2011, 3:26 PM ET
By
Fantasy staff
| ESPN.com
You're looking for sleepers and busts? We've got them, as well as the top fantasy rookies.
We polled a number of ESPN.com fantasy analysts and editors -- Stephania Bell, Matthew Berry, Tristan H. Cockcroft, Shawn Cwalinski, Christopher Harris, Dave Hunter, Eric Karabell, Keith Lipscomb, AJ Mass, James Quintong, Nate Ravitz and Brendan Roberts -- for their choices for their top sleeper, bust and rookie breakout candidate at quarterback, running back, wide receiver and tight end. Plus, there are plenty of explanations for why certain players were chosen because different people have varied definitions of what constitutes a "sleeper" or "bust."
Quarterbacks
Sam Bradford, St. Louis Rams: He set rookie records in completions (354) and consecutive passes without an interception (169). He has a healthy Mark Clayton and a new offensive coordinator (Josh McDaniels) who is more likely willing to let him take the downfield shots necessary to take a big next step. --Tristan H. Cockcroft
Joe Flacco, Baltimore Ravens: I won't be shocked if Flacco ends '11 as a top-10 fantasy QB. He posted 25 TDs and 10 INTs last year; impressive considering he started so slowly. You don't have to draft him to be your starter, but he's a No. 2 with upside. --Christopher Harris
Kevin Kolb, Philadelphia Eagles: This is as much a commentary on the other available options. But Kolb in any number of potential landing spots (Arizona, Minnesota, Seattle) is a potential top-10 guy. --Nate Ravitz
Colt McCoy, Cleveland Browns: Not as a top-10 guy, but certainly an interesting choice as your No. 2. McCoy will run Pat Shurmur's West Coast offense, and with a solid free agent signing at wide receiver, just might be able to be this season's big surprise. --AJ Mass
Matthew Stafford, Detroit Lions: He needs to stay healthy, of course, but lots of weapons. With Megatron, Brandon Pettigrew, the Jahvid Best/Mikel LeShoure tandem, plus Nate Burleson and Titus Young, this is a team with a lot of options and, this is a little-known fact; Only the Colts and Saints threw more passes last season than the Lions. --Matthew Berry
Tim Tebow, Denver Broncos: Two words for you: running quarterback. Is Tebow a great passer? Nah, but he's passable, and the possibility for double-digit rushing TDs -- yes, double digits (he had six in limited time in 2010) -- more than makes up for it. I mean, the guy's his own top red-zone target. --Brendan Roberts
Running Backs
LeGarrette Blount, Tampa Bay Buccaneers: He's too big to be brought down, and he's nimble enough to leap over those who dare try. If he can improve his ability to pound the ball in during goal-line situations, he may well border on top-10 territory. --AJ Mass
Michael Bush, Oakland Raiders: Darren McFadden is the Raiders starting RB this season after managing more carries last season than he did in his previous two years combined. I am not betting on McFadden holding up for another 200-plus carry season, opening the door for Bush. --Shawn Cwalinski
Tashard Choice, Dallas Cowboys: He might open 2011 as the primary backup to Felix Jones, who hasn't been the model of health or consistency. Plus, there's this: In his 10 career games with eight-plus carries, Choice has 6 TDs, a 5.0 yards-per-carry and 102.5 scrimmage yards-per-game averages. --Tristan H. Cockcroft
[+] Enlarge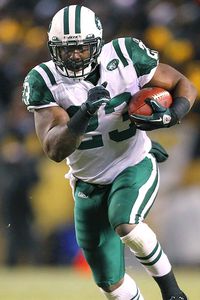 Matthew Emmons/US PresswireShonn Greene was a major disappointment in 2010. Can he turn things around in 2011?
Shonn Greene, New York Jets: Kind of like Matt Forte last year, the hate has gone too far on Greene. I've mostly seen him go in the seventh round or so, which is too late for a guy whose main competition faded badly at the end of last year and who will get at least 200 touches (as he did last year) for one of the most run-oriented teams in the NFL. --Matthew Berry
Montario Hardesty, Cleveland Browns: After missing 2010 with an ACL injury, Hardesty may be under the radar everywhere except Cleveland. Hardesty's speed will provide nice balance for the bruising power of Peyton Hillis. His lengthy injury history makes him risky but a year of rest makes him worth the gamble. --Stephania Bell
Brandon Jacobs, New York Giants: You can have your trendy speed backs or "upside guys" in the middle rounds. But I'm just a simple caveman. I'll take the 28-year-old (i.e. not "over the hill") who averaged 5.6 yards per carry and scored nine touchdowns in 2010, and is line for plenty of carries in a decent offense in '11. --Brendan Roberts
Felix Jones, Dallas Cowboys: He will need to find the end zone better, since he's yet to score more than three touchdowns in a season in his young career. He's clearly the team's No. 1 back now, and I expect his excellent catch-and-run ability and a healthy Tony Romo to boost Jones to a breakout season. --Keith Lipscomb
Ryan Mathews, San Diego Chargers: The skills that excited fantasy owners a year ago remain, and it's premature to call him brittle. Call him a terrific flex choice if you can steal him that late, and don't worry about Mike Tolbert. --Eric Karabell
C.J. Spiller, Buffalo Bills: Although Fred Jackson blocks Spiller from starting, his Reggie Bush-like skills will get him plenty of touches. His breakaway speed and good hands out of the backfield are worth taking a chance on late in your drafts. --Dave Hunter
Pierre Thomas, New Orleans Saints: No, he's not a full-time back. Yes, the Saints will lean on rookie Mark Ingram. But as a part-time player in '08 and '09, Frenchy averaged 1,002 yards from scrimmage and 10 TDs. His upside is capped, but he's worth owning and comes cheap. --Christopher Harris
Wide Receiver
Danario Alexander, St. Louis Rams: Sam Bradford has a lot intriguing, if mostly smaller, options at wide receiver from which to choose, but the 6-foot-5 Alexander, who had a few moments of fantasy glory last year, might be in the best position to make the next step up, especially as a red-zone threat. --James Quintong
Anthony Armstrong, Washington Redskins: A legit deep threat whom the Redskins really like, he had double-digit fantasy points in three of his final five games. If he can become more integrated into all aspects of the passing game and not just the home run or bust he was last year, you're looking at Mike Wallace lite. --Matthew Berry
Steve Breaston, Arizona Cardinals: I'm counting on the Cardinals making a major upgrade at QB, whether in the form of Kevin Kolb, Kyle Orton, Donovan McNabb or Vinny Testaverde. Breaston will be drafted as a No. 4 WR and could easily put up No. 2 numbers. --Nate Ravitz
Michael Crabtree, San Francisco 49ers: What's that they say about talented third-year receivers? Hmm, can't remember. But Crabtree is going to bust out with a big season eventually, and I think this will be the year. -- Brendan Roberts
[+] Enlarge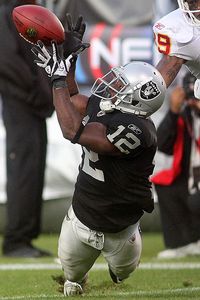 Cary Edmondson/US PresswireJacoby Ford appears to be the potent vertical threat the Raiders always seem to covet.
Jacoby Ford, Oakland Raiders: Last season, Ford averaged 18.8 yards per reception, 15.5 yards per rushing attempt -- with 2 TDs -- and returned three kicks for TD. Ford has what the Raiders love the most in a WR: a ton of speed. Ford did last season what fantasy owners like to see a rookie WR do -- he improved as the season progressed. -- Shawn Cwalinski
Mario Manningham, New York Giants: The starter opposite stud Hakeem Nicks will see plenty of targets. As it is, he nearly reached 1,000 yards and 10 scores in 2010. Eli Manning will get him there in 2011. --Eric Karabell
Brandon Marshall, Miami Dolphins: Quarterback problems aside, the Dolphins should be more successful at getting Marshall the ball in the red zone. Last year marked the first time since his rookie season that he didn't reach 100 catches, 1,100 yards and six touchdowns (not doing any of the three). He's barely inside the top 25 WRs in our rankings, and that screams big-time value to me. --Keith Lipscomb
Jordy Nelson, Green Bay Packers: Donald Driver is no spring chicken, and Nelson might well end up the No. 2 receiver behind Greg Jennings when Green Bay breaks the huddle in Week 1. If Aaron Rodgers is going to be the No. 1 fantasy quarterback, that makes Nelson top-20 material. --AJ Mass
Tight End
Jared Cook, Tennessee Titans: With Bo Scaife likely gone, Cook takes over as the Titans' starter. He actually gave us a glimpse of his potential in the role last December: He had 20 catches for 252 yards and a score in his final five games of 2010, as the Titans were phasing Scaife out. --Tristan H. Cockcroft
Jimmy Graham, New Orleans Saints: There's no Jeremy Shockey in his way anymore, and Drew Brees uses all his weapons. Graham had big numbers the second half of 2010, and there's potential for double-digit touchdowns. --Eric Karabell
Jermaine Gresham, Cincinnati Bengals: Truthfully, you don't need to worry much about finding sleeper TEs in 10-team leagues. But if you must roster a second guy, consider Gresham, a great athlete who could see his usage spike in Jay Gruden's West Coast system. --Christopher Harris
Aaron Hernandez, New England Patriots: Sometimes it's best to zig when everyone else is zagging. Or is that the other way around? Regardless, when Rob Gronkowski gets picked, wait 3-5 more rounds and take Hernandez, who is far more talented. The touchdowns will even out eventually. --Nate Ravitz
Dustin Keller, New York Jets: Mark Sanchez throws the ball an awful lot, and Keller gets more than his share of targets. His problem has been "the dropsies," yet even with that glaring issue, he saw over 100 balls in 2010. A little more concentration, and he's this year's Marcedes Lewis. --AJ Mass
Tony Moeaki, Kansas City Chiefs: Moeaki had a solid fantasy season as a rookie despite getting only six red zone targets. With another year working with Matt Cassel, Moeaki should manage at least six TD receptions and improve on the 556 yards receiving he had last season too. --Shawn Cwalinski
Brandon Pettigrew, Detroit Lions: He's a wide receiver in a tight end's body, and the Lions finally realized that last season. He quietly finished third in catches among tight ends last season and he's just entering his prime. He's the ideal late-round, upside pick if you have doubts about your starter (Kellen Winslow, Chris Cooley, Zach Miller). --Brendan Roberts
Quarterbacks
[+] Enlarge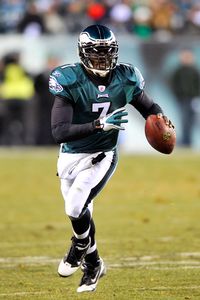 Howard Smith/US PresswireMichael Vick seems to be the most divisive player among our staff heading into this season.
Matt Cassel, Kansas City Chiefs: I worry that last December and January are closest to Cassel's true colors: 52.4 percent completion rate, six picks and five TDs. Plus KC has the league's run-heaviest attack. Cassel won't repeat his big totals from '10. --Christopher Harris
Chad Henne, Miami Dolphins: He is doing all the right things during the lockout as far as preparation, but the question remains as to how effective he can be on the field. He is virtually assured of the starting role given that the team cannot currently make other moves, but that alone does not inspire confidence. --Stephania Bell
Peyton Manning, Indianapolis Colts: I don't expect Manning to throw for 4,700 yards again, his highest total in one season over his 13-year career. Manning is still one of the best QB to draft, but expect a 700-800 yard drop-off in yardage. --Dave Hunter
Ben Roethlisberger, Pittsburgh Steelers: Too many people will make the mistake of adding four games to his stats from last season and jumping on him way too early. Big Ben takes too many hits, and on top of that injury risk, the Steelers tend to run in the red zone, not pass. --AJ Mass
Tim Tebow, Denver Broncos: This should be called a "boom or bust" pick, because if Kyle Orton is traded before the season, Tebow obviously will put up numbers worthy of his projected ADP. But I'm not a fan; I think he's all legs, little arm and not quite the player Michael Vick was even in his Atlanta days. --Tristan H. Cockcroft
Michael Vick, Philadelphia Eagles: Too much risk for me in the first two rounds of a draft, which is his likely destination. Defenses caught up to Vick and the Eagles couldn't properly protect him. If you do draft Vick, get a good backup. --Eric Karabell
Running Backs
Jahvid Best, Detroit Lions: He dealt with turf toe injuries throughout last year and although he denied it was a problem during the season, he later acknowledged it hindered his style. Injuries have been a common thread for Best since college, and the addition of Mikel Leshoure will not help his stats. --Stephania Bell
Frank Gore, San Francisco 49ers: He has cracked 1,200 yards rushing and 10 TDs in a season just one time each in his career. He has missed nine games the past three seasons. Yet, every year, Gore is ranked in the top 10 among running backs. Eventually we will learn our lesson. --Shawn Cwalinski
BenJarvus Green-Ellis, New England Patriots: The Patriots had the seventh run-heaviest offensive mix of '10, but their history says they'll go back to being pass-focused this year. BJGE isn't a special talent, and there are tons of alternatives in that backfield. No way Green-Ellis sniffs 13 TDs again.--Christopher Harris
[+] Enlarge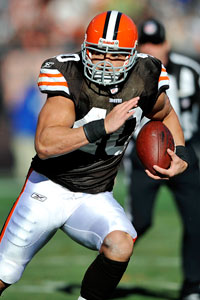 David Richard/Icon SMIWill Peyton Hillis be the latest player to suffer the Madden Curse?
Peyton Hillis, Cleveland Browns: He really faded at the end of 2010, rushing for only 272 yards and no TD over his last five games played. Hillis' late-season fade, combined with a new offense for the Browns in 2011, give me concern. -- Dave Hunter
Felix Jones, Dallas Cowboys: I'm not sure he'll ever be a dominant No. 1 fantasy back, although he'll have his share of big plays. The Cowboys backfield remains crowded with the addition of DeMarco Murray, which likely means it's worth steering clear of any Dallas runner early on. --James Quintong
Maurice Jones-Drew, Jacksonville Jaguars: I'm generally down on the Jaguars offense as a whole, even though MJD is still a very productive back. With the lack of great weapons around Jones-Drew, and the QB situation also in flux, I simply don't view him as the top-5 back his ranking suggests. --Keith Lipscomb
LeSean McCoy, Philadelphia Eagles: My problem with McCoy is simply the impact of Michael Vick on his fantasy ceiling. For all the receptions Shady gives you, if you're not in a PPR-league, it's all moot. All those touchdowns that Vick scores are points McCoy will never get back. --AJ Mass
James Starks, Green Bay Packers: Probably a bit overrated from his playoff success, Starks is, at best, sharing carries with the returning Ryan Grant. At worst, it's Grant's job. There are at least 30 safer running back picks. --Eric Karabell
Jonathan Stewart, Carolina Panthers: Even if you assume a DeAngelo Williams departure, I just don't trust Stewart from a durability standpoint to use a top-30 pick on him. And the quarterback mess doesn't help. --Nate Ravitz
Michael Turner, Atlanta Falcons: If he's a first- or early second-round pick, no thanks. Turner has led the league in carries in 2008 (376) and 2010 (334). He's now 29 years old, and he looked a step slower in his final four games of 2010 (playoffs included). There's going to come a point he'll hit a wall; he won't be on my team when it happens. --Tristan H. Cockcroft
Wide Receivers
Dwayne Bowe, Kansas City Chiefs: I'm not saying he shouldn't be drafted, but he's simply not "elite." He's inconsistent, with 150 of his 200 fantasy points in 2010 coming in just six games, many of those accrued when the matchups were soft. Wasn't it two years ago that Bowe was fantasy kryptonite? --Tristan H. Cockcroft
Kenny Britt, Tennessee Titans: The talent is there, but the head isn't always. But besides his off-field issues, I have my doubts he'll be able to thrive this year with rookie Jake Locker or whoever has the reins at QB. There's still lots of potential, but enough question marks to steer me away. --James Quintong
Dez Bryant, Dallas Cowboys: The kid has tons of talent, but he also seems to get nicked up every other week, and the Cowboys have lots of weapons that need the ball. As a top-15 WR, he's way too risky for my tastes. --Nate Ravitz
Austin Collie, Indianapolis Colts: Let's think about this before we rely on him as a fantasy starter. He's not exactly a breakaway-speed guy, and he missed much of the second half due to injuries. Plus, with Dallas Clark back, the team has a lot of targets for Peyton Manning, including Pierre Garcon, whom I actually like more than Collie. --Brendan Roberts
Larry Fitzgerald, Arizona Cardinals: I might reconsider if Kevin Kolb ends up under center in Arizona, but even then, with so little time to develop any rapport with Kolb -- or any other Plan B -- even a receiver as talented as Fitzgerald can't overcome the lack of talent around him. --AJ Mass
Santonio Holmes, New York Jets: Even if he re-signs with the Jets and is their No. 1 receiver, the team's run-happy approach keeps me away from drafting him over many of the players ranked behind him at the position. His big-play ability is nice, but I don't trust him as a must-start No. 2 receiver in fantasy, so I'll be looking elsewhere. --Keith Lipscomb
[+] Enlarge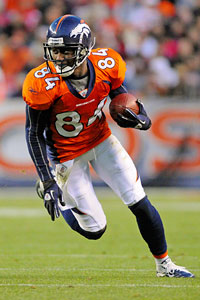 Icon SMIBrandon Lloyd was one of last year's fantasy darlings, but was it a fluke?
Brandon Lloyd, Denver Broncos: I loved Lloyd's story last year, but I wouldn't touch him in '11. Josh McDaniels is gone from Denver, replaced by conservative John Fox. Plus there's a decent chance Tim Tebow is the QB, not Kyle Orton. Lloyd's downfield magic won't repeat. --Christopher Harris
Brandon Marshall, Miami Dolphins: Pick a reason, any reason, for Marshall's lack of productivity. Whether it's his hip, his quarterback or issues off the field, Marshall has not delivered up to the level of the Dolphins expectations. Although his talent is unquestioned, his value certainly should be. --Stephania Bell
Hakeem Nicks, New York Giants: This one hurts, as Nicks was a player I touted last year. I do not doubt Nicks' talent and that he can be a top-10 fantasy WR if he stays healthy. The problem is, he cannot stay healthy. He might only miss two or three games, but he will also be a game-time-decision in three more. --Shawn Cwalinski
Sidney Rice, Minnesota Vikings: He's had one healthy season in the past three, and while he was awesome and has the skills, does he need to be paired with a Hall of Famer? He's risky for how high you need to choose him.--Eric Karabell
Tight Ends
Owen Daniels, Houston Texans: Daniels is probably going to be on tons of sleeper lists, raising his value to the point where you're no longer acknowledging the risk of taking a player who missed five games the season after ACL surgery. That risk is real. --AJ Mass
Jermichael Finley, Green Bay Packers: We've seen Finley do some nice things in spurts, but I'm not ready to call him a top-5 tight end. I'd rather wait an extra round and trust the reliability and durability of Vernon Davis. --Brendan Roberts
Tony Gonzalez, Atlanta Falcons: He's an all-time great, but even those guys have to ride off into the sunset sometime. Gonzalez is a step slower, and with Julio Jones now in town, there's even more to cut into the targets pie. Mark it down: Gonzalez has already enjoyed his final season among fantasy's top 10 tight ends. --Tristan H. Cockcroft
Todd Heap, Baltimore Ravens: Heap has been a solid, consistent tight end when he's able to stay on the field. At the age of 31, the cumulative effects of injury may just end up taking their toll. --Stephania Bell
Marcedes Lewis, Jacksonville Jaguars: Lewis is still a decent late-round draft choice, but his dramatic TD jump last year (2 TD in '09 to 10 TD in '11) is enough to waive a red flag. --Dave Hunter
Quarterbacks
Andy Dalton, Cincinnati Bengals: Carson Palmer seems to want to retire, or at least just get out of Ohio, so there's opportunity. Fellow rookie A.J. Green may end up the only aerial option downfield, but even if they only connect sporadically, it could be enough for fantasy owners to notice. --AJ Mass
Jake Locker, Tennessee Titans: The job is not Locker's yet, but there's a good shot he'll be the Titans opening-day starter. He doesn't have the greatest arm strength, but Locker is an excellent athlete and very quick on his feet, which plays nicely into the Titans' offensive system. --Dave Hunter
Cam Newton, Carolina Panthers: A "by-the-book" pick here, but being the elusive, athletic quarterback he is, I could see Newton pulling a Vince Young -- um, rookie-year Vince Young -- and having some all-around value in the second half of the season. --Brendan Roberts
Christian Ponder, Minnesota Vikings: I give Ponder the best chance among all the rookie QBs drafted this April to be a Week 1 starter, and thus have the best stat totals by year's end. But you don't need any rookie QBs on your fantasy team. --Christopher Harris
Running Backs
Roy Helu, Washington Redskins: With only injury prone Ryan Torain and (maybe) unproven Keiland Williams ahead of him, Helu has a few things going for him on the way to fantasy relevance. He's good in a zone-cut running scheme, has big play ability and a generous coach, who traded up to get him and likes to show how smart he is with diamond-in-the-rough-runners. --Matthew Berry
Mark Ingram, New Orleans Saints: Yes, the Saints have a lot of running backs, but none of them are as talented as Ingram. Ingram has all the tools to be an elite NFL running back, and Sean Payton is smart enough to know that his offense is better with Ingram as the featured back. --Shawn Cwalinski
Mikel Leshoure, Detroit Lions: While Jahvid Best should be the man in Detroit, I'm still concerned about his health. LeShoure will get his looks one way or another, and he could be in for bigger things if Best gets injured again. --James Quintong
Daniel Thomas, Miami Dolphins: Thomas is a 230-pounder with soft hands and strong downhill-running skills. Provided Miami merely brings in a complementary back (e.g., Darren Sproles), Thomas is a strong bet to lead the team in yards and TDs. --Christopher Harris
Ryan Williams, Arizona Cardinals: Tim Hightower is a decent No. 2 running back and nothing more. Beanie Wells is something less than that. So the bar is pretty low for Williams to get significant touches here. --Nate Ravitz
Wide Receivers
Jonathan Baldwin, Kansas City Chiefs: If Todd Haley makes good on his promise to not rely so heavily on the ground game in 2011, then this Baldwin may become a game-breaker running opposite Dwayne Bowe. At 6-foot-4, he'll also be a strong second option for Matt Cassel in the red zone. --AJ Mass
[+] Enlarge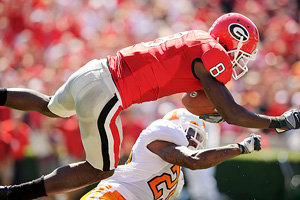 Paul Abell/US PresswireEven with the Bengals' quarterback situation in flux, A.J. Green appears poised to have a big season as the de facto No. 1 wideout.
A.J. Green, Cincinnati Bengals: He's the obvious pick to shine, because he potentially steps into the No. 1 role in Cincinnati, with veterans Terrell Owens and Chad Ochocinco likely both on the outs. Green scored 23 times in 27 games in college, and he's got the skills to be a big TD source right away. If you pick him, just make sure to root for the Bengals to sign him a veteran passer. --Tristan H. Cockcroft
Leonard Hankerson, Washington Redskins: Everyone will say A.J. Green, and I agree he's probably the top candidate. But I'll throw in a mention for Hankerson, who has a fine opportunity to snag a starting spot in D.C., and is a spectacular athlete. --Christopher Harris
Julio Jones, Atlanta Falcons: Don't expect 1,000 yards from any rookie receiver. Jones will play second fiddle to Roddy White, but he should be a factor near the goal line, and he has breakaway speed. Dynasty leaguers will love him. --Eric Karabell
Tight Ends
Virgil Green, Denver Broncos: A 42 1/2-inch vertical leap and a 4.5 40 time? Expect John Fox to take full advantage of the fact that Green fell all the way to the seventh round as a result of his having undergone knee surgery way back in 2007. --AJ Mass
Lance Kendricks, St. Louis Rams: Moving into a Josh McDaniels offense isn't a great thing for a tight end, but Kendricks is so much more than a tight end; he's a versatile receiver the Rams should occasionally split out wide. St. Louis is a team of opportunity, and this is one rookie with the skills to capitalize. --Tristan H. Cockcroft
Kyle Rudolph, Minnesota Vikings: Rudolph is big, tall, has very good hands and has surprising speed. There is risk considering Rudolph just recovered from a major hamstring injury, but his potential makes him a fantastic late-round snag in deeper leagues. --Dave Hunter
SPONSORED HEADLINES
FANTASY TOP HEADLINES
MOST SENT STORIES ON ESPN.COM
2011 Fantasy Football Draft Kit
ESPN.com's fantasy experts offer all the information you'll need to succeed in your draft this season.
Draft Kit Home
Profiles and Projections for 2011
Individual projections and profiles for more than 600 players, including defensive players.
Profiles & Projections | Sortable Projections
2011 Rankings
• Top 300 | Cheat Sheets
• Quarterback: Rankings | Preview
• Running back: Rankings | Preview
• Wide receiver: Rankings | Preview
• Tight end: Rankings | Preview
• Team defense: Rankings | Preview
• Kicker: Rankings | Preview
• IDP: Rankings | Preview
• Other formats: PPR | IDP | TD-Only
• Keepers: Harris' Top 200
The Talented Mr. Roto
• The Draft Day Manifesto
• Guys I love, guys I hate
• The TMR Top 250 Ranks
• The 100 Facts column
Mock Drafts
• Mock 1: Foster goes first
• Mock 2: Peterson No. 1
• Mock 3: 12-team PPR
• Mock 4: 12-team standard
• Mock 5: 10-team, 2-QB, PPR league
• Mock 6: Vick goes No. 1
Features
• Christopher Harris' 10 "flag" players
• Michael Vick: Risk versus reward
• Staff sleepers and busts
• Harris: Ten deep sleepers for 2011
• Does the two-QB strategy work?
• Why rookies are bad fantasy bets
• Don't go crazy over strength of schedule
Primers
• Strategy: Auction drafts
• Strategy: PPR leagues
• Strategy: IDP leagues
• Strategy: TD-only leagues
32 Questions