Frank Gore's fantasy value in decline
To what degree depends on effectiveness of 49ers' other backfield weapons
Updated:
August 3, 2012, 1:21 PM ET
By
Jim McCormick
| Special to ESPN.com
How much will Frank Gore's production sink because of his backfield competition with the 49ers?

As fantasy football fans know well, the workhorse tailback has become an increasingly rare commodity as the league trends toward more specialized backfield roles and pass-happy offenses. For the past six seasons in San Francisco, however, the 49ers' ground game has been fueled primarily by Frank Gore. Yet with Gore coming off a season that saw his workload and production dip precipitously in the second half and with a suddenly crowded backfield in San Francisco, are his days as a "bell cow" back coming to an end?
Looking at the totals from last season, Gore enjoyed a strong season as the 49ers emerged as a conference power. The Miami product posted 1,211 yards on the ground, second only to his inspired 2006 breakout season, on his way to eclipsing Hall of Famer Joe "The Jet" Perry's franchise rushing record. Gore played an entire regular season for just the second time in his career, and during a stretch from Weeks 4 to 9, posted a franchise-record five straight 100-yard outings that saw him rack up more than half of his total rushing yards for the season. Gore also carried the ball the most times since his 2006 effort and played inspired ball during the team's first playoff run since 2002. As a fantasy asset, however, Gore produced 10.2 points per game using ESPN standard scoring -- the lowest average of his career as the starter -- and finished with the 15th-most points at the position.
On the surface, Gore answered growing questions over his durability, especially after playing in just 11 games in 2010. The counter to this notion is that while Gore started all 16 last season, he didn't finish games in Week 3 against the Bengals due to an ankle ailment, Week 10 versus the Giants with a knee issue and in the season finale versus the Rams. The Giants game marked the veteran's first game with zero yards in his career. It was reported that Gore sprained his right ankle versus Dallas in Week 2 and injured his left ankle versus Washington in Week 9. After enduring 159 carries in the first eight games -- a pace that would have set a new career-high -- it was clear that the bruising bowling ball of a back was wearing down.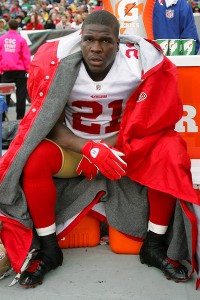 Michael Zagaris/Getty ImagesFrank Gore had just five catches in his final 10 games, and didn't reach 100 yards from scrimmage in any of his final eight.
Attrition is a given for an NFL player over the course of the grueling season, and this is especially true for a feature back. In an attempt to preserve a playmaker clearly showing signs of wear, the team began to cap Gore's touches in the second half of the season. Gore was given 21.5 total touches per game in the first eight games of the season -- a nearly identical clip to the 21.4 touches he averaged from 2006-10 -- and just 15.9 per game in the final eight. During the first half of 2011, Gore posted an elite 4.9 yards per carry, but averaged just 3.5 per carry in the second half.
Maybe the most disconcerting numbers from last season are the 17 receptions and 114 receiving yards (career-low 6.7 yards per reception) Gore tallied. After averaging 51 catches and 430 receiving yards over his previous five seasons as the starter, this marked the lowest reception total since his rookie campaign and the lowest receiving yardage total of his career. Once considered a PPR maven, it's unclear what Gore's role in the passing game might be in 2012, especially with soft-handed rookie LaMichael James and several new wideouts joining the roster.
Actions, or rather acquisitions, speak louder than anything else in the business of professional football. The additions of veteran Brandon Jacobs and second-round selection James, who left Oregon as the active FBS rushing leader, are signs of a team placing more value on depth at the position with an eye on keeping their top back fresh when the carries matter most. Second-year tailback Kendall Hunter, who impressed in his rookie season as Gore's primary backup, remains the mix, as well. The questions looming over Gore's fantasy prospects aren't whether he's the most capable, versatile and proven back on the roster, because he is. His place atop the depth chart remains unquestioned. The concern for his fantasy potential in 2012 is that the 49ers will employ a deliberate share of the work with his bevy of backfield mates in order to keep their best back fresher for both the regular season and what they hope will be another deep playoff run.
In early June, the team's running backs coach Tom Rathman spoke to the San Francisco Chronicle about Gore and the busy backfield: "We need to keep him healthy. We need to keep him fresh so he's an impact player for us." Rathman went on to explain that with a share of the work on the way, "I don't know if everyone's going to be happy with the time that they get."
Assuming that he makes the team, it's difficult to imagine Jacobs having a significant role outside of spot duties in short-yardage scenarios. Rathman told the San Francisco Chronicle as much: "We need him to pack it up inside and run over guys and be physical as a ball carrier. If we want to run outside, we'll put somebody else in."
If Jacobs were to secure a steady gig as the goal-line back, it would further cut into Gore's fantasy value. For long third down situations and as a steady reprieve for Gore, it seems likely that Hunter and James factor into a share of an expanded change-of-pace backup role.
Frank Gore's Fantasy Profile, Since 2006
| Year | Touches per game | Fantasy PPG | Pts per touch | Preseason RB rank | Final RB rank |
| --- | --- | --- | --- | --- | --- |
| 2006 | 23.3 | 16.2 | 0.70 | 30th | 4th |
| 2007 | 20.8 | 11.7 | 0.56 | 4th | 9th |
| 2008 | 20.2 | 12.8 | 0.63 | 6th | 14th |
| 2009 | 20.1 | 15.3 | 0.76 | 8th | 6th |
| 2010 | 22.6 | 13.4 | 0.59 | 6th | 20th |
| 2011 | 18.7 | 10.2 | 0.55 | 10th | 15th |
The key to Gore remaining a valuable real and fantasy football contributor is staying on the field throughout the season while retaining the burst and big-play ability that has defined his best moments. With the coaching staff's deliberate agenda to pace the workload of their best back, it's likely that Gore sees a career-low in total touches as the starter. This doesn't mean that Gore can't be a valid second running back in fantasy, but it does make it quite unlikely that he ever nears the production peaks he set in 2006 and 2009. The biggest dip for Gore's value is in PPR formats, where a significant amount of point production vanished in 2011. Even in standard leagues, there were more than 30 points from receiving yards left on the table last season given the dramatic dip from his previously lofty season averages.
Fantasy Football 2014

It's not too late; leagues are still forming right now. Don't miss out on your chance to join a league or start your own, all for free.
Sign up today
The 49ers are adapting to this era of specialized roles in the backfield, and while Gore's total touches will take a hit, it means he'll take less hits. There is certainly potential for Gore to be fresher down the stretch of the regular season when fantasy crowns are won. He's still the main guy in this running game and should end up being closer to a feature back in terms of total touches than a situational role.
Gore is projected as the 17th running back in our draft kit and is being selected in ESPN live drafts as a No. 2 fantasy back in terms of auction value and ADP. After being priced as a No. 1 fantasy back the past five years, with an average ADP of 9.8, he's currently going 35th on average overall in ESPN leagues. There would be considerable risk investing in Gore if the draft price and statistical expectations remained similar to the past several seasons, but both the rankings and his average draft position have been reasonably adjusted for the expected lightened load and inherent injury risk.
Fantasy Sports
Jim McCormick is a fantasy football and fantasy basketball analyst for ESPN.com.
SPONSORED HEADLINES
FANTASY TOP HEADLINES
MOST SENT STORIES ON ESPN.COM
2012 Fantasy Football Draft Kit
ESPN.com's fantasy analysts offer all the information you'll need to succeed in your draft and all season long.
• Draft Kit Home
• Join/Reactivate a league
• Follow ESPN Fantasy on Facebook
• The NFL on ESPN.com
Profiles and Projections for 2012
Projections and profiles of over 300 players.
Profiles & Projections | Sortable Projections
2012 Rankings
• Top 300 | Cheat Sheets
• Analysts: Berry | Harris | Karabell
• Quarterback: Rankings | Preview
• Running back: Rankings | Preview
• Wide receiver: Rankings | Preview
• Tight end: Rankings | Preview
• Def./Special teams: Rankings | Preview
• Kicker: Rankings | Preview
• IDP: Rankings | Preview
• Other formats: PPR | TD-Only | Keepers
• Analysts: Berry | Harris | Karabell
• The Magazine: Position profiles
The Talented Mr. Roto
• "You Heard Me:" Bold predictions
• Defending my 2012 rankings
• Ten lists of 10: Sleepers, trends, team names
• The Draft Day Manifesto
• 100 Facts you need to know
• Love/Hate for 2012
Mock Drafts
• Mock 1: 10-team standard (May 7)
• Mock 2: 12-team standard (June 14)
• Mock 3: 12-team PPR (July 17)
• Mock 4: 10-team standard (Aug. 7)
• Mock 5: 10-team, 2 QBs (Aug. 13)
• Mock 6: 10-team auction (Aug. 21)
• Mock 7: 12-team standard (Aug. 29)
• Twitter Mock Draft
Geico Fantasy Draft Special Podcast
• Top 2012 storylines: 20 to 11 (Aug. 3)


• Top 2012 storylines: 10 to 1 (Aug. 7)


• Quarterback preview (Aug. 10)


• Running back preview (Aug. 17)


• Wide receiver preview (Aug. 21)


• TE, D/ST, K preview (Aug. 28)

Analysis
• Injury updates: QB | RB | WR | TE
• Staff sleepers and busts
• Top faces in new places
• Are TEs worthy of flex consideration?
• Ten hotly debated players for 2012
• Does the two-QB approach work?
• Better predicting kickers' values
• Don't overanalyze strength of schedule
• How to use value-based drafting
• Will Cam Newton repeat his rookie success?
• Metrics to consider in finding IDP breakouts
• Streaming D/ST units
• Finding potential rebound candidates
• Harris' 10 flag-planted players for 2012
• Harris' super-deep sleepers for 2012
Decisions 2012
• C.J. Spiller's effect on Fred Jackson's value
• Where should Trent Richardson be drafted?
• Will Green-Ellis' TD success continue?
• Ben Tate's impact on Arian Foster's value
• Will Cruz, Nelson fall back to earth?
• Is Jones-Drew poised for drop-off?
• When to draft Darren McFadden
• Demaryius Thomas or Eric Decker?
• Are Panthers RBs unstartable?
• How much will Gore's fantasy value decline?
• How will Charles, Hillis split workload in KC?
• When should you draft Adrian Peterson?
• Rivers' new favorite WR: Meachem or Floyd?
• Vincent Jackson's impact with new team
• Choosing between Bryant and Austin
• The polarizing Michael Turner
• Roddy White or Julio Jones?
• Lloyd effect on Pats' other receivers
• Will any one Patriots RB emerge in 2012?
• Making sense of Saints backfield
• Can you trust DeMarco Murray?
• What is Tim Tebow's value with the Jets?
• Assessing the values of Bucs RBs
• Can Robert Griffin III match Cam Newton?
Strategy
• Auction drafts
• PPR leagues
• Two-QB leagues
• IDP leagues
• TD-only leagues
Insider
• Joyner: Underrated PPR WRs for 2012
• Karabell: Top 35 rookies for 2012
• Kiper: Keeper-league targets
• Joyner: Underrated WRs for 2012
• Joyner: Underrated RBs for 2012
• Kiper: Fantasy rookies to target, avoid
• Joyner: Underrated QBs for 2012
• Karabell: Will DeSean Jackson bounce back?
• Joyner: How O-Lines impact QBs in fantasy
• Karabell: Reggie Bush outlook
• Karabell: Early ADP trends
• Karabell: Redskins RB situation
• Joyner: Undervalued, overvalued RBs
• Karabell: Be wary of Steve Smith
• Joyner: Why CJ2K will be top fantasy RB
• Joyner: Five breakout players in 2012
• Karabell: Five keeper-league targets
Roundtable Videos
• Adrian Peterson outlook
• Peyton Manning's health
• Peyton Manning expectations
• Darren McFadden outlook
• Andre Johnson's health
• Projecting Cam Newton
• Second-tier RBs to consider
• Arian Foster versus Ray Rice
• Will DeSean Jackson bounce back?
• Michael Vick expectations
• Mark Sanchez versus Tim Tebow
• Will Rob Gronkowski repeat as top TE?
• Where to draft Gronkowski, Graham
• Aaron Hernandez expectations
• Can RG3 match Newton's rookie season?
• Will Jamaal Charles return to form?
• DeMarco Murray outlook
• Is Beanie Wells being undervalued?
• Rashard Mendenhall versus Isaac Redman
• How will Drew Brees handle turmoil in NO?
• Why has Matt Schaub's ranking fallen?
• Is this the year Matt Ryan breaks out?
• Tight end sleepers for 2012
• Jonathan Stewart versus DeAngelo Williams
• Which rookie RBs could surprise?
• Demaryius Thomas versus Eric Decker
• Better late pick: Rookie WR or Randy Moss?
• Is Jordy Nelson's TD total repeatable?
• Is Eli Manning an elite fantasy QB?
• Will Philip Rivers bounce back in 2012?
• Can Victor Cruz repeat his breakout 2011?
• Andrew Luck's short- and long-term value
• Expectations for Trent Richardson
• Will Julio Jones outperform Roddy White?
• Is it wise to draft a QB early?
• Will Reggie Bush repeat his 2011 numbers?
• Brandon Marshall expectations