Will Green-Ellis' TDs keep coming?
A move to a less-potent offense, potential time-share pose concerns
Will BenJarvus Green-Ellis continue his scoring ways in Cincinnati?

After bursting on the scene with 1,008 yards and 13 touchdowns in 2010 for the New England Patriots, BenJarvus Green-Ellis fell to earth a bit in 2011 with 667 yards but still scored 11 touchdowns. Those 24 rushing touchdowns over the past two seasons are as many as LeSean McCoy and Adrian Peterson, and more than fantasy superstars such as Maurice Jones-Drew and Ray Rice. (Arian Foster has the most rushing TDs over the past two seasons with 26.)
Of those 24 touchdowns in the past two seasons, 18 came from inside the 5-yard line. So there's a good chance the Law Firm won't be matching those stats now that he's moved to the Cincinnati Bengals, which hasn't had a running back reach double digits in touchdowns since Rudi Johnson scored 12 each season from 2004-06. As noted in our draft kit profile of Green-Ellis, the Patriots had 36 rushing attempts inside the 5 last season, compared to just 17 for the Bengals, so the opportunities were there in New England. And by the end of the season, the goal-line chances were practically the only thing Green-Ellis was getting. In the final six games of the regular season, he had just 45 carries for 126 yards and six touchdowns.
Interestingly, the Bengals' primary back last season, Cedric Benson, scored six touchdowns all season while posting his third straight 1,000-yard season. However, the Bengals opted not to bring him back, instead replacing him with Green-Ellis. Despite the 1,000-yard seasons, Benson was hardly anything to get excited about from a fantasy standpoint. During his tenure in Cincinnati, he would be good for 15-20 carries per game, with 50-70 rushing yards and the occasional touchdown, while doing very little receiving the ball.
[+] Enlarge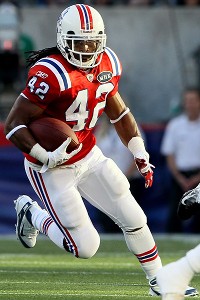 Elsa/Getty ImagesBenJarvus Green-Ellis' fantasy value with the Patriots came from his ability to find the end zone.
Green-Ellis' game is very similar to Benson's: Mostly straight ahead with some power, not a lot of speed or elusiveness, and mostly a non-factor in the passing game. While Green-Ellis averaged 4.4 yards per carry during that 2011 breakout campaign, he was down to 3.7 last season. Meanwhile, Benson has averaged 3.8 yards per carry over the past three 1,000-yard seasons. Looking at last season's final fantasy stats, Green-Ellis finished 23rd among running backs with 138 fantasy points (ESPN standard scoring); Benson finished 24th with 137. So the net results were about the same, even if the manner in which they got their stats was somewhat different. And, in effect, the Bengals upgraded one whole fantasy point in production.
It's not out of the question to believe Green-Ellis could up put very similar stats to Benson's with similar touches, given the state of the team's offense. First off, the Bengals' rank in offensive yards was the same (20th) in both the four-win 2010 and the nine-win 2011 campaigns. In fact, the 2010 team scored more touchdowns (34-31). So even if the Andy Dalton-A.J. Green combo continues to develop, it's hard to think there will be many more scoring opportunities for Green-Ellis overall, but he appears to be the guy to finish off those goal-line chances ahead of holdover back Bernard Scott.
Speaking of Scott, there's a chance he'll get more looks than before with Green-Ellis in the fold, especially after setting career bests with 112 carries, 380 yards and three TDs last season; however, his yards per carry tumbled to 3.4, after averaging 4.6 his first two NFL campaigns. Even if he gets more carries, he doesn't appear to be a threat to steal scores. Plus, he hasn't done much catching the ball (29 receptions for 165 yards in his three-year career), although in recent years, the Bengals haven't utilized the running back in the passing game that much.
Green-Ellis knows how to finish at the goal line, and at least for now will carry a good portion of the Bengals' rushing load. Sure, scoring touchdowns will still shape his fantasy value, but if he can hold off Scott, he can get stats by sheer volume. Give him 15-18 carries a week, he'll likely get about 60 yards per game, and throw in 6-7 touchdowns, you've got a passable No. 2 running back or, optimally, very solid flex option.
Fantasy
Editor for ESPN.com Fantasy.
Member of FSWA Hall of Fame
2012 Fantasy Football Draft Kit
ESPN.com's fantasy analysts offer all the information you'll need to succeed in your draft and all season long.
• Draft Kit Home
• Join/Reactivate a league
• Follow ESPN Fantasy on Facebook
• The NFL on ESPN.com
Profiles and Projections for 2012
Projections and profiles of over 300 players.
Profiles & Projections | Sortable Projections
2012 Rankings
• Top 300 | Cheat Sheets
• Analysts: Berry | Harris | Karabell
• Quarterback: Rankings | Preview
• Running back: Rankings | Preview
• Wide receiver: Rankings | Preview
• Tight end: Rankings | Preview
• Def./Special teams: Rankings | Preview
• Kicker: Rankings | Preview
• IDP: Rankings | Preview
• Other formats: PPR | TD-Only | Keepers
• Analysts: Berry | Harris | Karabell
• The Magazine: Position profiles
The Talented Mr. Roto
• "You Heard Me:" Bold predictions
• Defending my 2012 rankings
• Ten lists of 10: Sleepers, trends, team names
• The Draft Day Manifesto
• 100 Facts you need to know
• Love/Hate for 2012
Mock Drafts
• Mock 1: 10-team standard (May 7)
• Mock 2: 12-team standard (June 14)
• Mock 3: 12-team PPR (July 17)
• Mock 4: 10-team standard (Aug. 7)
• Mock 5: 10-team, 2 QBs (Aug. 13)
• Mock 6: 10-team auction (Aug. 21)
• Mock 7: 12-team standard (Aug. 29)
• Twitter Mock Draft
Geico Fantasy Draft Special Podcast
• Top 2012 storylines: 20 to 11 (Aug. 3)


• Top 2012 storylines: 10 to 1 (Aug. 7)


• Quarterback preview (Aug. 10)


• Running back preview (Aug. 17)


• Wide receiver preview (Aug. 21)


• TE, D/ST, K preview (Aug. 28)

Analysis
• Injury updates: QB | RB | WR | TE
• Staff sleepers and busts
• Top faces in new places
• Are TEs worthy of flex consideration?
• Ten hotly debated players for 2012
• Does the two-QB approach work?
• Better predicting kickers' values
• Don't overanalyze strength of schedule
• How to use value-based drafting
• Will Cam Newton repeat his rookie success?
• Metrics to consider in finding IDP breakouts
• Streaming D/ST units
• Finding potential rebound candidates
• Harris' 10 flag-planted players for 2012
• Harris' super-deep sleepers for 2012
Decisions 2012
• C.J. Spiller's effect on Fred Jackson's value
• Where should Trent Richardson be drafted?
• Will Green-Ellis' TD success continue?
• Ben Tate's impact on Arian Foster's value
• Will Cruz, Nelson fall back to earth?
• Is Jones-Drew poised for drop-off?
• When to draft Darren McFadden
• Demaryius Thomas or Eric Decker?
• Are Panthers RBs unstartable?
• How much will Gore's fantasy value decline?
• How will Charles, Hillis split workload in KC?
• When should you draft Adrian Peterson?
• Rivers' new favorite WR: Meachem or Floyd?
• Vincent Jackson's impact with new team
• Choosing between Bryant and Austin
• The polarizing Michael Turner
• Roddy White or Julio Jones?
• Lloyd effect on Pats' other receivers
• Will any one Patriots RB emerge in 2012?
• Making sense of Saints backfield
• Can you trust DeMarco Murray?
• What is Tim Tebow's value with the Jets?
• Assessing the values of Bucs RBs
• Can Robert Griffin III match Cam Newton?
Strategy
• Auction drafts
• PPR leagues
• Two-QB leagues
• IDP leagues
• TD-only leagues
Insider
• Joyner: Underrated PPR WRs for 2012
• Karabell: Top 35 rookies for 2012
• Kiper: Keeper-league targets
• Joyner: Underrated WRs for 2012
• Joyner: Underrated RBs for 2012
• Kiper: Fantasy rookies to target, avoid
• Joyner: Underrated QBs for 2012
• Karabell: Will DeSean Jackson bounce back?
• Joyner: How O-Lines impact QBs in fantasy
• Karabell: Reggie Bush outlook
• Karabell: Early ADP trends
• Karabell: Redskins RB situation
• Joyner: Undervalued, overvalued RBs
• Karabell: Be wary of Steve Smith
• Joyner: Why CJ2K will be top fantasy RB
• Joyner: Five breakout players in 2012
• Karabell: Five keeper-league targets
Roundtable Videos
• Adrian Peterson outlook
• Peyton Manning's health
• Peyton Manning expectations
• Darren McFadden outlook
• Andre Johnson's health
• Projecting Cam Newton
• Second-tier RBs to consider
• Arian Foster versus Ray Rice
• Will DeSean Jackson bounce back?
• Michael Vick expectations
• Mark Sanchez versus Tim Tebow
• Will Rob Gronkowski repeat as top TE?
• Where to draft Gronkowski, Graham
• Aaron Hernandez expectations
• Can RG3 match Newton's rookie season?
• Will Jamaal Charles return to form?
• DeMarco Murray outlook
• Is Beanie Wells being undervalued?
• Rashard Mendenhall versus Isaac Redman
• How will Drew Brees handle turmoil in NO?
• Why has Matt Schaub's ranking fallen?
• Is this the year Matt Ryan breaks out?
• Tight end sleepers for 2012
• Jonathan Stewart versus DeAngelo Williams
• Which rookie RBs could surprise?
• Demaryius Thomas versus Eric Decker
• Better late pick: Rookie WR or Randy Moss?
• Is Jordy Nelson's TD total repeatable?
• Is Eli Manning an elite fantasy QB?
• Will Philip Rivers bounce back in 2012?
• Can Victor Cruz repeat his breakout 2011?
• Andrew Luck's short- and long-term value
• Expectations for Trent Richardson
• Will Julio Jones outperform Roddy White?
• Is it wise to draft a QB early?
• Will Reggie Bush repeat his 2011 numbers?
• Brandon Marshall expectations