Little fantasy impact on cut-down day
As cut-down days go, 2012's edition was a virtual missing persons bureau. I daresay there wasn't a single player you were considering starting in your fantasy league, no matter how deep or what the scoring format. But there are ramifications from a few of Friday's NFL moves, so let's do a quick review:
Washington Redskins cut RB Tim Hightower: Hightower suffered a torn left ACL in Week 7 last year, but his knee healed and Mike Shanahan talked him up as the Skins' starter pretty much all throughout July and August. Let that be an object lesson to newbies: Never listen to Shanny when it comes to RBs. Hightower played sparingly in the preseason and was released Friday. This means Washington's four-headed backfield is now three-headed: Roy Helu, Evan Royster and Alfred Morris will be in the mix for carries. I've maintained all summer that, if you have to own one of these guys, eventually you'll be happiest with Helu because he's the most talented runner and pass-catcher of the bunch. But don't be shocked if rookie Morris gets the most carries in Week 1.
[+] Enlarge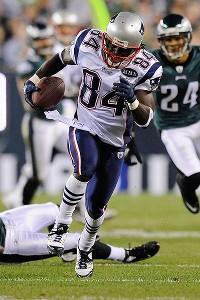 Patrick McDermott/Getty ImagesDeion Branch's departure leaves very little depth behind Wes Welker and Brandon Lloyd at wide receiver.
New England Patriots cut WR Deion Branch: The former Super Bowl MVP might have reached the end of the road at age 33. When the Pats cut Jabar Gaffney and Donte' Stallworth a few days earlier, Branch appeared safe. But instead the team will roll with Wes Welker and Brandon Lloyd as their starting WRs and Julian Edelman and Matthew Slater as backups (and special-teamers). In other words: Don't expect Welker, Lloyd, Rob Gronkowski or Aaron Hernandez to come off the field very much if they're healthy. In addition, the Pats parted company with backup QB Brian Hoyer and will roll with second-year man Ryan Mallett if Tom Brady gets hurt. In other words: Here's hoping Tom Brady doesn't get hurt.
Cleveland Browns cut TE Evan Moore: Moore was owed $1.87 million, and speculation was rampant that he or Ben Watson would wind up on the chopping block. Moore is essentially a big (6-foot-6, 250-pound) wide receiver and has been on the cusp of intriguing production for a couple of years, but the emergence of second-year TE Jordan Cameron made him expendable. I'd still presume that Watson will play the most snaps at tight end for the Browns this season, but Cameron -- a former hoops player with excellent athleticism -- should be squarely on the dynasty league radar screen. In addition, Cleveland axed Seneca Wallace, signaling the team's intent to keep Colt McCoy as its backup to rookie QB Brandon Weeden.
Fantasy Football 2014

It's not too late; leagues are still forming right now. Don't miss out on your chance to join a league or start your own, all for free.
Sign up today
New Orleans Saints place WR Nick Toon on injured reserve: Toon has battled a foot problem all summer and made no headway into a potentially shaky Saints receiver corps after the team drafted him in the fourth round this spring. He's been called a "Marques Colston clone," so Toon will be interesting if he ever gets healthy, but, for now, New Orleans rolls with Colston, Lance Moore and Devery Henderson as its top three wideouts, with nonsleepers such as Adrian Arrington, Joe Morgan and Courtney Roby behind them. The Saints' offense will still be excellent when in good health, but, considering Colston's and Moore's injury histories, I'd be lying if I said I didn't see a few cracks in the foundation.
San Diego Chargers cut Nick Novak: Kicker roulette took place the past few days, as the New York Jets chose Nick Folk over Josh Brown, the Baltimore Ravens kept rookie Justin Tucker over Billy Cundiff, the Washington Redskins snatched up Cundiff and cut both Graham Gano and Neil Rackers, the Houston Texans put rookie Randy Bullock on IR and handed their job to Shayne Graham, and the Carolina Panthers jettisoned Olindo Mare and chose Justin Medlock. Now the musical chairs are all filled, as the Chargers dropped Novak, thus deciding to go with Nate Kaeding, who tore his left ACL on the opening play of the '11 season. There are legit questions about the Chargers' offense with Philip Rivers coming off a down year, Ryan Mathews already hurt and Vincent Jackson gone to Tampa Bay, which means that, for now, Kaeding doesn't look like a fantasy starter. But he's a kicker, so there's a great and random chance for that to change.
Fantasy
Senior writer for ESPN.com
Six-time Fantasy Sports Writing Association award winner
Author of "The Big Clear," a noir thriller
2012 Fantasy Football Draft Kit
ESPN.com's fantasy analysts offer all the information you'll need to succeed in your draft and all season long.
• Draft Kit Home
• Join/Reactivate a league
• Follow ESPN Fantasy on Facebook
• The NFL on ESPN.com
Profiles and Projections for 2012
Projections and profiles of over 300 players.
Profiles & Projections | Sortable Projections
2012 Rankings
• Top 300 | Cheat Sheets
• Analysts: Berry | Harris | Karabell
• Quarterback: Rankings | Preview
• Running back: Rankings | Preview
• Wide receiver: Rankings | Preview
• Tight end: Rankings | Preview
• Def./Special teams: Rankings | Preview
• Kicker: Rankings | Preview
• IDP: Rankings | Preview
• Other formats: PPR | TD-Only | Keepers
• Analysts: Berry | Harris | Karabell
• The Magazine: Position profiles
The Talented Mr. Roto
• "You Heard Me:" Bold predictions
• Defending my 2012 rankings
• Ten lists of 10: Sleepers, trends, team names
• The Draft Day Manifesto
• 100 Facts you need to know
• Love/Hate for 2012
Mock Drafts
• Mock 1: 10-team standard (May 7)
• Mock 2: 12-team standard (June 14)
• Mock 3: 12-team PPR (July 17)
• Mock 4: 10-team standard (Aug. 7)
• Mock 5: 10-team, 2 QBs (Aug. 13)
• Mock 6: 10-team auction (Aug. 21)
• Mock 7: 12-team standard (Aug. 29)
• Twitter Mock Draft
Geico Fantasy Draft Special Podcast
• Top 2012 storylines: 20 to 11 (Aug. 3)


• Top 2012 storylines: 10 to 1 (Aug. 7)


• Quarterback preview (Aug. 10)


• Running back preview (Aug. 17)


• Wide receiver preview (Aug. 21)


• TE, D/ST, K preview (Aug. 28)

Analysis
• Injury updates: QB | RB | WR | TE
• Staff sleepers and busts
• Top faces in new places
• Are TEs worthy of flex consideration?
• Ten hotly debated players for 2012
• Does the two-QB approach work?
• Better predicting kickers' values
• Don't overanalyze strength of schedule
• How to use value-based drafting
• Will Cam Newton repeat his rookie success?
• Metrics to consider in finding IDP breakouts
• Streaming D/ST units
• Finding potential rebound candidates
• Harris' 10 flag-planted players for 2012
• Harris' super-deep sleepers for 2012
Decisions 2012
• C.J. Spiller's effect on Fred Jackson's value
• Where should Trent Richardson be drafted?
• Will Green-Ellis' TD success continue?
• Ben Tate's impact on Arian Foster's value
• Will Cruz, Nelson fall back to earth?
• Is Jones-Drew poised for drop-off?
• When to draft Darren McFadden
• Demaryius Thomas or Eric Decker?
• Are Panthers RBs unstartable?
• How much will Gore's fantasy value decline?
• How will Charles, Hillis split workload in KC?
• When should you draft Adrian Peterson?
• Rivers' new favorite WR: Meachem or Floyd?
• Vincent Jackson's impact with new team
• Choosing between Bryant and Austin
• The polarizing Michael Turner
• Roddy White or Julio Jones?
• Lloyd effect on Pats' other receivers
• Will any one Patriots RB emerge in 2012?
• Making sense of Saints backfield
• Can you trust DeMarco Murray?
• What is Tim Tebow's value with the Jets?
• Assessing the values of Bucs RBs
• Can Robert Griffin III match Cam Newton?
Strategy
• Auction drafts
• PPR leagues
• Two-QB leagues
• IDP leagues
• TD-only leagues
Insider
• Joyner: Underrated PPR WRs for 2012
• Karabell: Top 35 rookies for 2012
• Kiper: Keeper-league targets
• Joyner: Underrated WRs for 2012
• Joyner: Underrated RBs for 2012
• Kiper: Fantasy rookies to target, avoid
• Joyner: Underrated QBs for 2012
• Karabell: Will DeSean Jackson bounce back?
• Joyner: How O-Lines impact QBs in fantasy
• Karabell: Reggie Bush outlook
• Karabell: Early ADP trends
• Karabell: Redskins RB situation
• Joyner: Undervalued, overvalued RBs
• Karabell: Be wary of Steve Smith
• Joyner: Why CJ2K will be top fantasy RB
• Joyner: Five breakout players in 2012
• Karabell: Five keeper-league targets
Roundtable Videos
• Adrian Peterson outlook
• Peyton Manning's health
• Peyton Manning expectations
• Darren McFadden outlook
• Andre Johnson's health
• Projecting Cam Newton
• Second-tier RBs to consider
• Arian Foster versus Ray Rice
• Will DeSean Jackson bounce back?
• Michael Vick expectations
• Mark Sanchez versus Tim Tebow
• Will Rob Gronkowski repeat as top TE?
• Where to draft Gronkowski, Graham
• Aaron Hernandez expectations
• Can RG3 match Newton's rookie season?
• Will Jamaal Charles return to form?
• DeMarco Murray outlook
• Is Beanie Wells being undervalued?
• Rashard Mendenhall versus Isaac Redman
• How will Drew Brees handle turmoil in NO?
• Why has Matt Schaub's ranking fallen?
• Is this the year Matt Ryan breaks out?
• Tight end sleepers for 2012
• Jonathan Stewart versus DeAngelo Williams
• Which rookie RBs could surprise?
• Demaryius Thomas versus Eric Decker
• Better late pick: Rookie WR or Randy Moss?
• Is Jordy Nelson's TD total repeatable?
• Is Eli Manning an elite fantasy QB?
• Will Philip Rivers bounce back in 2012?
• Can Victor Cruz repeat his breakout 2011?
• Andrew Luck's short- and long-term value
• Expectations for Trent Richardson
• Will Julio Jones outperform Roddy White?
• Is it wise to draft a QB early?
• Will Reggie Bush repeat his 2011 numbers?
• Brandon Marshall expectations
MOST SENT STORIES ON ESPN.COM