Nicks remains on target for Week 1
ALBANY, N.Y. -- For now, New York Giants wide receiver Hakeem Nicks is relegated to the role of observer during team practices but he expects that to change soon.
"Shooting for mid-August," Nicks said when asked about a likely date to begin working with the team. He pointed out, however, that his return could be gradual, just as his progression to this point has been since undergoing surgery on his right foot in May. "Whether it be me working my way back up so by mid-August I can be back practicing fully, maybe start doing some individuals soon or practicing routes with the quarterback. We're just going to keep progressing, taking it slow, following instructions of team doctors."
Nicks was injured on the second day of the Giants' organized team activities while doing something completely ordinary in his line of work, running a route. "I felt like I popped a knuckle," said Nicks of the moment his fifth metatarsal fractured, "but it was in my foot." Nicks, who immediately suspected that it was broken, had his suspicions confirmed by the Giants' medical staff and underwent surgery the next day.
Surgery involved the placement of a small screw at the fracture site to stabilize the bone. Nicks traveled to North Carolina where renowned foot and ankle surgeon, Dr. Robert Anderson, performed the procedure. Anderson, who treated Nicks in the past for a toe injury, told him the promptness of this surgery worked in his favor in terms of the overall healing. Nicks has been heeding the advice of Anderson and the Giants' medical staff to take the recovery process slowly.
"Team doctors and trainers have been doing a good job of walking me through this, getting me at a level to where I'm confident enough to go out and play on it," Nicks said. "I'm progressing pretty well. Right now my activity level is running straight ahead, conditioning, cutting a little bit. It feels fine and there have been no setbacks, always the ultimate goal. I'm confident that I'll be able to come back fully effective, pick up where I left off."
[+] Enlarge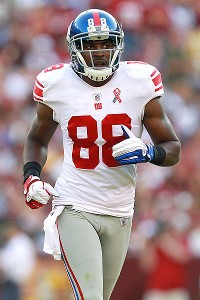 Ronald Martinez/Getty ImagesHakeem Nicks set a career high with 1,192 receiving yards last season.
Nicks knows a thing or two about coming back from injury. In addition to the toe injury sustained in the 2009 season, Nicks dealt with acute compartment syndrome in his lower leg in 2010 and surprised many by returning quickly and effectively. Acute compartment syndrome occurs when bruising or bleeding within a confined area of soft tissue results in rapid swelling, causing compression of the associated nerves and blood vessels. The sensitivity of these structures to lack of blood flow is such that if the situation is not addressed swiftly, the tissue in the area can die. This condition is typically associated with trauma, such as a car accident, but can occur occasionally in sports as a result of contact. The key to a good outcome is proper identification and rapid management, which is exactly what happened in Nicks' case. In fact, the process unfolded so swiftly that Nicks really didn't have time to get nervous about the treatment, which involved surgery to open the compartment in his leg and relieve the pressure that was escalating.
"It happened so quick," Nicks said. "Guess I might have taken a hit during the game, but I didn't feel it. The next morning when I woke up, my leg was just swollen and hard. I went in to get an MRI, but they knew right away what it was. They just tested it [by using a needle attached to a pressure meter to measure the pressure within the involved compartment of the lower leg] and told me, 'We've got to cut your leg open.' I just said, 'Whatever you've got to do to save my leg, go ahead and do it.'"
Wasn't he terrified?
"It happened so quick honestly. I went in thinking I was just getting an MRI. Thirty minutes later I find out I'm getting surgery. I really didn't have time to think about it."
After surgery, Nicks said his first thought was, "I hope this big scar heals up." Then he put his mind to getting back to football. Many thought he would miss upward of one month. Nicks missed only two games. He believes he is a fast healer but pointed out that with this injury, surprisingly enough, there really was no pain. So he just covered up the wound and kept going. "I kept strengthening my leg, doing a lot of calf stretches, while the wound was healing. After I came back, I never really felt it."
Pain or not, a two-week absence for an injury of that magnitude is relatively rare. Perhaps his ability to recover rapidly is due, at least in part, to the work ethic for which Nicks is known, and he seems to be applying that to his latest foot injury. He is keeping his strength up with weight workouts and is combining pool running, bike and elliptical training to maintain his cardiovascular fitness minus the impact. But he also keeps himself mentally focused on the game.
"I watch a lot of film," Nicks said. "I watch the good, the bad, the OK. I watch it all. I remind myself what I need to work on, what I need to get better at, so that when I do pick it back up, the mental aspect is still there."
Nicks seems to take the injuries that have come his way in stride. "Obviously, having a foot injury, being a wide receiver, is not something you really want to have," Nicks said. "But it's football. Injuries are going to come. You can't control them. You've got to be able to know how to deal with them."
Part of dealing with them for Nicks is focusing on the team's football goals ahead, like following up on a championship season without a letdown. "We've got to have the mentality that it's a new season, everybody's coming for our title," said Nicks. "That's what you really look forward to as an NFL athlete, look forward to the competition."
He doesn't seem the least bit fazed by the team's task of trying to replicate last season's success. And Nicks expects to be on the field doing his part in Week 1.
"I like the challenge, all the guys do here. We're up for it. So let's go."
Fantasy Sports
Senior writer for ESPN.com
Certified orthopedic clinical specialist and strength and conditioning specialist
Clinician, author and teacher
SPONSORED HEADLINES
FANTASY TOP HEADLINES
MOST SENT STORIES ON ESPN.COM
2012 Fantasy Football Draft Kit
ESPN.com's fantasy analysts offer all the information you'll need to succeed in your draft and all season long.
• Draft Kit Home
• Join/Reactivate a league
• Follow ESPN Fantasy on Facebook
• The NFL on ESPN.com
Profiles and Projections for 2012
Projections and profiles of over 300 players.
Profiles & Projections | Sortable Projections
2012 Rankings
• Top 300 | Cheat Sheets
• Analysts: Berry | Harris | Karabell
• Quarterback: Rankings | Preview
• Running back: Rankings | Preview
• Wide receiver: Rankings | Preview
• Tight end: Rankings | Preview
• Def./Special teams: Rankings | Preview
• Kicker: Rankings | Preview
• IDP: Rankings | Preview
• Other formats: PPR | TD-Only | Keepers
• Analysts: Berry | Harris | Karabell
• The Magazine: Position profiles
The Talented Mr. Roto
• "You Heard Me:" Bold predictions
• Defending my 2012 rankings
• Ten lists of 10: Sleepers, trends, team names
• The Draft Day Manifesto
• 100 Facts you need to know
• Love/Hate for 2012
Mock Drafts
• Mock 1: 10-team standard (May 7)
• Mock 2: 12-team standard (June 14)
• Mock 3: 12-team PPR (July 17)
• Mock 4: 10-team standard (Aug. 7)
• Mock 5: 10-team, 2 QBs (Aug. 13)
• Mock 6: 10-team auction (Aug. 21)
• Mock 7: 12-team standard (Aug. 29)
• Twitter Mock Draft
Geico Fantasy Draft Special Podcast
• Top 2012 storylines: 20 to 11 (Aug. 3)


• Top 2012 storylines: 10 to 1 (Aug. 7)


• Quarterback preview (Aug. 10)


• Running back preview (Aug. 17)


• Wide receiver preview (Aug. 21)


• TE, D/ST, K preview (Aug. 28)

Analysis
• Injury updates: QB | RB | WR | TE
• Staff sleepers and busts
• Top faces in new places
• Are TEs worthy of flex consideration?
• Ten hotly debated players for 2012
• Does the two-QB approach work?
• Better predicting kickers' values
• Don't overanalyze strength of schedule
• How to use value-based drafting
• Will Cam Newton repeat his rookie success?
• Metrics to consider in finding IDP breakouts
• Streaming D/ST units
• Finding potential rebound candidates
• Harris' 10 flag-planted players for 2012
• Harris' super-deep sleepers for 2012
Decisions 2012
• C.J. Spiller's effect on Fred Jackson's value
• Where should Trent Richardson be drafted?
• Will Green-Ellis' TD success continue?
• Ben Tate's impact on Arian Foster's value
• Will Cruz, Nelson fall back to earth?
• Is Jones-Drew poised for drop-off?
• When to draft Darren McFadden
• Demaryius Thomas or Eric Decker?
• Are Panthers RBs unstartable?
• How much will Gore's fantasy value decline?
• How will Charles, Hillis split workload in KC?
• When should you draft Adrian Peterson?
• Rivers' new favorite WR: Meachem or Floyd?
• Vincent Jackson's impact with new team
• Choosing between Bryant and Austin
• The polarizing Michael Turner
• Roddy White or Julio Jones?
• Lloyd effect on Pats' other receivers
• Will any one Patriots RB emerge in 2012?
• Making sense of Saints backfield
• Can you trust DeMarco Murray?
• What is Tim Tebow's value with the Jets?
• Assessing the values of Bucs RBs
• Can Robert Griffin III match Cam Newton?
Strategy
• Auction drafts
• PPR leagues
• Two-QB leagues
• IDP leagues
• TD-only leagues
Insider
• Joyner: Underrated PPR WRs for 2012
• Karabell: Top 35 rookies for 2012
• Kiper: Keeper-league targets
• Joyner: Underrated WRs for 2012
• Joyner: Underrated RBs for 2012
• Kiper: Fantasy rookies to target, avoid
• Joyner: Underrated QBs for 2012
• Karabell: Will DeSean Jackson bounce back?
• Joyner: How O-Lines impact QBs in fantasy
• Karabell: Reggie Bush outlook
• Karabell: Early ADP trends
• Karabell: Redskins RB situation
• Joyner: Undervalued, overvalued RBs
• Karabell: Be wary of Steve Smith
• Joyner: Why CJ2K will be top fantasy RB
• Joyner: Five breakout players in 2012
• Karabell: Five keeper-league targets
Roundtable Videos
• Adrian Peterson outlook
• Peyton Manning's health
• Peyton Manning expectations
• Darren McFadden outlook
• Andre Johnson's health
• Projecting Cam Newton
• Second-tier RBs to consider
• Arian Foster versus Ray Rice
• Will DeSean Jackson bounce back?
• Michael Vick expectations
• Mark Sanchez versus Tim Tebow
• Will Rob Gronkowski repeat as top TE?
• Where to draft Gronkowski, Graham
• Aaron Hernandez expectations
• Can RG3 match Newton's rookie season?
• Will Jamaal Charles return to form?
• DeMarco Murray outlook
• Is Beanie Wells being undervalued?
• Rashard Mendenhall versus Isaac Redman
• How will Drew Brees handle turmoil in NO?
• Why has Matt Schaub's ranking fallen?
• Is this the year Matt Ryan breaks out?
• Tight end sleepers for 2012
• Jonathan Stewart versus DeAngelo Williams
• Which rookie RBs could surprise?
• Demaryius Thomas versus Eric Decker
• Better late pick: Rookie WR or Randy Moss?
• Is Jordy Nelson's TD total repeatable?
• Is Eli Manning an elite fantasy QB?
• Will Philip Rivers bounce back in 2012?
• Can Victor Cruz repeat his breakout 2011?
• Andrew Luck's short- and long-term value
• Expectations for Trent Richardson
• Will Julio Jones outperform Roddy White?
• Is it wise to draft a QB early?
• Will Reggie Bush repeat his 2011 numbers?
• Brandon Marshall expectations