Mathews should return to full health
Running back's collarbone fracture will need to heal well before return to contact
It didn't take long for the injury hypotheticals surrounding Ryan Mathews to turn into reality. In fact, it took just one carry. In the Chargers' first preseason game, Mathews left the game after being tackled on his first run and did not return. The grim news that Mathews suffered a broken clavicle, or collarbone, came soon afterward. He underwent surgery to repair the fracture Friday, and the team has issued a projected return of four to six weeks.
Broken clavicles are not uncommon in football as they typically occur when the shoulder is driven into the ground on a tackle or after a hard landing on the shoulder (the result is either a shoulder separation or a clavicle fracture, depending upon where the force is). They are common in offensive players, such as quarterbacks (Tony Romo, Matt Leinart), wide receivers (Marques Colston and Riley Cooper, who incidentally fractured his on July 28 of this year in camp, had surgery and is projected by the Eagles to miss six weeks) and running backs. (Adrian Peterson suffered this injury in his junior year of college, and it raised some concern about his durability before the draft. Of note, he did not have surgery, missed seven games, returned to play in the Fiesta Bowl and suffered another fracture. Ultimately that injury healed on its own.) Although Colston missed only three weeks after his injury, Romo's was season-ending -- he was injured in late October and missed eleven games -- and it was his non-throwing side. Colston had surgery; Romo did not.
[+] Enlarge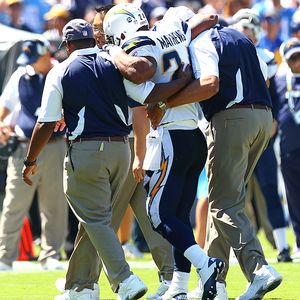 AP Photo/Kevin TerrellRyan Mathews has battled injuries over the course of his career, including this ankle injury in 2010.
Despite the relatively common occurrence of these injuries, the timetable to full health can vary greatly. Given that the clavicle does not always heal well, athletes in contact sports often undergo surgery nowadays to help stabilize the injury and promote quicker recovery. Factors that can influence the severity of the injury include the location of the fracture within the bone (the midshaft of the clavicle is more commonly broken and often less problematic than the end near the shoulder, for instance), whether the fracture was displaced (whether the bony ends remained in alignment or not), and whether there were multiple fragments (more often seen in high-speed accidents). None of this information has been made available regarding Mathews' injury.
Fracture healing typically is about six weeks, and, before a player is cleared to resume contact, there must be sufficient evidence of bony repair to alleviate concerns of reinjury. Every fall onto the shoulder, direct hit to the shoulder (especially if the player is hit from both sides simultaneously), even a stiff-arm move, will translate force through the collarbone area. For an athlete such as Mathews, who will incur contact through his clavicle (directly or indirectly) on virtually every play in which he carries the ball, the confidence that the bone will remain intact must be high before allowing him to compete.
Mathews should be able to maintain his cardiovascular conditioning but will be limited with respect to upper-extremity weights initially. This is not like a knee or ankle injury, in which his ability to perform well enough could be in jeopardy; once he is cleared to return, he should be able to pick up where he left off. Unfortunately for Mathews, this latest injury does nothing to increase confidence that he'll stay up once he picks back up.
Fantasy Sports
Senior writer for ESPN.com
Certified orthopedic clinical specialist and strength and conditioning specialist
Clinician, author and teacher
2012 Fantasy Football Draft Kit
ESPN.com's fantasy analysts offer all the information you'll need to succeed in your draft and all season long.
• Draft Kit Home
• Join/Reactivate a league
• Follow ESPN Fantasy on Facebook
• The NFL on ESPN.com
Profiles and Projections for 2012
Projections and profiles of over 300 players.
Profiles & Projections | Sortable Projections
2012 Rankings
• Top 300 | Cheat Sheets
• Analysts: Berry | Harris | Karabell
• Quarterback: Rankings | Preview
• Running back: Rankings | Preview
• Wide receiver: Rankings | Preview
• Tight end: Rankings | Preview
• Def./Special teams: Rankings | Preview
• Kicker: Rankings | Preview
• IDP: Rankings | Preview
• Other formats: PPR | TD-Only | Keepers
• Analysts: Berry | Harris | Karabell
• The Magazine: Position profiles
The Talented Mr. Roto
• "You Heard Me:" Bold predictions
• Defending my 2012 rankings
• Ten lists of 10: Sleepers, trends, team names
• The Draft Day Manifesto
• 100 Facts you need to know
• Love/Hate for 2012
Mock Drafts
• Mock 1: 10-team standard (May 7)
• Mock 2: 12-team standard (June 14)
• Mock 3: 12-team PPR (July 17)
• Mock 4: 10-team standard (Aug. 7)
• Mock 5: 10-team, 2 QBs (Aug. 13)
• Mock 6: 10-team auction (Aug. 21)
• Mock 7: 12-team standard (Aug. 29)
• Twitter Mock Draft
Geico Fantasy Draft Special Podcast
• Top 2012 storylines: 20 to 11 (Aug. 3)


• Top 2012 storylines: 10 to 1 (Aug. 7)


• Quarterback preview (Aug. 10)


• Running back preview (Aug. 17)


• Wide receiver preview (Aug. 21)


• TE, D/ST, K preview (Aug. 28)

Analysis
• Injury updates: QB | RB | WR | TE
• Staff sleepers and busts
• Top faces in new places
• Are TEs worthy of flex consideration?
• Ten hotly debated players for 2012
• Does the two-QB approach work?
• Better predicting kickers' values
• Don't overanalyze strength of schedule
• How to use value-based drafting
• Will Cam Newton repeat his rookie success?
• Metrics to consider in finding IDP breakouts
• Streaming D/ST units
• Finding potential rebound candidates
• Harris' 10 flag-planted players for 2012
• Harris' super-deep sleepers for 2012
Decisions 2012
• C.J. Spiller's effect on Fred Jackson's value
• Where should Trent Richardson be drafted?
• Will Green-Ellis' TD success continue?
• Ben Tate's impact on Arian Foster's value
• Will Cruz, Nelson fall back to earth?
• Is Jones-Drew poised for drop-off?
• When to draft Darren McFadden
• Demaryius Thomas or Eric Decker?
• Are Panthers RBs unstartable?
• How much will Gore's fantasy value decline?
• How will Charles, Hillis split workload in KC?
• When should you draft Adrian Peterson?
• Rivers' new favorite WR: Meachem or Floyd?
• Vincent Jackson's impact with new team
• Choosing between Bryant and Austin
• The polarizing Michael Turner
• Roddy White or Julio Jones?
• Lloyd effect on Pats' other receivers
• Will any one Patriots RB emerge in 2012?
• Making sense of Saints backfield
• Can you trust DeMarco Murray?
• What is Tim Tebow's value with the Jets?
• Assessing the values of Bucs RBs
• Can Robert Griffin III match Cam Newton?
Strategy
• Auction drafts
• PPR leagues
• Two-QB leagues
• IDP leagues
• TD-only leagues
Insider
• Joyner: Underrated PPR WRs for 2012
• Karabell: Top 35 rookies for 2012
• Kiper: Keeper-league targets
• Joyner: Underrated WRs for 2012
• Joyner: Underrated RBs for 2012
• Kiper: Fantasy rookies to target, avoid
• Joyner: Underrated QBs for 2012
• Karabell: Will DeSean Jackson bounce back?
• Joyner: How O-Lines impact QBs in fantasy
• Karabell: Reggie Bush outlook
• Karabell: Early ADP trends
• Karabell: Redskins RB situation
• Joyner: Undervalued, overvalued RBs
• Karabell: Be wary of Steve Smith
• Joyner: Why CJ2K will be top fantasy RB
• Joyner: Five breakout players in 2012
• Karabell: Five keeper-league targets
Roundtable Videos
• Adrian Peterson outlook
• Peyton Manning's health
• Peyton Manning expectations
• Darren McFadden outlook
• Andre Johnson's health
• Projecting Cam Newton
• Second-tier RBs to consider
• Arian Foster versus Ray Rice
• Will DeSean Jackson bounce back?
• Michael Vick expectations
• Mark Sanchez versus Tim Tebow
• Will Rob Gronkowski repeat as top TE?
• Where to draft Gronkowski, Graham
• Aaron Hernandez expectations
• Can RG3 match Newton's rookie season?
• Will Jamaal Charles return to form?
• DeMarco Murray outlook
• Is Beanie Wells being undervalued?
• Rashard Mendenhall versus Isaac Redman
• How will Drew Brees handle turmoil in NO?
• Why has Matt Schaub's ranking fallen?
• Is this the year Matt Ryan breaks out?
• Tight end sleepers for 2012
• Jonathan Stewart versus DeAngelo Williams
• Which rookie RBs could surprise?
• Demaryius Thomas versus Eric Decker
• Better late pick: Rookie WR or Randy Moss?
• Is Jordy Nelson's TD total repeatable?
• Is Eli Manning an elite fantasy QB?
• Will Philip Rivers bounce back in 2012?
• Can Victor Cruz repeat his breakout 2011?
• Andrew Luck's short- and long-term value
• Expectations for Trent Richardson
• Will Julio Jones outperform Roddy White?
• Is it wise to draft a QB early?
• Will Reggie Bush repeat his 2011 numbers?
• Brandon Marshall expectations
MOST SENT STORIES ON ESPN.COM