Bills' Johnson feeling much healthier
Buffalo's top receiver still recovering from offseason groin surgery
PITTSFORD, N.Y. -- Buffalo Bills wide receiver Steve Johnson is all smiles.
[+] Enlarge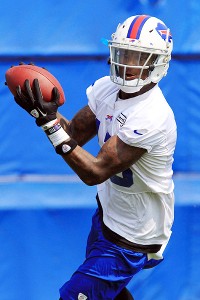 Kevin Hoffman/US PresswireDespite a nagging groin injury, Steve Johnson had 1,004 yards and seven TDs receiving in 2011.
An upbeat Johnson stayed after practice Monday, signing autographs for the fans, making his way along the railing of the stadium seats at St. John Fisher College in Pittsford, N.Y., where the Bills conduct training camp. He graciously went back to oblige a few fans who called out to him, having missed him during his first trip down the receiving line. He even stopped to sign a baby. (More accurately, the autograph was inscribed on the baby's "Why so serious?" onesie.) Johnson seemed genuinely enthused to meet possibly his youngest fan. "I saw him on Twitter wearing his 'Why so serious' jersey," Johnson said, "and I finally got to meet him in person."
Babies and slogans aside, maybe Johnson's smile is due to the fact that he's finally playing without pain. After suffering a groin injury early last season, Johnson managed to play in every game but knew he wasn't his normal self. A stranger to groin injuries until last year, Johnson was surprised at how much it impacted him.
When asked to describe what it's like to play through an injury that saps some of your key position skills, Johnson came up with this analogy: "Say you're a superhero and you don't have any powers. You still have your regular strength, but you have nothing that goes over the top." He credits both the medical staff and his teammates for helping him get through each week. In addition to the treatment he received throughout the week and after games, Johnson acknowledged the adjustments his teammates made as a result of his injury. "Guys did a good job of placing the ball in certain places where I wouldn't have to overextend," he said, adding, "The Bills staff took care of me. We got through it."
Once the season ended, Johnson could finally get the injury fully addressed. He traveled to Philadelphia, where he underwent a surgical procedure on the two tears in his left groin. Dr. Bill Meyers, renowned for his expertise in repairing sports hernias (he prefers calling them core muscle injuries), performed the operation.
Johnson described the post-surgical recovery as smooth. "For the most part, the recovery was somewhat of a speedy recovery," Johnson said. At first he was limited to laps around the field four or five times for about a week, then he was able to gradually increase his running. Progressive strengthening was next, followed by football activities. Everything has gone well, according to Johnson, as he has ramped up his activity. "Now I really don't feel anything in my groin on my left side," he said.
Johnson declares himself "90-something percent" recovered and says he is running routinely at full speed with "no issues whatsoever." The only real test left is game action. He expects to be involved in preseason games specifically so he can put his body through that final test.
"In practice, I'll catch a pass out here, maybe turn it up six or seven yards," Johnson explained. "In a game, you've got to go try to score, so you're straining a bit more. The guys are coming in to hit you faster and harder, Your reaction time has to be a little bit faster, so your body has to adjust."
And how will he know if he's passed that final test? "We'll see how my legs, how my groin feels when I make a cut, make a catch, then try to burst after the catch," he explained. "If I get up and I'm bouncing around like it's good, then we're good."
With the Bills set to play their first preseason game Thursday night, Johnson's final exam should be just around the corner, after which he plans to still be smiling.
Fantasy Sports
Senior writer for ESPN.com
Certified orthopedic clinical specialist and strength and conditioning specialist
Clinician, author and teacher
2012 Fantasy Football Draft Kit
ESPN.com's fantasy analysts offer all the information you'll need to succeed in your draft and all season long.
• Draft Kit Home
• Join/Reactivate a league
• Follow ESPN Fantasy on Facebook
• The NFL on ESPN.com
Profiles and Projections for 2012
Projections and profiles of over 300 players.
Profiles & Projections | Sortable Projections
2012 Rankings
• Top 300 | Cheat Sheets
• Analysts: Berry | Harris | Karabell
• Quarterback: Rankings | Preview
• Running back: Rankings | Preview
• Wide receiver: Rankings | Preview
• Tight end: Rankings | Preview
• Def./Special teams: Rankings | Preview
• Kicker: Rankings | Preview
• IDP: Rankings | Preview
• Other formats: PPR | TD-Only | Keepers
• Analysts: Berry | Harris | Karabell
• The Magazine: Position profiles
The Talented Mr. Roto
• "You Heard Me:" Bold predictions
• Defending my 2012 rankings
• Ten lists of 10: Sleepers, trends, team names
• The Draft Day Manifesto
• 100 Facts you need to know
• Love/Hate for 2012
Mock Drafts
• Mock 1: 10-team standard (May 7)
• Mock 2: 12-team standard (June 14)
• Mock 3: 12-team PPR (July 17)
• Mock 4: 10-team standard (Aug. 7)
• Mock 5: 10-team, 2 QBs (Aug. 13)
• Mock 6: 10-team auction (Aug. 21)
• Mock 7: 12-team standard (Aug. 29)
• Twitter Mock Draft
Geico Fantasy Draft Special Podcast
• Top 2012 storylines: 20 to 11 (Aug. 3)


• Top 2012 storylines: 10 to 1 (Aug. 7)


• Quarterback preview (Aug. 10)


• Running back preview (Aug. 17)


• Wide receiver preview (Aug. 21)


• TE, D/ST, K preview (Aug. 28)

Analysis
• Injury updates: QB | RB | WR | TE
• Staff sleepers and busts
• Top faces in new places
• Are TEs worthy of flex consideration?
• Ten hotly debated players for 2012
• Does the two-QB approach work?
• Better predicting kickers' values
• Don't overanalyze strength of schedule
• How to use value-based drafting
• Will Cam Newton repeat his rookie success?
• Metrics to consider in finding IDP breakouts
• Streaming D/ST units
• Finding potential rebound candidates
• Harris' 10 flag-planted players for 2012
• Harris' super-deep sleepers for 2012
Decisions 2012
• C.J. Spiller's effect on Fred Jackson's value
• Where should Trent Richardson be drafted?
• Will Green-Ellis' TD success continue?
• Ben Tate's impact on Arian Foster's value
• Will Cruz, Nelson fall back to earth?
• Is Jones-Drew poised for drop-off?
• When to draft Darren McFadden
• Demaryius Thomas or Eric Decker?
• Are Panthers RBs unstartable?
• How much will Gore's fantasy value decline?
• How will Charles, Hillis split workload in KC?
• When should you draft Adrian Peterson?
• Rivers' new favorite WR: Meachem or Floyd?
• Vincent Jackson's impact with new team
• Choosing between Bryant and Austin
• The polarizing Michael Turner
• Roddy White or Julio Jones?
• Lloyd effect on Pats' other receivers
• Will any one Patriots RB emerge in 2012?
• Making sense of Saints backfield
• Can you trust DeMarco Murray?
• What is Tim Tebow's value with the Jets?
• Assessing the values of Bucs RBs
• Can Robert Griffin III match Cam Newton?
Strategy
• Auction drafts
• PPR leagues
• Two-QB leagues
• IDP leagues
• TD-only leagues
Insider
• Joyner: Underrated PPR WRs for 2012
• Karabell: Top 35 rookies for 2012
• Kiper: Keeper-league targets
• Joyner: Underrated WRs for 2012
• Joyner: Underrated RBs for 2012
• Kiper: Fantasy rookies to target, avoid
• Joyner: Underrated QBs for 2012
• Karabell: Will DeSean Jackson bounce back?
• Joyner: How O-Lines impact QBs in fantasy
• Karabell: Reggie Bush outlook
• Karabell: Early ADP trends
• Karabell: Redskins RB situation
• Joyner: Undervalued, overvalued RBs
• Karabell: Be wary of Steve Smith
• Joyner: Why CJ2K will be top fantasy RB
• Joyner: Five breakout players in 2012
• Karabell: Five keeper-league targets
Roundtable Videos
• Adrian Peterson outlook
• Peyton Manning's health
• Peyton Manning expectations
• Darren McFadden outlook
• Andre Johnson's health
• Projecting Cam Newton
• Second-tier RBs to consider
• Arian Foster versus Ray Rice
• Will DeSean Jackson bounce back?
• Michael Vick expectations
• Mark Sanchez versus Tim Tebow
• Will Rob Gronkowski repeat as top TE?
• Where to draft Gronkowski, Graham
• Aaron Hernandez expectations
• Can RG3 match Newton's rookie season?
• Will Jamaal Charles return to form?
• DeMarco Murray outlook
• Is Beanie Wells being undervalued?
• Rashard Mendenhall versus Isaac Redman
• How will Drew Brees handle turmoil in NO?
• Why has Matt Schaub's ranking fallen?
• Is this the year Matt Ryan breaks out?
• Tight end sleepers for 2012
• Jonathan Stewart versus DeAngelo Williams
• Which rookie RBs could surprise?
• Demaryius Thomas versus Eric Decker
• Better late pick: Rookie WR or Randy Moss?
• Is Jordy Nelson's TD total repeatable?
• Is Eli Manning an elite fantasy QB?
• Will Philip Rivers bounce back in 2012?
• Can Victor Cruz repeat his breakout 2011?
• Andrew Luck's short- and long-term value
• Expectations for Trent Richardson
• Will Julio Jones outperform Roddy White?
• Is it wise to draft a QB early?
• Will Reggie Bush repeat his 2011 numbers?
• Brandon Marshall expectations
MOST SENT STORIES ON ESPN.COM