TD-only league strategy
Updated:
June 20, 2012, 10:54 AM ET
By
AJ Mass
| ESPN.com
"It doesn't make a difference if we make it or not." -- "Livin' on a Prayer"
With all apologies to Jon Bon Jovi, we beg to differ. When it comes to playing fantasy football in a touchdown-only league, getting "halfway there" simply isn't going to cut it. Either your player gets into the end zone or he doesn't. It makes a huge difference whether or not your players make it. All you have to do is look at the box score. If your player didn't score a touchdown, you get a goose egg.
You can have Chris Johnson when he rushes for 190 yards against the Tampa Bay Buccaneers, and I can have John Kuhn that same week when he gains only five yards on five carries against the Detroit Lions. In standard fantasy football leagues, you'd feel pretty good about your guy. In a TD-only league, I'm the happy one because Kuhn found the end zone, while Johnson failed to break the goal line all day. You get no consolation prize for those yards. You get no bonus for reaching the 100-yard milestone. I get six points, while your six-string remains in hock.
That's not to say that you don't want to draft the big names early. After all, it's still better to have a star wide receiver like Houston's Andre Johnson on your roster than, say, backup quarterback Josh Johnson of San Francisco. But because yardage doesn't enter into the equation, you do have to take different considerations into account and adjust your draft boards accordingly. So here is a list of things to keep in mind before you make your selections:
You need a good quarterback
[+] Enlarge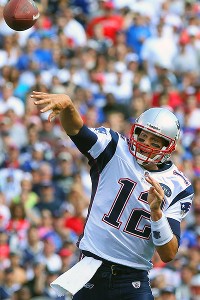 Tom Szczerbowski/Getty ImagesQuarterbacks' touchdown passes may be worth less, but that doesn't lessen the importance of drafting a consistent option like Tom Brady.
It's true that quarterbacks get only four points for a touchdown in many TD-only league setups, while running backs and receivers get six. However, I still wouldn't have any problem drafting a stud quarterback in the first round. In fact, I might even shoot for it. First of all, every passing touchdown from a quarterback's team, whether it's thrown to a running back, receiver or tight end, is almost sure to come from that quarterback (unless it's a gadget play or the QB goes down).
Only in rare cases must quarterbacks fight for red zone opportunities, and heck, when all else fails, they can even scamper into the end zone themselves. While there's never a guarantee a team will score at all in a given week, I would venture a guess and say that it's more likely that the quarterback will get points for you than any other position.
After all, there were 20 quarterbacks who threw for 16 or more scores last season (meaning an average of one per week), while the list of names at other positions with that rate of success consists of Rob Gronkowski, Calvin Johnson, LeSean McCoy and, well, that's it.
Beware the vultures
Jed Collins, Anthony Dixon, Le'Ron McClain … guys like this don't get a sniff until the very late rounds in fantasy leagues, if at all, but in a TD-only league, it doesn't matter that they might get only the occasional carry. What does matter is how close to the end zone they are when they do get the call. Heck, even B.J. Raji had a rushing touchdown in 2011. On the flip side, if teams are handing the rock to others in the red zone, even as a gimmick, then it has to eat away at the potential of their teammates. As such, Ryan Mathews, Jamaal Charles and Matt Forte may all get significant carries, but when it comes to clicking for six, they could lose out if someone else gets the call from the coaching staff in close.
Many happy returns
Just think about it: A guy who returns punts and kicks could get roughly 10 free shots at the end zone each game. Don't dismiss these guys. They might end up scoring only three or four times per season, but last year I'd rather have taken my chances with Eric Weems and Mark Mariani than any Broncos wide receiver. Versatile return/receiver types such as Devin Hester, Antonio Brown, Leon Washington and Darren Sproles all get a huge bump in value. Remember, the more opportunities a player gets, the greater his chance at reaching the end zone.
Don't be afraid to double-dip
If you have Brandon Tate in your lineup, and he returns a punt for a touchdown, you get six points. If you also have the Bengals defense/special teams unit, those six points just became 12 points. If you draft Aaron Rodgers and follow it up with Greg Jennings, you have yourself 10 points each time they connect. True, if the Packers get shut out, you're now skunked on two roster spots, but how often is that going to happen? I don't suggest you use the tactic with, say, Sam Bradford and Brian Quick, but certainly I'd consider drafting my starting quarterback's tight end to make those sporadic visits to the end zone all the more valuable.
So that's draft strategy, but what about in-season? Well, you'd manage your lineup just like you would in a standard league, but one thing you need to realize: A TD-only league is far more unpredictable than your usual fantasy football league. For instance, the Patriots could have their typical 30-point output in one game, yet Wes Welker and Aaron Hernandez might not get you anything, even if they both rack up 150 yards of offense, if neither is one of the guys lucky enough to score. At the same time, a quarterback such as Christian Ponder could throw four interceptions in a game yet still post positive points because he scored on a bootleg in the fourth quarter.
So go with your gut. If you have a feeling this is the week that Roy Helu goes off, then by all means start him over Maurice Jones-Drew. If you think the weather in Green Bay might be awful, and you don't want to start Aaron Rodgers, then feel free to put Matt Cassel in the game.
Have fun with it and take some chances. That's what this kind of league is all about. So, give it a shot. After all, you live for the fight when that's all that you've got.
SPONSORED HEADLINES
FANTASY TOP HEADLINES
MOST SENT STORIES ON ESPN.COM
2012 Fantasy Football Draft Kit
ESPN.com's fantasy analysts offer all the information you'll need to succeed in your draft and all season long.
• Draft Kit Home
• Join/Reactivate a league
• Follow ESPN Fantasy on Facebook
• The NFL on ESPN.com
Profiles and Projections for 2012
Projections and profiles of over 300 players.
Profiles & Projections | Sortable Projections
2012 Rankings
• Top 300 | Cheat Sheets
• Analysts: Berry | Harris | Karabell
• Quarterback: Rankings | Preview
• Running back: Rankings | Preview
• Wide receiver: Rankings | Preview
• Tight end: Rankings | Preview
• Def./Special teams: Rankings | Preview
• Kicker: Rankings | Preview
• IDP: Rankings | Preview
• Other formats: PPR | TD-Only | Keepers
• Analysts: Berry | Harris | Karabell
• The Magazine: Position profiles
The Talented Mr. Roto
• "You Heard Me:" Bold predictions
• Defending my 2012 rankings
• Ten lists of 10: Sleepers, trends, team names
• The Draft Day Manifesto
• 100 Facts you need to know
• Love/Hate for 2012
Mock Drafts
• Mock 1: 10-team standard (May 7)
• Mock 2: 12-team standard (June 14)
• Mock 3: 12-team PPR (July 17)
• Mock 4: 10-team standard (Aug. 7)
• Mock 5: 10-team, 2 QBs (Aug. 13)
• Mock 6: 10-team auction (Aug. 21)
• Mock 7: 12-team standard (Aug. 29)
• Twitter Mock Draft
Geico Fantasy Draft Special Podcast
• Top 2012 storylines: 20 to 11 (Aug. 3)


• Top 2012 storylines: 10 to 1 (Aug. 7)


• Quarterback preview (Aug. 10)


• Running back preview (Aug. 17)


• Wide receiver preview (Aug. 21)


• TE, D/ST, K preview (Aug. 28)

Analysis
• Injury updates: QB | RB | WR | TE
• Staff sleepers and busts
• Top faces in new places
• Are TEs worthy of flex consideration?
• Ten hotly debated players for 2012
• Does the two-QB approach work?
• Better predicting kickers' values
• Don't overanalyze strength of schedule
• How to use value-based drafting
• Will Cam Newton repeat his rookie success?
• Metrics to consider in finding IDP breakouts
• Streaming D/ST units
• Finding potential rebound candidates
• Harris' 10 flag-planted players for 2012
• Harris' super-deep sleepers for 2012
Decisions 2012
• C.J. Spiller's effect on Fred Jackson's value
• Where should Trent Richardson be drafted?
• Will Green-Ellis' TD success continue?
• Ben Tate's impact on Arian Foster's value
• Will Cruz, Nelson fall back to earth?
• Is Jones-Drew poised for drop-off?
• When to draft Darren McFadden
• Demaryius Thomas or Eric Decker?
• Are Panthers RBs unstartable?
• How much will Gore's fantasy value decline?
• How will Charles, Hillis split workload in KC?
• When should you draft Adrian Peterson?
• Rivers' new favorite WR: Meachem or Floyd?
• Vincent Jackson's impact with new team
• Choosing between Bryant and Austin
• The polarizing Michael Turner
• Roddy White or Julio Jones?
• Lloyd effect on Pats' other receivers
• Will any one Patriots RB emerge in 2012?
• Making sense of Saints backfield
• Can you trust DeMarco Murray?
• What is Tim Tebow's value with the Jets?
• Assessing the values of Bucs RBs
• Can Robert Griffin III match Cam Newton?
Strategy
• Auction drafts
• PPR leagues
• Two-QB leagues
• IDP leagues
• TD-only leagues
Insider
• Joyner: Underrated PPR WRs for 2012
• Karabell: Top 35 rookies for 2012
• Kiper: Keeper-league targets
• Joyner: Underrated WRs for 2012
• Joyner: Underrated RBs for 2012
• Kiper: Fantasy rookies to target, avoid
• Joyner: Underrated QBs for 2012
• Karabell: Will DeSean Jackson bounce back?
• Joyner: How O-Lines impact QBs in fantasy
• Karabell: Reggie Bush outlook
• Karabell: Early ADP trends
• Karabell: Redskins RB situation
• Joyner: Undervalued, overvalued RBs
• Karabell: Be wary of Steve Smith
• Joyner: Why CJ2K will be top fantasy RB
• Joyner: Five breakout players in 2012
• Karabell: Five keeper-league targets
Roundtable Videos
• Adrian Peterson outlook
• Peyton Manning's health
• Peyton Manning expectations
• Darren McFadden outlook
• Andre Johnson's health
• Projecting Cam Newton
• Second-tier RBs to consider
• Arian Foster versus Ray Rice
• Will DeSean Jackson bounce back?
• Michael Vick expectations
• Mark Sanchez versus Tim Tebow
• Will Rob Gronkowski repeat as top TE?
• Where to draft Gronkowski, Graham
• Aaron Hernandez expectations
• Can RG3 match Newton's rookie season?
• Will Jamaal Charles return to form?
• DeMarco Murray outlook
• Is Beanie Wells being undervalued?
• Rashard Mendenhall versus Isaac Redman
• How will Drew Brees handle turmoil in NO?
• Why has Matt Schaub's ranking fallen?
• Is this the year Matt Ryan breaks out?
• Tight end sleepers for 2012
• Jonathan Stewart versus DeAngelo Williams
• Which rookie RBs could surprise?
• Demaryius Thomas versus Eric Decker
• Better late pick: Rookie WR or Randy Moss?
• Is Jordy Nelson's TD total repeatable?
• Is Eli Manning an elite fantasy QB?
• Will Philip Rivers bounce back in 2012?
• Can Victor Cruz repeat his breakout 2011?
• Andrew Luck's short- and long-term value
• Expectations for Trent Richardson
• Will Julio Jones outperform Roddy White?
• Is it wise to draft a QB early?
• Will Reggie Bush repeat his 2011 numbers?
• Brandon Marshall expectations