Commentary
Hightower or Wells?
Tim Hightower or Beanie Wells will be the biggest decision for the Cardinals
The Arizona Cardinals nearly won the Super Bowl. Let that sink in for a second: The Arizona Cardinals! If not for some late-game magic by Ben Roethlisberger, yes, the Arizona Cardinals were poised to win Super Bowl XLIII. This hasn't been one of the stronger franchises in the NFL over the years -- OK, it might have been the worst -- and when Kurt Warner threw four touchdowns in the NFC Championship Game to beat the Philadelphia Eagles, even he seemed surprised when he told reporters: "I just want to say the words 'Arizona Cardinals' and 'Super Bowl' in the same sentence." Yeah, it was a shocker, those crazy Arizona Cardinals outscoring their opponents 427-426 and advancing to the biggest game in the sport.
[+] Enlarge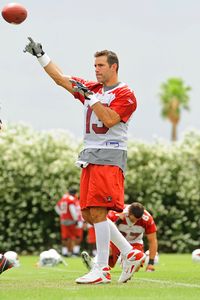 Mark J. Rebilas/US PresswireFrom the Greatest Show on Turf to Arizona's Attack, Kurt Warner has had great fantasy value.
OK, Arizona Cardinals, what can be done for an encore? Hey, everyone in the sports world is greedy, and fantasy football owners aren't any different. There's not much room to improve on what the Cardinals did, leading in the Super Bowl with a minute to play, but for our purposes here in fantasyland, Warner,
Larry Fitzgerald
,
Anquan Boldin
and friends could continue to win
us
Super Bowls.
Believe it or not, Year 3 of the Ken Whisenhunt era really could be as successful as the previous one. Warner's back, coming off a 30-touchdown regular season and a top-five ranking for fantasy at the position. The WR duo of Fitzgerald and Boldin is the best in the sport, the only pair of receivers to each be top-15 in fantasy last season. Steve Breaston is the team's third receiver, but good enough to be a weekly play in fantasy. The team's defense, for decades a fantasy wasteland, can be useful in fantasy for those bye weeks. Finally -- let's face it -- the rest of the moribund division remains down, so the schedule is promising.
There should not be any major changes in philosophy with this team, even with new coordinators on both sides; not this season. The biggest challenge is what normally happens to teams after ending up on the wrong side of the Super Bowl ledger: Will the Cardinals avoid the long-standing Super Bowl losers' lament that generally occurs the next season? From a fantasy aspect, I'd say all remains well.
What to look for in camp

Running back will get the most attention, but fantasy owners should focus on the high-flying passing game, likely to repeat its success.
Key position battles: For once it's nice to not discuss the quarterback position in Arizona in this section! Warner is definitely the starter for basically as long as he's upright and productive, and there's little reason to expect a problem in 2009. Matt Leinart enters his fourth season with the team, after throwing all of 29 passes in 2008. He's going to have to keep waiting. The last time the Cardinals didn't have a battle at quarterback might have been … what, the Jake Plummer era?
The big battle will come at running back, though fantasy owners might need to wonder how much it matters. The Cardinals throw a lot. OK, the Cardinals threw more than all but one team (New Orleans) in the league last season, so you know Warner and the receivers will be busy. Will a running back be relevant? Edgerrin James was benched for most of the second half of the regular season, then ran well in the playoffs, but currently remains unemployed. Tim Hightower pounded his large body in for 10 touchdowns, but averaged 2.8 yards per carry on those 143 carries, a brutal average that essentially made him a busier version of T.J. Duckett. Those assuming Hightower would simply be given the starting role sans James got a dose of reality on draft day when Ohio State's Chris "Beanie" Wells was added in Round 1.
The Cardinals probably won't announce an official starter until late in the preseason, if at all, but there certainly is an implication the team will use both Hightower and Wells quite a bit this season, kind of how the Titans used Chris Johnson and LenDale White, except far less. While Wells missed the team's organized team activities because of his academic schedule at Ohio State, putting him a bit behind Hightower and apparently (for now) Jason Wright on the depth chart, he's going to play a large role once the season starts. It's certainly something to watch in camp.
Fitting in: The Cardinals did not make many changes to their NFC championship roster, but the secondary does have a few new faces, and someone will have to replace large Antonio Smith on the defensive line. He took off for the big money in Houston, leaving second-year man Calais Campbell a golden opportunity to seize a starting role. On a team with pretty much every other starting role locked up and not much else new, Campbell will be watched closely in camp. His competition should come from Kenny Iwebema and either Bertrand Berry or Travis LaBoy, none of whom would seem to be of interest in IDP leagues. Smith was a terrific player, and yes, it does matter for the viability of a team defense when the D-line creates pressure. In a way, fantasy owners should want the Cardinals to struggle on defense so Warner and his receivers get more chances to put up points. Last season the Cardinals had four weeks in which their team defense in fantasy registered an output of minus-6 or worse, and in three of those games Warner put up big numbers. Fantasy owners might not want to root for draftees like Gregory Toler and Rashad Johnson or safe veteran Bryant McFadden to work out well, but they probably will.
On the line: Arizona's offensive line was a relative model of consistency for the first time in years, as each of its members started 16 games, and Warner was actually well-protected. He's not the most mobile fellow, after all. Consider the improvement made just from 2006, when Cardinals quarterbacks were sacked 35 times. Warner went down only 26 times in 2008, which, considering how much he was on the field, isn't a major problem. Tackles Levi Brown and Mike Gandy, guards Reggie Wells and Deuce Lutui and center Lyle Sendlein did a nice job protecting the passer. Brandon Keith could push Lutui for a starting job. It's hard to tell about creating holes in the running game. James hasn't been a 5-yards-per-carry guy for years, and Hightower probably isn't either. If Wells can't find holes, maybe the line is a problem for the run game.
On the mend: The Cardinals didn't get much from the tight end position last season in terms of catches, with Ben Patrick's 11 receptions leading the way at the position. Leonard Pope, who caught nine passes, is probably the starter, but added depth this offseason could clear the way for his release. Patrick is suspended the first four games of the season for violating the league's substance-abuse policy. Enter Stephen Spach, a veteran who played for the Eagles years ago and was in camp with the Vikings and Patriots since then. Spach might not be any better a receiving option than the Cardinals have, but his recovery from knee surgery for a torn ACL should be watched.
The other thing on the mend is, hopefully, the relationship between Boldin and the team, but fantasy owners should assume the sides come to some compromise. Boldin being with another franchise would likely have major implications on his value, and not in a good way.
The bottom line
While the running back situation will get the most attention from fantasy owners, and both Hightower and Wells are sure to be selected a bit too high in drafts, the Cardinals are in no rush to either announce their intentions at the position or change their game plan. This is a throwing team, at least as currently constructed with Kurt Warner slingin' it. With Warner projected by ESPN Fantasy as the No. 4 quarterback, Fitzgerald looking like the top guy at wide receiver and Boldin in the top 10, the Cardinals will score points no matter who produces at running back. Fantasy owners should get ready to enjoy another high-scoring season.
Eric Karabell is a senior writer for ESPN.com who covers fantasy baseball, football and basketball. Check out his daily Baseball Today podcast at ESPN Podcenter. He has twice been honored as fantasy sports writer of the year by the Fantasy Sports Writers Association. His book, "The Best Philadelphia Sports Arguments," was published by Source Books and is available in bookstores. Contact Eric by e-mailing him here.
ESPN.com Senior Writer
ESPN contributor on TV, radio, podcasts, blogs, Magazine
Charter member of FSWA Hall of Fame
Author of "The Best Philadelphia Sports Arguments"
SPONSORED HEADLINES
FANTASY TOP HEADLINES
MOST SENT STORIES ON ESPN.COM
2009 Football Draft Kit
ESPN.com's fantasy experts offer all the information you'll need to succeed in your draft this year.
Draft Kit Home
2009 Projections
• All players | Sortable
• More: QB | RB | WR | TE | D/ST | K
2009 Rankings
• Top 200 | Cheat Sheet (PDF)
• Quarterback: Rankings | Preview
• Running back: Rankings | Preview
• Wide receiver: Rankings | Preview
• Tight end: Rankings | Preview
• Team defense: Rankings | Preview
• Kicker: Rankings | Preview
• IDP: Rankings | Primer
• Other formats: PPR | 2-QB | TD-Only

Talented Mr. Roto
• Matthew Berry: Draft-Day Manifesto
• Matthew Berry: Love/Hate '09 | Update
• Matthew Berry: Top 200 rankings
Stephania Bell
• Key injuries to know before your draft
Mock Draft
• July 22: Peterson goes No. 1, LT at No. 3
• Aug. 17: Peterson still No. 1; RBs shuffle
• Aug. 27: 12-team PPR with 3 WR slots
• Sep. 4: 12-team standard scoring
• Live Draft Results
Analysis
• 2009 sleepers and busts
• 2009 sleepers and busts, Version 2
• Late risers and fallers in drafts
• 10 (deep sleeper) names to know
• IDP (individual defensive players) sleepers
• Michael Turner and the "Curse of 370"
• What's the ideal draft slot?
• Can we predict kicker performance?
• Impact fantasy players on new teams
Strategy
• Ken Daube: WR/WR could be the way to go
• Tristan Cockcroft: Auction drafts
• Tristan Cockcroft: Autopick drafts
• AJ Mass: Point-per-catch leagues
• Tristan Cockcroft: 2-quarterback leagues

Team previews
• 32 Questions: Key issues for each team
• Complete rundown of training camp previews