Commentary
Is Matt Schaub really a No. 1 QB?
Houston Texans' signal-caller drafted like a starter, but there's plenty of risk involved

Can Matt Schaub be counted on as a No. 1 quarterback?
Most of our fantasy experts say yes, as well as, apparently, a number of those who posted in Conversation after I wrote that I'd take Matt Ryan over Schaub in a "Man to Man" against Eric Karabell. Now, I love Matt Ryan's upside, but quite honestly, that decision was more about not liking Matt Schaub as anything else.
First of all, let me say that I know what Schaub can do when all cylinders are clicking. He posted a 92.5 passer rating in 2008, good for seventh in the league, and he tacked on 3,043 passing yards and 15 touchdowns in 11 games. He's a fine NFL quarterback, no question, and has a strong, accurate arm.
So it's not his performance I have a problem with; it's those 11 games I want to address. My concerns with him have to do with health -- and not just his. The health of his offensive line and wide receiver Andre Johnson are just as worrisome to me. Basically, everything must fall into place for Schaub to have the kind of season he's capable of, the kind of season eager owners are projecting, the kind of season that finally makes him that No. 1 quarterback we're drafting him as (he's 10th in our ESPN Live Draft results). Can it happen? Sure. After all, it did for much of last season. The offensive line stayed pretty much healthy, and Johnson played all 16 games. I just can't expect that to happen again, at least enough for Schaub to be considered a starting fantasy quarterback.
First, there's Schaub himself, who was a backup in Atlanta before being dealt to Houston and signing a nice contract. In his two years as a starter for the Texans, he has missed a total of 10 games. Most disturbing is that nine of those games happened in the second half of the season. (The lone exception came as a result of a sudden illness that popped up just before Week 5 last season.) Don't you see what's happening here? He starts the season healthy, as many quarterbacks do, but he gets knocked around by defenders and wears down, and then misses time. And he misses that time right when his fantasy owners, at least those who think of him as their starter, need him the most. In 2008, he missed the final four games of the fantasy regular season in most leagues (Weeks 10-13); in 2007, he missed the entire fantasy playoffs (Weeks 14-17).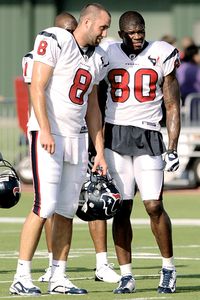 Bob Levey/Icon SMIMatt Schaub and Andre Johnson both have plenty of talent, but also have plenty of injury risk.
Then we move on to Johnson, the all-world, prototypical receiver. I'm not as worried about Johnson getting hurt as much as Schaub, and the big receiver did play all 16 games last season. But the year before, he was banged up seemingly all season and ended up missing seven games. He's a big guy who sees a lot of targets and takes a ton of hits. His 6-foot-3, 228-pound frame can handle it better than others, but it is bothersome to me how much contact he absorbs. And if Johnson is out even for a game or two, Schaub is a matchups start for those games. That's the reality of the situation.
It doesn't matter whom Tom Brady is throwing to, or Peyton Manning, or probably Ben Roethlisberger or Donovan McNabb. They likely have the offense to absorb the loss of their top weapon and still be successful. So while Owen Daniels and Kevin Walter are good second and third options for Schaub, I just can't say that he'd be as successful if Johnson went down and he had to rely on them.
And finally, there's the offensive line, and we have two things to address here. First of all, it is improved, with added experience and the tutelage of successful offensive line coach Alex Gibbs. But as Matt Williamson of Scouts Inc. notes in the preseason offensive line rankings, the Texans have a lack of depth on the line. Any injury to a starter, and there would be a major hole on the line.
Which brings us to our second point: blocking. Now, in those same offensive line rankings, the Texans ranked 17th in pass blocking. Not bad, but not good either. Not enough to make up for one of Schaub's primary weaknesses as a quarterback: lateral mobility. He tends to hang on to the ball a bit too long and thus take a lot of hits. Combine that with the note from Williamson that the weak link on the line last season was its left tackle spot, Schaub's blind side, and you have a recipe for danger.
To me, there are just too many red flags. Ask the people who like Schaub why they like him, and you're bound to hear, "If he could just stay healthy for a full season, he could …" Those are not players I draft as starters. Why even mess with them? Call me conservative, but "if-he-could-just-stay-healthy" picks are meant for third receivers, backup running backs and backup quarterbacks, not people you draft to start.
Would I like him as a backup? Sure. But he's being drafted 10th overall among quarterbacks in ESPN live drafts, and we have him currently ranked ninth, which is not backup territory. So what Schaub owners probably will have to do is pick him in what appears to be the seventh round or so (according to live results), then turn around and get a decent backup three to five rounds later, just in case Schaub goes down.
That just doesn't seem like a wise game plan. That leaves you with two decent quarterbacks, but you can play just one of them. In the best-case scenario, Schaub and his key options stay healthy, and that decent backup wastes away on your bench. (I don't know about you, but it's awfully tough to get decent value for a non-stud quarterback in trades.) In those draft spots, I'd much rather load up on backs and wide receivers, maybe even grab a tight end and a defense during those rounds.
If I missed out on one of the big boys at quarterback (Brees, Manning, even Kurt Warner and Aaron Rodgers), I'd much rather hold out for Jay Cutler. Or Carson Palmer. Or Ben Roethlisberger (assuming his ankle is OK). All those quarterbacks are being taken at least a round after Schaub, according to our average live picks.
I'm not against owning Matt Schaub. I'm just against the cost (drafting him in starter territory) I'd have to pay to get him.
Brendan Roberts is a contributing writer/editor for ESPN Fantasy.
Fantasy
Brendan Roberts is a contributing writer/editor for ESPN Fantasy. He has been covering fantasy sports as an editor and writer for more than eight years and was awarded the Fantasy Baseball Writer of the Year award in 2006 from the Fantasy Sports Writers Association. Roberts can be read in both the fantasy baseball and football areas at ESPN.com.
2009 Football Draft Kit
ESPN.com's fantasy experts offer all the information you'll need to succeed in your draft this year.
Draft Kit Home
2009 Projections
• All players | Sortable
• More: QB | RB | WR | TE | D/ST | K
2009 Rankings
• Top 200 | Cheat Sheet (PDF)
• Quarterback: Rankings | Preview
• Running back: Rankings | Preview
• Wide receiver: Rankings | Preview
• Tight end: Rankings | Preview
• Team defense: Rankings | Preview
• Kicker: Rankings | Preview
• IDP: Rankings | Primer
• Other formats: PPR | 2-QB | TD-Only

Talented Mr. Roto
• Matthew Berry: Draft-Day Manifesto
• Matthew Berry: Love/Hate '09 | Update
• Matthew Berry: Top 200 rankings
Stephania Bell
• Key injuries to know before your draft
Mock Draft
• July 22: Peterson goes No. 1, LT at No. 3
• Aug. 17: Peterson still No. 1; RBs shuffle
• Aug. 27: 12-team PPR with 3 WR slots
• Sep. 4: 12-team standard scoring
• Live Draft Results
Analysis
• 2009 sleepers and busts
• 2009 sleepers and busts, Version 2
• Late risers and fallers in drafts
• 10 (deep sleeper) names to know
• IDP (individual defensive players) sleepers
• Michael Turner and the "Curse of 370"
• What's the ideal draft slot?
• Can we predict kicker performance?
• Impact fantasy players on new teams
Strategy
• Ken Daube: WR/WR could be the way to go
• Tristan Cockcroft: Auction drafts
• Tristan Cockcroft: Autopick drafts
• AJ Mass: Point-per-catch leagues
• Tristan Cockcroft: 2-quarterback leagues

Team previews
• 32 Questions: Key issues for each team
• Complete rundown of training camp previews
MOST SENT STORIES ON ESPN.COM