Commentary
Who will be Slaton's primary backup?
The 2007 Texans were supposed to surprise. They went 8-8. The 2008 Texans were ready to contend. They went 8-8. Now we're being sold on Houston as a high-upside bet to make its first postseason appearance in 2009. Color me skeptical. Then again, I was skeptical about the '08 Tampa Bay Rays for the same reason: We heard they'd be contenders over and over again, and finally, one year, they were.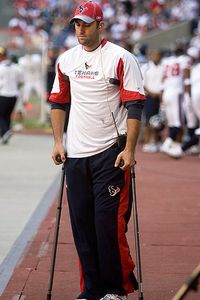 Bob Levey/Icon SMIMatt Schaub has missed 10 games in his two seasons with the Texans.
The Texans' biggest concern -- that quarterback Matt Schaub can't stay healthy -- won't be resolved in training camp. We won't know if Schaub can make more than 11 starts (his total each of the past two years) until December. And to be honest, not much more about this franchise's lineup is unsettled. Their defensive front seven is improved but pretty well set in stone. The offensive line looks middle-of-the-road, but again, there won't be big battles to see who starts. Houston will hope to locate a complementary rusher for second-year sensation Steve Slaton, and depending on how capable that backup is, he could lessen Slaton's workload to an annoying degree for his fantasy owners. The Texans will also have to make sure their No. 1 corner, Dunta Robinson, signs his franchise tender offer and reports. Otherwise, though, this high-octane offensive machine will simply rev in the garage during camp, waiting for a chance to accelerate.
What to look for in camp
Key position battles: When your most significant starting battle is at the Will linebacker, you're not going to offer much training camp drama. Last year's fourth-rounder, Xavier Adibi, showed glimpses in his rookie year after he was forced into action when an injury sent incumbent Zach Diles to the sidelines. Now these guys will square off to be the third man in one of the league's best 4-3 linebacking trios, along with DeMeco Ryans and rookie Brian Cushing.

Will the sum of these impressive-looking parts ever result in a consistent winner?
More interesting for fantasy purposes is the question of who backs up Slaton. Oft-injured
Chris Brown
never played a snap in Houston last season after coming down with a back problem in training camp.
Ryan Moats
is a nice complementary player, but he doesn't offer any more size than the diminutive Slaton and wouldn't work well as the team's short-yardage option. The same can be said for unsigned rookie
Jeremiah Johnson
, whose collegiate shoulder problem figures to limit him in his first NFL season, too. And then there's undrafted rookie
Arian Foster
, a guy with really good size who was a big-time recruit at the University of Tennessee but who never really put it together in college. The Texans hope Brown is able to stay healthy and take over the short-yardage job; if he does, Slaton's value will suffer a bit. Keep an eye on Foster, too. Houston's coaching staff reportedly likes him.
Fitting in: Cushing is a beast and was the highest-drafted linebacker of the USC trio that went in the first two rounds of April's draft. He'll play the strong side, so he doesn't figure to do much blitzing or sacking, and he also figures to occupy multiple blockers while middle man DeMeco Ryans cleans up. As such, he might not be much of an IDP option in his rookie year. But the Texans already love him.
The front four will be interesting, as Antonio Smith comes off his career-making performance in the playoffs last year with Arizona and is making big money to become a hybrid end/tackle in Houston. A run-stuffing specialist, Smith figures to play two downs on the end, but in passing situations he's likely to move inside, while rookie Connor Barwin takes his crack at the pass rush opposite Mario Williams. If these moving pieces work well in camp, the Texans could get more pressure than they did last year, when they had only 25 sacks, 27th in the NFL.
On the line: Tackles Duane Brown (left) and Eric Winston (right) return for another season, one that the Texans hope provides more stability on the outside. Of the 32 sacks Houston quarterbacks suffered last season, 19 were allowed by the two tackles. Eleven came off Brown, who was a rookie first-rounder out of Virginia Tech last season. The assumption is that he'll be more comfortable his second time around the league. Matt Schaub certainly hopes so. Inside, Chester Pitts stays at left guard, but the center and right guard positions are less certain. The team drafted Antoine Caldwell in the third round in April in hopes that he'll replace Chris Myers, while the Texans still seem to be casting around for someone to battle with Mike Brisiel at right guard. This is a zone-blocking unit that relies on Slaton's one-cut-and-go style, and as such the linemen pop open enough holes to be effective. It's urgent, however, that the tackles keep Schaub upright.
The bottom line
Barring injuries, Texans camp isn't going to be filled with fireworks. We all know what Schaub, Slaton, Andre Johnson, Kevin Walter and Owen Daniels can do when everyone's healthy. As you'll hear ad infinitum this summer, you're looking at one of the NFL's elite sets of weapons. So in August, this franchise will bide its time, hope to keep all these skill guys healthy, and hope to generate a heck of a lot better pass rush in order to cover for a secondary that by any measure is below average. And all those fantasy owners considering drafting Slaton will watch with interest to see whether anyone (Brown? Foster?) can assert himself as a viable alternative on the goal line.
Christopher Harris is a fantasy analyst for ESPN.com. He is a six-time Fantasy Sports Writers Association award winner. You can e-mail him here.
Fantasy
Senior writer for ESPN.com
Six-time Fantasy Sports Writing Association award winner
Author of "The Big Clear," a noir thriller
2009 Football Draft Kit
ESPN.com's fantasy experts offer all the information you'll need to succeed in your draft this year.
Draft Kit Home
2009 Projections
• All players | Sortable
• More: QB | RB | WR | TE | D/ST | K
2009 Rankings
• Top 200 | Cheat Sheet (PDF)
• Quarterback: Rankings | Preview
• Running back: Rankings | Preview
• Wide receiver: Rankings | Preview
• Tight end: Rankings | Preview
• Team defense: Rankings | Preview
• Kicker: Rankings | Preview
• IDP: Rankings | Primer
• Other formats: PPR | 2-QB | TD-Only

Talented Mr. Roto
• Matthew Berry: Draft-Day Manifesto
• Matthew Berry: Love/Hate '09 | Update
• Matthew Berry: Top 200 rankings
Stephania Bell
• Key injuries to know before your draft
Mock Draft
• July 22: Peterson goes No. 1, LT at No. 3
• Aug. 17: Peterson still No. 1; RBs shuffle
• Aug. 27: 12-team PPR with 3 WR slots
• Sep. 4: 12-team standard scoring
• Live Draft Results
Analysis
• 2009 sleepers and busts
• 2009 sleepers and busts, Version 2
• Late risers and fallers in drafts
• 10 (deep sleeper) names to know
• IDP (individual defensive players) sleepers
• Michael Turner and the "Curse of 370"
• What's the ideal draft slot?
• Can we predict kicker performance?
• Impact fantasy players on new teams
Strategy
• Ken Daube: WR/WR could be the way to go
• Tristan Cockcroft: Auction drafts
• Tristan Cockcroft: Autopick drafts
• AJ Mass: Point-per-catch leagues
• Tristan Cockcroft: 2-quarterback leagues

Team previews
• 32 Questions: Key issues for each team
• Complete rundown of training camp previews
MOST SENT STORIES ON ESPN.COM