Commentary
Offseason Notebook: Outlook for Steven Jackson
Updated:
May 17, 2008, 6:15 AM ET
By
Scott Engel
| ESPN.com
Steven Jackson racked up only 1,002 yards and 38 receptions last year, but that's because he was limited to 12 games due to injury. That might drop him down some people's draft charts heading into this season, but that would be a mistake.
Most fantasy owners should target Jackson in the top seven or so picks this year, and if you get him outside of the top five, you might be getting one of the best picks of the first round.
That's because Jackson will be highly motivated in a couple of ways. First off, he is entering the final season of his current five-year contract and would prefer to stick with the Rams beyond the upcoming campaign, according to the St. Louis Post-Dispatch. "We all know what happens in a contract year, you ball out," Jackson said.
Second, Jackson will be working under new offensive coordinator Al Saunders, who has coached his share of top-rated fantasy running backs such as Priest Holmes, Larry Johnson and Marshall Faulk. The versatile and powerful Jackson has proven in the past he's a multidimensional threat like those guys.
In 2000, Faulk scored a then-record 26 touchdowns. (Mike Martz was Rams head coach and offensive coordinator then; Saunders served as assistant head coach and wide receivers coach.) Jackson has done a great job taking the torch from Faulk in St. Louis, so it might not be a major stretch if he comes close to matching his numbers under Saunders.
Here's a quick-hitting roundup of other recent happenings around the league:
[+] Enlarge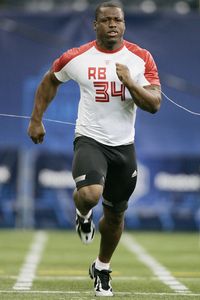 AP Photo/Michael ConroyJonathan Stewart could see time at positions other than running back.
Jonathan Stewart: John Fox told the Charlotte Observer that the rookie is the leading candidate to return kicks, a weakness on the team last season. Stewart will still compete for the starting running back job. As a more physical runner than DeAngelo Williams, he has more upside in the touchdown department and could emerge as the better fantasy player of the two during the upcoming season. Stewart might be the second-best rookie running back in this year's class from the fantasy perspective, behind only Darren McFadden. He'll be a key performer as Carolina looks to revive the running game and balance the offense, and Stewart might ultimately prove to be too valuable for special teams work.
Rudi Johnson: The Cincinnati Enquirer reported that Johnson is now 100 percent healthy after missing five games last year. While his weight is up to 225 pounds from 212, he said most of the added weight is in his chest and shoulders, where "you've got to have it." The Bengals did not sign Shaun Alexander after his recent visit and obviously still have confidence in Johnson, who still can be a pretty good No. 2 fantasy running back if he steers clear of injuries in 2008.
Calvin Johnson: The Detroit News reported that Johnson looked "terrific" during recent organized team activities. While many players reportedly look great during spring and summer reports, if Johnson is indeed past last year's back issues, he could be ready for his true breakthrough season in 2008 -- even with Jon Kitna throwing him the ball.
LenDale White: According to the Nashville City Paper, White took part in recent organized team activities and said he feels fine as he works his way back from knee surgery. Rookie Chris Johnson is no real threat to be a regular starter and can complement White with his speed, while White continues to be the team's power runner and top touchdown option if he avoids injuries. He'll be a solid pick as a third running back this season.
[+] Enlarge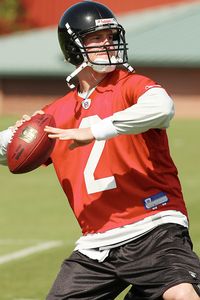 Scott Cunningham/Getty ImagesCould Matt Ryan be the starter on opening day?
Matt Ryan: Coach Mike Smith told the Atlanta Journal-Constitution he has not ruled out the possibility of the rookie quarterback starting the season opener. Ryan is worth watching in the preseason and could be better than your average rookie. He makes sharp reads, takes what defenses give him and has the potential to be a quick learner at the NFL level. Don't be afraid to use a final-round pick on him in a yearly league. Ryan can be a decent fantasy reserve in his first pro season.
Ricky Williams: According to a recent report in the Palm Beach Post, Williams is apparently is in "tip-top shape." Williams might share some carries with Ronnie Brown in 2008, but he will likely be used to keep Brown fresh and prevent him from being overworked more than anything. You should draft him only as a final-round handcuff to Brown if Williams looks good in camp.
Kellen Clemens: The New York Post has reported the Jets organization appears to be pulling for Clemens to win the starting quarterback job. Clemens can add stability and continuity to the New York offense, and could help the Jets receivers produce more consistent fantasy numbers. He can also be a respectable fantasy reserve if he plays regularly.
Joe Horn: The Atlanta Journal-Constitution reported Horn and his agent are prepared to ask the Falcons for a trade. Horn obviously thinks he is still in his prime, and while he can still be a good player and role model for younger receivers on another team, he can no longer be a quality fantasy player no matter where he ends up. All Horn has left is experience, and is no longer capable of being a consistent playmaker.
Matt Schaub: The Houston Chronicle reported that Schaub participated in all drills during the Texans' recent minicamp. Houston still does not have a dependable running game, and might lean heavily on the pass this season. Schaub just needs to stay healthy to show he can be an effective starter and a quality fantasy player. He figures to be a good bargain selection during the upcoming season.
Dominic Rhodes: The Colts signed Rhodes to a one-year deal as they welcomed him back to Indianapolis. Rhodes is no real threat to the playing time of Joseph Addai; he's simply a perfect change-of-pace running back with more experience than Kenton Keith. Addai will still be the main man and a top-5 fantasy running back. Having a solid veteran to give him a breather should mean Addai will be less susceptible to getting banged up and makes him a safer first-round fantasy pick.
Kevin Jones: The Boston Globe reported that the ex-Lion visited New England recently. Coming off a serious knee injury, Jones is going to have obvious difficulty landing anything more than a depth role with a new employer. Laurence Maroney is the man in New England, and after he progressively improved as an inside runner last year, I believe he is ready for a big breakout campaign in '08.
Offseason Mailbag
Eric (Detroit): I play in a 10-team, point-per-reception league, and I have to keep two players for next season. I currently have Adrian Peterson as one of my keepers. For my other keeper, who should I pick from Willis McGahee, Ronnie Brown, T.J. Houshmandzadeh, Torry Holt, and Santonio Holmes?
Engel: You have Peterson to anchor your running back corps, and it becomes a tough decision between that second player at the position or a No. 1 wide receiver. I would go with the second running back because McGahee and Brown are both possible No. 1 guys who are outstanding as No. 2 RBs and can also step in and be your No. 1 guy if Peterson gets injured. It's a close call between Brown and McGhaee, but I will take Brown, as he can be more versatile and plays at a very high level when healthy. Either running back, though, is a fine second keeper. Houshmandzadeh's numbers could suffer if Chad Johnson misses any time this season, and you can't be sure just how much Holt has left at this point of his career. Holmes has a lot of upside, but is not established enough to keep over a top running back yet.
Joel (Denver): I need some help with keepers. We can keep three players, but only two per position. I have LaDainian Tomlinson and Adrian Peterson at running back, but I also need to decide between Andre Johnson, Matt Hasselbeck and Tony Gonzalez.
Engel: That's obviously an outstanding running back duo, but Peterson must still prove he can stay healthy through a full schedule, so get some insurance pretty early in your next draft. I think your third keeper should definitely be Johnson, who can reach his true potential if the underrated and promising Matt Schaub can avoid injuries for most of the season. Hasselbeck is steady, and sometimes better than average, and Gonzalez is still one of the top tight ends in fantasy football, but neither should be kept over a still-young possible superstar like Johnson.
Scott Engel covers fantasy sports for ESPN.com. You can contact Scott here.
ESPN Fantasy Games
Scott Engel covers fantasy sports for ESPN.com.
SPONSORED HEADLINES
FANTASY TOP HEADLINES
MOST SENT STORIES ON ESPN.COM