Commentary
2010 fantasy football rankings update
Happy 2010, everyone! It's our "new year," and with it is our first season-to-end rankings column. In future weeks, we'll hop right into the rankings; but this being the debut, let's talk a little about rankings philosophy.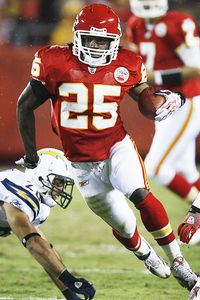 AP Photo/Ed ZurgaJamaal Charles had 100 total yards on just 12 touches Monday night, including a 56-yard touchdown run.
Listed below are rankings for the four major skills positions plus defense/special teams, accounting only for projected fantasy value from this moment forward. I bold and italicize the word "only" -- then detail it in this sentence -- for an important reason: With the exception of developments with future implications (things like injuries, depth-chart changes and shifts in teams' strategies) all those Week 1 numbers are completely irrelevant.
Arian Foster had 41 fantasy points in the opener. Doesn't matter. If we project that he never tops 20 points in a game the rest of the year and he's outperformed by 15 other running backs, so be it, then he's the 16th-best fantasy running back in the rankings. Similarly, while Michael Vick might be a super-hot pickup and possible top-10 Week 2 option, he hardly belongs close to this top 10, being that it could be a one-and-done starting assignment (and that's if he gets it at all). Look at it like this: If your league couldn't manage to arrange a draft date before Week 1 but instead planned a draft this Wednesday night, this is how our updated cheat sheet for a standard ESPN league would look. For those who have drafted, which is most of you, this can help as you make important decisions about trades and waiver-wire acquisitions.
Why do we point out our reasons for this list? There's so much debate as to what rankings "mean," what should go into them, how closely they should reflect year-to-date numbers and how much injured players should be docked for missed time. Hopefully, the comments below, which you'll read each week, will give you some insight as to what goes into some of the more significant changes. But just to be up front: I tend to lean more toward projected performance than year-to-date fantasy point totals, being that week-to-week fantasy totals can, to a degree, be unpredictable, and things tend to even out over the course of a 17-week season.
These rankings will also be published only on Tuesday, meaning they will not always reflect news that breaks later in the week.
Quick click by position, for easy reference:
Top 40 Quarterbacks | Top 60 Running Backs | Top 60 Wide Receivers
Top 30 Tight Ends | Top 32 Defense/Special Teams | Top 100 Overall
I was asked many times leading into Week 1 to what extent a fantasy owner should be creative when tinkering his or her lineup to dodge "unfavorable" opening-week matchups, and asked many times exiting Week 1 to what extent a fantasy owner should tweak his or her roster, accounting for disappointing opening-week performances, and my answer to both is, "don't overthink it." There's a reason you spent an early-round pick on Aaron Rodgers. He's as quick, accurate and strong as any passer in the game, and one so-so outing versus the Philadelphia Eagles -- on the road, mind you -- should not change that assessment. It's also patently unfair to condemn a quarterback based upon one bad opening-week outing, being that it's the first week most NFL players are getting their first taste of full-game action after a preseason of spot game duty. If you know anything about quarterbacks, you know that on a week-to-week basis, they face as stiff a challenge as anyone in professional sports. With a few exceptions, have patience. Consider this: Of 2009's top five quarterbacks, only Drew Brees managed even 15 points in that Week 1. It's why you'll notice three of the preseason top-30 quarterbacks dropped three or more spots in my rankings -- Kevin Kolb (down 3), Matthew Stafford (down 7) and Matt Moore (down 4) -- primarily because of injury issues.
• Brett Favre is the most notable non-health-related downward mover, but no ledge-jumping here, not yet. Two spots in the rankings still constitutes a top-10 quarterback. There are at least as many questions about each of the next five quarterbacks ranked behind him and let's not forget that in Week 1 last season, Favre managed -- get this -- an eight-point fantasy day. Eerie, isn't it? I've got more questions about the Indecisive One than I did at this stage last year, as he did appear to have more rust in this year's opener than last and is down an integral wide receiver, but Favre still has weapons not named Sidney Rice.
• Simple math explains Ben Roethlisberger's rankings rise, because every week that passes brings him one week closer to activation, and aren't many of us on the same page that an active Roethlisberger has top-10 potential? Come Week 6, don't be surprised if he resides right there at 10th, and don't buy for an instant coach Mike Tomlin's hedging to declare Big Ben his starting quarterback for that game. If Kolb's 718 yards and four touchdowns passing in Weeks 2-3, subbing for an injured Donovan McNabb last September didn't earn him the job when McNabb healed, why would we believe less from Dennis Dixon should earn him one?
• Among injured quarterbacks, Stafford's sprained shoulder is most disconcerting, being that it's the third injury he has suffered in his brief, two-year NFL career. He has made 11 starts, missed four with an injured left (non-throwing) shoulder and two with a knee injury last season. If he's out as many as six weeks, as many seem to fear, then coming out of the Detroit Lions' Week 7 bye, he'll have missed as many NFL games (11) as he has started (11). And that doesn't begin to discuss the effect an injury to his throwing shoulder would have on his performance upon his return.
• While crafting these rankings, I didn't expect any substantial shifts, especially downward from consensus preseason top-20 player. But then I saw this Tweet from Adam Schefter: "Packers RB Ryan Grant will require surgery to correct a torn ligament in his ankle that will leave him on crutches for 10-12 weeks." With that, Grant's drop isn't merely precipitous; he's off the list because stashing him through the bye weeks and deep into the regular season upon the hope he might be able to help you in December isn't a winning fantasy strategy. I think Grant is out for the year, and it's sounding close to official that he is. So who benefits? Obviously newly crowned starter Brandon Jackson, who rises 43 spots this week, but even at 39th overall that hardly makes him a trusted fantasy option. Heck, I'm not wild about him, as he's not as quick as Grant and he might face pressure from rookie James Starks once the latter returns from the PUP list, perhaps in Week 7. I want to see results before calling Jackson a weekly flex-play candidate.
• Don't bother reminding me that Thomas Jones got the start for the Kansas City Chiefs on Monday night or had as many carries (11) as Jamaal Charles. If Todd Haley can't recognize that Charles is his most valuable offensive weapon, he's going to be in for a long season. Charles' explosiveness was evident on his 56-yard touchdown run nearly 14 minutes in, and he was responsible for 100 of the Chiefs' 197 total yards in the contest. He also averaged more than five yards per carry -- 8.4, in fact -- for the seventh time in 10 career games in which he had double-digit carries. Charles' fantasy owners might fret about this being a timeshare, but I'm ranking by talent this week. There's such a significant talent gap between the Charles and Jones, Haley would be foolish not to adjust accordingly.
• Speaking of timeshares, one that should worry you includes the New York Jets' Shonn Greene, who looked terrible on Monday, and LaDainian Tomlinson, who looked like the LT2 of old albeit in a backup role. Greene fumbled twice and had a key drop, things that won't endear him to Rex Ryan, and certainly won't earn him a 2-to-1 split of the rushing chores in the near future. At this stage of his career, Tomlinson can't be that workhorse either, but an arrangement where each gets 15 touches per week is possible. That's enough to keep both fantasy-relevant -- which is why Greene only drops three spots -- but it's not enough to appease owners who believed Greene was due a huge breakout campaign.
• The New York Giants might have themselves a timeshare, too, though this season, instead of Brandon Jacobs being the lead back, it's Ahmad Bradshaw's turn to shine. Bradshaw's stock gets a decent bump after what was a strong finish to his Week 1 game, but Jacobs lurks as a touchdown vulture, which keeps the two in range of one another in flex-play city.
• You'll notice that not one Buffalo Bills running back dropped more than two spots this week, a baffling reaction to a game in which the team totaled 50 yards rushing and averaged 2.9 yards per carry. The rationale: Weren't C.J. Spiller, Fred Jackson and Marshawn Lynch already appropriately ranked? Spiller, the starter, placed highest at 31st; that's not even a weekly flex play in standard ESPN leagues. The rookie -- and more importantly his owners -- could worry that Jackson might soon steal enough touches to draw the two closer together, into the mid-30s, but I think we had the rankings right on these three in August.
• Bad game by Tim Hightower, who received a golden opportunity in a start versus the soft St. Louis Rams defense in place of the injured Beanie Wells, but he promptly blew it with two lost fumbles and only 94 yards (the "only" referring to the fact that most people assumed 150-plus were in the bag). Wells is due back in Week 2, and the gut reaction for most will be that Wells will immediately gobble up all the rushing work. Not so. Until Wells demonstrates his pass blocking has improved, Hightower will see his spots, primarily on passing downs. Of course, preseason reports on Wells' work in that department were positive, which is why he remains ranked where he is despite the Week 1 absence, and Hightower isn't even in flex-play land.
• The lower-ranked player to watch is Bernard Scott (45th). Sure, Cedric Benson managed more than double (9) Scott's fantasy points (4) in Week 1, but Benson's performance was hardly stellar, and Scott had a couple nice runs in the contest. I think we were too low on Scott in the preseason; there's significant upside here and he's well worth a bench spot, even in shallow formats.
• Let's let the numbers do the talking: Since Miles Austin's "emergence" on the fantasy landscape in Week 5 of last season -- emergence in quotes because some people were onto his sleeper potential sooner -- he has an NFL-high 1,385 receiving yards, 86 receptions and 11 touchdowns. During that time only Larry Fitzgerald (12) and Randy Moss (12) have more receiving touchdowns, and Wes Welker (113) and Brandon Marshall (93) more receptions. If you watched the Dallas Cowboys' season opener, surely you noticed that Austin was about the only thing that went right for them. He's unquestionably a top-5 fantasy wide receiver talent, and those who disagree missed out on an excellent second-round value.
• I've got a comment to those who in the preseason questioned Larry Fitzgerald's 2010 fantasy potential with Matt Leinart, and now Derek Anderson, throwing him the football: Can you knock Fitzgerald while praising Calvin Johnson, who now has an even worse quarterback to work with in Shaun Hill? While there's only so much a receiver can do to mask his quarterbacks' inefficiencies, talent is still talent, and a good pass catcher is still going to make something with 12-15 throws per week. Both Fitzgerald and Johnson can still be top-10 options despite their quarterbacks' questions, but if I'm picking between them, I've got a bit more faith in Anderson than I do Hill these next several weeks.
• Speaking of "only things that went right," presenting Anquan Boldin, the one cog in the Baltimore Ravens offense who appeared top-shelf on Monday night. So much for the idea that Boldin would be stranded on "Revis Island" or that the New York Jets' stingy defense would bottle him up on the outside; Boldin was targeted 10 times by Joe Flacco, hauled in seven of those passes and tallied 110 yards. Flacco seemed out of rhythm with the rest of his receivers -- odd especially in the case of tried-and-true veteran Derrick Mason -- but direct any of your questions to the quarterback, not his No. 1 wide receiver.
• Returning to the Anderson topic, don't overlook the chemistry he had with Steve Breaston in the season opener. Some might question whether two wide receivers can matter in a Kurt Warner-less Arizona Cardinals offense, but Breaston looked every bit the part of a brilliant possession man, regularly open on shorter crossing routes en route to a seven-catch, 132-yard day. Make no mistake, we're talking about a matchups play, but in a season where there's a seemingly precipitous drop after the top 20-25 wide receivers, Breaston's upside might be comparable to most anyone's in the lower tiers.
• Mike Williams, Part 1: The Seattle Seahawks' Williams, whom you might remember as the No. 10 pick overall in the 2005 NFL Draft by the Detroit Lions, and a player who was out of football the past two years, played every bit the part of Matt Hasselbeck's go-to guy following the release of veteran T.J. Houshmandzadeh in Week 1. All the preseason raves about Williams' comeback seem legit, and while I've got some questions about how potent the Seahawks' offense will be on a week-to-week basis, the receiver's big-play talent certainly stamps him a solid No. 3/flex most weeks.
• Mike Williams, Part 2: I actually think we under-ranked the Mike Williams of the Tampa Bay Buccaneers and over-ranked the one from the Seahawks, which is why the two have narrowed the margin in this week's rankings. The Bucs' Williams was a preseason darling in the earlier stages, but questions about Josh Freeman's broken thumb had the sleeper talk beginning to fizzle heading into Week 1. I don't look at it that way: Freeman's injury had him out of sync with his top target -- something the quarterback even admitted afterward -- and as the gunslinger heals in coming weeks, they'll hook up for some memorable plays. Don't case aside Williams because he's a member of a sorry squad; he finally provides them a meaningful wideout.
• Is Eddie Royal a comeback kid? Maybe. He appeared pretty comfortable shifted back to the slot, catching a team-high eight passes for 98 yards, albeit facing a cozy matchup. Royal's stock has improved to the point he's a relevant pickup across the board, but I've got questions where its highest point might lie, being that it has limits with Kyle Orton his quarterback.
• If there's one go-get-him wide receiver of Week 1, for me, it's Mike Thomas of the Jacksonville Jaguars. He drew raves for his work during the preseason, and in Week 1 he vastly outplayed Mike Sims-Walker, a player widely regarded a top-15 wide receiver in fantasy. Chances are Thomas and Sims-Walker might play a little fantasy-stat ping-pong from week to week, but as a depth option you can spot in accounting for matchups, Thomas has the skills to please.
• When it comes to tight ends, it's all about opportunity, which is why it's no coincidence that of the nine to be targeted 100-plus times in 2009, eight scored 100-plus fantasy points and all of them finished among the top 12 at their position. Don't get too caught up in the Week 1 fantasy point totals. Instead, look at the Week 1 tight end targets leaders and you'll see some familiar names: Dallas Clark (13), Vernon Davis (12), Jermaine Gresham (10) [e] wait, what, Jermaine Gresham?! Don't count on that large a role every week, not in an offense with Chad Ochocinco and Terrell Owens, but Gresham certainly has the skills and the opportunity to be the Cincinnati Bengals' most meaningful fantasy tight end since Tony McGee (and that's if you even believe McGee was "meaningful"). I'll make the rookie prove it with another solid effort before moving him into the top 20, however, especially being that his early camp reports were less than stellar.
• A good reason not to get too caught up in Week 1 fantasy totals: Marcedes Lewis' position-leading, 15-point fantasy week, fueled by two touchdown grabs. They were, however, his only two grabs and the only two targets he earned the entire game, so don't be so hasty to declare him David Garrard's top red-zone target, a "this year's Visanthe Shiancoe," if you will. This is still a player with only 11 instances of four-plus catches in 60 career games, nine instances of 50-plus receiving yards and not one of greater than 76 yards. We might never have seen a two-touchdown game from Lewis before, but we also might never again.
• Though Houston Texans coach Gary Kubiak said exiting Week 1 that Owen Daniels played more than 40 snaps, you could hardly tell looking at the stat sheet: Two targets, one catch of nine yards for the fresh-off-ACL surgery tight end. Fantasy owners had to be expecting a sluggish start from Daniels as a result, and our rankings certainly did, which is why he remains right where he was in the preseason: 12th. The 40-plus snaps offer as much encouragement as his surface stats discouragement, so I'll consider it a wash (for now).
• Both New England Patriots rookies had important catches in Week 1, Rob Gronkowski hauling in a one-yard touchdown and Aaron Hernandez a 45-yarder. Each could be a red-zone factor in the coming weeks, and it's why they both crack the top 30, but who could help but fear that, for the most part, they'll cancel each other out in terms of fantasy production?
Ovr.
Rank

Player

Team

Pos.
Rank

Next 3
Weeks

Prev.
Rank

1
Chris Johnson
TEN
RB1
PIT, @NYG, DEN
1
2
Adrian Peterson
MIN
RB2
MIA, DET, bye
2
3
Maurice Jones-Drew
JAC
RB3
@SD, PHI, IND
3
4
Ray Rice
BAL
RB4
@CIN, CLE, @PIT
4
5
Frank Gore
SF
RB5
NO, @KC, @ATL
6
6
Steven Jackson
STL
RB6
@OAK, WAS, SEA
5
7
Michael Turner
ATL
RB7
ARI, @NO, SF
8
8
Andre Johnson
HOU
WR1
@WAS, DAL, @OAK
7
9
Drew Brees
NO
QB1
@SF, ATL, CAR
9
10
Randy Moss
NE
WR2
@NYJ, BUF, @MIA
10
11
Reggie Wayne
IND
WR3
NYG, @DEN, @JAC
15
12
Aaron Rodgers
GB
QB2
BUF, @CHI, DET
13
13
Cedric Benson
CIN
RB8
BAL, @CAR, @CLE
16
14
Jamaal Charles
KC
RB9
@CLE, SF, bye
29
15
Larry Fitzgerald
ARI
WR4
@ATL, OAK, @SD
12
16
Miles Austin
DAL
WR5
CHI, @HOU, bye
24
17
Rashard Mendenhall
PIT
RB10
@TEN, @TB, BAL
18
18
Roddy White
ATL
WR6
ARI, @NO, SF
20
19
DeAngelo Williams
CAR
RB11
TB, CIN, @NO
11
20
Peyton Manning
IND
QB3
NYG, @DEN, @JAC
21
21
Ryan Mathews
SD
RB12
JAC, @SEA, ARI
25
22
Calvin Johnson
DET
WR7
PHI, @MIN, @GB
22
23
Tom Brady
NE
QB4
@NYJ, BUF, @MIA
23
24
Greg Jennings
GB
WR8
BUF, @CHI, DET
30
25
Knowshon Moreno
DEN
RB13
SEA, IND, @TEN
31
26
Brandon Marshall
MIA
WR9
@MIN, NYJ, NE
17
27
Beanie Wells
ARI
RB14
@ATL, OAK, @SD
27
28
DeSean Jackson
PHI
WR10
@DET, @JAC, WAS
26
29
Marques Colston
NO
WR11
@SF, ATL, CAR
32
30
Shonn Greene
NYJ
RB15
NE, @MIA, @BUF
19
31
Arian Foster
HOU
RB16
@WAS, DAL, @OAK
48
32
Steve Smith
CAR
WR12
TB, CIN, @NO
28
33
LeSean McCoy
PHI
RB17
@DET, @JAC, WAS
33
34
Anquan Boldin
BAL
WR13
@CIN, CLE, @PIT
37
35
Pierre Thomas
NO
RB18
@SF, ATL, CAR
14
36
Matt Forte
CHI
RB19
@DAL, GB, @NYG
34
37
Chad Ochocinco
CIN
WR14
BAL, @CAR, @CLE
42
38
Ronnie Brown
MIA
RB20
@MIN, NYJ, NE
43
39
Matt Schaub
HOU
QB5
@WAS, DAL, @OAK
39
40
Dallas Clark
IND
TE1
NYG, @DEN, @JAC
41
41
Tony Romo
DAL
QB6
CHI, @HOU, bye
45
42
Steve Smith
NYG
WR15
@IND, TEN, CHI
35
43
Jonathan Stewart
CAR
RB21
TB, CIN, @NO
44
44
Joseph Addai
IND
RB22
NYG, @DEN, @JAC
36
45
Wes Welker
NE
WR16
@NYJ, BUF, @MIA
53
46
Antonio Gates
SD
TE2
JAC, @SEA, ARI
47
47
Philip Rivers
SD
QB7
JAC, @SEA, ARI
40
48
Jahvid Best
DET
RB23
PHI, @MIN, @GB
38
49
Hines Ward
PIT
WR17
@TEN, @TB, BAL
52
50
Vernon Davis
SF
TE3
NO, @KC, @ATL
62
51
Ahmad Bradshaw
NYG
RB24
@IND, TEN, CHI
61
52
Michael Crabtree
SF
WR18
NO, @KC, @ATL
49
53
Hakeem Nicks
NYG
WR19
@IND, TEN, CHI
66
54
Ricky Williams
MIA
RB25
@MIN, NYJ, NE
76
55
Felix Jones
DAL
RB26
CHI, @HOU, bye
50
56
Mike Sims-Walker
JAC
WR20
@SD, PHI, IND
46
57
Pierre Garcon
IND
WR21
NYG, @DEN, @JAC
68
58
Percy Harvin
MIN
WR22
MIA, DET, bye
58
59
Jermichael Finley
GB
TE4
BUF, @CHI, DET
51
60
Reggie Bush
NO
RB27
@SF, ATL, CAR
59
61
Brandon Jacobs
NYG
RB28
@IND, TEN, CHI
73
62
Marion Barber
DAL
RB29
CHI, @HOU, bye
54
63
Mike Wallace
PIT
WR23
@TEN, @TB, BAL
70
64
Tony Gonzalez
ATL
TE5
ARI, @NO, SF
71
65
C.J. Spiller
BUF
RB30
@GB, @NE, NYJ
65
66
Jeremy Maclin
PHI
WR24
@DET, @JAC, WAS
63
67
Dwayne Bowe
KC
WR25
@CLE, SF, bye
55
68
Donald Driver
GB
WR26
BUF, @CHI, DET
57
69
Jerome Harrison
CLE
RB31
KC, @BAL, CIN
69
70
Brent Celek
PHI
TE6
@DET, @JAC, WAS
64
71
Santana Moss
WAS
WR27
HOU, @STL, @PHI
72
72
Jason Witten
DAL
TE7
CHI, @HOU, bye
74
73
Darren McFadden
OAK
RB32
STL, @ARI, HOU
60
74
Joe Flacco
BAL
QB8
@CIN, CLE, @PIT
77
75
Steve Breaston
ARI
WR28
@ATL, OAK, @SD
106
76
Eli Manning
NYG
QB9
@IND, TEN, CHI
93
77
Justin Forsett
SEA
RB33
@DEN, SD, @STL
92
78
Terrell Owens
CIN
WR29
BAL, @CAR, @CLE
86
79
Cadillac Williams
TB
RB34
@CAR, PIT, bye
56
80
Clinton Portis
WAS
RB35
HOU, @STL, @PHI
100
81
Malcom Floyd
SD
WR30
JAC, @SEA, ARI
82
82
Lee Evans
BUF
WR31
@GB, @NE, NYJ
83
83
Dez Bryant
DAL
WR32
CHI, @HOU, bye
94
84
Chris Cooley
WAS
TE8
HOU, @STL, @PHI
91
85
Thomas Jones
KC
RB36
@CLE, SF, bye
79
86
Robert Meachem
NO
WR33
@SF, ATL, CAR
81
87
Brett Favre
MIN
QB10
MIA, DET, bye
67
88
Fred Jackson
BUF
RB37
@GB, @NE, NYJ
80
89
Santonio Holmes
NYJ
WR34
NE, @MIA, @BUF
88
90
Kellen Winslow
TB
TE9
@CAR, PIT, bye
85
91
Bernard Berrian
MIN
WR35
MIA, DET, bye
78
92
LaDainian Tomlinson
NYJ
RB38
NE, @MIA, @BUF
84
93
Jay Cutler
CHI
QB11
@DAL, GB, @NYG
87
94
Brandon Jackson
GB
RB39
BUF, @CHI, DET
102
95
Michael Bush
OAK
RB40
STL, @ARI, HOU
89
96
Matt Ryan
ATL
QB12
ARI, @NO, SF
107
97
Braylon Edwards
NYJ
WR36
NE, @MIA, @BUF
75
98
Johnny Knox
CHI
WR37
@DAL, GB, @NYG
98
99
Derrick Mason
BAL
WR38
@CIN, CLE, @PIT
90
100
Mike Williams
SEA
WR39
@DEN, SD, @STL
112
Tristan H. Cockcroft is a fantasy football analyst for ESPN.com. You can e-mail him here, or follow him on Twitter @SultanofStat.
Fantasy
Senior writer for ESPN.com
Co-host of the Fantasy Focus Baseball podcast
Two-time LABR, three-time Tout Wars champion
Member of the FSWA Hall of Fame
MOST SENT STORIES ON ESPN.COM