Commentary
Week 2 rankings reaction
I'd really love to be totally reactionary in Week 2, wouldn't you?
Michael Turner is a contender for the No. 1 spot in fantasy this year, Eddie Royal is the next Randy Moss, the Bills' defense compares favorably to the glory days of the '70s Steelers … let's hop on those bandwagons, shall we?
Not so fast. Our quartet of experts -- Matthew Berry, Christopher Harris, Erik Kuselias and Eric Karabell -- aren't quite sold yet. Truthfully, I'm not exactly sold either, but it's our four experts who essentially said so in cold, hard black and white in their Week 2 rankings. They'll keep your feet on the ground instead of reaching for those Week 1 stars, but surely there's some prodding to do, taunting them to see just why they're not more pro-Turner, Royal or Bills defense this week.
First up on the podium, and let's be kind to him this week, folks, because he's still smarting from that Week 1 loss by his Redskins … it's Matthew Berry, ladies and gentlemen!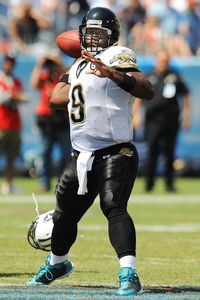 Joe Robbins/Getty ImagesMatthew Berry still likes him the David Garrard -- at least more than the others.
Cockcroft:
Among our four rankers, you have the most faith in
David Garrard
, putting him at No. 13. Sure, it's a No. 2 quarterback's ranking, but the team's patchwork offensive line doesn't trouble you at all?
Berry: Yes, it troubles me. Just like losing to you last week in the league in which I have Tom Brady troubled me. You and your stupid Drew Brees. Anyway, Garrard is at home, and my feeling is that, with the offensive line problems, the Jaguars are going to have to throw more to keep the defense from stacking the line to stop their powerful run game. While Buffalo has a solid defense, it's not as strong as the Titans' unit, which was a big reason for Garrard's struggles last week. Garrard's mobility will help with the O-line problems, and I wouldn't be surprised to see a lot of rollouts and the like.
Cockcroft: I still can't believe Tony Romo went in the first round and Brees in the fourth in that league. Steal! As for Brady, apparently you'd be pretty happy with his backup, Matt Cassel, seeing as you ranked him 11th among quarterbacks. That's ahead of Garrard, and a borderline starter in most leagues. You'd honestly start that guy? Is it the offense? The matchup? Or merely blind faith?
Berry: All of the above. Getting to throw to Randy Moss and Wes Welker, plus the return of Kevin Faulk, who helps the passing game, makes up for a lot. Jets coach Eric Mangini is going to concentrate on stopping the Patriots' run game, forcing Cassel to beat them. I mean, Chad Pennington threw for 250 and two scores against them last week. You're telling me Cassel can't do better than Chad Pennington?
Cockcroft: Touché. I was once a Pennington fan. I think I was sipping Starbucks and listening to Nirvana at the time. That didn't turn out well.
Sure hope my Chris Johnson fandom works out better. Evidently I'm not the only one on the Johnson bandwagon, though. You ranked him 12th for Week 2! Now that's high praise. So you think he emerges as the Titans' go-to guy this soon?
Berry: There's no question he's the go-to guy. Consider these facts: Johnson and LenDale White each had 15 carries last week. Johnson had 93 yards, White had 40. Johnson also had three receptions -- White had none -- for 34 yards, giving him 127 yards on the day. And that was against one of the better run defenses in the NFL in Jacksonville. Now they get to go against the Bengals, who gave up 229 rushing yards to Baltimore. Um, that's a lot. Kerry Collins actually helps the run game here for the Titans because he stretches the field with his arm; the Bengals now must give some respect to the Titans' passing game. Chris Johnson is a top-20 running back the rest of the way. Bank on it.
Cockcroft: You neglected to mention one thing: In that Week 1 contest, before White scored that goal-line touchdown in the fourth quarter, he actually had 11 carries and 30 yards to Johnson's 15 and 93. That's quite a disparity. I'd have to agree on this one.
Not that I do on your Julius Jones ranking, though. No. 19, that's a definite No. 2 running back. What do you see in that guy? Seattle's offense -- at least right now -- is terrible.
Berry: I see a guy who will get a lot of carries with Maurice Morris out, I see a guy who will shoulder the load of an offense that has no healthy wide receivers, I see a guy playing at home (where the Seahawks are strong) and I see a guy facing the 49ers. Really, if he ends up with 100 total yards and a score at home against San Francisco, you'd be shocked? Because I wouldn't at all.
Cockcroft: I see a guy who averaged 3.5 yards per carry in Morris' absence last week, 3.6 for all of 2007, and who is hopping into an offense that averaged 3.7 yards per carry in home games last year, sixth-worst in football. No, Jones isn't as bad as the 2007 version of Shaun Alexander, but is he really much better? Time will tell.
Erik Kuselias, our next ranker, sure looks like he's chomping at the bit to rip on my Giants, winners in Week 1…
Kuselias: Hank Baskett, Eddie Royal, Devery Henderson, Dante Rosario and Brandon Jacobs. Who doesn't belong and why? It's Jacobs. Everyone else actually scored a touchdown in Week 1! Even Santana Moss scored, and we know he usually can't find the end zone with a map.
Cockcroft: Sheesh, can't even finish the introductions this week! By the way, Tony Hunt scored a touchdown, too, and how much does he matter? You're pretty full of Jacobs hate this week, Erik. Down at No. 13 against the Rams? Surely, sir, you are crazy.
Kuselias: Did you guys get together and decide, "Hey, touchdowns won't count this year" when you ranked Jacobs? Plus, the Rams are a much different team at home than on the road.
Cockcroft: Sure they are. They score more touchdowns but still give 'em up. In 2007, they allowed 219 total points on the road … and 219 at home. Just sayin'.
Meanwhile, you're dismissing the matchup by putting Joseph Addai, who is battling a head injury and faces the Vikings' stiff run defense, at No. 5 for this week. Hmm, seems a lot like your blown call on Willis McGahee in Week 1, ranking him among your top-10 running backs.
Kuselias: Addai got dinged in Week 1 last year and people dropped him in the rankings, but I stayed with 'ol No. 29. And he scored four touchdowns in the next three weeks, including one score in each of those games. I don't know what humble pie tastes like, but vindication tastes as sweet as Yoo-hoo.
Cockcroft: Hey, save the Yoo-hoo for your fantasy baseball championship! Whatever happened to that old tradition anyway?
There's a lot of Chris Johnson love going around these days, but you're the only one of our four rankers who still prefers LenDale White to the rookie. Are we -- yup, I'm a member of the Johnson fan club -- just nuts? I assume you're advising the conservative approach for him in these early weeks.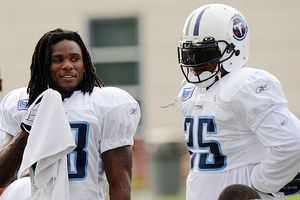 Jim Brown/US PresswireAs Erik "subtly" notes, LenDale White (right) is still the Titans' goal-line back, not Chris Johnson.
Kuselias:
Once again, it's like I'm the only guy who realizes that touchdowns actually count in fantasy football. Who had the most yards in the NFL last year inside the 10-yard line? If you said anyone else
but
LenDale White, you would be wrong. Plus, last season the Titans gave White the ball on
every single goal-line carry except one
!
And when the Titans had a rushing touchdown in Week 1 -- try to follow along here -- guess who got the rock? White. And guess who didn't? Johnson. As long as touchdowns still count, or until coach Jeff Fischer decides smallish running backs are better at the goal line, only a drunken fool would prefer Chris Johnson to LenDale White.
Cockcroft: Slinging barbs at me and Berry, well, we'll see who comes out on top in the end. Speaking of the Titans, not that I agree with Matthew's ranking of their defense at No. 1 this week, but you have them 13th. Carson Palmer apparently terrifies you.
Kuselias: Let's hearken back to Week 2 last season. A certain guy whose name rhymes with "Spathew Dairy" was arguing with me, claiming that both the Cincinnati and Cleveland defenses were excellent plays, in part because Palmer had thrown for fewer than 200 yards in the opener against Baltimore. Then -- and here comes the ouch -- the teams combine to score an almost unprecedented 96 points in a 51-45 Cleveland win!
Now fast-forward to the present. It's Week 2. Palmer had a bad first game against Baltimore, and, well, you can guess where I'm going with this. Look, I like Tennessee, but they have been better at home than on the road. Palmer, Chad what's-his-name and T.J. Houshmandzadeh should all play better. Tennessee is a good start, but not No. 1.
In the immortal words of Ace Ventura: "Man, I'm tired of being right."
Next up, it's Christopher Harris, tied for 10th in the NFL with 10 tackles! Nice guy that he is, he took time out of his busy practice schedule to chat with me.
Cockcroft: Carson Palmer looked absolutely brutal in Week 1, completing 40 percent of his passes, averaging 3.96 yards per attempt and getting intercepted once. Amazingly, you're staying faithful to the guy, the only one of our four to rank him within the top 10. Now he battles the Titans, who had seven sacks and two interceptions, and I think they also stole David Garrard's wallet in the opener. How can you see a quick turnaround?
Harris: I watched the tape. He was atrocious. But as I note in the Breakdown this week, I'm giving him a mulligan. There's nothing in Palmer's history or makeup that says to me he's done, and for a guy to throw that poorly every week, underthrowing just about everything, he'd have to be done. I expect him to perk back up and be a low-level fantasy starter this week against the Titans. If he looks that bad twice in a row, well, that's when I'll feel safe reacting. Right now, there's no reason to believe it was anything other than just a bad game.
Cockcroft: I guess Palmer owners can take solace in the fact that he threw for 283 yards and three scores in Week 12 last year. I guess. Won't be me taking that chance.
One chance I'd absolutely take: Ryan Grant and his ailing hamstring versus the Lions, who, if memory serves, got ripped for 318 yards and three scores by the Falcons in Week 1. Let's do the math: Even at half-effort, that'd be 159 yards and a score (maybe two). Yet you ranked Grant 13th among running backs? Why so low?
Harris: It's his hammy. Per coach Mike McCarthy, Grant's hamstring was "very sore" at halftime last week, and in case you didn't notice, he wasn't on the field in the final series when the Packers were driving. Brandon Jackson got seven carries to Grant's 12 in a close game, buster. No one on our site has been beating the "Lions defense is bad" drum louder than I, but I'm worried Grant's leg isn't right.
Cockcroft: I'm not. In one quarter of the Week 17 game last year, Grant ran for 57 yards and a score. One quarter. His leg doesn't have to be right. Sounds like a wager!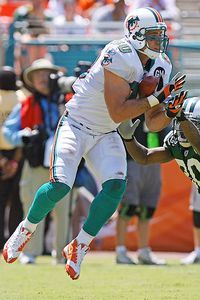 Doug Benc/Getty ImagesHarris: Why is everyone so hung up on Anthony Fasano?
Moving on, in Week 1, you had
Anthony Fasano
ranked 24th among tight ends, and he went off, racking up 14 fantasy points, second-most at his position and among the 40 best players overall. He's a red-hot pickup in most leagues this week, and his new owners might be itching to start him, but in spite of all that, you bumped him up only one spot in your rankings (to 23rd) this week? What gives?
Harris: Well, I think the best thing to do when ranking tight ends is to look at the first game and decide to completely readjust my ranks based on those results. Oh, wait a minute. No I don't! I had Fasano higher than everyone else this spring at our rankings meeting, and now suddenly I'm the hater? Listen, I imagine Pennington will continue to throw to the tight end position quite a bit (it had 12 receptions Sunday). But Fasano doesn't even have full claim on those targets. David Martin is still there and, by the way, he caught four passes and a touchdown in Week 1. Tight end platoons rock.
Cockcroft: Good point. Does any platoon rock? Fantasy owners universally hate Broncos coach Mike Shanahan for that very reason. We can't get into that guy's head, and it kills us week after week. One guy whose head I would like to get into this week, though, is Saints coach Sean Payton's. What's his game plan now that his top receiver, Marques Colston, is out for a month? You're apparently high on David Patten, at No. 23, and that'd be my choice of the stand-ins, too. Still, that's a ranking that almost says they won't skip a beat. Is that the case?
Harris: Mostly that's an anti-Devery Henderson ranking. Listen, it's possible Henderson goes out there and catches another bomb; he always catches two or three per season. But he has the worst hands in the league and makes coach-killing mistakes on a regular basis. All Patten does is run good routes and catch what's thrown his way. Jeremy Shockey is the best way to buy into the Colston injury, but Patten is No. 2. Robert Meachem will probably be active, but he's No. 4 on the depth chart for now.
Cockcroft: Backup or not, I think Meachem will outperform Henderson this season. Henderson just reeks of Donte' Stallworth -- too unpredictable for me.
Harris: Saying Meachem is better than Henderson is damning with faint praise. Henderson is a stiff of the highest order. All he can do is run; he has no work ethic, can't run a route and his hands are atrocious. The Saints wanted to hand the No. 2 receiver gig to Meachem this summer, but he -- according to what I read, not what I saw -- has a hard time being where he's supposed to be on the field. Never runs the same pattern twice, as it were. That's why he was a healthy scratch last week, and that's why he's buried at No. 4 on the depth chart this week even with Colston out. He has a world of talent, and if he got the chance, he could probably do everything Henderson does. But the Saints need a field-stretcher who can run a route, and I think they're pretty frustrated with him. Not saying he can't figure it out; he's still really young. But there are some receivers who can't ever get their legs and bodies to work in a precise enough way to translate their physical abilities. We'll see if he's one of 'em.
Cockcroft: I sure hope he can, since he was a sleeper pick of mine.
Last, but certainly not least, my buddy and the only man I know who has a replica Philly Phanatic costume in his hallway closet, Eric Karabell!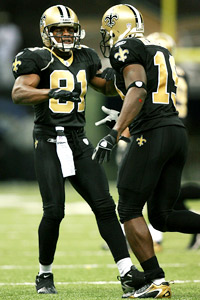 Doug Benc/Getty ImagesSome of our rankers like David Patten (left) better this week, but Karabell likes Devery Henderson.
Cockcroft:
Harris and I were just discussing Saints receivers, and what's interesting is that while neither of us is particularly fond of Devery Henderson, you have him ranked No. 30, effectively an endorsement as a No. 3 receiver. Right in that range, in fact, I see you've got three intriguing receiver sleepers, with
Amani Toomer
at No. 31 and
Justin Gage
at No. 32. I get the Toomer and Gage picks, but Devery?
Karabell: I think all three are worth taking chances on this week, but as you say, not as definite starters. Someone must catch the ball for Drew Brees. I actually think Reggie Bush might catch, like, 15 passes, but among the wide receiver corps sans Colston, I like Devery. The Giants can do whatever they want to the Rams, so Toomer should do well. And Kerry Collins can throw the deep ball, and Gage can catch it. Vince Young's exit probably helps the Tennessee wide receiver corps quite a bit.
Cockcroft: You might be right, but Henderson versus Patten is shaping up as a pretty interesting decision for owners in Week 2. I normally nab the high-upside play -- Henderson, in this case -- but not this time. Patten is so much more reliable.
By the way, very surprising that the No. 1 fantasy point scorer of a week ago, Michael Turner, couldn't even crack the top-10 running backs for anyone … except you! Folks in the ESPN Conversation are having a field day with the other three rankers.
Karabell: I agree Turner has a tougher matchup this week against the Bucs, but clearly I don't think it's going to matter. And, as Berry said so wisely in this space last week, who cares what the other boneheads think? Turner is going to run over all teams. He is the Turner-ator. He can't be stopped. He can't be reasoned with. In my best Arnold Schwarzenegger voice, "He'll be back" every week. He'll top 100 yards and score again.
Cockcroft: But when Schwarzenegger came back for the third installment, he wasn't quite so good. Let's hope it's not the same story for the Turner-ator, because by the end of "Terminator 3," when Arnold said he'd be back, I replied, "Please don't."
Speaking of which, did you really rank the Chiefs' defense No. 4? Surely you must have been distracted by Kristanna Loken's arrival scene on your T3 DVD, and merely tapped the wrong key? Not sure how you can explain that one.
Karabell: Just a hunch more than anything else. And if you're gonna play a hunch, it seems to me defense and kicker are the places to do it. I mean, I nearly ranked Garo Yepremian this week. I just think the Raiders will turn the ball over quite a bit this week. JaMarcus Russell is someone I want to like, but he really didn't play well for much of that Denver game. The Chiefs weren't losing 21-0 when they knocked out Tom Brady, you know. That game was scoreless in the second quarter, which could be a sign of an underrated defense. And let's just say most teams are going to play good defense against the Raiders.
Cockcroft: You are absolutely full of Chiefs love this week, aren't you? Damon Huard at No. 19, really? That means I probably should pick him up and start him in my two-quarterback league in which I had Tom Brady!
Karabell: Well, I've taken a position on Huard that he is going to perform well as the starter, certainly better than Brodie Croyle. Heck, some of us on the staff could find Dwayne Bowe more than Croyle was. Huard was very good in 2006, but not so good last season. I don't think being No. 19 is all that great, but with a few quarterbacks having tougher matchups, and Bowe about to torch DeAngelo Hall, I think Huard is fine.
Cockcroft: I hear Christopher Harris can throw a mean slant pass, actually. No truth to rumors he has been added to the Patriots' practice squad, though.
Tristan H. Cockcroft is a fantasy football, baseball and hockey analyst for ESPN.com. You can e-mail him here.
Fantasy
Senior writer for ESPN.com
Co-host of the Fantasy Focus Baseball podcast
Two-time LABR, two-time Tout Wars champion
Member of the FSWA Hall of Fame