Commentary
The Talented Mr. Roto: I hate T.O.
Updated:
October 30, 2008, 5:34 PM ET
By
Matthew Berry
| ESPN.com
So many things.
So many things frustrate me as a fantasy owner. I hate it when my guy leaves in the first couple of plays due to an injury. (Hello, Joseph Addai.) I hate it when my quarterback throws a last-second Hail Mary that gets picked off, giving me minus-2 points and causing me to lose by one. (I could have survived three interceptions, Ben Roethlisberger.) I hate it when my guy is declared healthy and/or the starter but doesn't play (any Denver running back under Mike Shanahan). I hate goal-line vultures, I hate touchdowns called back by penalty, I hate it when the guy I'm playing against starts a scrub who decides this is the perfect week to have the game of his life.
But maybe more than anything else, I hate Terrell Owens. At least this season I do.
I've never been a big fan of his personally. All the drama, the calling out of Jeff Garcia, the calling out of Donovan McNabb, the awkward eating of popcorn. Seriously, did any actually go in his mouth? I don't like people who do sit-ups in their driveways. There, I said it. He's just a guy I've always hated, and the fact that he's played for the Eagles and the Cowboys, two rivals of my beloved Redskins, hasn't helped.
But for all the things I do not like about him personally, I will say this. He's backed it up. He's talked the talk but he's also walked the walk. Certainly, his fantasy résumé speaks for itself. (Or should that be, Terrell Owens' fantasy résumé speaks for Terrell Owens' résumé?)
And that's why, this season, I decided to draft him. I'd never owned T.O. before. I've been a huge "running back, running back" guy for many years, so Owens was never around when it was time for me to draft my first wideout. But this season, sticking to my "best player available" strategy, I threw my personal hatred to the wind (as I always do in fantasy) and grabbed Terrible Owens in two leagues.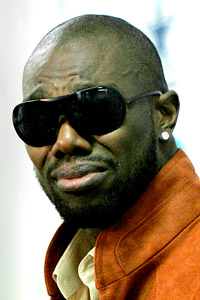 AP Photo/Tony GutierrezYou don't understand … That's my fantasy owner!
And what do I have to show for it? No 100-yard games. Three straight weeks of less than 40 yards receiving. Three straight weeks of three fantasy points. Three straight weeks of seeing him, at a news conference after the game, talking about what he didn't do. With apologies to the philosopher Joan Jett, I hate myself for drafting you.
It's not like the Cowboys aren't trying to get him the ball. Only Jason Witten has more targets this season, and that's by one. Owens has had 25 targets the past three weeks. Sure, T.O. cries for Tony Romo … how about some tears for the guys who drafted you, dude?
And now it has come to this. Owens is not even an automatic start this week. When I sat down to do my rankings (I find it more comfortable than standing up to do my rankings), I realized I have him outside my top 20. Way outside. Which means, in an ESPN standard league, in which you have 10 teams and start two wide receivers per team, he's most likely a bench. At best, he's a borderline flex option for those without much depth at running back or a bunch of productive players on bye.
It's not just the recent lack of production that guided this decision. It's the fact that Brad Johnson can't go deep. Plus, over the past three weeks, Cowboys quarterbacks have been sacked 14 times, tied for 13th-most in the league. Guess who leads the league in sacks? (Musical hint: They Might Be Giants.) So this means Johnson will have to get rid of the ball quickly, which means no seven-step drops to at least attempt to fling it to Owens deep. And it's not like Owens has been the most enthusiastic guy about going over the middle. Plus, a banged-up Witten means the Giants can focus even more on shutting down T.O. Add that to the fact that Big Blue has given up only three passing touchdowns in four home games this season, and man, I hate Terrell Owens.

Did you enjoy Berry's rant? Want to catch the live show? The TMR talks Week 9 rankings on Thursday's Fantasy Focus: Football

One of two things now will happen. He either will do nothing, as I am predicting, and continue to make my second-round pick a waste. Or he will go off, making me look like a moron. Er, more than normal. Seriously, I hate Terrell Owens.
Who else do I hate? And who do I love for Week 9? We will get right to it, but I want to quickly answer a TMR FAQ. I continually do more research over the course of the week; new injuries, etc., always come to light. So while this column is my "sleeper/bust of the week"-type column, my definitive feelings on all players can be found in the rankings update, posted every Friday afternoon. The update uses the same link as the rankings posted Wednesday, so just check the timestamp to know when they were last updated.
Like, I have Donald Lee listed in my "love" section today, but I didn't rank him Wednesday. Well, he'll be fairly high up in my rankings update. Long story short, I found out something while talking with scouts in the past few days that I didn't know when I did my first set of rankings.
So, there you go. Anyway, just like T.O. to a microphone, let's get to it.
Week 9 players I love
Lee Evans, WR, Bills: In his past four games against the Jets, he is averaging 102 receiving yards.
Trent Edwards, QB, Bills: It's not just the Evans stat, it's the fact that the Jets give up the sixth-most fantasy points to opposing quarterbacks. Plus, the Bills are at home and motivated after last week's loss, and New York's secondary made Tyler Thigpen look like, um, not Tyler Thigpen.
David Garrard, Maurice Jones-Drew, Fred Taylor, Matt Jones, Jaguars: A resurgent offense plays the Bengals. Taylor was on Wednesday's injury report, so heads up there, and there's always a chance Jones' suspension will kick in. If he can't go, I like Reggie Williams the most. Mike Walker, back from injury, is an interesting Hail Mary-type if you are a bit desperate.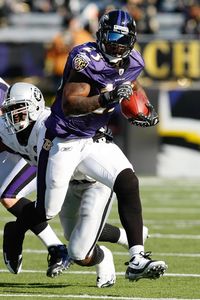 Scott Boehm/Getty ImagesIt gets to be a lot easier to run when they're not stacking eight in the box, eh, Willis?
Willis McGahee, RB, Ravens: Other than folks who are actually related to Joe Flacco, McGahee is the happiest about the Ravens quarterback's un-crappyness, which is sort of a word. McGahee also has had 100 yards or more in three of his past four games versus Cleveland.
Browns D/ST: Here's what I wrote in my TMR pickup column this week: At home against the Ravens, that's always a big emotional game. The Browns' fans will be very into it, it's a rookie quarterback and the Browns have 44 fantasy points on defense the past four weeks.
Kellen Winslow, Braylon Edwards, Browns: Going with the emotional theme, plus this fact: The Ravens have given up an average of 285 passing yards and two passing touchdowns in their past two games on the road.
Matt Schaub, Andre Johnson, Kevin Walter, Owen Daniels: Among the hottest offenses in the NFL right now. Really like Daniels in particular.
Gus Frerotte, Bernard Berrian, Vikings: The two non-obvious Vikings starts.
Kyle Orton, Matt Forte, Greg Olsen, Bears: If Devin Hester and Brandon Lloyd play, I like them here, in that order. If not, I like Marty Booker the most of the remaining options. They play Detroit. At home. Off a bye. That simple. If you can start the Bears' mascot, do it.
Calvin Johnson, WR, Lions: Touchdown in three straight games.
Earnest Graham, Warrick Dunn, Buccaneers: The addendum to the "start everyone against Detroit" rule is that you start your running backs against Kansas City. And never start a land war in Asia.
Steve Breaston, Tim Hightower, Cardinals: You're starting all the obvious guys in the passing game, but I like these two as well on the turf in St. Louis.
Donnie Avery, WR, Rams: I might have mentioned him before.
Torry Holt, WR, Rams: Has five touchdowns in his past six against Arizona and just realized he's becoming irrelevant. In St. Louis. Irrelevant in St. Louis? Isn't that redundant?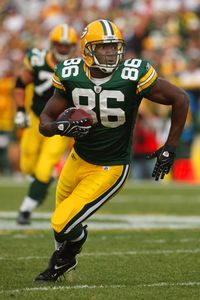 Stephen Dunn/Getty ImagesI love him, I love him not … fantasy is a fickle mistress.
Donald Lee, TE, Packers: Talking with scouts, they believe all the things Green Bay does well, the Titans have answers for. In fact, the only place you can really attack them is over the linebackers. We all saw Dallas Clark have a big game against the Titans, and the Titans are tied for giving up the eighth-most fantasy points to opposing tight ends.
Bo Scaife, TE, Titans: Guess who the Titans are tied with? Scaife leads Tennessee in yards, receptions and targets.
Chris Johnson, LenDale White, RBs, Titans: I believe you all are familiar with Mr. Johnson and Mr. White, no?
All Your Dolphins: I'm not gonna lie. I'm a little nervous about this one. Home team coming off a bye, and all that. And Denver needs a win. That said, the Broncos are very banged up on defense, and they weren't stopping anyone when they were healthy. I'd be fine starting Chad Pennington, Ted Ginn Jr., Ronnie Brown and Anthony Fasano, and even Greg Camarillo and Ricky Williams.
Plaxico Burress, Steve Smith, WRs, Giants: Plax has had three scores and 168 yards in his past two against Dallas, but more importantly, the Cowboys have had trouble defending deep. Jeff Garcia and the Bucs aren't the Giants, so while I think Wade Phillips helped, this is a different game, and on the road to boot.
Giants D/ST: Think they have a field day.
All Your Eagles: You're already playing McNabb and Brian Westbrook, of course, but I like DeSean Jackson, Kevin Curtis and the Eagles' defense a lot here. That wasn't a Seattle resurgence last week, that was a 49er implosion. Besides, you really gonna bet against the Eagles the week the Phillies win the World Series?
John Carlson, TE, Seahawks: Only the Chargers give up more fantasy points to opposing tight ends than the Eagles.
Michael Turner, Jerious Norwood, RBs, Falcons: You know how Chad Johnson has his name legally changed to Chad Ocho Cinco? I think Norwood should change his legal name to Hooch. And then we could print up a bunch of "Turner and Hooch" T-shirts and make a mint in Atlanta! Who's with me? Come on, this is an idea whose idea has come! Hello? Anyone?
Justin Fargas, RB, Raiders: Turner. Hooch. Huggy Bear Jr. This game is loaded with bad T-shirt potential.
Kevin Faulk, RB, Patriots: The one Patriots running back I trust. Colts give up more than 23 fantasy points a game to opposing running backs, fourth-most in the NFL.
Randy Moss, Wes Welker, WRs, Patriots: Putting them here because some people might be concerned with the game being on the road against the Colts, who are second in the NFL in pass defense. But the one thing the Colts don't do well is tackle in space, and the Patriots have had a lot of success with those bubble screen plays to Moss. I don't see either guy having a long pass play, but I see a lot of yards after catch. Each of them will get at least six to eight receptions for 75 yards, and at least one of them will score.
Joseph Addai, RB, Colts: Looks like he is playing. He'll go up in my rankings under the "If Antonio Pittman had 100 total yards against these guys …" theory. And if Addai can't go, love Dominic Rhodes here.
Dallas Clark, TE, Colts: Welcome back, Dallas. We missed you.
Clinton Portis, RB, Redskins: It's a tough matchup, yes. But don't get cute.
Week 9 players I hate: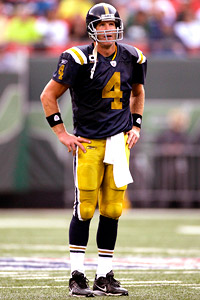 Rich Kane/US PresswireYeah, Brett. We can't believe you just threw another interception either.
Brett Favre, QB, Jets: Fair warning here. Last time I listed Favre in this section he, uh, might have thrown six touchdowns. But here's why I'm going back: Buffalo has allowed only one quarterback to throw for more than 200 yards at home, and that was Philip Rivers, who had only 208. Only four teams in the NFL have given up fewer passing touchdowns than the Bills, and then, you look at what Favre has done recently. Since that six touchdown game, he has eight turnovers and only three touchdowns. I expect a conservative game plan on the road at Buffalo.
All Your Bengals: I'm starting T.J. Houshmandzadeh , who has had at least six receptions in six straight games, but other than that, this is a team that has quit. And not just football. Smoking, talking trash, bathing, eating, they never sleep anymore. … They're like zombies, except less interesting. When your team is in the position that it needs to start Cedric Benson, that's when you meet with Roger Goodell and ask for a trade to the CFL. The Cincinnati Roughriders, come on, who's with me?
Joe Flacco, QB, Ravens: It was an amazing game, but he's still a rookie, and like I said, I bet Cleveland gets up for this one.
Derrick Mason, WR, Ravens: See Flacco, Joe.
The Under: In case you are wondering why I am not listing anyone from Minnesota, Houston, Chicago or Detroit. Any Lion other than Megatron is an obvious bench anyway, and there's no one on the other three teams I don't like this week. But yeah, if you were considering Rudi Johnson or Kevin Smith, don't.
Jeff Garcia, QB, Buccaneers: I so wanted to believe, Jeff. I really did.
Antonio Bryant, WR, Buccaneers: I never believed.
Kolby Smith, Jamaal Charles, RBs, Chiefs: Bucs have yet to give up a rushing touchdown this season, and Charles is practicing, so expect some split carries. Oh, and I know he isn't playing this week, but I'll add that I hate Larry Johnson regardless.
Edgerrin James, RB, Cardinals: His yards and carries have gone down for three straight weeks, and this is a pass-first team anyway.
Any Broncos running back: One of them might be OK, but there's no way to tell which one, and the Dolphins' run defense is better than most folks realize.
Brad Johnson, Roy E. Williams, Jason Witten, Cowboys: You read my intro about T.O. If Witten plays, I think he'll have to block a lot as well.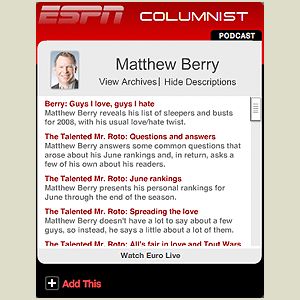 ESPN.comESPN Widgets are portable applications you can place almost anywhere! Click on the image to add the Matthew Berry widget to your Web space.
Every Seahawk: Other than Carlson. This game will be ugly. I'll use this space to give a shoutout to my old college friend Jon McDaid, who desperately wants to see an Eagles-Seahawks Super Bowl in his lifetime. Battle of the Birds. His two favorite teams. This is as close as Jon is getting this year. Like a lot of Super Bowls, it'll be a blowout.
Ben Roethlisberger, QB, Steelers: The Steelers' offensive line is struggling. Only four teams have allowed more sacks this season. When the Redskins are at home, opposing quarterbacks are averaging just 174 passing yards and a touchdown against them.
Willie Parker, Mewelde Moore, RBs, Steelers: Think both play enough to hurt the other.
Chris Cooley, Heath Miller, TEs: Both teams defend the opposing tight end very well.
Jason Campbell, QB, Redskins: It's election time in Washington. And I elect not to start a guy against the best pass defense in the NFL.
Matthew Berry -- The Talented Mr. Roto -- is very excited to be going to the Redskins game Monday night. He appears on Fantasy Football Now, airing at noon ET Sundays on ESPN.com. He is a four-time award winner from the Fantasy Sports Writers Association, including a writer of the year award. He also is the creator of RotoPass.com, a Web site that combines a bunch of well-known fantasy sites, including ESPN Insider, for one low price. Use promo code ESPN for 10 percent off. Cyberstalk the TMR | Be his Cyberfriend
Fantasy
• Senior Fantasy analyst for ESPN
• Member, FSWA and FSTA Halls of Fame
• Best-selling author of "Fantasy Life"

SPONSORED HEADLINES
FANTASY TOP HEADLINES
MOST SENT STORIES ON ESPN.COM