Commentary
The Talented Mr. Roto: Love/Hate for Week 10
Updated:
November 6, 2008, 5:18 PM ET
By
Matthew Berry
| ESPN.com
Change can happen.
The official Web site of President-elect Barack Obama promises change can happen and, clearly, that has already started with the election of a new president. And if you're anything like me, your reaction is, "Politics? Schmolitics."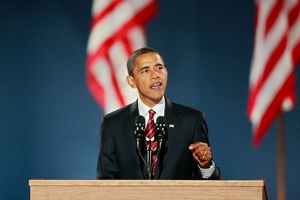 Scott Olson/Getty Images... yes, yes, and a chicken in every pot. But what about a touchdown for every 100-yard rusher?
You wanna change something? Let's do something big. Something important. Something that will directly affect the lives of millions of Americans 17 Sundays, 16 Mondays and eight Thursdays every year. And, yes, even the occasional Saturday. Let's change the running back by committee. Listen, Jeff Fisher, we don't care who you give it to. Just pick one. If Chris Johnson is the guy (and he should be), stop giving it to LenDale White, OK?
Let's change the whole "player is active but then he doesn't play" thing, which is what happened again Sunday with Willis McGahee. What was that, John Harbaugh? Oh, and Mike Shanahan, would it kill you, just once, to make your run game clear? Peyton Hillis? Seriously? Peyton Hillis? What's next, P.J. Pope? We don't care, just tell us. Yes, we can!
We need to change the tackle-eligible play, the use of the vulture, er, fullback at the goal line, and no more obscure tight ends catching balls, OK? I want my first-round pick to be able to wear a red jersey and never get tackled on actual game days. I want quarterbacks to not throw stupid Hail Marys that get picked off at the end of halves. And finally, I beseech, I plead, I beg President-elect Obama to sign legislation saying that, if a player is about to score and then doesn't, his taxes increase 20 percent. Brian Westbrook and DeSean Jackson? I'm talking to you. Yes. We. Can!
One thing that doesn't change? The Love/Hate. Time to get to it for Week 10, and if haven't figured out the premise by now, you never will. Remember, today is one of those Thursdays, so get your lineups in if you plan to start/bench a Bronco or a Brown, or if your league locks with the first game on the schedule.
Week 10 players I love
Braylon Edwards, WR, Browns: In his past two home games, he's averaging 120 receiving yards and a score. How's that for dropping some knowledge? Get it? Drop? (Pause.) Never mind. This gold is lost on the likes of you.
Jamal Lewis, RB, Browns: Give Jamal The Ball! (From sign posted in Mother Lewis' section.)
Kellen Winslow, TE, Browns: Only four teams give up more fantasy points a game to opposing tight ends than the Broncos. And yeah, you see Edwards and Winslow here and you're coming to a conclusion, and you'd be right. I think Brady Quinn will do a decent job in his debut.
Brandon Marshall, WR, Broncos: You might think this is obvious putting him here, but read these e-mails I just got:
Toby (unknown): Hey TMR, at what point do we start to consider Brandon Marshall as this year's hugest fantasy bust. He's killing me!!!
Matt (Madison, Ind.): When is Brandon Marshall actually going to do something?!?! Two, seven, seven, two points his past four games. He's been rated all year as a No. 1 fantasy starter. What's happening in Denver? I love the column, and I've been stalking ESPN.com every Thursday during football season for the past few years. Thanks for all the advice over the past few years.
ESPN Fantasy Editor (Bristol, Conn.): Did you really need to put in the second e-mail? Doesn't the first one get the question of Marshall across? Or did you just include it so you can have folks read how much this guy loves you?
TMR: Uh ... maybe. Look, there's a list. A list of guys you never bench, no matter what. And Marshall is on that list. Period. Here's the rest of my current list, incidentally: Drew Brees, Tony Romo, Marion Barber, Jason Witten, Clinton Portis, Chris Johnson, Matt Forte, Adrian Peterson, Greg Jennings, Marshawn Lynch, Steven Jackson, Andre Johnson, Steve Slaton, Calvin Johnson, Steve Smith (the Panther), Roddy White, Reggie Wayne, Joseph Addai (hanging on by a thread), LaDainian Tomlinson, Randy Moss, Antonio Gates, Brian Westbrook, Frank Gore, Kurt Warner, Anquan Boldin, Larry Fitzgerald. Lots of other guys that are "start most of the time," but that's my definitive no-matter-what list right now. Just like fantasy value, it changes constantly.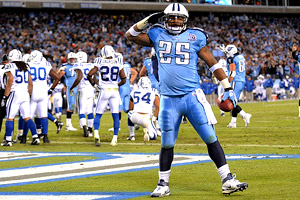 Jim Brown/US Presswire... that is, if you think you can lift him.
Chris Johnson and LenDale White, RB, Titans: See list, above. And since it's clear that it will take awhile for my touchdown-vulture legislation to be enacted, go ahead and thrown Big Fat LenDale in there.
Greg Olsen, TE, Bears: I know, I said I was OK with you dropping him on Tuesday. And I am. I don't expect him to be a huge part of Grossman's game in most games. But for this matchup, I expect the Bears to attack the middle of the field against Tennessee, and Olsen has at least 70 yards or a touchdown in three of his past five games. He also has a TD in two of his past three home games, and the Titans are top-10 in fantasy points allowed to opposing tight ends.
Marques Colston, WR, Saints: They didn't spend the bye week figuring out how to get their best receiver less involved in the passing offense, ya dig?
Deuce McAllister and Lance Moore, Saints: I'm fairly high on the Saints in this one.
Matt Ryan and Roddy White, Falcons: You know what "Ryan's Hope" is? That Roddy stays in Atlanta a long time. By the way, did I mention I was on ABC's "One Life to Live" the past two days? Just askin'.
Michael Turner, RB, Falcons: He has 378 yards and five touchdowns in three home games so far.
David Garrard, QB, Jaguars: I've decided to focus on the fact that he is playing Detroit and not the fact that he stunk it up against the Bengals last week.
Reggie Williams, WR, Jaguars: Thinking Matt Jones gets suspended and this is the guy I like the most after him. Love Jones here if he plays. You know what? I don't want to make it conditional. He needs support right now. I love Jones no matter what. There, I said it. Come here, big guy. Let's hug it out.
Kevin Smith, RB, Lions: Three touchdowns in his past five games.
Chad Pennington, Greg Camarillo, Ted Ginn Jr., Anthony Fasano, Dolphins: Chad has at least 280 yards in his past four games. Seattle is 31st against the pass. Sometimes, you don't have to think too much.
Aaron Rodgers and Donald Driver, Packers: Gut call. Driver had a breakout game in Week 9, and I think Rodgers goes back to the well this week.
Bernard Berrian, WR, Vikings: Dude is currently being started in only 62 percent of leagues and I don't know what else he has to do. He has a touchdown in four straight games. And he hasn't had fewer than 70 yards receiving since Week 2. With the Packers focused on stopping Adrian Peterson, I expect Berrian to have another good game.
Visanthe Shiancoe, TE, Vikings: Three touchdowns in his past four games, four in his past six, and he's very quietly become the seventh-highest-scoring fantasy tight end. He's available in almost 40 percent of leagues, and only seven teams give up more fantasy points to opposing tight ends than the Packers. He's also got a cool name.
BenJarvus Green-Ellis, RB, Patriots: A rushing touchdown in three straight games. And in the four games the Bills have played on the road this year, they have given up seven rushing touchdowns and at least 100 yards a game on the ground.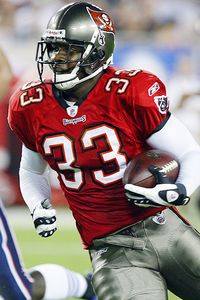 Kim Klement/US PresswireA Kenneth Darby is something that was a Buccaneer rookie last season and has two pro carries which were parlayed into 9 yards. It's not very fantasy friendly.
Torry Holt and Donnie Avery, WR, Rams: When your other option is the Samkon Gado or something called Kenneth Darby...
Brett Favre, Laveranues Coles, Jerricho Cotchery, Thomas Jones, Jets: Love me the Jets in this one. Even Leon Washington and Dustin Keller in deeper leagues.
Joe Flacco, QB, Ravens: He has averaged 19 fantasy points in his past two and now gets the Texans. Houston is tied for the seventh-most fantasy points allowed to opposing quarterbacks.
Derrick Mason, WR, Ravens: Guess who Flacco is throwing to?
Sage Rosenfels, QB, Texans: Just thought I'd take this moment to tell you that I'm listening to my iPod as I write this and "Song Sung Blue," by the Jewish Elvis, Neil Diamond, just came on. It's probably because my parents used to listen to him all the time, but I have an unnatural fondness for Neil Diamond.
Andre Johnson, Kevin Walter, Owen Daniels, Texans: Ravens secondary continues to be banged up.
All your Panthers: You know what the Raiders are? The Raiders are not so good.
Mewelde Moore, RB, Steelers: Deeper-league play here, but with the Colts so good against the pass, I expect Pittsburgh to run a lot. I mean, a lot.
Colts D/ST: They have Bob Sanders back and they get either half of Big Ben or all of Byron Leftwich.
Jamaal Charles, RB, Chiefs: Averaging 5.7 yards a carry. And uses three vowels in a duo-syllabic first name. Lots to like here.
Tyler Thigpen, Tony Gonzalez, Dwayne Bowe, Chiefs: The Chargers are at home and coming off a bye. Generally, I really like that. And they have a new defensive coordinator, which can only help. Ron Rivera will bring a lot more pressure than his predecessor. So sit the Chiefs passing game, right? Wrong.
I think Tyler Thigpen has actually looked good in his last few games, and while the pass pressure might produce a few sacks, I also think the Chiefs will pick up a few of them, creating some nice matchups downfield. Then, there's Gonzalez, who has averaged 100.8 receiving yards and has four 100-yard receiving games in his past eight games against the division-rival Chargers. And in his two career games versus San Diego, Bowe is averaging 109.5 receiving yards per game. I even like Mark Bradley in deeper leagues.
Kevin Curtis, WR, Eagles: Rejected headline for Giants' Web site: "Don't hurt us, Kevin Curtis!" Also considered: "We love Carney folk!" And "What the heck is a Celek?"

Matthew Berry and Nate Ravitz discuss Tim Hightower's new starting role with the Cardinals running back. Fantasy Focus: Football

Kevin Boss, TE, Giants: Scores in two straight weeks, if you're scrounging.
Tim Hightower, RB, Cardinals: Listen to Nate and I interview Hightower on our podcast and you'll know why I love him so. Come on. Power of Tower! Who's with me?
Cardinals D/ST: Bet you didn't know that the Cardinals have been a top-five fantasy defense in three of the past four games they've played. And they are at home. On "Monday Night Football." On ESPN and ESPN HD. I am a company man.
Week 10 players I hate:
Ryan Torain, RB, Broncos: Just don't see them running that much. Of course, this is Mike Shanahan's team, so they might also just decide to run it every down, including on fourth-and-20. But I'll go with them throwing it all night and we'll see what happens.
Jeremy Shockey and Billy Miller, TE, Saints: Think they take touches away from each other.
Jerious Norwood, RB, Falcons: He's been productive in previous games, especially at home, but the Saints have a better run defense than you think.
Rex Grossman, QB, Bears: He is not sexy.
Devin Hester and Rashied Davis, WR, Bears: Devin and Rashied sound like they should be on a soap opera. Hmm. Maybe I'll mention that to my new friends at the ABC daytime drama "One Life to Live." I don't know if I mentioned it, but did you know I just guest-starred on two episodes?
Fred Taylor, RB, Jaguars: I really hope I get this one wrong, actually. But it's been an ugly drop, Fred.
All of your Seahawks: This is a bad, bad football team.
Ronnie Brown and Ricky Williams, RB, Dolphins: I know, it seems like a great matchup. And I do have Ronnie ranked 18th as of this writing, so I like him as a low-end No. 2. But since that Ravens game, where they figured out how to take away the Wildcat offense with the run blitz, Brown hasn't had more than 60 yards rushing in a game, and he has scored only once in the past three weeks (that includes the Ravens game). He had only 59 yards on 20 carries Sunday against Denver, and that was a very good matchup, too. I think he'll be OK here, but I don't think it's the no-brainer must-start that a lot of folks think, and if you have two backs with good matchups, I wouldn't have a problem with you benching him. Oh, and everything I said for Ronnie goes double for Ricky.
Ryan Grant, RB, Packers: He ran well Sunday in a tough matchup, and I see a 25-carry-for-80-yards deal here again. Not bad, but not a first-round-type game.
Trent Edwards, QB, Bills: Someone wake me when he throws more than one touchdown.
Robert Royal, TE, Bills: Just in case you were thinking about getting cute based on Sunday's game. Don't, OK? Just don't.
Matt Cassel, QB, Patriots: Buffalo is eighth-best in terms of fantasy points allowed to opposing quarterbacks.
Any Rams running back: You know who is a man? Kris Jenkins. You know who is a boy? Everyone else he is among.
Any Ravens running back: Oh, one of them will have a good day. But your guess is as good as mine as to who it will be. I actually think it will be McGahee, but I'm staying away if I can.
All of the Raiders: The Silver and Blech.
Peyton Manning, QB, Colts: Let me give you some numbers: 202 and 1. As in, the most passing yards the Steelers have allowed at home this year is 202. And the most passing touchdowns they've given up in any one game at home is one.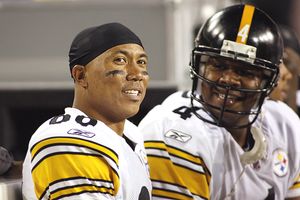 Geoff Burke/US PresswireHines Ward and Byron Leftwich demonstrate their outstanding bench-sitting skills.
Almost all your Steelers: Except Fast Willie Parker and Moore, as I mentioned in the Love list. Everyone else is on my bench this week. This is a low-scoring game.
Eli Manning, QB, Giants: Last year at Philly, Eli threw for only 219 yards and a score. He has four interceptions in his past three games at Philadelphia. He's gone four consecutive games without breaking the 200-yard barrier, and although he threw for three TDs on the mismatched Cowboys on Sunday, he went three games straight with just one score before that.
Amani Toomer, Steve Smith, Derrick Ward, Giants: Toomer, Smith and Ward sounds like a low-rent law firm. Or a made-up law firm for a movie. Or three guys who play for the Giants. Can't decide.
Edgerrin James, RB, Cardinals: In case you thought last week was a fluke. It wasn't.
Matty's Mailbag
Lots of fun e-mail about the "OLTL" appearance, and I'll try to run some of them in future mailbags, but here's one I like because it kills two birds with one stone.
Derek Lowrey (San Francisco CA): TMR! Awesome way to start your TV stardom. Nothing makes you more masculine than holding a little dog. Do you post your Pigskin Pick'em picks anywhere? I always base my picks off your commentary on the Friday edition of the podcast, but with the Thursday games now, a few of my pick'em leagues lock the picks for the week on Thursday night. Following your picks has kept me in first place in my leagues. I am lost in a Pick'em desert without your guidance. Please help!
TMR: Thanks, and I know. I was hoping for an eye patch or a love scene. I got a girly dog and to talk dirty to an inanimate object. But that's OK. I'm secure in my masculinity. And yeah, been a good year so far for Pigskin Pick'Em, for me. Here's who I like this week straight up: Browns, Saints, Titans, Jaguars, Dolphins, Vikings, Patriots, Jets, Texans, Panthers, Steelers, Chargers, Eagles, Cardinals.
Matthew Berry -- The Talented Mr. Roto -- thought the dog was a better actor than him. He appears on ESPN's "Sunday Countdown" and then gets yelled at on "Fantasy Football Now," airing Sundays at noon ET on ESPN.com. He is a four-time award winner from the Fantasy Sports Writers Association, including a Writer of the Year award. He is also the creator of RotoPass.com, a Web site that combines a bunch of well-known fantasy sites, including ESPN Insider, for one low price. Use promo code ESPN for 10 percent off. Cyberstalk the TMR | Be his cyberfriend
Fantasy
• Senior Fantasy analyst for ESPN
• Member, FSWA and FSTA Halls of Fame
• Best-selling author of "Fantasy Life"

SPONSORED HEADLINES
FANTASY TOP HEADLINES
MOST SENT STORIES ON ESPN.COM