Commentary
The Talented Mr. Roto: It's a fine line between love and hate
Updated:
December 24, 2008, 1:00 PM ET
By
Matthew Berry
| ESPN.com
Five recent things I have learned about myself from the Internet:
From my mailbag, regarding last week's "Love/Hate."
Dave (Unknown): I hate love/hate. Who did you love? 1. Westbrook. 2. Chris Johnson. 3. Colts D/ST. 4. Kurt Warner. What do these players have in common? Answer: They were all starters for me. Booo! How can anyone be so far off?
TMR: Maybe I'm just an overachiever?
Gang, you've been forewarned by Dave. Let's get to it with a mailbag at the end.
Week 16 players I love

Matthew Berry and Nate Ravitz update the latest practice news, preview Colts-Jaguars and go over Matthew's Week 16 rankings. Listen

Maurice Jones-Drew, RB, Jaguars: I know people might be concerned because Bob Sanders is back and the Jaguars could fall behind big here, but MJD against Indy is as safe a play as there is in fantasy. In five career games versus the Colts, Jones-Drew has six touchdowns, has scored in every single game and averages more than 120 total yards.
Most of the Colts: Peyton Manning and Reggie Wayne, of course. Dominic Rhodes. Dallas Clark will have a big game. You can consider Anthony Gonzalez now that Marvin Harrison is out for this game; I'd probably rank him in the mid-30s, with no Harrison.
Tashard Choice, RB, Cowboys: I don't love him per se, but remember, this is all about expectations. And I expect he does better than most think. He has 35 fantasy points in his past two games, and those were against the Steelers and Giants. I bet he gets 10 here.
Cedric Benson, RB, Bengals: Remember the scene in "Leaving Las Vegas" where Elisabeth Shue takes a shower? That's how I feel right now. I know I've used that before, but that doesn't make it any less true.
Shaun Hill, QB, 49ers: Had more than 200 yards and two scores against the Rams in Week 11, has had double-digit fantasy points in every start this year, and the guy calling his plays might have an axe to grind with St. Louis, you know?
Isaac Bruce, WR, 49ers: It's not just Mike Martz looking for revenge.
Frank Gore or DeShaun Foster, RB, 49ers: Whoever plays, I like.
Steven Jackson, RB, Rams: San Francisco will dread facing him. Get it? Dread? See, I chose that word because he has dreadlocks. Come on, dude, gimme a little love. That seriously took at least three seconds to come up with.
Torry Holt, WR, Rams: Plays much better at home. And when facing teams like the 49ers.
Think you know who will win all 34 bowl games this season? Put your prognosticating skills to the test in College Bowl Mania, featuring both confidence-style and straight-up selections. Sign up and play for free

All your Saints: With Reggie Bush out, I especially like Lance Moore, and it's why I have Pierre Thomas as the No. 1 running back overall this week.
Dan Orlovsky and Calvin Johnson, Lions: Both looked good last week. More than I can say for the Saints' defense.
Kevin Smith, RB, Lions: Bet you didn't know he has more fantasy points this year than Ryan Grant, and just two fewer than Steven Jackson. A good flex play.
Ben Roethlisberger and Hines Ward, Steelers: Without Albert Haynesworth and Kyle Vanden Bosch creating pressure and forcing a bunch of quick throws, the Titans' secondary is a lot more human.
Heath Miller, TE, Steelers: And Tennessee was already 13th-worst in terms of fantasy points allowed to opposing tight ends.
Willie Parker, RB, Steelers: Again, the Titans' injuries; plus, if you throw out the Cleveland and Detroit games -- stopping them doesn't count -- the Titans have given up more than 118 rushing yards a game in their past six.
All your Dolphins: You gotta like going against KC.
Tyler Thigpen, QB, Chiefs: I'm gettin' Thiggy with it! Just wanted to say it one last time.
Dwayne Bowe and Tony Gonzalez, Chiefs: It's since been corrected, but the rankings accidentally had me with Tony G at 13 when first published. I had him at three and then changed to one but didn't delete the three. Stupid fingers.
Matt Cassel, Randy Moss, Wes Welker, Patriots: Cardinals pass defense is absolutely brutal on the road. They've given up 17 passing touchdowns in their past six road games.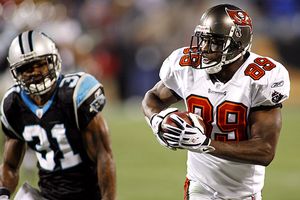 AP Photo/Rick HavnerAntonio Bryant has racked up 61 points in the past three weeks, including a 32-point Week 14.
Antonio Bryant, WR, Buccaneers: Playing a West Coast team traveling east. With a bad secondary. And he only needs one hand to catch. Just saying.
Jerramy Stevens, TE, Buccaneers: Chargers give up the most fantasy points to opposing tight ends. Not even close.
Matt Schaub, QB, Texans: Thirty-seven fantasy points over the past two weeks, and you just saw what the Patriots did to the Raiders, right?
Kevin Walter, WR, Texans: Has been awesome every other week. This is his "on" week. And I expect Nnamdi Asomugha to be all over Andre Johnson.
Steve Slaton, RB, Texans: This just in: He's very good. Raiders are really bad.
Texans D/ST: At least eight fantasy points in three of their past four games, and here are some numbers for you: 11, 15, 14. Those are the fantasy points scored by the defense playing Oakland the past three weeks.
Darren McFadden, RB, Raiders: Ten receptions in the past four games to go along with a real nice game last week. With a bunch of Oakland's wide receiver corps banged up, expect to see a lot of McFadden in both running plays and lining up wide.
Marshawn Lynch, RB, Bills: I'm gonna make a movie called "Things To Do in Denver When You Have No Quarterback." It's gonna be a bunch of highlights of Marshawn running wild. Also like Fred Jackson as a flex play, if you are desperate.
Jay Cutler, Brandon Marshall, Eddie Royal, Broncos: Think they bounce back.
Thomas Jones and Leon Washington, RB, Jets: Because the other option is letting Brett throw it.
Seneca Wallace and Deion Branch, Seahawks: Jets are on the road, 29th against the pass, and only six teams have given up more touchdown passes.
John Carlson, TE, Seahawks: The Jets give up the third-most fantasy points to opposing tight ends.
Matt Ryan and Roddy White, Falcons: This is me not buying the Vikings' pass defense as seen last week.
Chester Taylor, RB, Vikings: Taylor has been on fire, with touchdowns in four straight games and five in his past six. Vikings have been using Taylor more and more, and the Falcons have given up five rushing touchdowns in their past four road games.
Donovan McNabb, QB, Eagles: Had four touchdowns in this matchup last season.
Aaron Rodgers, Greg Jennings, Donald Driver, Packers: You can throw on the Bears. And the Packers will.
Kyle Orton, Greg Olsen, Devin Hester, Bears: Packers have given up eight touchdown passes in the past four games.
Week 16 players I hate
Every Jaguar not named MJD: Colts D is on fire.
Joseph Addai, RB, Colts: Game-time decision? Not for me.
Joe Flacco, QB, Ravens: I'm blech-o for Flacco. What? Come on, it's Week 16. Give me a break.
Tony Romo and Marion Barber, Cowboys: One of them is hurt, and I think the other will be before the game is over.
Jason Witten, TE, Cowboys: Single-digit fantasy points in four of his past five games. And the Ravens defend the tight end very well. In fact, they allow just a hair more than three fantasy points a game to opposing tight ends. Add to that the possibility that the Ravens decide to stick Ed Reed on Witten in some situations, and I'm looking for another option.
LenDale White, RB, Titans: Not against the Steelers.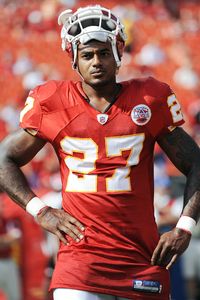 G. Newman Lowrance/Getty ImagesOh, Larry, how do I hate thee? To count the ways, 16 weeks and a bye is not enough …
Larry Johnson, RB, Chiefs: I may do a "Love/Hate" in the offseason just so I can put LJ on the hate list.
Tim Hightower, RB, Cardinals: Don't get cute.
LaDainian Tomlinson, RB, Chargers: I just don't think he's an automatic no-brainer start. He'll be OK, but not great. He hasn't had 100 yards rushing in six straight weeks, and he's on the road at Tampa Bay. Bucs have not given up a rushing touchdown at home this entire season.
Warrick Dunn and Cadillac Williams, RB, Buccaneers: They will split carries to take away value from each, and the Chargers are actually pretty solid against the run.
Andre Johnson, WR, Texans: You have to start him if you have him, I'm just listing him here to explain why I have him ranked lower than Kevin Walter. It's about the fact that Houston has so many other weapons, and I believe Nnamdi Asomugha shuts him down for most of the game.
Justin Fargas, RB, Raiders: They gotta see what they got in Run-DMC.
Lee Evans, WR, Bills: Two straight games of less than 25 yards. Getting Trent Edwards back helps, but not enough.
Brett Favre, Laveranues Coles, Jerricho Cotchery, Jets: Long road trip out west and, in four career games against Mike Holmgren, Brett has only five touchdowns and eight interceptions. This is the Thomas Jones show.
Maurice Morris, RB, Seahawks: Jets have to tackle better than last week, right?
Tarvaris Jackson and Bernard Berrian, Vikings: The Falcons have allowed only three touchdown passes in their past three games, and two of those were to Drew Brees.
All the Eagles receivers: One of them will have a good game. No idea who it will be.
Jake Delhomme, QB, Panthers: (to the tune of Billy Ray Cyrus) "He'll only break your heart, your Jake-y breaky heart." Again, folks, it's Week 16.
Brandon Jacobs, RB, Giants: Not convinced he plays and, if he does, not convinced he gets a ton of work. If I'm wrong on both counts, he'll be great as always, but this is definitely feast or famine and a huge risk to take for the playoffs.
Eli Manning, QB, Giants: He hasn't been great at home this year. In fact, he has only one touchdown pass or fewer in five of his seven home games this year. And without Plaxico Burress in the lineup, he's had two straight games of less than 200 yards passing with only one score total in two weeks. Now he gets the red-hot Panthers, who are 7th in the NFL in terms of fantasy points allowed to opposing quarterbacks.
Matty's Mailbag: The Feel-Good edition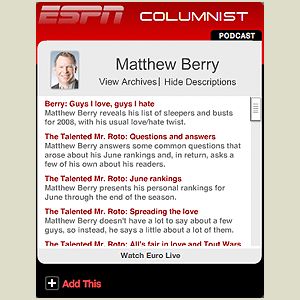 ESPN.comESPN Widgets are portable applications you can place almost anywhere! Click on the image to add the Matthew Berry widget to your Web space.
Jay (unknown): How did you get a job on ESPN? You have pickups like Pierre Thomas! No crap he is a good play, I'm in 3 leagues and made it to the playoffs in all 3 and I'm in the Super Bowl in 2 of them, and you know how I got there, by doing the opposite of what you say. Your loves and hates are terrible 'cause you have so many people on there, you're bound to be right on a few. I can't believe you still have a job! Please go away and never come back!
TMR: You want to know why I still have a job? Daniel from Upland has the answer.
Daniel (Upland): You know what Berry???? I don't know what sucks more, the fact that I have listened to you all year and dealt with weeks like this or the fact that I will continue listening to you every week 'cuz you are a no-good balding train wreck that grabs my attention. That chick that you are in love with is not even that hot and you weren't that good on "General Hospital." I should not listen to you and should probably start listening to Chris Harris. Reading about your problems is like watching an episode of "The Hills." But you are nowhere near as good-looking as the people on there.
TMR: If I was that good-looking, I'd be on that show so fast, it'd make your head spin. It would allow me to take Yaddi78's suggestion.
Yaddi78 (unknown): Matthew Berry, I've been listening to you all season long. Go get a job you're good at.
TMR: That might be my favorite e-mail ever.
Ryan (Boston): Just wanted to tip my cap to you, sir. This season looked lost for me -- and not just because I am a Detroit Lions fan -- my team started 0-4. I have since gone 8-2 and am in playing next week for the league championship thanks in large part to your advice (notable additions Tyler Thigpen, Steve Breaston, and Matt Ryan). Keep up the good work.
TMR: Thanks.
Herkimer (unknown, although, maybe he's from Herkimer, N.Y. I certainly hope it's not the actual town of Herkimer writing; that'd be odd.) You so-called experts. If everyone did the opposite of your advice they would be better off! You "experts." I wish I could be dead wrong more than 50 percent of the time and still have a job!
TMR: So you're saying I'm money almost half of the time?
Matthew Berry -- The Talented Mr. Roto -- can't shake his cold and still sounds like Bea Arthur. He appears on "Fantasy Football Now," airing Sundays at noon ET on ESPN.com. He is a four-time award winner from the Fantasy Sports Writers Association, including a Writer of the Year award. He is also the creator of RotoPass.com, a Web site that combines a bunch of well-known fantasy sites, including ESPN Insider, for one low price. Use promo code ESPN for 10 percent off. Cyberstalk the TMR | Be his Cyberfriend
Fantasy
• Senior Fantasy analyst for ESPN
• Member, FSWA and FSTA Halls of Fame
• Best-selling author of "Fantasy Life"

SPONSORED HEADLINES
FANTASY TOP HEADLINES
MOST SENT STORIES ON ESPN.COM