Commentary
Talented Mr. Roto: Updated Top 200
Sometime between Susan Boyle becoming an Internet sensation and a bunch of unicorns becoming an Internet curiosity, the NFL held its annual draft. As you may have noticed (and I say "may have" because there's always the chance you live in a cave and are blind and deaf without modern technology) ESPN and ESPN.com went "almost hog" in their coverage of the festivities.
I say "almost hog" as opposed to the whole pig because, while Chris Berman, Mel Kiper, Todd McShay, Trey Wingo and the cast of thousands did their usual fantastic job, we didn't do any network fantasy coverage during the event. Christopher Harris did a terrific live blog during the first two rounds -- I highly recommend it -- but most of all, it ultimately meant I got the two days off. Sweet.
So I went to the draft as a spectator and had a blast. From a fan perspective, I was thrilled my Redskins took a great defensive lineman as opposed to trading up with picks we don't have for a quarterback we don't need. Give Jason Campbell an actual second year with the same offensive system and a healthy offensive line before we decide he's no good, OK? I actually like him a lot from a skill standpoint.
But as you can imagine, being at an event like the NFL draft with tons of ESPN folks around means I got recognized some.
Kid: Excuse me, I'm sorry to bother you, but I just wanted to tell you that you're my favorite ESPN columnist.
Me: Oh, thanks. That's really nice of you to say.
Kid: No, seriously, your favorite column of mine was the cha-cha-cha column.
Me: I didn't write that.
He thinks I'm Rick Reilly. As the kid realizes his mistake and rushes off, I can't decide if this is more insulting to Rick or to myself.
Later on, a woman approaches me.
Woman: Excuse me, I know this probably sounds weird, but my boyfriend is in the other room. He's a huge fan of yours and really shy. Would you mind if he came over and got a picture with you?
Me: Of course not. Bring him over. I'll be here for a bit.
Three minutes later she shows up with a guy.
Woman: (with big flourish) Here he is!
Guy comes up to me and whispers.
Guy: Sorry, man. She thought you were Bill Simmons.
As they walk away, I can't decide if this is more insulting to me or to Bill.
I come back home and open up my mailbag:
Brian (Centerville, Ohio): I've got a friend who is obsessed with you and was wondering if there were any Matthew Berry "products." Bobble Heads, T-Shirts or something like that? Thanks.
TMR: No. But if you buy "Now I Can Die in Peace" or "Shanks for Nothing," I'll autograph it for you.
My conversations -- along with seeing people at the draft and overhearing conversations ("There's Mort! Hey, Keyshawn! Is that Steve Young?") -- led me to realize, whether it is football players for your fantasy team or ESPN personalities or even what you buy for lunch (hot dogs lead hoagies two to one) ... we all rank things differently. And when something new is entered into the equation ("TMR, you're my absolute ... whoa, is that Erin Andrews? Gotta go.") it changes said rankings.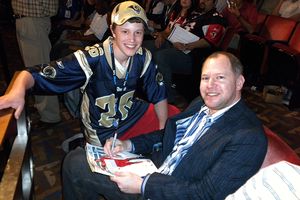 Jim EnrightSigning an autograph for a fan at the NFL draft. He thinks I'm Eric Karabell.
And so it is with this new top 200. We now know where rookies will play, and the ranks will constantly change as we learn more about playing time. Will Mark Sanchez start the year? Where does Edgerrin James land? What about Plaxico Burress? But as of right now, just three days after the draft, here is my latest ranking. I've adjusted some guys based on the draft, hearing my colleagues' thoughts on some players in our recent rankings meeting, recent moves (Matt Ryan moves up because of Tony Gonzalez, for example) and more research and analysis.
If you want answers as to why I've done certain things, like rank Turner above Peterson, made the bottom 20 all defenses and kickers, and why I am a bit down on Philip Rivers, read my previous ranks, done before the draft, by clicking here. If you want my specific feelings about the rookies, watch the video. As we get closer you'll see my feelings on guys in my "love/hate" and everything else we'll do in the preseason.
Without further ado, here is my top 200 as based on an ESPN 10-team standard league.
Michael Turner, Falcons

Adrian Peterson, Vikings

Matt Forte, Bears

Maurice Jones-Drew, Jaguars

Brian Westbrook, Eagles

Clinton Portis, Redskins

Chris Johnson, Titans

Steven Jackson, Rams

Brandon Jacobs, Giants

LaDainian Tomlinson, Chargers

Marion Barber, Cowboys

DeAngelo Williams, Panthers

Steve Slaton, Texans

Drew Brees, Saints

Thomas Jones, Jets

Frank Gore, 49ers

Randy Moss, Patriots
Calvin Johnson, Lions

Tom Brady, Patriots

Larry Fitzgerald, Cardinals

Andre Johnson, Texans

Ryan Grant, Packers

Kurt Warner, Cardinals

Steve Smith, Panthers

Roddy White, Falcons

Reggie Wayne, Colts

Terrell Owens, Bills

Joseph Addai, Colts

Pierre Thomas, Saints

Peyton Manning, Colts

Tony Romo, Cowboys

Kevin Smith, Lions

Anquan Boldin, Cardinals

Greg Jennings, Packers

T.J. Houshmandzadeh, Seahawks

Marques Colston, Saints

Aaron Rodgers, Packers

Jonathan Stewart, Panthers

Dwayne Bowe, Chiefs

Brandon Marshall, Broncos

Wes Welker, Patriots

Philip Rivers, Chargers

Marshawn Lynch, Bills

Tony Gonzalez, Falcons

Ronnie Brown, Dolphins

Reggie Bush, Saints

Darren McFadden, Raiders

Antonio Bryant, Buccaneers

Jason Witten, Cowboys

Vincent Jackson, Chargers


Al Bello/Getty ImagesNo T.O. means more balls thrown Roy Williams' way in Dallas.

Roy E. Williams, Cowboys

Santonio Holmes, Steelers

Matt Ryan, Falcons

Donovan McNabb, Eagles

Le'Ron McClain, Ravens

Derrick Ward, Buccaneers

Santana Moss, Redskins

Matt Cassel, Chiefs

Dallas Clark, Colts

Eddie Royal, Broncos

Knowshon Moreno, Broncos

Willie Parker, Steelers

Jamal Lewis, Browns

DeSean Jackson, Eagles

Braylon Edwards, Browns

Bernard Berrian, Vikings

Chris Wells, Cardinals

Larry Johnson, Chiefs

Hines Ward, Steelers

Antonio Gates, Chargers

Kevin Walter, Texans

Donald Driver, Packers

Jay Cutler, Bears

Laveranues Coles, Bengals

Fred Taylor, Patriots

Bobby Engram, Chiefs

Derrick Mason, Ravens

Cedric Benson, Bengals

Lance Moore, Saints

Matt Schaub, Texans

David Garrard, Jaguars

Ted Ginn Jr., Dolphins

Lee Evans, Bills

Owen Daniels, Texans

Jerricho Cotchery, Jets

Anthony Gonzalez, Colts

Steve Breaston, Cardinals

Kyle Orton, Broncos

Torry Holt, Jaguars

Ben Roethlisberger, Steelers

Ahmad Bradshaw, Giants

Devin Hester, Bears

Donnie Avery, Rams

Michael Crabtree, 49ers

Matt Hasselbeck, Seahawks

Donald Brown, Colts

Plaxico Burress, Free Agent

Sammy Morris, Patriots

Joe Flacco, Ravens

Carson Palmer, Bengals

Willis McGahee, Ravens

Kellen Winslow, Buccaneers

Julius Jones, Seahawks

Justin Gage, Titans

Kevin Curtis, Eagles

Visanthe Shiancoe, Vikings

Chris Cooley, Redskins

Fred Jackson, Bills

LenDale White, Titans

Deion Branch, Seahawks

Domenik Hixon, Giants

Chad Ochocinco, Bengals

Chris Chambers, Chargers

Darren Sproles, Chargers

Eli Manning, Giants

Johnnie Lee Higgins, Raiders

Sidney Rice, Vikings

Tim Hightower, Cardinals

Earnest Graham, Buccaneers

Chester Taylor, Vikings

Antwaan Randle El, Redskins

Patrick Crayton, Cowboys

Justin Fargas, Raiders

Felix Jones, Cowboys

John Carlson, Seahawks

Ricky Williams, Dolphins

Leon Washington, Jets

Jerious Norwood, Falcons

LeSean McCoy, Eagles

Percy Harvin, Vikings

Tony Scheffler, Broncos

Josh Morgan, 49ers

Dustin Keller, Jets

Muhsin Muhammad, Panthers

LaMont Jordan, Broncos

Tashard Choice, Cowboys

Jamaal Charles, Chiefs

Nate Washington, Titans

Michael Jenkins, Falcons

Davone Bess, Dolphins

Devery Henderson, Saints

Correll Buckhalter, Broncos

Greg Camarillo, Dolphins

Dominic Rhodes, Bills

Mark Bradley, Chiefs

Trent Edwards, Bills

Isaac Bruce, 49ers

Rashard Mendenhall, Steelers

Ray Rice, Ravens

Michael Bush, Raiders

Greg Olsen, Bears

Zach Miller, Raiders

Malcolm Kelly, Redskins


Scott Boehm/Getty ImagesForget Mark Sanchez, the rookie that will have the biggest fantasy impact in Jets green is Shonn Greene.

Shonn Greene, Jets

Dennis Northcutt, Jaguars

Laurence Maroney, Patriots

Chaz Schilens, Raiders

James Jones, Packers

Anthony Fasano, Dolphins

Ladell Betts, Redskins

J.J. Arrington, Broncos

Kevin Boss, Giants

Donald Lee, Packers

Brandon Jackson, Packers

Kolby Smith, Chiefs

Danny Ware, Giants

Heath Miller, Steelers

Jeremy Maclin, Eagles

T.J. Duckett, Seahawks

Bo Scaife, Titans

Brent Celek, Eagles

Miles Austin, Cowboys

Jerome Harrison, Browns

Darrius Heyward-Bey, Raiders

Mike Walker, Jaguars

Steve Smith, Giants

Joey Galloway, Patriots

Vernon Davis, 49ers

Bryant Johnson, Lions

Earl Bennett, Bears

TEN D/ST, Titans

PIT D/ST, Steelers

BALT D/ST, Ravens

PHI D/ST, Eagles

TB D/ST, Buccaneers

CHI D/ST, Bears

NYG D/ST, Giants

MIN D/ST, Vikings

SD D/ST, Chargers

NYJ D/ST, Jets

Matthew Berry -- The Talented Mr. Roto -- is now on Twitter as TheRealTMR. He may or may not be interesting on it. He is a five-time award winner from the Fantasy Sports Writers Association, including a Writer of the Year award. He is also the creator of RotoPass.com, a Web site that combines a bunch of well-known fantasy sites, including ESPN Insider, for one low price. Use promo code ESPN for 10 percent off. Cyberstalk the TMR | Be his Cyberfriend
Fantasy
• Senior Fantasy analyst for ESPN
• Member, FSWA and FSTA Halls of Fame
• Best-selling author of "Fantasy Life"