Commentary
Fact: This is Week 10's Love/Hate
Updated:
November 11, 2010, 4:06 PM ET
By
Matthew Berry
| ESPN.com
I was shocked. And not for the reasons you think.

When Brett Favre threw for 446 yards last week, I was amazed that …
• He was making news on the field for once.
• He was doing it with Percy Harvin who, literally, was limping around during warm-ups as Ed Werder was walking alongside him.
• It was the highest yardage total of his career.
• And most shocking to me was the fact that it was only the second time in his 297 games played that Favre had thrown for more than 400 yards.
All the shootouts Brett's been involved in, all the crazy games, you're telling me a guy called "The ol' gunslinger" hasn't really, um, slung? I would never have thought Favre had only the same number of 400-yard passing games as Billy Volek.
In the preseason, a favorite column of mine to write is "50 facts you need to know." Sometimes, I make it "100 facts you need to know" by stretching out the 50 facts with other, associated facts. I always enjoy those columns, the idea being that stats never tell the whole story. Everything, and I mean everything, is opinion. Including stats. Especially stats. Or should I say, the stats I chose to show you.
I use good stats when I am trying to pump someone up, I use bad ones when trying to talk someone down and I can do it with any player. And everyone who does analysis for a living, be it in sports, pop culture, politics or anything else, does the same thing.
For example, tonight marks the start of Thursday football games. And it should be a low-scoring affair since Thursday night games always favor the defense. As ESPN Stats & Information researcher Alvin Anol points out, last year average total number of points per game for the entire 256-game schedule was 42.9. But in the nine Thursday games last year, it was 34 points per game. Obvious, right?
But hang on. What if I show you all the research Alvin did on this question?
Average combined points per game, each season:
2009: 42.9
2008: 44.1
2007: 43.4
2006: 41.3

Average combined points per game, for any game played on a Thursday for those season:
2009: 34.0 (9 games) 2008: 50.4 (10) 2007: 41.0 (8) 2006: 33.4 (8)
Some years it's more on Thursday, some years it's lower. Nothing to be drawn from it. The sample size just isn't significant enough. And when you're dealing with small sample sets, the stats also don't always jibe with perception. Like Favre and Volek having the same number of 400-yard passing games in their career. If you pick the right pair, the right situation, the right circumstances, you can come up with something screwy like that for just about anybody.
Here are 21 more surprising stats:
1. There are only two qualifying quarterbacks this season with a better completion percentage than … David Garrard (67.8).
2. Only three running backs have more rushes of 10-plus yards this year than Adrian Peterson's 22. Arian Foster with 23. Jamaal Charles with 25. And also with 25? Ahmad Bradshaw.
3. No quarterback attempts more passes to running backs than … Philip Rivers.
4. The leaders in red zone targets this year are Hakeem Nicks … and Lance Moore. Each has 13.
5. That's one more than Antonio Gates and two more than … Danny Amendola.
6. Amendola has 11, along with Reggie Wayne, Marques Colston, Roddy White and … Jabar Gaffney.
7. There are only four running backs this year who have been stuffed 20 or more times: Chris Johnson, Rashard Mendenhall, Cedric Benson and Ryan Torain.
8. All of them have at least 160 carries except Torain, who has 91.
9. Only one defense in the NFL has more sacks than … the Oakland Raiders.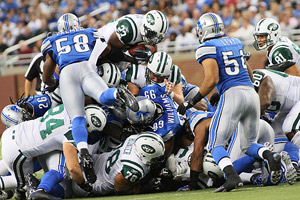 Michael Sackett/US PresswireWant to know why the Lions defense is good? There's a stat for that. Want to know why they're terrible? There's a stat for that, too.
10. Tied for fifth? The Detroit Lions.
11. The Lions are also tied for third in the NFL in takeaways.
12. Of course, the Lions also give up the second-most touchdowns of 20 yards or more.
13. In ESPN standard scoring, Steven Jackson has the same number of fantasy points as … Sebastian Janikowski.
14. And Dan Carpenter has the same amount as Andre Johnson.
15. No team in the NFL has given up fewer points from inside the 20 than the Atlanta Falcons.
16. In the NFC, no team gives up more points inside the 20 than the Dallas Cowboys.
17. In the NFC, no team scores more inside the 20 than the New York Giants.
18. The Cowboys and Giants play each other this week.
19. On pass attempts of 21-plus yards, no quarterback in the NFL has a better passer rating than Vince Young.
20. The Titans just added Randy Moss.
21. No team has allowed fewer rushing touchdowns (one) this year than the Cleveland Browns.
Now don't worry, we'll go back to corny jokes and self-absorbed stories next week. But here's more facts you need to know, divided into helpful "love" and "hate" sections. If you don't get the premise of "love/hate," read last week's column. But with Eric Karabell on vacation this week, I'm not using our ranks as the basis, since me versus the other two is just not as significant. A big shout out to Zach Jones of ESPN Stats & Information for all his help in digging up most of the stats we'll be using here.
Players I love for Week 10
David Garrard, QB, Jaguars is at home this week, off a bye, facing the Houston Texans this week.
• No team allows more fantasy points to opposing quarterbacks than the Houston Texans.
David Garrard against bad defenses this season:
Josh Freeman, QB, Buccaneers has at least 12 fantasy points in five straight games.
• The only team to hold him below double-digit fantasy points is the Steelers (he scored 9).
• He has one fantasy point less than Tom Brady this season.
• The last time he faced the Panthers, it was his best fantasy game of the season (19 points).
• I talk about him like I spoke about Kyle Orton and Arian Foster in the preseason or Jamaal Charles in the first half of last year.
• He is available in 50 percent of leagues.
Only Peyton Manning (6) and Drew Brees (4) have more games with 40-plus attempts than Ryan Fitzpatrick, QB, Bills (3), and Fitzy has started only six games.
• Fitzpatrick's pass attempts the past three games: 43, 48, 51.
• As noted above, the Lions give up the second-most touchdowns of 20-plus yards.
Donovan McNabb, QB, Redskins has been benched for performance reasons once previously in his life.
McNabb before and after benching -- 2008 season
| &NBSP | Before | After |
| --- | --- | --- |
| Team record (W-L-T) | 5-5-1 | 4-1 |
| Completion Percentage | 58.8 | 64 |
| Pass Yards per Game | 251.8 | 229 |
| Touchdown-to-Interception | 14-10 | 9-1 |
I was the only one to rank Shaun Hill, QB, Lions on Wednesday. Now that we know he has been taking the first-team reps in practice, I will rank him even higher on Friday.
• Here are Shaun Hill's numbers while he was the starter in Weeks 2-6.
Attempts: 189 (fourth in NFL)
Pass yards: 1,221 (ninth)
Passing touchdowns: nine (tied for fourth)
• Only the Saints and the Colts have attempted more passes this year than the Detroit Lions.
• The Bills, Hill's opponent this week, allow the fourth-most fantasy points to opposing quarterbacks.
Cedric Benson, RB, Bengals has at least 20 touches in four straight weeks.
• This week, he faces a Colts team that allows 140.9 yards per game on the ground (29th in the NFL), and 5.1 yards per rush, the worst in the NFL.
• The Colts have allowed four 100-yard rushers (which includes Arian Foster twice).
• Only two teams (the Jaguars and Broncos) have allowed more rushing touchdowns.
LeGarrette Blount, RB, Buccaneers has 48 touches the past three weeks.
• Cadillac Williams has 28 over the same time frame.
• The Panthers give up an average of 17 fantasy points a game to opposing running backs and have allowed double digits in every game but one.
Knowshon Moreno, RB, Broncos has seven receptions in his past two games.
• The Broncos are seventh in the NFL in pass attempts.
• Only the Patriots (53) have allowed more receptions to opposing running backs than the Kansas City Chiefs (52).
• The Chiefs have allowed an average of 22.5 fantasy points a game to opposing running backs away from Arrowhead.
Inspired by a stat that Christopher Harris first wrote about in last week's Breakdown: Before Seahawks defensive tackle Red Bryant went down with an injury in the Oakland Raiders game, the Seahawks had allowed just 776 rushing yards on 201 carries, for 3.86 yards per carry.
• Heading into the Oakland game, that was 12th best in the NFL.
• Including all rushes after Bryant left the Oakland game plus the Giants game, which Colin Cole also missed (while subtracting Sage Rosenfels' three kneel-downs) Seattle allowed 361 rushing yards on 61 attempts for 5.91 yards per carry.
• To sum up: With Red Bryant: 3.86 yards per carry allowed. Without him (and mostly without Colin Cole): 5.91 yards per carry.
• Whether it's Beanie Wells or Tim Hightower, RBs, Cardinals, whomever gets the start, I like a lot.
Speaking of whoever gets the start, the Buccaneers allow 147.0 rushing yards per game (30th in the league). Which, if he gets the start (as it looks like he might), makes Mike Goodson, RB, Panthers a decent bye-week flex play fill-in.
The last time Brandon Jacobs, RB, Giants faced the Cowboys, he went for 75 yards and a TD on 12 carries.
• Since their bye week, the Cowboys have allowed six touchdowns in five games to opposing running backs, and three in their past two road games.
• The Giants host the Cowboys on Sunday.
There have been only two games this season in which the Buffalo Bills didn't allow an opposing running back to score.
• In those two games, they did, however, allow 486 total yards to opposing running backs.
• The Bills face Jahvid Best, RB, Lions this week.
Mike Wallace, WR, Steelers has three touchdowns in his last four games. We know he's a deep threat and that Ben likes to throw the deep ball.
Steelers receptions of 15-plus yards since Week 6
• In seven games this year, the New England Patriots have allowed 12 pass plays of 25-plus yards.
We've spoken about how the Bills are among the league leaders in pass attempts recently. Among their leaders is Steve Johnson, WR, Bills.
Most receptions, past five weeks
Marques Colston, Saints: 36
Terrell Owens, Bengals: 31*
Jason Witten, Cowboys: 30
Hakeem Nicks, Giants: 30*
Steve Johnson, Bills: 29*
*In four games played
Randy Moss, WR, Titans averages 5.5 receptions and 122.3 yards in his first game with a new team. And that sample size is growing!
Derrick Mason, WR, Ravens has at least 10 fantasy points in two of his past three games.
• Over the past five games, Mason has led the Ravens in receptions and receiving yards.
• The Falcons have given up an average of 44.3 fantasy points to opposing wide receivers in their past three games.
• The worst season average for fantasy points given up to receivers is 27.3, by the Jacksonville Jaguars.
Steve Smith, WR, Giants in his past three games against the Cowboys:
• 9 catches for 101 yards and a touchdown (Oct. 25)
• 6 for 110 (Dec. 6, 2009)
• 10 for 134 and a touchdown (Sept. 20, 2009)

Earl Bennett, WR, Bears has at least five fantasy points in three straight games.
• During that time frame, he is second on the team in targets and receptions among wide receivers.
• The Vikings have allowed an average of 25.0 points to opposing wide receivers the past four games.
Dustin Keller, TE, Jets faces the Cleveland Browns this week. The Browns have blitzed 146 times this year, among the league leaders.
• The Browns give up the seventh-most fantasy points to opposing tight ends.
• Nobody in the league has more receiving yards than Keller when the quarterback is throwing from outside the pocket.
In the five weeks that Shaun Hill has been the starter, Brandon Pettigrew, TE, Lions led the team in receptions (32) and his 41 targets trailed only Calvin Johnson's 44.
• The Bills allow 11.8 fantasy points per game to opposing tight ends (worst in NFL).
• They have allowed a tight end to get into the end zone in five of eight games.
Marcedes Lewis, TE, Jaguars has more red zone targets than every tight end in the NFL except for Antonio Gates.
When Chad Pennington was the quarterback in 2008, he threw 20 touchdown passes. Eleven of them when to tight ends and seven of them went to Anthony Fasano, TE, Dolphins.
• The Titans have allowed 15 fantasy points or more to opposing tight ends in two of the past four games.
Week 10 Players I Hate:
Tom Brady, QB, Patriots has 13 fantasy points or fewer in five of his past seven games and three of his past four and has not had more than 16 points in any game since Moss left the team.
• The Pittsburgh Steelers have allowed just two touchdown passes in three home games this year.
In his past four games in Chicago, Brett Favre, QB, Vikings has only three touchdowns and five interceptions.
• The Bears allow the fewest fantasy points to opposing quarterbacks this season.
• They have not allowed more than one touchdown pass in any game this season.
Mark Sanchez, QB, Jets has five interceptions in his past three games.
• The Browns allow only 11 fantasy points per game at home.
Ray Rice, RB, Ravens: Rice has never had more than 11 fantasy points in his previous four road games this year.
• The Falcons allow the seventh-fewest fantasy points to opposing running backs.
• They have not allowed a touchdown to an opposing running back since Week 2.
• Rice has scored two rushing touchdowns this season.
Ronnie Brown, RB, Dolphins has more than seven fantasy points in only two games this year and none at home, site of this week's game.
• The Titans have allowed only three rushing touchdowns all season.
BenJarvus Green-Ellis, RB, Patriots has averaged fewer than 2.3 yards per carry in three of his past four games.
• He has topped 25 yards rushing only once in that time frame.
• The Steelers have allowed only three rushing touchdowns all year and only one at home.
• The Steelers have given up a high of 66 rushing yards to opposing rushers in any single game this season.
Miles Austin, WR, Cowboys has three fantasy points or fewer in three of his past four games and four of his past six.
• The last time he faced the Giants, he had 38 yards receiving.
• In the two games since Jon Kitna became the starter, Austin has nine catches but none of them have come in the red zone.
Since Moss left, here are the standard fantasy point totals for Wes Welker, WR, Patriots: 5, 2, 2, 4.
• They don't get too much better in PPR: 12, 6, 5, 8.
• The Steelers have allowed only one touchdown pass to a wide receiver at home this season.
• Welker hasn't scored since Week 2.
• Welker's averaging 8.1 yards per catch this season, compared to 11.0 last season and 10.5 the year before
• He's averaging 4.2 yards after the catch this season. In 2009, it was 5.8. In 2008, it was 6.3.
Percy Harvin, WR, Vikings missed practice on Wednesday with a migraine. He's hobbled by an ankle injury. He faces the Bears this week.
• As ESPN Stats & Information points out, the Bears rank near the top of the NFL in several categories when it comes to big-play prevention in the passing game.
Bears' pass defense on passes 21-plus yards this season
Yards per attempt: 6.8 (second)
Touchdowns allowed: 2 (second)
Passer rating: 38.2 (first)
Brent Celek, TE, Eagles has single-digit fantasy points in every game this year but one.
• He has zero fantasy points in his past two games.
• Only 13 percent of Michael Vick's pass attempts have been thrown to a tight end.
Matthew Berry -- The Talented Mr. Roto -- would like to thank Billy Volek for never texting anyone inappropriately. He is the creator of RotoPass.com, a website that combines a bunch of well-known fantasy sites, including ESPN Insider, for one low price. Use promo code ESPN for 10 percent off. He is a charter member of the Fantasy Sports Writers Association Hall of Fame. Cyberstalk the TMR | Be his cyberfriend
Fantasy
• Senior Fantasy analyst for ESPN
• Member, FSWA and FSTA Halls of Fame
• Best-selling author of "Fantasy Life"

SPONSORED HEADLINES
FANTASY TOP HEADLINES
MOST SENT STORIES ON ESPN.COM