Commentary
The Talented Mr. Roto: Endless drama
Updated:
November 4, 2008, 2:45 PM ET
By
Matthew Berry
| ESPN.com
Before we start, I want to make sure that everyone knows there is nothing more important today than remembering to vote …
… for me for a daytime Emmy, baby!
Hah! Thought I was going another way there, didn't you? Well, never fear. This isn't some selfless, "there are more important things than fantasy football" plea from your friendly neighborhood TMR. Nope, this is still the same self-centered, egocentric opening to the column that you've come to tolerate lo these many months.
On Wednesday, we will be introduced to two very important people. Yes, sure, we will know who becomes the new president of the United States. But even more importantly, America will meet Neil, the jewelry appraiser.
As you may remember, the ABC daytime drama "One Life to Live" (2 p.m. ET, 1 p.m. PT on ABC and 9 p.m. ET/PT on SOAPnet) decided a few months back to cast me in a two-episode arc. "I know it's risky. But we've been on for more than 20 years. What are they gonna do, cancel us?" was supposedly heard around the casting offices when my role was announced.
For more on how it all happened, you can read this column here, and if you want to skip the usual TMR nonsense, you can click here to get right to the football stuff. By the way, if you click the first link, check out the pickups section and see who I recommended you pick up back in Week 3.
Anyway, as for being on a soap opera, it was a fascinating experience. It is both infinitely easier and much, much harder than what I do on a normal day.
The easy part: You get a script a week before. You don't have to write, you don't have to research, nothing. It's all just handed to you. Everything I do at ESPN, I write and "perform" myself. We have so many platforms, I always feel as if I am rushing from one set to another, from one studio to a computer for a column or chat, back to shoot something, then off to another place for radio or a podcast. I'm always in motion. That's the nature of sports, of course. News and analysis is always changing, and in fantasy, player value fluctuates more than my dating life.
But at "OLTL" (that's what us insiders call it) everything is at a very relaxed pace. You show up, you go through a relaxed rehearsal with the director and other cast members, you take a long lunch, you go to makeup, you hit the set. It's all very professional and civilized. If you screw up, there's almost no chance that Larry Johnson decides to run for almost 200 yards and score two touchdowns so that everyone can then call you out on it, often with correctly spelled words.
So it's, like, super easy. Except, of course, that it's super hard. On ESPN, all I have to do is "be myself." Even I can't totally screw that up. But acting is, well, acting. Like being someone else. While not appearing as if you are trying to be someone else. You have to be natural and conversational, with every eye in the joint focused squarely on you. It's like an awkward first date and you're wearing makeup.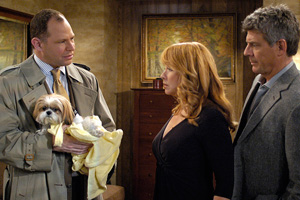 Steve Fenn/ABCA picture is worth a thousand words …
I was constantly trying to figure out what to do with my hands. And desperately trying to remember my lines. While appearing to be listening to what other actors were saying. And not look like a complete tool. And then say my words naturally. And then remember where to walk to and what camera I was supposed to be on without actually looking at the camera. And then remember my next line. The whole thing was a blur. A total blast, but a blur. My co-stars, Christopher Cousins (who plays Cain), Andrea Evans (Tina Lord) and Tallulah Bean (David Vickers, the dog) were unbelievably patient and kind with me. The entire crew was great. I'm convinced I'm a terrible actor, but we'll see what America thinks. Regardless, it was a very cool experience to get out of my comfort zone and play someone else. And not an Adrian Peterson in sight.
Let's get to it. As always, I have saved one pickup this week for the video to make you click on it, and ownership percentages in ESPN standard 10-team leagues are listed in parentheses.
Jamaal Charles, RB, Chiefs (8 percent): If you've read me for any amount of time, you know a few things. Never met a photo op I didn't like. I've been hating on Larry Johnson for a while. And we love us some Jamaal Charles. Since LJ lost the K.C. community service award at a nightclub, Charles has gotten less work than Kolby Smith but been more productive with his touches. He's averaging a terrific 5.7 yards per carry, and he had 106 yards against Tampa Bay on Sunday. Let's review: He's not Larry Johnson. Kolby Smith is out for the year. What more do you want? K.C.'s schedule is a lot easier now than it was at the start of the season, and who knows if LJ ever gets back on the field?
Tim Hightower, RB, Cardinals (74 percent): I am assuming he is owned in your league and, if not, shame on you. Lord knows I, along with many others, have been talking about him for a long time now. In fact, I'm actually mad at myself because, on the podcast last week, I mentioned wanting to research the following comparison but didn't get around to it until now. Check it out:
PLAYER A: (7 games) 407 total yards, five touchdowns.
PLAYER B: (7 games) 272 total yards, six touchdowns.
Player B, as you might have guessed, was Tim Hightower before Sunday's game. Player A? Maurice Jones-Drew in his rookie season. Kinda similar paths. And I was all set to mention (not starting but still very productive, etc.), didn't get a chance, and then Hightower starts and it's all moot now, except to say, hold on to him or try to trade for him. The best is yet to come.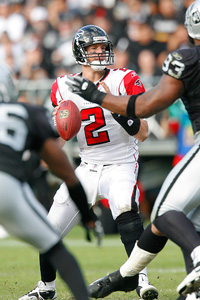 Greg Trott/Getty ImagesMatt Ryan has a very favorable schedule heading into the fantasy playoffs.
Matt Ryan, QB, Falcons (70 percent): Of the potentially available quarterbacks, I like him the best. He's been money lately, with fantasy scores of 14, 16, 15 and 14 the past four weeks. His next two games are against the Saints and Broncos at home -- not exactly the '86 Bears, you know? Plus, there was once a soap opera called "Ryan's Hope." Which didn't last nearly as long as ABC's "One Life to Live," airing weekdays at 2 p.m. ET / 1 p.m. PT on ABC!
Joe Flacco, QB, Ravens (20 percent): Look at the rookie quarterbacks, all fantasy-worthy and everything. They grow up so quick, don't they? Flacco has 38 fantasy points the past two weeks and, on Sunday, he gets Houston in the Hurricane makeup game. The Texans are tied for giving up the seventh-most fantasy points to opposing quarterbacks, so I really like him this week. Then, he's on the road at the Giants, followed by Philly at home, so you probably won't want to be starting him for those. But I know a few things: The kid can play; when I have a salad, I enjoy putting Flacco Bits on it; and this week, he's at worst a top-15 quarterback, easy.
Peyton Hillis, RB, Broncos (0 percent): Stop me when I say something that makes sense. He's a fullback who was buried on the Broncos' depth chart. As a running back this past Sunday, he carried the ball exactly zero times. And yet, after a game in which he caught seven balls for 116 yards and a score, he was the fifth-highest-scoring running back in Week 9. With Michael Pittman and Andre Hall hitting the IR and the fact that Mike Shanahan is nuttier than a NutRageous bar (I'm assuming, never had one of those), Hillis suddenly has value. If I have to own a Denver running back, it's Ryan Torain (36 percent), but I feel like he's been mentioned so often here that folks are sick of him. But that's how I rank them: Torain, then Hillis. Despite what you saw on Sunday, I like Torain in a short week against Cleveland on Thursday.
Sage Rosenfels, QB, Texans (1 percent): Mazel tov! Welcome back to the starting lineup, Sage. While I am not crazy about Rosenfels, I do think he'll put up decent numbers at home against a Ravens secondary that is really banged up. He had 224 yards and two touchdowns on Sunday filling in for Schaub, and anyone who gets to throw to Andre Johnson has value.

Matthew Berry talks with wide receiver Lance Moore about his role in the Saints' offense on Tuesday's Fantasy Focus: Football

Brady Quinn (10 percent) and Daunte Culpepper (0 percent), QBs: One's old, one's new. One's black, one's white. Both have soap opera names. And I include them here together because we just have no idea what to expect. Culpepper will be starting for the Lions very soon with the injury to Dan Orlovsky, and Quinn has been named the starter for Cleveland. You have to like Quinn more considering his weapons and a very nice home matchup with Denver. I always think short weeks tend to favor offense. The Browns then get Buffalo and Houston, so Quinn could be OK for a few weeks, though there are many safer bets out there, in my opinion. It just depends on how lucky you feel. And the same goes for Culpepper, who should soon have the job on a team with weapons, and he will be playing from behind. He's more for really deep leagues, but we are a full-service column here.
Cardinals D/ST (57 percent): If you need a bye-week defense, how about Arizona? Since giving up six scores to Sir Favre, the Cards have had weeks of 14, 18, 2 and 18 fantasy points. This week, they are at home to the 49ers on "Monday Night Football," which airs on ESPN. Which is a sister network to ABC, which airs quality programming. Like the ABC daytime original drama "One Life to Live"! Why not watch on Nov. 5 and 6?
Others receiving votes:
These are guys I wouldn't pick up, but would keep my eye on. Byron Leftwich could have value if the injury to Ben Roethlisberger proves serious. I've always liked Sidney Rice of the Vikings, and he came back last week and got a score. Koren Robinson had one big play that padded his stats, but he used to be good. I am guessing Marc Bulger will put up decent numbers against the Jets. I can't in good conscience recommend Rex Grossman, but he does have some nice skill players around him and it'll get easier after the Titans this week.
By the way, Chiefs wide receiver Mark Bradley (1 percent) has double-digit fantasy points the past two weeks and gets San Diego, New Orleans and Buffalo in his next three.
Previously mentioned: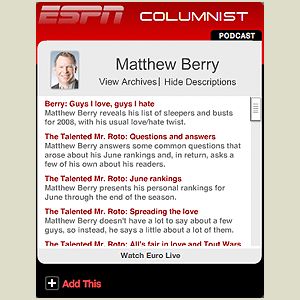 ESPN.comESPN Widgets are portable applications you can place almost anywhere! Click on the image to add the Matthew Berry widget to your Web space.
Here are some guys that have been mentioned in previous columns and who should still be picked up:
Ray Rice
and
Le'Ron McClain
(though I expect
Willis McGahee
back and for it to be another three-way split in Week 10),
BenJarvus Green-Ellis
,
Gus Frerotte
,
Tyler Thigpen
,
Maurice Morris
,
Greg Camarillo
,
Kevin Curtis
,
Antonio Bryant
and
Kevin Smith
.
Feel Free to Drop:
As always, I am not saying you should drop them, but rather that if you need roster space, I am OK with you dropping them: Derek Anderson, Donte' Stallworth, Brandon Stokely, Robert Meachem, Kyle Orton, Marty Booker, Greg Olsen, Fred Taylor, Rudi Johnson, Julius Jones, Todd Heap, Chester Taylor, Cedric Benson, Roy E. Williams, any Raider, J.T. O'Sullivan, Edgerrin James.
Matthew Berry -- The Talented Mr. Roto -- is not ready to start talking about Monday night's game just yet. He appears on "Fantasy Football Now," airing Sundays at noon ET on ESPN.com. He is a four-time award winner from the Fantasy Sports Writers Association, including a Writer of the Year award. He is also the creator of RotoPass.com, a Web site that combines a bunch of well-known fantasy sites, including ESPN Insider, for one low price. Use promo code ESPN for 10 percent off. Cyberstalk the TMR | Be his cyberfriend
Fantasy
• Senior Fantasy analyst for ESPN
• Member, FSWA and FSTA Halls of Fame
• Best-selling author of "Fantasy Life"

SPONSORED HEADLINES
FANTASY TOP HEADLINES
MOST SENT STORIES ON ESPN.COM