Commentary
The Talented Mr. Roto: To be or not to be ... that guy
Updated:
November 11, 2008, 4:53 PM ET
By
Matthew Berry
| ESPN.com
Are you that guy?
It's a profound question not just for life but, more importantly, for fantasy football.
Well, are you that guy?
I always read the ESPN conversation (beta!) after my columns. I find them amusing, it's a good way to see if there's something I've written that needs clarifying or if a mistake happened somewhere in the writing/editing process. And every once in a while, you come across a gem like this, from my "TRUM" on Sunday.
cossackkid01 (ESPN Conversation): So, I laughed you out on your endorsement of Tyler Thigpen. I used his name as an example of how I'd be better at your job than you are. Of course, he's now my starter (with Romo sitting in my IR slot) so I apologize. My problem? How can I start Romo next week with Thigpen ripping up the scoreboard every week? Can I be the guy who benches Romo for Thigpen? I want to be that guy, but I don't know if I have the guts. We shall see. Thanks for all the advice over the seasons, man.
TMR: First, apology accepted. Those don't come along very often in my line of work. Very cool of you and thanks for the Tyler Thigpen acknowledgement. Kinda proud of that one, as it's been three weeks now that I've talked about him.
And I totally understand the dilemma. On one hand, you have the second-best fantasy quarterback from last season who was on his way to being one of the best this season until he got injured. If you have Tony Romo on your team, chances are you drafted him in the third round or earlier. He's a stud, and not just because he's, um, dated both Carrie Underwood and Jessica Simpson. Of course, he's coming off injury, he's rusty and on the road at Washington, a good defensive team that has had two weeks to prepare for a huge division game.
On the other hand, you have Tyler Thigpen. Currently the hottest quarterback in fantasy, he's had weeks of 21, 21 and 24 fantasy points the past three weeks, tied for fifth-best, best and third-best performances among quarterbacks, respectively. He gets the Saints at home this week, a team that is in the top-10 in the NFL in terms of fantasy points allowed to opposing quarterbacks. Of course, this is also a guy who couldn't beat out Damon Huard and Brodie Croyle in the preseason, the Chiefs get Larry Johnson back this week, and so respected is Tyler Thigpen by the rest of the fantasy world that he is still available in 84 percent of ESPN.com standard leagues.
We all want to be that guy. The question is, how do you choose to be ... that guy?
It's a question I'm struggling with in my real life right now. Publically, of course, I am very much that guy. I swing for the fences and make no apologies for it. If you're not finishing first, what does it matter if you're third or last? Me and Herm Edwards, we play to win the game.
However, in my ever-changing love life, I'm not nearly as bold. I am friends with a particular girl that I really like. The problem, of course, is that we are good friends. And she's someone whose friendship I really enjoy. We also have a number of friends in common. So if she's not into it, I still want her to be part of my life in a significant way, for a number of reasons. And I have too much pride to take the wimpy way out and do the whole "have drinks, make a move and if it fails blame it on booze" thing. I've never figured out how you get out of the friend zone and into the, uh, the non-friend zone.
But since we should all live life as if it were fantasy sports, I've decided I'm willing to risk my Tony Romo friendship on the chance that a Tyler Thigpen romance is the right move. Just like I'm willing to make the worst football-as-a-metaphor-for-love analogy of all time right here, in this column. If it means getting out of the "just hoping to make the playoffs" zone and getting into the fantasy, er, dating, er fantasy (where am I on this metaphor again? Told you it was terrible) Super Bowl, then I say don't be afraid to make a bold decision.
Be that guy, Cossack Kid. Go for it with Tyler Thigpen. There's a reason we have a Fantasy Football Hall of Fame. Championships were won on the likes of Ryan Grant and Earnest Graham last year. Billy Volek a few years ago. And this year? It could be Tyler Thigpen. I had Tony Romo on my "never bench" list last week. But honestly, as of right now, I'll probably have Thigpen ahead of Romo in my initial rankings when they come out on Wednesday. But you gotta hit me back. How would you rank my decision to try to make my girl friend my girlfriend?
Along with Thigpen, here are some other potential guys to pick up for Week 11 and beyond. As always, ownership percentages in ESPN standard leagues (which this column is geared toward) are listed in parentheses. And I've saved one pickup for the video just to make you click on it. And finally, those who missed me on "One Life to Live" and want to see a scene can click the video player above as well.
Pickups of the week

Matthew Berry and special guest Michael Smith discuss the Chiefs offense in depth on Tuesday's edition of Fantasy Focus: Football

Tyler Thigpen, QB, Chiefs (16 percent): The Chiefs are running almost their entire offense from the shotgun these days, Thigpen has three legit weapons in Gonzalez, Bowe and Mark Bradley (see below) and best of all, look at the team's upcoming schedule. Home games against the Saints and Bills, then road games at Oakland and Denver, San Diego again, Miami and, for those of you with Week 17 playoffs, it's the Bengals.
Mark Bradley, WR, Chiefs (3 percent): I've mentioned him before as a pickup, but to me the best thing is his emergence has coincided with Thigpen's. In the past three weeks, Tony Gonzalez leads the Chiefs with 30 targets. Mark Bradley is second with 28. Dwayne Bowe is third with 26. In other words, Thigpen's looking for Bradley just as much as he is the other two big guns. Bradley has double-digit fantasy points in each of the past three weeks and he has the same schedule as Thigpen, don'tcha know? He also, of course, has two first names, a fact that never ceases to please the crowds.
Matt Hasselbeck, QB, Seahawks (43 percent): Reports are he is back this week. (Get it? Back? Bwah ha ha ha ha. ... Oh, nevermind). And better yet, he's at home to face a Cardinals team that is second in the NFL in touchdown passes allowed. More importantly, as he gets healthy along with his receivers (see below), he gets the so-so secondary of the Patriots at home in Week 14 and then gets very fantasy-friendly secondaries of the Rams, Jets and the Cardinals again for the final three weeks of the season.
Bobby Engram (30 percent) and Deion Branch (8 percent), WRs, Seahawks: Engram has shown signs of life recently, getting five receptions for 63 yards Sunday, and Branch is back this week. Hasselbeck's return helps them a great deal, as does that schedule and the Seahawks having to play from behind so much. Pick them up in the order I put them.
Peyton Hillis (3 percent) and Selvin Young (40 percent), RB, Broncos: To be honest, I have no idea what's going on with the Broncos' running back situation.
(Music blares, balloons and confetti falls, a pretty girl in a dress and sash comes out along with a guy in a suit holding a microphone)
Suit Guy: "Congratulations, TMR! That is the one millionth time that phrase has been written by fantasy analysts! One million times! Tell me, Matthew, did you think it was possible?
TMR: Look, I'm just trying to go out there, do my job and help other fantasy owners. You always hope in the back of your mind that people are noticing but really, this award could have gone to any number of my colleagues. I just happened to be in the right place at the right time.
Suit Guy: Did you think it could happen?
TMR: With any other head coach, no, but we're dealing with Mike Shanahan here. And to be that consistently confusing, year after year, it did seem like a million might be doable. But seriously, from Olandis Gary to Mike Anderson to Reuben Droughns to Mike Bell to any number of obscure-until-they-hit-Denver running backs to, now, Peyton Hillis, there's lots of guys to thank.
Suit Guy: Well said, Matthew. Well said. Back to you in the studio. ...
TMR: Hold on, suit guy. While we were busy talking, the Broncos went out and signed Tatum Bell, last seen leaving Detroit with a lovely luggage set as a parting gift.
Suit Guy: Bell, eh? That's interesting. Is he worth picking up?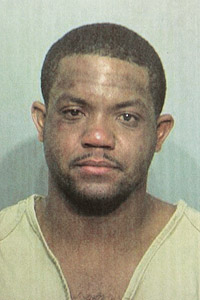 AP PhotoMaurice Clarett is a non-option for the depleted Broncos as he is commited to 3 1/2-to-7 1/2-years with the Ohio Department of Rehabilitation and Correction.
TMR: Well, he knows the offense, which no doubt factored into Denver's decision to sign him almost as much as the fact it was either sign Bell or see about busting Maurice Clarett out of jail. However, I'm still betting on Hillis, because while Bell might know the offense, that only partially mitigates the fact that he's still Tatum Bell, and Selvin Young is just too hurt to trust right now.
Cadillac Williams, RB, Buccaneers (1 percent): Not that you want him (or any Tampa running back) this week against Minnesota, but look at their schedule coming up after that: at Detroit, New Orleans, Carolina in week 14 is tough, but at Atlanta, San Diego and Oakland to finish it off. The Bucks seem to be excited to have him back (the threshold for excitement being low in Tampa Bay), Graham and Dunn have been banged up this year and if you're looking to stash a guy with some upside for the playoffs, I say take a flier on Cadillac.
The anti-pickup of the week
Brady Quinn, QB, Browns (41 percent): By now you know what he did in his debut. And he looked good. Of course, everyone can look good against Denver on a short week. I'm actually listing him here because I don't want you to pick him up. Much rather have Thigpen or Hasselbeck or Joe Flacco than him. But he'll be okay at Buffalo this week and I do like him in two weeks at home against Houston. Then the bottom falls out with games against the Colts, Titans, Eagles, Bengals and Steelers.
The tight end section:
There's lots of tight ends out there, so if you want an upgrade from Jeremy Shockey or some other disappointment, here's who I like, in order:
Kevin Boss, TE, Giants (42 percent): Touchdowns in three straight games.
Billy Miller, TE, Saints (23 percent): The tight end you want on the Saints, he's good for four or five points a game, with upside, on a team that throws the ball a lot.
Todd Heap, TE, Ravens (37 percent): The emergence of Flacco, the injury to Mason and that Heap used to not suck are all factors that put him here. That it was just one game and that the Ravens have a pretty tough schedule coming up keep expectations low.
Others receiving votes: Visanthe Shiancoe (64 percent); Dustin Keller (18 percent). And of course, if someone dropped Tony Scheffler, he looked solid against the Browns and would be my first guy on this list. I also like John Carlson now that Hasselbeck is back.
Those in deeper leagues should note ...
... That Shaun Hill, QB, 49ers (16 percent) did have double-digit points in his first start and gets St. Louis at home this week.
... That his teammate Josh Morgan, WR, 49ers (8 percent) now has a touchdown in two of his last three and also faces the Rams.
... That Antonio Pittman, RB, Rams (7 percent) did have 66 total yards in a blowout loss against a very good Jets run defense and will likely get the start this week against the 49ers.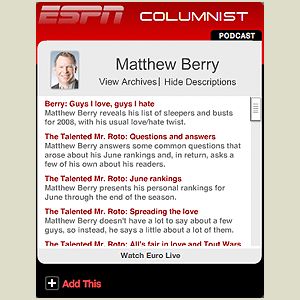 ESPN.comESPN Widgets are portable applications you can place almost anywhere! Click on the image to add the Matthew Berry widget to your Web space.
... That if I wanted a handcuff for Clinton Portis (I still say he plays), I rank them Shaun Alexander (13 percent) and then Rock Cartwright (1 percent) but remember, at least Cartwright has a chance of returning a kick for a score.
... That David Anderson, WR, Texans (1 percent) has at least 40 yards or a touchdown in his past three games.
... That Brandon Jones, WR, Titans (1 percent) has 16 receptions in his past three games.
... That if you need a defense, I think the 49ers D/ST (22 percent) could be a decent play this week at home against the Rams.
Feel Free to Drop:
Not saying you should drop them, but depending on your team needs and league size, I am okay with you dropping any of these players if you need to make room:
Jamaal Charles, Jeremy Shockey, Rex Grossman, Rashied Davis, Maurice Morris, Trent Edwards, Darren McFadden and any Detroit Lion other than Calvin Johnson or Kevin Smith.
Matthew Berry -- The Talented Mr. Roto -- secretly likes the new Pink song "So What." He appears on SportsCenter, NFL Live, Sunday Countdown and gets yelled at on Fantasy Football Now, airing Sundays at noon ET on ESPN.com. He is a four-time award winner from the Fantasy Sports Writers Association, including a Writer of the Year award. He is also the creator of RotoPass.com, a Web site that combines a bunch of well-known fantasy sites, including ESPN Insider, for one low price. Use promo code ESPN for 10 percent off. Cyberstalk the TMR | Be his Cyberfriend
Fantasy
• Senior Fantasy analyst for ESPN
• Member, FSWA and FSTA Halls of Fame
• Best-selling author of "Fantasy Life"

SPONSORED HEADLINES
FANTASY TOP HEADLINES
MOST SENT STORIES ON ESPN.COM