Commentary
The Talented Mr. Roto: Mission Possible
Updated:
November 18, 2008, 8:20 PM ET
By
Matthew Berry
| ESPN.com
If fantasy football is life -- and it is -- then this much is clear …
… Anything can happen. Anything is possible. Anything -- and I mean anything -- is within the realm of possibility.
Kerry Collins is not only a starting quarterback in the NFL these days, but he is at the helm of the only undefeated team. In Week 11. And he's in this week's pickup column. And perhaps most shocking, a guy left for dead at the start of the season and a team's fifth running back are this week's pickups. Anything can happen.
Like this e-mail.
Heather W. (Chicago, Ill.): Oh Matt Berry. I've never loved a man the way I love you. I have Thigpen and Romo. I followed your advice and played Thigpen ... and won because of it to soundly secure my No. 1 league ranking. Matthew J. Berry, I could make out with you right now I'm so grateful. (I don't know if your middle initial is J. or not but the moment was so serious I felt the need to include a middle initial and that one seemed to work).
TMR: Just imagine if I had also told her to start Peyton Hillis over Brian Westbrook? Now, for the record, if you look at last week's TMR column, you'll see Hillis mentioned as a pickup. And a decent amount of you chose to do what so many other Americans do on a weekly basis: ignore me.
Hillis is owned in only 13 percent of leagues and he needs to be picked up in all leagues. Yes, he got two scores last week. And he has at least 17 fantasy points in two of his past three games. But two important facts are being ignored here. First, he's all they got. Even with Tatum Bell (23 percent) and P.J. Pope (1 percent) getting work, we've seen this year that Mike Shanahan will use one guy at the goal line, and that guy will be Hillis. In addition, the Broncos play Oakland this week. That would be the 30th-in-the-NFL, allowing-more-than-190-rushing-yards-a-game-for-four-straight, really-really-bad Oakland Raiders this week. Bell and Pope have value too; any running back under Shanahan can't be counted out. But Hillis should be the No. 1 running back grab this week, assuming Warrick Dunn is taken. If he's not, see below.
By the way Heather, oddly enough, my middle initial is "J." Good guess. Speaking of running backs …
Rich (Portland, Ore.): Roto, I must say your fantasy articles and predictions are as entertaining as seeing a picture of Anne Hathaway. She really is the hottest thing since sliced bread. Kind of that girl who's so-so until she removes her glasses and you realize just how hot she is. Referencing your past articles about the girl you like but haven't had the pair to actually say something to her, you really need to just make the chick laugh. Being a former comedian, just be yourself and make her smile. As the extremely hot Marilyn Monroe once said, "If you can make a girl laugh, you can make her do anything." At any rate, I have to commend you on the Thigpen call. I picked him and have started him every week since his insertion and he's been an absolute beast. Even his mediocre days he's still netting me more than any other quarterback I currently have. At any rate, the only other thing I can say is when are these NFL teams going to stop with the running back committees?! It's driving me crazy. First Leon Washington then Ahman I-Can't-Sneeze-Without-Rupturing-An-Achilles Green.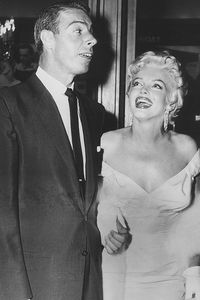 Hulton Archive/Getty ImagesThat's right, if you can make a girl laugh (and put together a 56-game hitting streak, win three MVPs, nine World Series and get into the Hall of Fame), you too can land a great gal like Marilyn Monroe. And become the spokesman for Mr. Coffee, too.
TMR: Lots of stuff to react to, so quickly:
1. Marilyn Monroe is wrong. I make plenty of women laugh. Wait, that didn't come out right. Anyways, maybe it's because I'm actually fairly picky, but I haven't always found that just because I can make a woman laugh means I can, um, make them do anything, as you and Marilyn suggest. Apparently, getting Thigpen over Romo right, however? Score city.
2. Speaking of running back by committees, with Earnest Graham now down for the count, Warrick Dunn (52 percent) and Carnell "Cadillac" Williams (25 percent) are both very solid pickups. Dunn has now had two games this year in which he has gotten more than 20 touches, and he's had more than 100 total yards in both. And guess who comes calling in Week 12? Detroit. I wouldn't start Cadillac, but if you didn't grab him last week, I would this week. But grab Dunn first. Williams will get worked into the offense gradually, and I see him helping down the stretch, especially considering the Bucs play Atlanta, San Diego and Oakland in the final three weeks. By the way, for those in crazy-deep leagues and/or touchdown-only leagues, B.J. Askew (1 percent) got the goal-line carry last week, and Gruden does have a history of giving it to the fullback at the goal line.
3. Ahman Green (21 percent), T.J. Duckett (5 percent) and J.J. Arrington (2 percent) are all on the goal-line-vulture-if-you-are-in-a-deep-league-and-desperate list. In that order. Green is clearly the red zone back, Duckett has three scores in his past four games and Arrington has gotten a decent amount of work in two of his past three. Green is at Cleveland next week, and we all just witnessed what happened on "Monday Night Football," right?
Wow. Look at those three names. Anything is possible.
Dan (Milwaukee, Wis.): Dude, what a pro football weekend. Watched my Packers destroy the Bears while holding my 1-day-old baby boy! Who, incidentally, has more hair than you. Seriously, update your standard head shot. Plus, thanks to your advice, I am riding Thigpen Express to the top of my FF league with Big Underachieving Ben on my bench. Thanks fella. Got to go change a diaper ... it kind of reminds me of Larry Johnson.
TMR: I know, the head shot looks ridiculous. In fairness, I was wearing my hair a lot longer when I first took the shot two years ago, so it's not as bad as it looks, but yes, clearly, I am losing the battle -- if not the war -- with my hairline. Sigh. Speaking of Thigpen, he's owned in only 52 percent of leagues. What are folks waiting for? Speaking of quarterbacks out of nowhere …
Kelsito (Yokosuka, Japan): I really like your love/hate column. And one thing I gotta say is that since we are on the same page with Matt Cassel ... we really underestimated him! We have the league onboard the USS George Washington ... and they are hating on me because I don't know how to run the team, but I know I can rely on you. TMR for Pres!
TMR: I don't think anyone saw Cassel throwing for 400 yards and rushing for 60, which had never happened before in NFL history. Never. But there's no question he can, and will, be an effective fantasy quarterback. Very quietly, Cassel has double-digit fantasy points in four of his past five games and at least 15 points in three of five. And with all the Thigpen talk, many may not have noticed he's owned in only 62 percent of leagues.
By the way, very quietly, Cassel's teammate Sammy Morris came back last week, as well. Now, Morris didn't do much against a tough Jets run defense, but he looked healthy to me and he is owned in only 66 percent of leagues. If I had to own a Patriots running back the rest of the way, I choose him over the firm of BenJarvus Green-Ellis.
Finally, Kelsito, thanks for all you and your shipmates do for our country, by the way. Please never vote.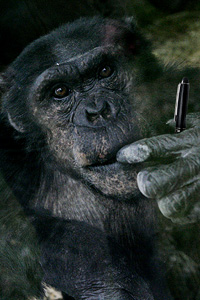 AP PhotoIf you think typing monkeys are expensive, a chimp with good calligraphy can pretty much write his own ticket.
Rex (New York, N.Y.): You are an awful fantasy projector. Mark Bradley? C'mon, I dropped Peyton Hillis on your advice. Also all of those injury reports all of you give are crap. I benched Portis on the reports you guys gave. GET A REAL JOB! AND STOP PROJECTING. YOU'RE AWFUL, A MONKEY COULD DO BETTER!!!!!!!!!!!!
TMR: I'm sure that's true, but in these tough economic times, it's important to remember that I am more affordable than a typing monkey. They don't come cheap, my friend.
Portis shocked everyone, and it's not like he had a great game. I don't deal in injuries, Stephania Bell does and she's terrific at it. And we actually sent out a text alert telling folks that he was active and starting about 45 minutes before game time. Incidentally, you can sign up for those free alerts by clicking here.
One of the things that always irks me is when people yell about stuff I never said. Look, I get stuff wrong. Have before, will again in the future. So call me out on that if you want, but not about stuff that I never wrote. After I got this e-mail I went back and checked. I couldn't imagine I had written that, and sure enough, I didn't. As I mentioned before, I had Hillis as a pickup last week. Not a "feel free to drop." Which brings me to this week's list. I'm not saying you should drop them, but just that if you need roster space and it makes sense for your team, I am OK with you dropping the following players this week:
Kevin Faulk, Brandon Stokley, Eli Manning, Jake Delhomme, Muhsin Muhammad, Isaac Bruce, Edgerrin James, Antwaan Randle El, Billy Miller, Jeremy Shockey, Mewelde Moore and, of course, Earnest Graham is now completely worthless.
Rob S. (Al Anbar, Iraq): I gotta tell ya, I've grown more accustomed to reading your column for the entertainment value than the fantasy advice but, hey, at least I'm reading! OK, the advice isn't half bad but the banter is witty and funny. That, and drawers full of sand are enough for hours of entertainment!
TMR: The TMR. As entertaining as drawers full of sand!
Ryan (Shakopee): It's nice you like to brag whenever you actually have a good prediction, but when are you going to admit how wrong you were on Adrian Peterson before the year started?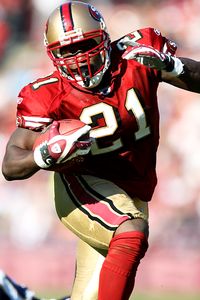 Jed Jacobsohn/Getty ImagesFrank Gore is awesome. There, I said it.
TMR: I had Adrian Peterson ranked fourth-best coming into the season. Overall, he's eighth and currently second among running backs, only four points ahead of fourth. So I wouldn't say I was wrong about him just yet. He's about where I predicted he'd be. Now, Frank Gore -- him I was wrong on. He's been very consistent and my thoughts that he was a second-round guy were clearly off. Speaking of the 49ers, Shaun Hill was my video pickup of the week two weeks ago, and I bring him up here for a few reasons.
One, to remind you about the video pickup. I always list all my pickups for the week in this column, except for one. I save one for the video just to make you watch it. And second, because Shaun Hill is a decent option, especially as a matchup play. Double-digit fantasy points in three straight weeks, you know they will be down, and they'll be passing a lot. Then, you look at his playoff schedule: Jets, at Miami, at St. Louis. Three very generous pass defenses. He's owned in only 22 percent of leagues. And his teammate Vernon Davis is owned in only 34 percent.
You wanna talk about how crazy this year is? How anything is possible? Well, I'm about to recommend you pick up Vernon Davis. And I hate Vernon Davis.
Stephen (Atlanta, Ga.): You said "I bet John Carlson is solid here too." OK, let's bet. I bet Carlson has less than 30 yards and that Visanthe Shiancoe gets a TD and does better than Vernon Davis in fantasy points. If I win I get a two-sentence rant (profanity pending) in the intro to next week's Love/Hate. I was born in Illinois, the Land of Lincoln, how can you refuse?
TMR: By Lincoln, do you mean the man who freed the slaves? Sorry, Stephen, you'll have to settle for your name in this column as a guy who went 0-for-3. Carlson got 39 yards. Shiancoe had 41 yards and no score. And neither of them were as good as Vernon Davis, who had a touchdown for the second straight week. As mentioned before, his last four touchdowns have all come from Shaun Hill. He's owned in only 34 percent of leagues, and while I don't think he is great, he does have value with Hill as quarterback, and he does have the same fantasy-friendly schedule as Hill.
By the way, if you need a tight end, a guy I like even more than him is Dustin Keller of the Jets. Second straight good game for him, he's owned in only 27 percent of leagues, and the Jets have a very nice schedule for tight ends coming up, including this week against the Titans.

Matthew Berry and Nate Ravitz review "Monday Night Football" and discuss Week 12 pickups on Tuesday's edition of Fantasy Focus: Football

Brian (Atlanta): TMR, sorry about the lady problems. I am married and I promise you I have way more problems than the "friend zone."
TMR: And I was worried this column was gonna be a downer.
Chris (Nashville, Tenn.): In Nashville we've started calling the Johnson/White combo Country and Western. If you have ever heard Chris Johnson in an interview, there is no doubt that he is country. LenDale White hails from Southern California, adding the Western. Yeah it's a little bit of a stretch, but it is Nashville (country music capital), and it does work.
TMR: No, it doesn't work. That's terrible. Just like a lot of country music. You guys are on a Kerry Collins high, though, so I'll forgive it. Because under the anything-can-happen premise, Justin Gage being productive isn't that far-fetched. Owned in only 12 percent of leagues, you know about his monster two-touchdown game from last week. But do you know that Gage has four scores in what really amounts to six games played this season? And that in one game in which he didn't score, he had five catches for 92 yards? That last year, over the final eight games of 2008 -- as I've written before -- only 14 receivers had more yards than Gage? That in the three games last year in which Kerry Collins got significant time, Gage had 16 receptions for 234 yards? That the Titans play the Jets, Lions, Browns and Texans in their next four games?
All of those teams have poor pass defenses, so if you're in a deep league and scrambling, I could see Kerry Collins being useful here, as well. He's owned in only 22 percent of leagues. But I really like Gage. If you miss out on him, Deion Branch is still available in over 80 percent of leagues.
Geffery (Indianapolis): Matt, I'm scared. The comments that you have posted over the past 11 weeks from other FFB readers have been nothing short of disturbing. Do people literally take your word as gospel?
TMR: This guy does, yeah.
Mark W. (Bloomington): Mr. Berry, I'm not a religious guy, but if you started one, I would be your disciple. Matthew is No. 1 (chapter) in the new testament and Fantasy forecasting. I read all your stuff and make my own decision based on your knowledge and my gut instinct, which has put me in the 99.9 percentile in the gridiron. Thanks be to Berry.
TMR: This guy, however, not so much.
Scott (Indy): Why do I keep my faith in Donnie Avery? Because you love him every week! If he does nothing this week I will never trust you again! Not that I seriously ever have.
TMR: Well, Avery had 93 yards, so hopefully I've kept your non-serious trust intact for at least one more week. But the Rams are sort of interesting, and I'll tell you why: Antonio Pittman has started two games for them and had 108 total yards in one and 98 in the other. He's owned in only 14 percent of leagues and yes, he faces the Bears. Not great. But he's at home, which favors Pittman. And with Steven Jackson looking like he is going to continue to miss time, it's worth noting that the Rams have four of their next five at home, including games against Miami, Seattle and San Francisco. Kenneth Darby is owned in only 10 percent of leagues and was a big part of the passing game last week, as well. He's not worth grabbing in standard leagues, but for deeper ones, he's not completely useless.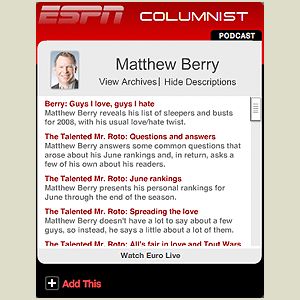 ESPN.comESPN Widgets are portable applications you can place almost anywhere! Click on the image to add the Matthew Berry widget to your Web space.
Bob (Miami): Talk about this guy? Is that what you call it with Kevin Smith? The only thing you've "said" is to stay away from any Detroit RB, which is fine BTW. Anyways, I love how you say you've been touting a guy when he has one good week. "Whoa, whoa, I've been talking about _________ for 3 weeks now." Sure.
TMR: I did have Smith on my "Hate" list last week on the road at Carolina and I was wrong. He had a great game. But you are wrong, because I have been talking about Kevin Smith for a few weeks, including here in my Week 8 pickups. Somehow he is still available in 20 percent of leagues.
Bryce (Charleston, S.C.): Props to you, TMR. I'm sitting here watching the first half of the Thursday game between the Pats and the Jets and it makes me puke a little bit in my mouth that you were right about Gaffney and Moss. As a Moss owner I can honestly say I hope Matt Cassel gets struck by lightning at halftime. He doesn't even look Moss's way on a single play. But back to my point, you were right. (*More vomit.*) Way to go. I figured you don't get too many people saying, "You were right." But you were. (Barring a 2-TD second half by Moss, but you'd still be half right. So kudos.)
TMR: You think that made you sick? Wait till you read this.
Jennifer Z.: Hi, TMR! You're dreamy!
TMR: Will wonders never cease? There I was, thinking it was case closed on the fact that anything, anything at all is possible. And then this came in.
"E-Train" (Oakland, Calif.): TMR ... re: the girl "friend" predicament. Just do what I did: get drunk (preferably her too); crash "platonically" on a water bed (make sure you don't pass out) and as she falls asleep, just snuggle up to her. When she asks what you are doing, just reply matter-of-factly "warm bodies need warm bodies." brilliant! Did it work for me? Not so much, but it sure did provide for years of entertainment and we are still great friends. You're welcome.
TMR: The fact that it didn't work gives me hope there is some semblance to order in the universe.
Matthew Berry -- The Talented Mr. Roto -- is a Capricorn. He is a four-time award winner from the Fantasy Sports Writers Association, including a Writer of the Year award. He is also the creator of RotoPass.com, a Web site that combines a bunch of well-known fantasy sites, including ESPN Insider, for one low price. Use promo code ESPN for 10 percent off. Cyberstalk the TMR | Be his cyberfriend
Fantasy
• Senior Fantasy analyst for ESPN
• Member, FSWA and FSTA Halls of Fame
• Best-selling author of "Fantasy Life"

SPONSORED HEADLINES
FANTASY TOP HEADLINES
MOST SENT STORIES ON ESPN.COM