Commentary
The Talented Mr. Roto: Just saying...
Updated:
December 9, 2008, 6:19 PM ET
By
Matthew Berry
| ESPN.com
I never get to do it during football season.
Lots of activities, of course, could describe what "it" is, but for me, it's "Just saying …"
I have a lot of little writing themes I've done over the course of a 10-year fantasy sports writing career and the "Just saying …" is among my favorites. I do it a lot during baseball (and have for years) and people seem to enjoy it, but it never seems to fit during football.
With this column needing to be a free-agent column and "Love/Hate" being, well, "Love/Hate," the only place I can ever do it really is the Sunday TRUM. And even though it looks fairly easy, it's actually not that easy to write. And I'm so tired on Sundays during the games I honestly never really have the energy to write it then.
But as I swirled (you heard me -- sometimes I swirl) some ideas around for the open to today's column, I had a lot of little thoughts but nothing I felt was great. And by great, of course, I mean something I can wring three reasonably entertaining paragraphs out of.
We are in Week 15. If you are even reading at this point, congratulations. It means you are still alive and you are most likely in the thick of your fantasy playoffs. But there aren't a lot of pickups, you know? There are some, and we will get to them, but for the most part, you're gonna be dancing with the girl that brung ya.
And so, I says to myself, "Self, this is the perfect time to whip out a 'Just saying …' version of the pickup column."
Just Saying …
… That yesterday was my mom's birthday. Happy Birthday, mom! Thanks for, you know, giving me life and everything. Oh, and the whole being-supportive-no-matter-what thing, that was cool. Even when I wanted to chuck a well-paying screenwriting job for a Web site that wasn't making money and dealt in some weird online niche game you didn't understand. Here's hoping you beat Nate's mom in Pigskin Pick'em!
… That personally, I like Selvin Young (36 percent) more than Tatum Bell (16 percent) and I'm not crazy about either guy on the road at Carolina this week. But Bell did manage 68 total yards coming on in relief of Peyton Hillis last week and didn't steal anyone's luggage, so all in all, a good week for Tatum. If you're desperate, Bell will get work Sunday, but if Young can go, I'd rather bet on him, mostly because he's not Tatum Bell.
… That as always, I've saved one pickup for the video just to make you click on it.
Think you know who will win all 34 bowl games this season? Put your prognosticating skills to the test in College Bowl Mania, featuring both confidence-style and straight-up selections. Sign up and play for free

… That it serves me right for giving kicker advice. Every year, month and week I refuse to talk about kickers. I hate them, they are all the same, no good comes from it. So I finally decided to break down and talk about Matt Bryant last week. And I heard from a number of folks who lost games by one point -- or even a fraction of a point -- thanks to Bryant's missed extra point Monday night. Seriously. Can we just play fantasy without kickers? Who's with me?
… That Derrick Ward (82 percent) and Ahmad Bradshaw (29 percent) need to be picked up. In 12-team or deeper leagues that play three running backs, owners should seriously consider Bradshaw if they need a warm body. My guess is if Brandon Jacobs plays, it's not for the full game. Nothing (really) to gain and everything to lose for the Giants. They won last year without home-field, you know?
… That if you get plastic surgery you're not allowed to call out anyone else's toughness. You dig, Jerry Jones?
… That Tashard Choice (13 percent) had almost 170 total yards on the road at Pittsburgh, which is unbelievable. But now he's against the Giants and my guess is Marion Barber plays.
… That before you dismiss Seneca Wallace (3 percent) you should know he now has double-digit fantasy points in each of his past four starts and look at his schedule: At St. Louis, New York Jets, at Arizona. Pretty sweet, and now he actually has someone to throw to.
… That the folks Seneca gets to throw to during his sweet schedule are Deion Branch (14 percent) and John Carlson (46 percent). I've talked about both of these guys a lot, but they are still out there and I have the same amount of confidence in them with Wallace as I did with Matt Hasselbeck under center. My guess is you heard about Branch's two-touchdown game, but Carlson now has 100 yards or a touchdown in three straight games.
… That drinks with Anne Hathaway went for $12,000 recently in a charity auction. If you're gonna donate 12 grand to a charity, that's the way to do it. I wonder what I would go for? $1.50? Two bucks? What if you get to throw the drinks at me?
… That I haven't tallied the votes yet, but Joseph Addai was definitely among the highest vote getters for "players I'll never draft again" in Sunday's TRUM. Among the reasons is Dominic Rhodes (55 percent) who has double-digit fantasy points in three of his past five games, got the touchdown last Sunday and gets Detroit this week. Definitely could see him getting into the end zone this week.
… That as long as we are talking about backup running backs against bad teams, Ladell Betts (21 percent) is seeing more work with Clinton Portis banged up. He had 60 total yards last week, and on the road at the Bengals this week, should continue to be part of the action. Such that it is in Cincy.
… That how angry are you if you were up huge going into Monday night and played against Antonio Bryant? "Company Woman Amanda" from the podcast Man's League was down 45 in a playoff game with only Bryant left to play. And won. Crazy.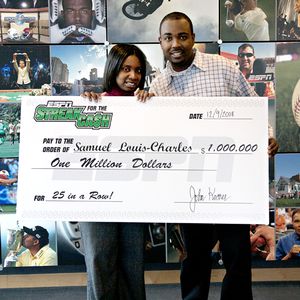 ESPN.comWhat will Sam spend his winnings on ... may I suggest 83 dates with Anne Hathaway?
… That speaking of crazy odds, congrats to Samuel Louis-Charles, who took home $1 million as our ESPN.com Streak for the Cash winner. He picked 25 in a row. Won the cool mil. And then just to show off, kept the streak alive by picking winner No. 26. And yes, the game is coming back, so you'll have another shot at winning a million dollars.
… That somehow, Pierre Thomas is owned in only 63 percent of leagues.
… That I promised last week I wouldn't write about Cadillac Williams (37 percent) ever again, so I'll just mention the Bucs are at Atlanta and then home to play the Chargers and Raiders going forward.
… That I appreciate everyone who wrote in to ask how the "friend zone" thing worked out. It worked out OK. I told her flat out how I felt, she said, "We're friends, I don't think of you like that," and that was that. We're still friends. What are you going to do? It was a while ago. I tend to write about my dating life out of order, so folks I am currently seeing/attempting to see/breaking up with/what have you don't know if I am writing about them or not.
… That the friend in question was a woman. One e-mailer wanted to know if I was struggling with it because I was in the closet. And no, that's not the case. I've thought about it, but I don't think I could handle rejection from a whole other gender.
… That the biggest part of the problem is that I am extremely picky when it comes to dating. It's not easy to find women who are single, smart, cool, funny, attractive and love sports, you know? Oh, and aren't crazy.

Streak for the Cash winner Samuel Louis-Charles joined Matthew and Nate Ravitz on Tuesday's edition of Fantasy Focus: Football

… That I've also mentioned Devin Hester (43 percent) a lot, but he continues to produce with Kyle Orton at quarterback. Considering he has 28 fantasy points in the past three weeks, that the Saints have a terrible pass defense and that it's the Thursday night game (short weeks favor offense), he could have a big game this week. Oh, and Orton is owned in only 78 percent of leagues.
… As long as I am bringing up obvious names like Orton, how about Fred Taylor (63 percent)? In his career, Taylor has a 5.3 yards per carry average, 26 touchdowns and more than 3,800 total yards in December. All of those numbers are highs of any month. He's definitely played better recently, and at home to play Green Bay this week, Taylor will do well.
… That leaving Steve Slaton off of my "rookies who have impressed this year" list in the TRUM was just an oversight. Like I said, I write the TRUM very quickly, hence it being a blog and all.
… That if you need a true Hail Mary pickup this week, Tarvaris Jackson (3 percent) is at Arizona. The Cardinals play much better at home than away, but they have given up the most touchdown passes in the NFL this year.
… That the Patriots have given up more than 1,100 passing yards in their past four road games. So you're gonna have to be really, really desperate to play Johnnie Lee Higgins (6 percent), but I do really like Zach Miller (58 percent) this week as a result.
… That I don't trust Bryant Johnson (17 percent) at all, but if you do, he has a good matchup at Miami. The same cannot be said for DeShaun Foster, who, even if he plays, won't do anything against a Dolphins team that defends the run very well at home.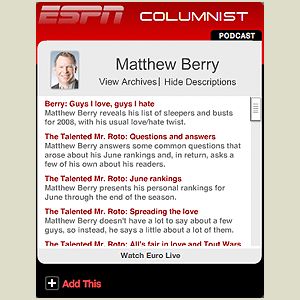 ESPN.comESPN Widgets are portable applications you can place almost anywhere! Click on the image to add the Matthew Berry widget to your Web space.
… That I thought about not doing this format this week because Bill Simmons did his rambling column last week and I already get accused of ripping him off. But a couple of things here: First, as anyone who attended Syracuse in the '90s and read my humor column for the student newspaper will be happy to tell you, this is how I write. Always have. And that I've done "Just saying …" quite a bit over the years for fantasy.
… That the thing most folks don't know about Bill is he's a big reason why I am here. In fact, I owe a large part of my career to Bill Simmons and aside from the fact that creative theft is among the scummiest things you can do in the creative community, he's the last guy I'd ever want to rip off. I respect him too much for that.
… That all of this almost makes me wish I wasn't going to beat his ass in our SimmonBerry hoops league. We're tied at 3-2 and I've been doing it without Josh Smith. If I make no other promise, I swear this: Simmons will have a Fu Manchu in late April.
Matthew Berry -- The Talented Mr. Roto -- has been popular with the blogs lately. He is a four-time award winner from the Fantasy Sports Writers Association, including a Writer of the Year award. He is also the creator of RotoPass.com, a Web site that combines a bunch of well-known fantasy sites, including ESPN Insider, for one low price. Use promo code ESPN for 10 percent off. Cyberstalk the TMR | Be his Cyberfriend
Fantasy
• Senior Fantasy analyst for ESPN
• Member, FSWA and FSTA Halls of Fame
• Best-selling author of "Fantasy Life"

SPONSORED HEADLINES
FANTASY TOP HEADLINES
MOST SENT STORIES ON ESPN.COM