Commentary
The Talented Mr. Roto: Keep your eye on the prize
Updated:
December 18, 2008, 5:02 PM ET
By
Matthew Berry
| ESPN.com
I have seen the future. And it's pretty damn cool.
So I got invited to see that San Diego-Oakland game that they broadcasted in 3-D. I think because they wanted me to write about it. Mission accomplished.
You wear the 3-D glasses and, yeah, you're like … the game is in 3-D. Damn. Players seem to be coming right at you. You feel as if you could reach up and catch the ball. It's one thing to know Oakland is out of touch, but it's another to sift through Al Davis' ear hair.
You know how, on an airplane, you don't realize how crappy coach is until you ride first class? And then you're all offended in retrospect. Warm nuts in a bowl? Instead of whipping a pack of nasty peanuts at me? This is amazing! (I'm easily impressed.)
It's the same way watching football in 3-D. Until I saw this game, I didn't realize how tame some broadcasts were. Amazing stuff done by 3ality Digital and RealD, and apparently they can broadcast anything in 3-D. Think of the possibilities. Golf could become watchable. News wouldn't have to freak us out with weird holograms to impress us. "Baywatch" would become the biggest show in America again, and return The Hoff (I call him The Hoff) to his rightful place atop the list of hairy-chested men surrounded by women way too hot for them. Currently, of course, the leader is Whoopi Goldberg.
(Weird side note: So I couldn't come up with a celebrity who I thought was currently atop that list to complete the joke. So I Googled "hairy-chested celebrities." And I found a number of Web sites that, um, cater, to fans of men with hairy chests and one Web site where you can download a widget to wax The Hoff's chest hair off. I'm actually not joking.)
Anyway, I seem to have gotten off point. And that's actually by design. Because it's Week 16. You can't lose focus now. I have some pickups for you. But not one of the names should be a shock to you. You've heard and read them all before. Chances are, if you made it this far, you don't need any of these guys. But maybe you do. And if nothing else, you need to pick them up so your opponent doesn't. Just because he won't start for you doesn't mean he should start for your opponent, you dig?
Here they are, with ESPN Standard League ownership percentages in parentheses. Because it's a familiar list, my descriptions about them will be short. And as always, I've saved one pickup for the video to make you watch it.
Pickups of the Week:
If you need a running back …
Pierre Thomas, RB, Saints (78 percent): Eight scores in his past five games yet he is somehow still available in some leagues. Arguably the hottest running back in the league and that's without knowing what his chest looks like. And he plays Detroit.

Matthew Berry and Nate Ravitz scour the waiver wire for anyone needing a playoff pickup on Tuesday's edition of Fantasy Focus: Football

DeShaun Foster, RB, 49ers (11 percent): If Frank Gore can't go again this week (and it looks as though that may be the case), Foster looked much better than expected last week, exceeding 100 total yards on 23 touches. On the turf in St. Louis this week makes for a pretty good matchup.
Dominic Rhodes, RB, Colts (67 percent): They say Joseph Addai will be back this week, but I would still rather have Rhodes, who has four scores in his past four games, double-digit fantasy points in four of his past six and gets Jacksonville's 17th-ranked run defense on a short week.
Tashard Choice, RB, Cowboys (31 percent): Yes, he faces the Ravens this week. But he's put up 15 and 20 fantasy points respectively the past two weeks against the Steelers and Giants, neither of whom is a slouch in run defense. Barber isn't right and the game is in Dallas.
Cedric Benson, RB, Bengals (37 percent): I hate myself for even writing his name. (I know! Finally a reason to hate myself!) He had more than 160 total yards against my Redskins last week. (Look! Another reason!) And, you take a closer look and what do you know? Benson has averaged 21 touches the past six games and gets Cleveland's 28th-ranked run defense this week.
Chester Taylor, RB, Vikings (57 percent): He has now scored in four straight games and in five of his past six. The Falcons have given up 15 rushing touchdowns this year and the Vikings are at home.
Maurice Morris, RB, Seahawks (29 percent): Only if you are truly desperate, but he is getting the majority of the carries and the Jets can't seem to tackle anybody these days.
P.J. Pope (0.2 percent), Tatum Bell (37 percent) and Selvin Young (36 percent), RBs, Broncos: Look, you'd be nuts to start any Denver running back in Week 16. But maybe you're crazy, maybe you're truly desperate and maybe you just want to play defense. It's a nice matchup at home against Buffalo and, of the three, Pope actually had the best fantasy day Sunday. I've listed them in the order in which I would pick them up.
If you need a quarterback …
Think you know who will win all 34 bowl games this season? Put your prognosticating skills to the test in College Bowl Mania, featuring both confidence-style and straight-up selections. Sign up and play for free

Shaun Hill, QB, 49ers (43 percent): Double-digit fantasy points in seven straight games. Plays the Rams.
Seneca Wallace, QB, Seahawks (6 percent): OK, he wasn't great against St. Louis. But he had double-digit fantasy points in four straight before that and getting the Jets at home is a reasonable matchup.
Dan Orlovsky, QB, Lions (3 percent): Looked good against the Colts, gets the Saints' 26th-ranked pass defense at home and still has Calvin Johnson to catch whatever he can get downfield.
And by the way, if Brian Griese (4 percent) plays, he'd be OK at home against the Chargers and I could see Tarvaris Jackson (5 percent) having a good game in a shootout with Atlanta. And don't laugh, but JaMarcus Russell (23 percent) is at home against Houston and had 15 fantasy points last week.
If you need a wide receiver …
Deion Branch, WR, Seahawks (25 percent): Still available in tons of leagues, he followed up the two-touchdown game with 76 yards. Jets are 29th against the pass and only six teams have given up more touchdown passes.
Devin Hester, WR, Bears (50 percent): Now has 32 fantasy points in his past four games and gets the Packers, who have clearly packed it in. Sorry. I couldn't resist. Add another reason to the list.
Michael Jenkins, WR, Falcons (28 percent): He is not great. But if you need 50 yards, he's gotten that in seven of his past nine games. And despite the Arizona game, I'm not buying the Vikings' pass defense just yet.
If you need a kicker …
Just kidding.
Matty's Mailbag:
<Jeff (Chicago): Berry, you need to stop whining, seriously. Nobody cares about how pathetic your life is, or your fantasy teams. If you actually had good teams, you would have advanced in the playoffs. You knew how your league setup was, so don't complain about it now. You couldn't be more annoying.
TMR: Oh yeah? Couldn't be more annoying you say? What if I make this noise? Bleeeeeeeeeeneeeeeeeeeeeeeeeeeeeeeeeee. Trust me, if you were sitting next to me right now, you'd take that back.
Tarek (unknown): I hate you for loving Orton. I have listened to you for the majority of the year and you have been good to me. You took me to my league semi-finals. But you may have really screwed me over here. I have Matt Ryan, but I listened to you. If Ryan has a bad day I will forgive you.
TMR: Whew. Dodged that bullet. Incidentally, "I hate you for loving Orton" sounds like something that would peak at No. 33 on the country music charts.
Wes (Nappanee, Ont.): Matthew, Sunday I'm watching the games and an ESPN fantasy alert comes via text message to my cell. I take a look at the message and actually laugh out loud. Here is what the message said, "Bengals RB Cedric Benson rushed for 64 yds, caught 2 passes for 86 yds after 3 quarters vs. Redskins." And to top it all off the promo for FFNOW ... "Watch Matt Berry on FFNow, Sun 12 p.m. ET". That's definitely a "three strikes and you're out text." Benson, Redskins and the "Not my professional name." Had to hurt! Later, Wes
TMR: Yes, but you bringing it up again makes it all better. Sigh. In fairness to the guys doing the text alerts, they only have so many characters to use, so they can't use my full name. They asked first and I said OK. You can sign up for free mobile alerts on every team, fantasy, breaking news, whatever you want. Just click here.
Ryan (W. Lafayette, Ind.): I finally wanted to thank you for your preseason pick of Dallas Clark. I drafted him maybe a little too high, but I wanted him because of your pick. He was the first tight end to go. Up to this point, I was a little upset I didn't take Witten. Well, Clark's huge game just pushed me into our championship game. Thank you, Mr. Roto. I'll never doubt again.
TMR: You mean like T-Money here?
T-Money (Detroit): TMR, you know, I respect your game and your knowledge and all that, I don't know if you try some weeks. I mean really, ["you love"] Calvin at Indy with [a backup] throwing to him? Keep up TMR.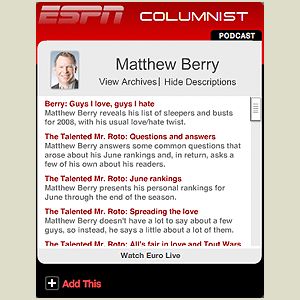 ESPN.comESPN Widgets are portable applications you can place almost anywhere! Click on the image to add the Matthew Berry widget to your Web space.
Charlie (Nashville, Tenn.): Matthew, feeling better I hope? I'm just glad I'll finally be able to sleep again because, as of last night, I closed out our league championship. It was a glorious victory over my best friend and roommate. What makes it even more sweet is that I've officially redeemed myself from drafting Vince Young 14th overall in last season's draft (my first time as a fantasy owner). Anyway, I'm emailing to say thank you. I spent most of my season following your lead. From using your rankings for draft day (I love Chris Johnson and Matt Forte!!!) to riding Thiggy all the way to the championship. I figured in your line of work compliments can be few and far between so it was worth a thank you email.
TMR: Thanks, Charlie. You know it's true, in this line of work you don't often hear …
Ned (Philadelphia): I just wanted to say that your work product has gotten progressively worse as your confidence has grown. Just wanted to kick you a little bit while you were down. I still read so I guess you win, but I hate you.
TMR: We have something in common, Ned. See Benson, Cedric.
Adam (New York): What's up with all your "See ______, ______?" Is it just laziness or are you intentionally trying to annoy the [expletive deleted] out of your readers?
TMR: Why does it have to be one or the other?
Matthew Berry -- The Talented Mr. Roto -- is a Capricorn. He appears on Fantasy Football Now, airing Sundays at noon ET on ESPN.com. He is a four-time award winner from the Fantasy Sports Writers Association, including a Writer of the Year award. He is also the creator of RotoPass.com, a Web site that combines a bunch of well-known fantasy sites, including ESPN Insider, for one low price. Use promo code ESPN for 10 percent off. Cyberstalk the TMR | Be his Cyberfriend
Fantasy
• Senior Fantasy analyst for ESPN
• Member, FSWA and FSTA Halls of Fame
• Best-selling author of "Fantasy Life"