Commentary
Pacific Division preview
Updated:
September 21, 2010, 1:31 PM ET
By
Victoria Matiash
| Special to ESPN.com

Additions: Antti Niemi, G (Chicago); Antero Niittymaki, G (Tampa Bay); Jamal Mayers, RW (Calgary)
Subtractions:: Evgeni Nabokov, G (Russia); Rob Blake, D (retired); Manny Malhotra, C (Vancouver); Jed Ortmeyer, RW (free agent); Brad Staubitz, RW (Minnesota)
Depth Chart
First line: Patrick Marleau, Joe Thornton, Dany Heatley
Second line: Ryan Clowe, Joe Pavelski, Devin Setoguchi
Third line: Jamie McGinn, Logan Couture, Jamal Mayers
Fourth line: Frazer McLaren, Scott Nichol, Torrey Mitchell
First pairing: Dan Boyle, Marc-Edouard Vlasic
Second pairing: Douglas Murray, Jason Demers
Third pairing: Kent Huskins, Niclas Wallin
Starting goalie: Antti Niemi
Backup: Antero Niittymaki
Just Missed: Tomas Greiss, G; Cameron MacIntyre, RW; Derek Joslin, D
The Lineup and Plus/Minus Effect
Jason O. Watson/US PresswirePatrick Marleau scored a career-high 44 goals last season while posting his third-best career assists total.
The Sharks finished fourth in scoring last season, thanks largely in part to the contribution from the top line of Patrick Marleau, Joe Thornton and Dany Heatley. All three netted between 82 and 89 points each and garnered plus/minus numbers ranging from plus-14 to plus-21. As far as fantasy assets go, these three are top-notch. In terms of secondary scoring, the Sharks want more from Joe Pavelski and Devin Setoguchi, who both missed several games in '09-'10. Pavelski, if healthy, has a decent shot at amassing 60 points by April.
Power Play
Veteran defenseman Dan Boyle runs the show on the top unit and is poised to collect 25-30 power-play points once again. Fellow blueliners Marc-Edouard Vlasic and sophomore Jason Demers will also see regular action with the man-advantage. ... The team is hoping for a breakout performance from young Logan Couture after a modest debut in 2009-'10. The 21-year-old will have ample opportunity to strut his stuff as a regular member of the secondary unit.
Keep An Eye On
Thomas Greiss must be peeved. At one point this summer he was on the cusp of getting regular starts as a backup to Antero Niittymaki, and then he's bumped down to the No.3 position after his team signs the reigning Stanley Cup-winning goaltender. That's gotta smart. As for Antti Niemi, we'll find out soon enough if last season's stellar performance was legitimate or fluke. Keep in mind, Niemi has only played in 42 NHL regular-season games; hardly a large enough sample to properly assess his talent moving forward.

Additions: Ray Whitney, LW (Carolina); Andrew Ebbett, C (Minnesota)
Subtractions:: Matthew Lombardi, C (Nashville); Daniel Winnik, LW (Colorado); Zbynek Michalek, D (Pittsburgh); Jim Vandermeer, D (Edmonton)
Depth Chart
First line: Ray Whitney, Wojtek Wolski, Shane Doan
Second line: Scottie Upshall, Martin Hanzal, Radim Vrbata
Third line: Petr Prucha, Kyle Turris, Lee Stempniak
Fourth line: Taylor Pyatt, Vernon Fiddler, Brett MacLean
First pairing: Ed Jovanovski, Keith Yandle
Second pairing: Derek Morris, Adrian Aucoin
Third pairing: Sami Lepisto, Oliver Ekman-Larsson
Starting goalie: Ilya Bryzgalov
Backup: Jason LaBarbera
Just Missed: Mikkel Boedker, RW; Viktor Tikhonov, RW; Andrew Ebbett, C; David Schlemko, D
The Lineup and Plus/Minus Effect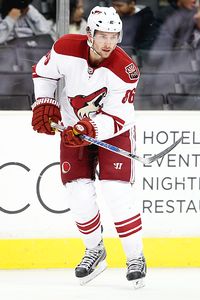 Ric Tapia/Icon SMIWojtek Wolski set career highs in goals (23) and assists (42) in 80 games last season.
Disregard last season's production-by-committee philosophy of one-for-all-and-all-for-one. The addition of veteran Ray Whitney takes the top line to a higher plateau. Shane Doan will near the 30-goal mark once again, while Whitney's presence may very well boost Wojtek Wolski's value to another level entirely. After averaging a point per game in 18 contests with the Coyotes last season, Wolski is in position to lead the team in scoring while collecting 75 points in the process. Altogether, you can anticipate a larger gap in production between the top and secondary trios this season.
Power Play
Defenseman Keith Yandle may not put in a lot of minutes on the ice, but he definitely makes the most of them. The power-play specialist netted 41 points last season, including 16 with the man advantage. Due to their regular roles on the power play, Yandle and veteran Ed Jovanovski are your most valuable fantasy assets on the blue line by a significant margin ... Back in the NHL after a year's absence, 21-year-old Kyle Turris is tabbed to skate regularly on the second unit. The Coyotes are hoping their first round draft pick (3rd overall in 2007) will benefit from spending all of last season in the AHL. Here's wagering he does.
Keep An Eye On
Lee Stempniak made the best impression possible as a late season acquisition, netting 14 goals(!) and four assists in only 18 games with the Coyotes. Then he completely fizzled in the postseason. And that's what you can expect from Stempniak; consistent inconsistency. Don't be wooed by last year's honeymoon in the desert; a healthy Stempniak is a 40-point man (at best) through a full season.

Additions: Alexei Ponikarovsky, LW (Pittsburgh), Willie Mitchell, D (Vancouver)
Subtractions:: Alexander Frolov. LW (New York Rangers); Fredrik Modin, LW (Atlanta); Jeff Halpern, C (free agent); Raitis Ivanans, RW (Calgary)
Depth Chart
First line: Ryan Smyth, Anze Kopitar, Dustin Brown
Second line: Alexei Ponikarovsky, Michal Handzus, Wayne Simmonds
Third line: Andrei Loktionov, Jarret Stoll, Justin Williams
Fourth line: Scott Parse, Brad Richardson, Kevin Westgarth
First pairing: Jack Johnson, Drew Doughty
Second pairing: Rob Scuderi, Matt Greene
Third pairing: Willie Mitchell, Peter Harrold
Starting goalie: Jonathan Quick
Backup: Jonathan Bernier
Just Missed: Oscar Moller, RW; Richard Clune, LW; Brayden Schenn, C; Thomas Hickey, D
The Lineup and Plus/Minus Effect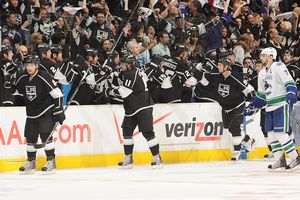 Noah Graham/Getty ImagesThe Kings' top line of Kopitar, Smyth and Brown, along with defenseman Drew Doughty, were the Kings' top four scorers last season, though only Kopitar managed close to a point per game (81 in 82 games).
We're familiar with what Anze Kopitar, Ryan Smyth and Dustin Brown can accomplish as a top line, it's the secondary threesome that's most intriguing. Alexei Ponikarovsky was signed in July, plugging what was a gaping hole on the left alongside Michal Handzus and Wayne Simmonds. This assembly could work out very nicely. If Ponikarovsky uses his big body (he never fully exploited his size as a member of the Toronto Maple Leafs and his stint with the Pittsburgh Penguins was too short to judge) to create space for his linemates, this trio could be incredibly productive. With his speed, Simmonds in particular could have a bang-up year.
Power Play
Drew Doughty established himself as an elite offensive defenseman last season, and now it's Jack Johnson's turn. Perhaps the "elite" label is a smidgen out of reach, but Johnson has the tools to be very, very good. The 23-year-old pushed his game to a higher stage last season and gained some confidence from his experience at the Olympics as well. In slightly crass terms, he's screwing up less and less, all the time. As Doughty's partner on the top power-play unit, Johnson is poised to boost his production up another notch, starting immediately. ... If healthy, Justin Williams is a huge asset on the No.1 unit along with Kopitar and Smyth, but that's a heavy "if." Unfortunately, for the Kings and fantasy owners alike, Williams has been hurt more often than not since 2006-'07.
Keep An Eye On
Hot prospect Thomas Hickey is ready to make a bit of scoring noise, especially if another blueliner falls injured. The 21-year-old has a sparkling future as top offensive defenseman and power-play quarterback. The Kings will want to give him some work.

Additions: Andy Sutton, D (Ottawa); Aaron Voros, LW (New York Rangers); Toni Lydman, D (Buffalo); Danny Syvret, D (Philadelphia)
Subtractions:: Scott Niedermayer, D (retired); James Wisniewski, D (New York Islanders); Steve Eminger, D (New York Rangers); Mike Brown, RW (Toronto)
Depth Chart
First line: Bobby Ryan, Ryan Getzlaf, Corey Perry
Second line: Jason Blake, Saku Koivu, Teemu Selanne
Third line: Aaron Voros, Todd Marchant, Joffrey Lupul
Fourth line: Matt Beleskey, Kyle Chipchura, Troy Bodie
First pairing: Lubomir Visnovsky, Toni Lydman
Second pairing: Andy Sutton, Sheldon Brookbank
Third pairing: Luca Sbisa, Brett Festerling
Starting goalie: Jonas Hiller
Backup: Curtis McElhinney
Just Missed: George Parros, RW; Brandon McMillan, LW; Dan Sexton, RW; Brendan Mikkelson, D; Danny Syvret, D
The Lineup and Plus/Minus Effect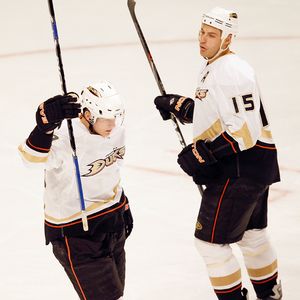 Jonathan Daniel/Getty ImagesRyan Getzlaf and Corey Perry were drafted together in 2003 and have combined for 610 points in 731 NHL games.
The Ducks' top line is already equal to the best in the league, and the more experience Bobby Ryan gathers, the better it will become. After a spectacular debut in 2008-'09, Ryan didn't seem as dangerous last season, and yet he still scored 35 goals. Ridiculous, yes? Mired in active contract negotiations at the time of this writing, a short-term deal is currently more likely than a lengthy one. Should that be the case, there's even more incentive for Ryan to establish himself as a 40-plus goal-scorer sooner rather than later. It also doesn't hurt that Ryan Getzlaf is completely healthy and ready to play a full season.
Power Play
The Finnish Flash is back for one final kick at the can (pinky swear), and 40-years-old or not, Teemu Selanne is a fantasy gem. Selanne had 48 points in 54 games last season including 27 on the power play. Even if he doesn't play a full season, his value is exceptional. Selanne's fellow Finn and on-ice buddy Saku Koivu reeled in 52 points in 72 games himself, 19 of which came with the man advantage. Both are healthy and you can expect similar numbers this season. ... Following the retirement of Scott Niedermayer and the departure of James Wisniewski, Lubomir Visnovsky remains completely in charge of conducting the show from the blue line. Luca Sbisa, the 20-year-old defenseman, will likewise get some minutes with the extra man, but only a small fraction compared to Visnovsky.
Keep An Eye On
However unlikely, Cam Fowler could make an appearance for the Ducks at some point this season; he signed a three-year deal with the team over the summer. Although only 18 years old, Fowler is often compared to Scott Niedermayer. High praise, indeed.

Additions: Adam Burish, RW (Chicago); Andrew Raycroft, G (Vancouver)
Subtractions:: Mike Modano, C (Detroit); Marty Turco, G (Chicago)
Depth Chart
First line: Brenden Morrow, Brad Richards, Loui Eriksson
Second line: James Neal, Mike Ribeiro, Krystopher Barch
Third line: Jamie Benn, Tom Wandell, Adam Burish
Fourth line: Steve Ott, Toby Petersen, Raymond Sawada
First pairing: Nicklas Grossman, Stephane Robidas
Second pairing: Trevor Daley, Matt Niskanen
Third pairing: Karlis Skrastins, Jeff Woywitka
Starting goalie: Kari Lehtonen
Backup: Andrew Raycroft
Just Missed: Fabian Brunnstrom, LW; Brandon Segal, RW; Brian Sutherby, LW; Philip Larsen, D
The Lineup and Plus/Minus Effect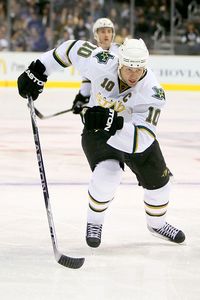 Jeff Gross/Getty ImagesBrenden Morrow's 69 penalty minutes last season marked the first time the forward failed to accumulate at least 100 minutes in a season in which he playd at least 70 games.
Linemates Brad Richards and Loui Eriksson are your top two fantasy assets from a moderately shallow pool. Richards will toy with the 80-point mark and Eriksson could ring up 70 through a full campaign. Brenden Morrow is due to return to form after netting only 46 points in 76 games last season. Mike Ribeiro's best years are behind him; the magic attained by pure over-achievement from 2007-2009 will never happen again. If Ribeiro collects 60 points this season, no one should complain. And although he's not the sexiest fantasy asset out there, Steve Ott will provide enough points and penalty minutes to merit a roster position in most leagues. ... In terms of plus/minus, don't delude yourself: Most Stars' forwards are doomed to wallow in the red.
Power Play
If the Stars have the man advantage, Richards is probably on the ice. With 40 power-play points last season, he left expectations, and the rest of his teammates, way behind. Sophomore Jamie Benn will also be enlisted often with the extra skater; after notching 42 points in his rookie season, the kid has earned a regular role. ... Stephane Robidas remains the No.1 quarterback on the top unit and, in all honesty, he deserves more fantasy respect. Many argue the Stars should acquire a defenseman more suited to that post, but they haven't. So, like it or not, Robidas is the man and he's doing his best. Averaging a point every two games as a defenseman is nothing to criticize either.
Keep An Eye On
Most agree that, when able-bodied, Kari Lehtonen can hold his own. However, his history of serious back problems is a real turn-off. Lehtonen only played 12 games last season while undergoing surgery twice. He'll have to prove his health issues are behind him before fantasy players are instilled with any amount of confidence.
Victoria Matiash is a fantasy hockey analyst for ESPN.com.
SPONSORED HEADLINES
FANTASY TOP HEADLINES
MOST SENT STORIES ON ESPN.COM
2011 Hockey Draft Kit
ESPN.com's fantasy experts offer all the information you'll need to succeed in your draft this year.
Draft Kit Home
2010-11 Projections and Profiles
• All players | Sortable
• Forwards | Defensemen | Goalies
2010-11 Rankings
• Forwards | Defensemen | Goalies
Strategy and Analysis
• Eight simple rules for winning your league
• Rookies you need to know
• Focus on sophomores
• Offseason movement synopsis
• TSN.ca: Bounceback and breakthroughs
Division Previews
• Atlantic Division preview
• Central Division preview
• Northeast Division preview
• Northwest Division preview
• Pacific Division preview
• Southeast Division preview