Commentary
Pacific Division preview
A look at the Ducks, Stars, Kings, Coyotes, Sharks from the fantasy perspective
Updated:
September 25, 2009, 10:42 AM ET
By
Sean Allen
| Special to ESPN.com
Additions: Joffrey Lupul, LW (Philadelphia); Saku Koivu, C (Montreal); Luca Sbisa, D (Philadelphia); Nick Boynton, D (Florida); Evgeny Artyukhin, LW (Tampa Bay)
Subtractions: Chris Pronger, D (Philadelphia); Francois Beauchemin, D (Toronto); Drew Miller, LW (Tampa Bay)
Depth Chart
First line: Bobby Ryan, Ryan Getzlaf, Corey Perry
Second line: Joffrey Lupul, Saku Koivu, Teemu Selanne
Third line: Andrew Ebbett, Todd Marchant, Erik Christensen Fourth line: Evgeny Artyukhin, Petteri Nokelainen, George Parros
First pairing: Scott Niedermayer, Ryan Whitney
Second pairing: James Wisniewski, Nick Boynton
Third pairing: Steve Eminger, Luca Sbisa
Top goalie: Jonas Hiller
Backup: Jean-Sebastien Giguere
Just Missed: Ryan Carter, LW; Steve McCarthy, D; Justin Pogge, G
The Lineup and Plus/Minus Effect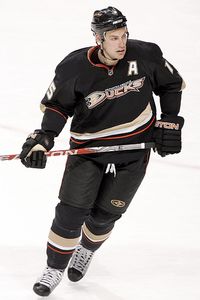 Debora Robinson/Getty ImagesRyan Getzlaf scored 91 points in 2008-09. Could he do even better this season?
There is little doubt as to who the top six forwards are for the Ducks. Coach Randy Carlyle will give big minutes to his first two lines and top four defensemen at the expense of others, but that is just fine with fantasy players who would surely like to see Ryan Getzlaf approach 40 minutes a night. … With the more stable Jonas Hiller stealing the starting job for this season, the Ducks should breed quality plus/minus, and the top players likely will approach the plus-15 mark this season. There should be no concerns about any of the fantasy-relevant Ducks being a drag on plus/minus. … The battle between Hiller and Jean-Sebastien Giguere should be a little more drawn out than we made it sound in the previous note. Giguere has the big money and the history of being the team's No. 1, but Hiller was far superior last season and stole the job when it mattered going into the postseason, where he played even better. Hiller's value as a cemented No. 1 could be argued as top five in fantasy, but given the shadow of doubt that exists, it's tough to draft him as such. Those who draft Hiller would be wise to handcuff Giguere toward the end of their draft.
Power Play
The lineup might revert to the Ryan Getzlaf-Corey Perry-Teemu Selanne connection on the power play, which definitely elevates Selanne's potential as a specialist in ESPN leagues. Scott Niedermayer and Ryan Whitney played plenty of point on the man advantage together last year, so they can easily pick up where they left off without Chris Pronger. … If the team decides to keep Selanne on a second power-play unit, Bobby Ryan might even be better than the top-20 skater we think he'll be already. … A role on the power play could also be the difference between whether we get a 50-point season out of Saku Koivu or the occasional 70-point season. If you see him playing a lot of power-play minutes in the early going, jump on board.
Keep An Eye On
James Wisniewski could gain a larger role on offense if Ryan Whitney cannot continue to bounce back from recent subpar seasons. In his 17 games with Anaheim last season, Wisniewski had 11 points and seven power-play assists. Both of those numbers are better than Whitney's contributions in 20 games. … Luca Sbisa is a burgeoning young defenseman who might demand a bigger role as well. He is a puck-carrying defenseman with offensive upside and the main reason the trade of Chris Pronger was palatable on defense for Anaheim.
Additions: Alex Auld, G (Ottawa); Karlis Skrastins, D (Florida); Jeff Woywitka, D (St. Louis)
Subtractions: Sergei Zubov, D (Russia); Brendan Morrison, C (Washington); Steve Begin, C (Boston)
Depth Chart
First line: Brenden Morrow, Mike Ribeiro, Steve Ott
Second line: James Neal, Brad Richards, Loui Eriksson
Third line: Fabian Brunnstrom, Mike Modano, Jere Lehtinen
Fourth line: Brian Sutherby, Toby Petersen, Krys Barch
First pairing: Stephane Robidas, Trevor Daley
Second pairing: Matt Niskanen, Karlis Skrastins
Third pairing: Niklas Grossman, Mark Fistric
Top goalie: Marty Turco
Backup: Alex Auld
Just Missed: Jeff Woywitka, D; Ivan Vishnevskiy, D; Jamie Benn, LW; Andrew Hutchinson, D
The Lineup and Plus/Minus Effect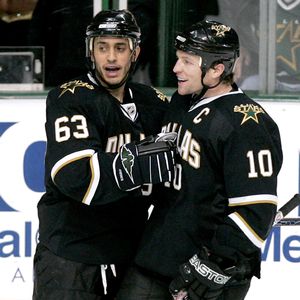 AP Photo/Tony GutierrezWho will get the benefit of playing alongside Mike Ribeiro and Brenden Morrow?
New coach Marc Crawford has a lot of decisions to make, none more important to fantasy owners than who his top-line right winger is. While many of his forward combinations have been set, there seems to be a decision to be made whether Fabian Brunnstrom, the second-year import from Sweden, or Steve Ott, the bruiser who stepped up big last year, will line up in the coveted spot next to Mike Ribeiro and Brenden Morrow. Brunnstrom showed his pure goal-scoring ability last season, but he's a black hole in terms of defense. Ott had a career year playing with Ribeiro and would give his other linemates an extra safety net to take risks, but he's more comfortable in a checking role. If Brunnstrom is given the chance, he could use his nose for the net to finish off plays set up by Ribeiro and would become a big sleeper for fantasy leagues. … The Stars are not expected to be the place to look for help with your team's plus/minus. The same defense that helped Marty Turco to a 2.81 goals-against average is back again.
Power Play
Finding a replacement for Sergei Zubov is the most important aspect to getting the Stars' man advantage rolling again. The club was fourth-worst in the NHL last season, scoring on just 15.4 percent of power plays. No one on the club last season had even 10 power-play goals, and no defensemen even had 10 power-play points. Which begs the question: Who will help set up Crawford's power play, given the team sought no outside help to fill the role? So far it looks like the long-term answer, Ivan Vishnevskiy, will open the season in the AHL, and perhaps career minor league star Andrew Hutchinson will get another chance in the NHL. If you don't know Hutchinson, you are definitely not an AHL fan. He has spent the past seven years excelling in the AHL and then failing to break through at the NHL level. The stats aren't going away either, as Hutchinson was even named the AHL's defensemen of the year in 2007-08 for scoring 64 points in 67 games. He bounced around the NHL last season and never got much ice time. Perhaps he is the solution to the Stars' "Zubov problem."
Keep An Eye On
As mentioned, Brunnstrom could land the role with the Stars that had everyone prematurely thinking he was a breakout player last season. … The line of James Neal-Brad Richards-Loui Eriksson could prove to be exceptionally dangerous this season. Both Neal and Eriksson were the Stars' best goal scorers last year, and Richards is a known playmaker. If they hit things off, there could be real fantasy value here. … Before selecting Marty Turco as your starting netminder, just remember, he hasn't been really good since before the NHL lockout.
Additions: Ryan Smyth, LW (Colorado); Rob Scuderi, D (Pittsburgh)
Subtractions: Kyle Quincey, D (Colorado); Tom Preissing, D (Colorado); Brian Boyle, C (Rangers)
Depth Chart
First line: Ryan Smyth, Anze Kopitar, Justin Williams
Second line: Alexander Frolov, Jarret Stoll, Dustin Brown
Third line: Teddy Purcell, Michal Handzus, Wayne Simmonds
Fourth line: Raitis Ivanans, Oscar Moller, Brad Richardson
First pairing: Drew Doughty, Jack Johnson
Second pairing: Matt Greene, Rob Scuderi
Third pairing: Sean O'Donnell, Peter Harrold
Top goalie: Jonathan Bernier
Backup: Jonathan Quick
Just Missed: Erik Ersberg, G; Thomas Hickey, D; Marc-Andre Cliche, C; John Zeiler, RW
The Lineup and Plus/Minus Effect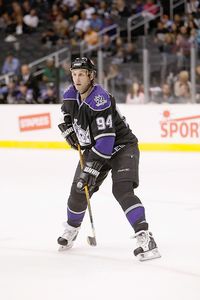 Jeff Gross/Getty ImagesCan Ryan Smyth improve his minus-15 from 2008-09?
The Kings are close to becoming a competitive team again, but close only counts in horseshoes and hand grenades. This squad is going to finish near the basement again, and the players will have a plus/minus so bad that it'll be difficult to justify touching even the best of them in fantasy hockey. If you play in a custom league that doesn't use plus/minus, by all means, consider some of the Kings for your purposes. But in ESPN standard leagues, you can't afford to punt categories, and drafting a Kings player would mean punting plus/minus. … Coach Terry Murray's defensive system does have its benefits, though. The starting goaltender is going to be valuable as a late-round draft pick. Because the shots that get through are minimal and low-percentage, Jonathan Bernier or Jonathan Quick will contribute good ratios for fantasy owners who want to use a third goaltender or who want to draft their No. 2 late. The question is whether Bernier can unseat Quick, who earned the starting role midway through last season and ran with it. Bernier does have the higher long-term potential, but if the Kings are trying to win now, Quick might be the better choice.
Power Play
The man advantage in L.A. will be relatively straightforward, with the top line of Anze Kopitar, Ryan Smyth and Justin Williams on the ice with defenseman Drew Doughty and slap shot specialist Jarret Stoll. The unit finished middle of the pack last season, and should do the same again this year. The only real thing to look for is an improvement from Doughty. Remember, he performed so admirably for the Kings last season as an 18-year old rookie. … Note that Williams is liable to miss time, and Dustin Brown will be the recipient of his prime role on the club.
Keep An Eye On
Teddy Purcell is going to have to prove whether he is a minor league star, or a future NHL scorer. This might be his last chance to do so after putting up big numbers in the AHL and failing to have a huge impact whenever called upon over the past two seasons. … Ryan Smyth had a poor season with the Avalanche last year, finishing with a minus-15. Don't expect him to return to fantasy relevance with this move to L.A. There is more competition for important minutes on the Kings as well.
Additions: Adrian Aucoin, D (Calgary); Radim Vrbata, RW (Tampa Bay); Vernon Fiddler, C (Nashville); Taylor Pyatt, RW (Phoenix); Lauri Korpikoski, LW (Rangers); Jason LaBarbera, G (Vancouver); Jim Vandermeer, D (Calgary)
Subtractions: Steve Reinprecht, C (Florida); Enver Lisin, RW (Rangers); Nigel Dawes, LW (Calgary);
Depth Chart
First line: Mikkel Boedker, Peter Mueller, Shane Doan
Second line: Taylor Pyatt, Matthew Lombardi, Radim Vrbata
Third line: Viktor Tikhonov, Martin Hanzal, Scottie Upshall
Fourth line: Vernon Fiddler, Kyle Turris, Petr Prucha
First pairing: Ed Jovanovski, Adrian Aucoin
Second pairing: Jim Vandermeer, Zbynek Michalek
Third pairing: Kurt Sauer, Keith Yandle
Top goalie: Ilya Bryzgalov
Backup: Jason LaBarbera
Just Missed: Lauri Korpikoski, LW; Kevin Porter, C
The Lineup and Plus/Minus Effect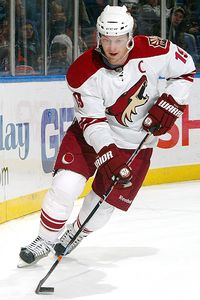 Mike Stobe/NHLI/Getty ImagesShane Doan is going to need goal-scoring help if this team is going to be competitive.
Coach Wayne Gretzky has stepped down, which could make a big difference. Gretzky was slow to give responsibility to some of the young stars in Phoenix who have the potential to be fantasy contributors. Peter Mueller and Martin Hanzal took a step back last season. Mikkel Boedker and Viktor Tikhonov had so-so debuts. Kyle Turris looked lost at times. Now the ice time and roles handed to the young players will go a long way in determining their fantasy relevance, so with most of the team, a wait-and-see approach is required. Still, we are quite sure no one will step up and be a top-100 fantasy skater, so taking a cautious approach is easy in a draft. … Without everyone firing on all cylinders, the Coyotes are not going to keep up with most NHL clubs, and another season of troubling plus/minus ratings should be expected. Shane Doan is sure to have some decent fantasy value, but beyond him, poor plus/minus ratings will drag most of the other players down enough to be bench picks.
Power Play
Home of the third-most ineffective power play in the NHL last season, hopes of a big improvement to aid the values of Shane Doan, Ed Jovanovski and others seem quite bleak. If you do pick some players hoping for a surprise, Doan, Jovo-Cop, Peter Mueller and Kyle Turris are the safest bets to play a lot on the man advantage.
Keep An Eye On
Kevin Porter is making an impact in the preseason and deserves to be on the radar. He was the 2008 Hobey Baker Award winner for the best College Player in the U.S. But with so many young players looking to win a role with the club and seeking expanded responsibility, it is tough to envision Porter leapfrogging enough of them. … Radim Vrbata was a train wreck in Tampa Bay last season, eventually getting permission to return to the Czech Republic to be with his pregnant wife. Now he's back at the place where he had a career year in 2007-08, and the Coyotes are betting his head is clear of distractions and he can return to his 60-point ways. That might be a high estimate, but taking a chance that Vrbata has his stuff together is definitely a calculated gamble.
Additions: Dany Heatley, LW (Ottawa)
Subtractions: Milan Michalek, LW (Ottawa); Jonathan Cheechoo, RW (Ottawa); Christian Ehrhoff, D (Vancouver); Brian Boucher, G (Philadelphia)
Depth Chart
First line: Dany Heatley, Joe Thornton, Devin Setoguchi
Second line: Patrick Marleau, Joe Pavelski, Ryane Clowe
Third line: Jamie McGinn, Scott Nichol, Torrey Mitchell
Fourth line: Jody Shelley, Manny Malhotra, Jed Ortmeyer
First pairing: Dan Boyle, Rob Blake
Second pairing: Marc-Edouard Vlasic, Kent Huskins
Third pairing: Douglas Murray, Derek Joslin
Top goalie: Evgeni Nabokov
Backup: Thomas Greiss
Just Missed: Nick Petrecki, D; Logan Couture, C
The Lineup and Plus/Minus Effect
Jeff Gross/Getty ImagesSay hello to new Shark Dany Heatley.
Sliding Patrick Marleau to the second line with the arrival of Dany Heatley should give the Sharks a much stronger one-two punch this season. Coach Todd McLellan basically has his top six set in stone, and both lines with be worthy of attention in all fantasy leagues. … The Sharks are top-heavy, and that is how the beneficial plus/minus ratings will be distributed. Look for the team's top six forwards and top defense pairing to have positive value in the category, but everyone else will be hit or miss.
Power Play
The third-best power play in the NHL returns even stronger this season with the addition of Dany Heatley. Look for Heatley, Joe Thornton and Dan Boyle to dominate the ice time on the power play, with a healthy mix of Devin Setoguchi, Patrick Marleau, Joe Pavelski, Ryane Clowe and Rob Blake. … The specialist of the group is Clowe, who uses his size in front of the net to bury pucks on the man advantage. He definitely warrants some extra consideration in ESPN leagues.
Keep An Eye On
Marc-Edouard Vlasic takes a step up the depth chart with the trade of Christian Ehrhoff, and he'll be eyeing Rob Blake's spot as the team's second defenseman as the season wears on. Not only does Vlasic have youth in his corner, but he plays an all-around game that Blake can't rival in the twilight of his career. … Don't forget that the new coaching style of McLellan has proven to be a negative for Evgeni Nabokov's fantasy value. The wins will still be there, but without the focus on defense, Nabokov's peripheral numbers aren't as good as they were under coach Ron Wilson.
Sean Allen is a fantasy analyst for ESPN.com. He is the 2008 Fantasy Sports Writers Association, Hockey Writer of the Year award winner. You can e-mail him here.
Sean Allen is a fantasy analyst for ESPN.com. He was the 2008 and 2009 Fantasy Sports Writers Association Hockey Writer of the Year. You can tweet him
@seanard
.
SPONSORED HEADLINES
FANTASY TOP HEADLINES
MOST SENT STORIES ON ESPN.COM
2009 Hockey Draft Kit
ESPN.com's fantasy experts offer all the information you'll need to succeed in your draft this year.
Draft Kit Home
2009-10 Projections and Profiles
• All players | Sortable
• Forwards | Defensemen | Goalies
2009-10 Rankings
• Forwards | Defensemen | Goalies
Strategy and Analysis
• Eight simple rules for winning your league
• Mock Draft: 10-team ESPN standard league
• 2009-10 sleepers and busts
• Complete guide to rookies and sophomores
• Offseason movement synopsis
• 10 key position battles
• How to find the right goalies for your team
Division Previews
• Atlantic Division preview
• Central Division preview
• Northeast Division preview
• Northwest Division preview
• Pacific Division preview
• Southeast Division preview