Commentary
Are You For Real?: Malone, Corvo, Sturm
Updated:
February 13, 2008, 4:41 PM ET
By
Victoria Matiash
and
John Pereira
| Special to ESPN.com
In deference to this week's precious holiday, celebrating all-encompassing love and affection, we present to you players held near and dear to our fantasy hearts -- at least lately.
And to honor the deity most responsible for Valentine's Day ("Hallmark"), tributes to the chosen three are conveyed in the most appropriate of manner -- via exceptionally poor poetry.
[+] Enlarge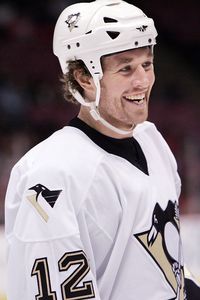 Richard Schultz/WireImageRyan Malone has stepped it up with no Sid the Kid.
Good health, a new baby, a linemate on fire,
In fantasy circles, there's no flying higher
But when Sidney returns, please tell us, dear Ryan,
Will changes on offense leave your owners cryin'?
Victoria: For Real With 13 points in his past nine games, there's no refuting Malone's numbers have been impressive. But who truly deserves the credit? The way Evgeni Malkin is playing, my own Great Aunt Claudia would also be racking up the points, skating on his wing. The same rule applies to fantasy hockey as pertains to life in general: It's not what you know, it's who you know, or in this case, who you play with. Malone is a fantasy owner's dream these days, but it's strictly by association. And that could be a concern.
John: True, but I'm still about as high on Malone right now as his own mother. Here's what I stated in the Jan. 23 addition of "Are You For Real" when speaking of Malkin, himself, following Sidney Crosby's injury: "He's shown some good chemistry with Ryan Malone over the past couple of games and should be just fine".
Man, was I right about that. Malkin has been rolling at an unbelievable rate and constituting Pittsburgh's new top line, wingers Malone and Petr Sykora have been the main beneficiaries. Besides, Malone's also a great mix of nastiness and offense, as he sits third on the team with 81 penalty minutes, second in hits and third in goals with 17. I have a feeling this line will remain together even when Crosby returns, as Sid the Kid could be paired with Colby Armstrong and Jordan Staal.
Victoria: That's where you and I differ in thought. Once Crosby makes his comeback, there's a good chance Malone will be moved to his line along with Armstrong. But it really doesn't matter all that much anyway. Fortunately, for Pittsburgh fans and fantasy owners alike, whether Malone plays with Malkin or Crosby, his production won't suffer substantially (if at all).
[+] Enlarge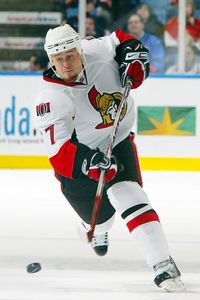 Jim McIsaac/Getty ImagesFrom a good team to a bad may have helped Corvo.
Alas! Poor Joe! With elite Ottawa no longer,
Will that which doesn't kill you, indeed make you stronger?
Or are you set to feel the pains
Of playing with the humble Hurricanes?
John: Imagine how frustrating it would be to wake up Monday morning as a member of the best team in the Eastern Conference, only to go to bed as a member of one of the worst. But Corvo, unlike Patrick Eaves, actually benefits somewhat from this deal. His plus/minus rating will obviously take a hit as he makes a move down south, but he also becomes the Hurricanes No. 1 defenseman. He'll be running the powerplay, which ranks as the 17th best in the NHL. And with players like Eric Staal, Erik Cole and Rod Brind'Amour floating around the net, he'll be in line for some points at even strength as well.
Victoria: I'm even more enthusiastic about his prospects than you are, Johnny. Mere hours after being shipped to Carolina, Corvo played almost 20 minutes of ice time and managed to log an assist. The team is clearly looking to rely on him to create more scoring opportunities. And remember, ranking sixth in the NHL in goals per game, the 'Canes don't have much difficulty putting the puck in the net already. Corvo now benefits from being the biggest fish on the blue line--a different scenario from which he left in Ottawa.
Furthermore, his plus/minus rating won't necessarily take the damaging hit that you and others, are expecting. Bret Hedican (a likely partner on defense) has managed to maintain a plus-13 rating this season; if Corvo is able to participate enough on offense, his rating will remain reasonable as well.
[+] Enlarge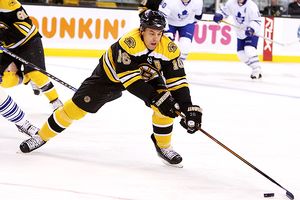 Elsa/Getty ImagesSturm is finally living up to his hype.
No longer known as the ex-Shark without bite,
Well under the radar and out of the spotlight,
Your recent production and a feisty plus-seven,
Offers a surprising sliver of fantasy heaven
Victoria: Without much fanfare, Sturm has come a long way from being one of three disappointing elements acquired in return for Joe Thornton back in '05. You have to give him a bit of credit. Now situated on the top line with Marc Savard, he's tied for second in Bruins' scoring with Zdeno Chara and leads the team in shots. And he's settled into a nice little groove for himself recently, with 14 points through 16 games in 2008. Furthermore, the most promising aspect of Sturm's current production is that much of it has come without Glen Murray in the line up. With Murray back, Sturm's production could flourish further. Look, the winger is a far cry from being a glitzy fantasy star, but someone has to score for Boston, and the members of the Sturm/Savard/Murray trio are your best candidates.
John: "Offers a sliver of fantasy heaven" is taking things too far, but agreed, after a solid January, Sturm has been playing some decent hockey in February as well. However, unlike the other two players mentioned in this column, I'm not as sold on his prospects for the rest of the season. To be frank and for the most part, I don't like the Boston Bruin's forward group, outside of Savard. Sturm is a good role player but he's not capable of carrying an offense. That being said, the return of Murray from injury will help boost some of his numbers. I really don't feel strongly about Sturm, but okay, okay, it never hurts to have a first liner on your fantasy roster.
Victoria Matiash and John Pereira are fantasy hockey analysts for ESPN.com.
MOST SENT STORIES ON ESPN.COM