Commentary
Are You For Real?: Crosby, Forsberg, Tucker
Updated:
March 6, 2008, 10:06 AM ET
By
Victoria Matiash
and
John Pereira
| Special to ESPN.com
This week is significant for fantasy owners. The NHL trade deadline is behind us, but in most fantasy leagues, the most important trade deadline is only days away. Whether you're in first place and need to address a specific area to solidify your victory or you're chasing a playoff or money spot and need help for a final push, now is the time to make a move.
For some, value still can be found on the waiver wire; others will have to look to upgrade via trade. Let's take a look at two players who recently returned to the ice, and another who has made his own "return" of sorts a return to fantasy usefulness.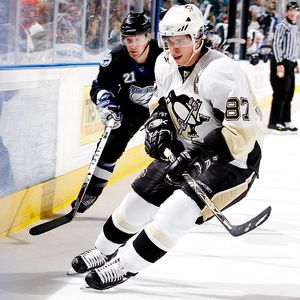 Scott Audette/NHLI via Getty ImagesWelcome back, Sidney Crosby.
All Pittsburgh fans rejoice! Crosby is finally back after spraining his ankle Jan. 18. He was playing well before getting hurt -- he was averaging more than 20 minutes of ice time and had tallied five points in his past four games -- and was on pace for a 112-point season. So can he re-find his game now that he's healthy? Of course he's super-talented, but how will his first major injury in the NHL affect his fantasy value?
Victoria: Are we truly asking if Sidney Crosby is for real? Honestly? If that's the case, then yes, uh, yes he is. There are no signs of any lingering effects from his ankle injury whatsoever. Given the way Evgeni Malkin stepped it up in his absence, the Penguins were able to take their time in bringing Crosby back, and the extra patience looks like it's going to pay off. With more than 22 minutes of ice time, plenty of scoring opportunities and an assist, he looked like his old self in his first game back against Tampa Bay. And judging by his speed, the ankle is just fine. Crosby is fully recovered, trust me, and concerns of a re-injury are minimal. And I can't wait to see him play alongside Marian Hossa, once the latter returns.
John: Although returning from this significant injury might be the toughest task in Crosby's career to this point, there's no question he can flat-out play hockey better than just about anyone on the planet. Can he shake off the rust and displace Malkin on the top line? Of course! And I agree about him playing with Hossa. Sheesh, if we thought Crosby was a dangerous offensive threat before he was injured, we had better be prepared for his return with Hossa running shotgun. The two will provide fantastic stats for your fantasy league stretch run.
Victoria: Truth be told, you can even disregard the Hossa factor. Crosby could skate on the checking line with my eight-year-old neighbor kid and still score on a nightly basis. The kid is fantasy gold, and that's that.
Forsberg recently suited up to play his first regular season NHL game since last April 7. A lot has changed since then. He's now a member of a Colorado Avalanche team looking to make the playoffs, compared to last year's first-place Nashville Predators. But a lot remains the same. One of them: He still has a bum foot that could impact his performance on the ice. When healthy, he's an elite player who can dominate, but after nearly a year of rest, does his battered 35-year-old body have enough left in the tank?
John: Will Forsberg play like he did in 2002-03 when he had 106 points? Of course not. But I certainly don't think it's unreasonable to believe he could play as well as he did last year. In 57 games last season, split between Philadelphia and Nashville, he had 55 points, making him nearly a point-per-game player. There's no reason to expect he can't produce like that again. I doubt his foot is any worse off this year than last. If anything, it's probably better, considering he hasn't played in about 10 months. So you can expect even better numbers.
Victoria: Perhaps you're right, but Forsberg is still too risky for my tastes. Judging from all the wavering he did before returning, there were real concerns about his foot/ankle injury, and I'm still worried. His foot might hold up, but it might not, and I'm not willing to take that gamble. Things don't heal the same way at age 35 as they do at 25. As far as I'm concerned, Forsberg owners should wait for his first multi-point game before dishing him off for someone more stable. Why cross your fingers and hope unnecessarily? The situation is too stressful for my delicate constitution.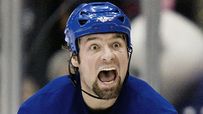 AP Photo/The Canadian Press, Adrian WyldDarcy Tucker is owned in only 18 percent of fantasy leagues.
Overall, Tucker has been a disappointment this year, but he has taken his game to a higher level of late. He has eight goals and 34 penalty minutes since February 1, proving once again he can be one of those rare fantasy players that provide both offense and grit. But considering he only has 14 goals in 59 games this year, we have to question this recent production. Either he's finally found his game or this is just a positive fantasy anomaly.
John: One would assume Tucker's reemergence coincides with the recent great play by Mats Sundin, but strangely enough, that isn't the case. In fact, Sundin has assisted on only one of Tucker's goals over the past month. If anything, his impressive play began around the same time coach Paul Maurice decided to put Matt Stajan, Tucker and Jason Blake on the same line. With good chemistry, the trio has been one of the reasons behind Toronto's recent turnaround. Tucker is owned in only 18 percent of ESPN leagues and could be a great pickup for the stretch run.
Victoria: I'm not quite as gung ho. Tucker had a couple big games in February but hasn't grazed the score sheet since the trade deadline. He's one of those players who are only as good as those around him. Chemistry aside, Stajan is simply mediocre and Blake is having a real letdown season after last year's fantastic performance with the Islanders. The poor guy can't seem to buy a goal most nights despite shooting up a storm. It's just not going to happen for him this year. So as far as Tucker's production is concerned, I don't expect much for the final stretch. Don't get me wrong, he has character and is often praised by pundits for being feisty. But "feisty" doesn't pay the fantasy bills. I wouldn't bother with this guy except in really deep leagues, and even then, only if desperate.
Victoria Matiash and John Pereira are fantasy hockey analysts for ESPN.com.
SPONSORED HEADLINES
FANTASY TOP HEADLINES
MOST SENT STORIES ON ESPN.COM