Commentary
Are You For Real?: Franzen, Ladd, Booth
What do Lenny Harris, a Lobster and Sean Allen have in common? The ability to come through in a pinch.
With Victoria Matiash indisposed, Open Ice's Sean Allen steps in to pinch-hit with John Pereira on this week's Are You For Real?
Tick & tick & tick & tick & Time for you to help out your fantasy team is quickly disappearing. In rotisserie leagues, your striking distance in the counting categories is minimal, while your finish in composite categories is all but decided. In head-to-head leagues, the playoffs have begun and trade deadlines have come and gone. The only help you'll find at this point is off the waiver wire. In the interest of helping as many people as possible, we are touching only on surging players whose ownership in ESPN leagues is at a submarine-like level of below 15 percent. That way they should be available in your league, unless you play in what Matthew Berry and Nate Ravitz would call a "Man's League."
[+] Enlarge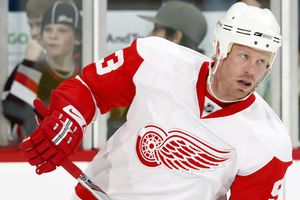 AP Photo/David ZalubowskiJohan Franzen is getting power-play time.
The big Swede's ownership numbers have jumped this week; he has gone from being owned in just one percent of ESPN leagues to 13 percent. He's been nearly automatic for the Red Wings this month scoring five times in just four games since March 1. It only makes sense that playing on the best team in the NHL would be good for one's fantasy value, but is he really this good? Can we really expect him to surpass the 20-goal plateau even though he has never scored more than 12 goals in a season before?
John: Todd Bertuzzi made it clear that not everyone who wears the red and white suddenly becomes a fantasy beast, so I would venture to guess there is some semblance of talent in Franzen's 6-foot-3, 218-pound frame. Remember, this is the same team that was able to steal Henrik Zetterberg in the seventh round and Pavel Datsyuk in the sixth. So don't be surprised that Franzen, a former third-round pick, is playing so well despite the fact that he's never been a highly touted prospect. You can feel comfortable that if you pick up Franzen during your playoff run, he will park himself in front of the opposing goalie on a regular basis and bat in pucks on the power play.
Sean: Somewhat "for real." At least about as real as Tomas Holmstrom's injury. As long as Holmstrom is out with a groin ailment for the remainder of the season, Franzen can keep up this pace. He is currently just keeping Holmstrom's chair -- directly in front of the opposing goaltender on the power play -- warm. The Red Wings could probably suit up an octopus as their fifth power-play member and have it score a point per game, so this isn't so much a player's skill as his position and role. Holmstrom may be out until the playoffs get started, but he may not. This is a risky proposition, but so long as Holmstrom is not suiting up, Franzen's pace will continue.
[+] Enlarge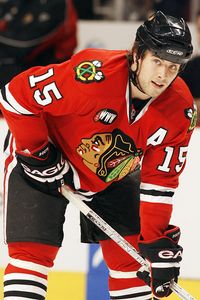 AP Photo/Nam Y. HuhAndrew Ladd has done just fine since his trade to Chicago.
Unlike Franzen, Ladd comes with a great pedigree. He was the fourth overall pick in the 2004 entry draft after a great season with the Calgary Hitmen in the WHL that saw him score 30 goals and 45 assists in just 71 games. That year, he was a plus-39 and also had 119 penalty minutes, so there's no question why he's so highly thought of. He has six points in eight games since joining the Blackhawks at the trade deadline but is available in 96 percent of ESPN leagues.
John: Aside from those above-mentioned credentials, Ladd is a product of the Canadian program of excellence, which of course has produced a ton of other talented NHLers like Joe Thornton and Jarome Iginla. If I were an NHL GM I'd have traded for him, too, but I'm not so sold on him for fantasy purposes yet.
Sean: I have been on the Ladd train since Cory Stillman was traded to Ottawa. Ladd has enough power that he could lend enough to make Martin St. Louis a power forward and not change his own status. Ever since he blew the lid off the NHL combine with 22 bench press reps (most prospects get 10) in 2004, I've been waiting for him to have the opportunity, because his talent and size are already there. Although coach Denis Savard has been doing his best Michel Therrien impression lately by mixing up the lines, Ladd is consistently lined up as a top-six forward and playing with strong linemates (currently Robert Lang and Jason Williams). The 0.84 point-per-game pace he has set over February and March combined sounds about right to me. So I give Ladd a great big "for real."
John: I agree, but not as wholeheartedly. If he was playing Patrick Kane, Jonathan Toews or Patrick Sharp on a regular basis, I'd recommend him fully, but currently he's not. He's being shifted around lines and still needs to find a permanent home to really thrive.
[+] Enlarge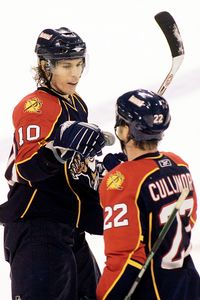 AP Photo/Alan DiazVery few have bought into David Booth's 20-goal season.
Booth has reached the 20-goal plateau for the first time in his career, but has been shown no love from fantasy owners this season. He remains available in just over 90 percent of ESPN leagues. Over his past five games, he has four points, so he continues to play well at the 62-game mark despite never having played more than 48 in a single NHL season. Can Booth, who scored only three goals in his rookie season last year, continue to produce? Is he for real?
John: As simple as the question sounds, the answer does have a catch. Is Booth personally for real? No. Can we expect him to continue to produce at a useful pace? Maybe. Booth has never shown much of an ability to score at any level in the minors, never netting more than 17 goals in any one season, but something obviously is different this year. Those difference-makers are named Stephen Weiss and Nathan Horton. Booth has been lucky enough this year to be teamed with those two on a line, and he's been the beneficiary of their offensive abilities.
Sean: Booth is most definitely unreal. We are getting a glimpse of a decent career third-liner playing what will be the best season of his career. Because of the lack of talent in South Florida, Booth is a second-line player. He shouldn't be. He clearly has a heightened nose for the net, but he is not on the same page as a Horton or Weiss. He just gets lucky enough to play with them because Florida sorely lacks offensive skill. Booth might have one or more goals over the remainder of the season with a minus rating, not something worth investing in even in the deepest of leagues.
Sean Allen and John Pereira are fantasy hockey analysts for ESPN.com. You can e-mail Sean here.
Sean Allen is a fantasy analyst for ESPN.com. He was the 2008 and 2009 Fantasy Sports Writers Association Hockey Writer of the Year. You can tweet him
@seanard
.
SPONSORED HEADLINES
FANTASY TOP HEADLINES
MOST SENT STORIES ON ESPN.COM