Commentary
Front Line: Maple Leafs offense
Updated:
November 22, 2010, 12:40 PM ET
By
Sean Allen
| Special to ESPN.com
He coached for a significant stretch with four NHL teams, but it's the image of the late Pat Burns behind the Toronto Maple Leafs bench that is etched in my mind. As homage to the only three-time winner of the Jack Adams award, I'm taking the opportunity to break down how the Leafs look on offense.
Let's start by pointing out that to this point in the season, only Clarke MacArthur, Phil Kessel and Mikhail Grabovski have been solid fantasy contributors, with Kris Versteeg just making the cut as fantasy-relevant. The fact that only Kessel among the group has any pedigree does not inspire a lot confidence. Things have changed with a sustained losing streak that brought on the promotion of Nazem Kadri. Kadri, who is showing signs of having caught up with the NHL game since training camp, goes a long way to improving this offense.
But first let's look at some of the troubling news. It's now or never to try and cash in on MacArthur. Once upon a time, he was a point-per-game player in the WHL, but that was prior to the lockout. In 227 NHL games over parts of four seasons, MacArthur has never exceeded 0.44 points per game. With 17 points in 19 games, it's clear that MacArthur has found chemistry with Grabovski and Nikolai Kulemin on the Leafs' second line. The trio have been together all season and have 42 points between them. But they are still the Leafs' second line and there is almost zero chance this group will continue to pace the team's offense. Grabovski should finish with the most respectable numbers of the group and Kulemin should continue contributing at his current pace, but now is the time to see if you can identify the rabid Leafs fan in your league to whom to offer up MacArthur.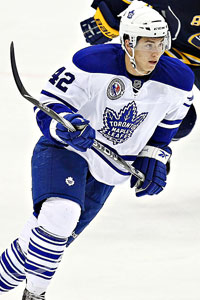 Tom Szczerbowski/US PresswireTyler Bozak maintains "star by association" potential for as long as he is paired with Phil Kessel on the top line.
That leaves the new top line of Kessel, Kadri and Tyler Bozak. Bozak, we know, is a role player, but a role player that can match Kessel's pace. If this line is doing well, Bozak is fantasy relevant. But for all Kessel's skill, he still has just nine goals and four assists on the season. That is not the star statistics he should be generating as the focal point of this offense. And this is where Kadri comes in. After going seven straight games without a point, the promotion of Kadri to his line sparked Kessel to four points in his past four games. Having the two Leafs with the most skill on a line together certainly bodes well if they can generate chemistry. Not to mention the fact that Kadri forces opponents to take their eyes of Kessel once in a while. Kessel's spot as a top-40 player in the rankings seemed in question a week ago, but Kadri has changed that perspective. Kessel should get right on with marching toward 40 goals.
As for Kadri, it's a tougher call. While Kessel will continue to pour on the points regardless of his linemates, Kadri likely needs to stay on the top line with Kessel to continue netting points (he has three in his first four games). I wouldn't hesitate to pick him up now in medium-to-deep fantasy leagues, but I wouldn't drop anyone valuable just to prospect on Kadri. Even though he was tearing up the AHL before his callup, Kadri still has a long way to go to reach his potential in the NHL. Remember that guys like Jason Spezza and Ryan Getzlaf did well after a short AHL stint before their rookie season, but they weren't must-own fantasy studs either. Kadri will need to show his stuff over a sustained period before he is a recommended pickup in shallow leagues.
Finally, we come to Versteeg. Seemingly left out of the picture as the seventh forward, Versteeg still has a stay on his execution as a fantasy asset. With Dion Phaneuf expected out for as many as four more weeks with a leg laceration, Versteeg will continue playing the power-play point alongside Tomas Kaberle. Because the power play has actually been pretty good lately, Versteeg might secure himself a long-term role on the man advantage, even if he isn't a top-six forward.
Top 100 Forwards Note: Sean Allen's top 100 forwards are ranked for their expected performance in ESPN standard leagues from this point on, not on the statistics that have already been accrued. ESPN standard stats include goals, assists, power-play points, shots on goal, plus/minus, penalty minutes and average time on ice. Last week's ranking is indicated in parentheses.
1. Alex Ovechkin, Was (1)
2. Sidney Crosby, Pit (2)
3. Steven Stamkos, TB (3)
4. Daniel Sedin, Van (4)
5. Alexander Semin, Was (6)
6. Nicklas Backstrom, Was (5)
7. Henrik Sedin, Van (7)
8. Dany Heatley, SJ (8)
9. Brad Richards, Dal (11)
10. Pavel Datsyuk, Det (9)
11. Evgeni Malkin, Pit (10)
12. Mike Richards, Phi (13)
13. Ryan Getzlaf, Ana (12)
14. Jonathan Toews, Chi (14)
15. Jeff Carter, Phi (15)
16. Corey Perry, Ana (17)
17. Eric Staal, Car (18)
18. Patrick Kane, Chi (19)
19. Joe Thornton, SJ (20)
20. Martin St. Louis, TB (25)
21. Chris Stewart, Col (23)
22. Nathan Horton, Bos (21)
23. Rick Nash, Cls (22)
24. Patrick Marleau, SJ (24)
25. Bobby Ryan, Ana (29)
26. Henrik Zetterberg, Det (26)
27. Marian Hossa, Chi (27)
28. Mikko Koivu, Min (28)
29. Ilya Kovalchuk, NJ (16)
30. Paul Stastny, Col (30)
31. Danny Briere, Phi (41)
32. Anze Kopitar, LA (32)
33. Patrick Sharp, Chi (37)
34. Marian Gaborik, NYR (34)
35. Tomas Plekanec, Mon (35)
36. Jarome Iginla, Cgy (36)
37. Johan Franzen, Det (31)
38. Claude Giroux, Phi (44)
39. Phil Kessel, Tor (38)
40. Loui Eriksson, Dal (43)
41. Mike Cammalleri, Mon (39)
42. Daniel Alfredsson, Ott (33)
43. Alex Burrows, Van (40)
44. Scott Hartnell, Phi (51)
45. Derek Roy, Buf (48)
46. Jason Spezza, Ott (42)
47. Ryan Smyth, LA (45)
48. James Neal, Dal (55)
49. Ryan Kesler, Van (46)
50. Milan Lucic, Bos (50)
51. Milan Hejduk, Col (61)
52. David Krejci, Bos (53)
53. Steve Downie, TB (56)
54. John Tavares, NYI (47)
55. Matt Duchene, Col (58)
56. Jordan Eberle, Edm (49)
57. Thomas Vanek, Buf (59)
58. Patric Hornqvist, Nsh (52)
59. Stephen Weiss, Fla (60)
60. David Backes, StL (68)
61. Teemu Selanne, Ana (67)
62. Brenden Morrow, Dal (63)
63. Matt Cullen, Min (65)
64. Olli Jokinen, Cgy (62)
65. Ales Hemsky, Edm (66)
66. Alex Tanguay, Cgy (57)
67. Scott Gomez, Mon (70)
68. David Booth, Fla (72)
69. Mikael Samuelsson, Van (73)
70. Andrew Ladd, Atl (83)
71. Travis Zajac, NJ (54)
72. Tim Connolly, Buf (64)
73. Steve Sullivan, Nsh (74)
74. Dustin Brown, LA (75)
75. Brandon Dubinsky, NYR (80)
76. Andrei Kostitsyn, Mon (69)
77. Patrik Elias, NJ (76)
78. David Perron, StL (77)
79. Joe Pavelski, SJ (87)
80. Jason Arnott, NJ (78)
81. Shane Doan, Pho (79)
82. Tomas Holmstrom, Det (71)
83. Jamie Langenbrunner, NJ (81)
84. Nik Antropov, Atl (82)
85. Brooks Laich, Was (89)
86. T.J. Oshie, StL (84)
87. Derick Brassard, Cls (90)
88. Todd Bertuzzi, Det (85)
89. Ryane Clowe, SJ (95)
90. Evander Kane, Atl (86)
91. Mike Knuble, Was (88)
92. Martin Havlat, Min (96)
93. Ville Leino, Phi (98)
94. Mike Ribeiro, Dal (100)
95. Vincent Lecavalier, TB (93)
96. Shawn Horcoff, Edm (94)
97. Brian Gionta, Mon (NR)
98. Niclas Bergfors, Atl (97)
99. Jeff Skinner, Car (99)
100. Jarret Stoll, LA (NR)

It's hardly a Leafs roster that strike fear into the hearts of opponents, and at the end of the season we might have only one or two fantasy stars among the bunch. But something tells me Pat Burns could have taken even this team and make them overachieve their way to the conference finals.
Rising and Falling
Jarret Stoll, Los Angeles Kings (debuts at No. 100): As the Kings continue to keep their surprising second line intact, the trio continues to score. Justin Williams, Ryan Smyth and Stoll have had chemistry since they were placed together near the beginning of the season and all three players are having terrific starts to the season. Williams and Stoll, in particular, are playing quite strong. Williams has 20 points in 19 games, but Stoll makes his rankings debut first thanks to a much better history when it comes to injuries. Williams' owners are going to have to remain cautiously optimistic about his health, while Stoll's owners can take the 17 points in 19 games and feel safe that there is more of the same to come.
Travis Zajac, New Jersey Devils (down 17 spots): Forget the lack of Zach Parise hurting Zajac, he is on the third line for the Devils these days. With Brian Rolston and David Clarkson, Zajac has to watch as Patrik Elias, Jason Arnott and Mattias Tedenby form the Devils' first line and Ilya Kovalchuk, Dainius Zubrus and Alexander Vasyunov make up the second line. Consider the fact that no one on the team is scoring and you can quickly see little point in owning Zajac right now. Pending the late season return of Parise or unforseen chemistry with some still-undertermined linemate, Zajac may be useless to fantasy owners.
Andrew Ladd, Atlanta Thrashers (up 13 spots): Even an admitted flag-waving Ladd fan like myself didn't expect to see him still playing a point-per-game hockey at the season's quarter-pole. Yet Ladd has 21 points in 21 games and continues to pace a Thrashers offense that wouldn't be the same without him. Now settled in on a line with Nicklas Bergfors and Rich Peverley, Ladd should continue to be the team leader and will have no problem blowing past even the most optimistic projections for his season. It's time to embrace him as a true offensive catalyst.
Scoring Lines
Chad LaRose, Carolina Hurricanes: It looks like coach Paul Maurice is pretty determined to squeeze stats out of stones by pairing skilled players with role players. Chad LaRose and Sergei Samsonov have 22 points combined, despite linemate Eric Staal having 23 points all to himself. The trio are together off and on the power play, yet Staal can barely drag them into fantasy relevance despite a strong start. But guess what? He is dragging them. LaRose has 12 points in 20 games and is a top-100 forward during the past two weeks. Samsonov only has 10 points, but has also played in four fewer games this season. While Jussi Jokinen and Jeff Skinner may follow Staal in the points department for the Hurricanes, it's LaRose and Samsonov that are building numbers thanks to Staal's help.
Derek Stepan, New York Rangers: Look who finally found the net again after an opening night hattrick. Stepan scored more recently because he was moved to a line with Marian Gaborik and Alexander Frolov. He has three points in three games, so it's worth keeping an eye on his linemates.
Power Plays
Buffalo Sabres: To the likely benefit of many, the Sabres have started stacking their power play. By putting Tim Connolly and Jason Pominville with Derek Roy and Thomas Vanek, the team is combining the best aspects of its top two lines. With Tyler Myers on the point firing bombs, this unit should have plenty of success so long as coach Lindy Ruff feels motivated to deploy it. Connolly and Vanek both have three power-play points in their past three games.
St. Louis Blues: With T.J. Oshie and David Perron both on the sidelines, they should start worrying about how well their fellow Blues are getting along without them. Andy McDonald has snuggled up with David Backes and Brad Boyes to form a pretty powerful top line trio. Though the power play often gets some different combinations, Backes, Boyes and McDonald have a combined eight power-play points in their past four games.
Sean Allen is a fantasy analyst for ESPN.com. He is the 2008 and 2009 Fantasy Sports Writers Association, Hockey Writer of the Year. You can e-mail him here
.
Sean Allen is a fantasy analyst for ESPN.com. He was the 2008 and 2009 Fantasy Sports Writers Association Hockey Writer of the Year. You can tweet him
@seanard
.
MOST SENT STORIES ON ESPN.COM