Commentary
In the Crease: Early Top 40 for '10-11
Updated:
April 8, 2010, 12:41 PM ET
By
Tim Kavanagh
| Special to ESPN.com
Temperatures are on the rise, spring has sprung and it's time for the NHL playoffs. If you're still in contention for the title in your fantasy league, well done. Unfortunately, there's little I can do for you at this point except to remind you to use the strategies you've been employing for the past few weeks: Keep an eye on the schedule and play the hot hand in net.
Following the lead of my colleagues Sean Allen and Victoria Matiash -- who took a lap with the forwards and defensemen this week -- I'm taking a very pre-emptive look at the 2010-11 goalie rankings. Obviously, these will look a bit different in the fall once free agents sign and the depth-chart battles shake out a bit. But for now, enjoy the list, along with some quick hits on a few of the guys who made a jump this season or fell behind.
I've also listed some super sophomores to keep an eye on, along with some key unrestricted free agents who might very well have a new starting job next season. Fantasy sports can be a great source of negativity sometimes, so for the optimists in the audience, I've also listed some bounce-back candidates, gents who took one on the nose in 2009-10 but could be poised for a return to glory.
Top of the list
Top 40 Goalies Note: Tim Kavanagh's top 40 goalies for the 2010-11 season, as of April 7. ESPN standard stats include wins, goals-against average and save percentage. Preseason ranking for 2009-10 is indicated in parentheses.
1. Ryan Miller, Buf (24)
2. Roberto Luongo, Van (6)
3. Henrik Lundqvist, NYR (14)
4. Martin Brodeur, NJ (3)
5. Jimmy Howard, Det (40)
6. Tomas Vokoun, Fla (5)
7. Ilya Bryzgalov, Pho (38)
8. Tuukka Rask, Bos (27)
9. Niklas Backstrom, Min (2)
10. Jaroslav Halak, Mon (29)
11. Evgeni Nabokov, SJ (18)
12. Pekka Rinne, Nsh (4)
13. Craig Anderson, Col (17)
14. Antti Niemi, Chi (NR)
15. Cam Ward, Car (8)
16. Semyon Varlamov, Was (16)
17. Ray Emery, Phi (20)
18. Marc-Andre Fleury, Pit (13)
19. Jonas Hiller, Ana (9)
20. Chris Mason, StL (15)
21. Jonathan Quick, LA (NR)
22. Jonas Gustavsson, Tor (22)
23. Miikka Kiprusoff, Cgy (NR)
24. Steve Mason, Cls (11)
25. Michael Leighton, Phi (NR)
26. Dwayne Roloson, NYI (21)
27. Nikolai Khabibulin, Edm (10)
28. Kari Lehtonen, Dal (32)
29. Cristobal Huet, Chi (7)
30. Pascal Leclaire, Ott (19)
31. Carey Price, Mon (12)
32. Jeff Deslauriers, Edm (NR)
33. Jose Theodore, Was (35)
34. Antero Niittymaki, TB (26)
35. Dan Ellis, Nsh (NR)
36. Tim Thomas, Bos (1)
37. Ondrej Pavelec, Atl (NR)
38. Thomas Greiss, SJ (NR)
39. Jonathan Bernier, LA (NR)
40. Josh Harding, Min (39)

1. Ryan Miller, Buffalo Sabres: It's not as if Miller came out of nowhere. It's just that we didn't think the team in front of him would be any good this season. Enter Calder Trophy candidate Tyler Myers on D and a shockingly healthy Tim Connolly up front (the man has played 73 games thus far, compared to 98 in the three previous seasons combined). Unless something truly ridiculous happens this offseason, Miller will be at the one-spot in the goalie rankings this fall.
2. Roberto Luongo, Vancouver Canucks: Another solid campaign for the Quebecois netminder in 2009-10, coupled with the fact that the Sedin twins and Ryan Kesler have gotten contract extensions within the past 12 months equals another high preseason ranking for 2010-11. Luongo's ratios were actually a bit off this season, but they should get back to normal next season.
3. Henrik Lundqvist, New York Rangers: A hot start had Hank atop the rankings list for a while early this season, but he fell back a bit before a solid finish. The Rangers are usually unafraid to spend in the offseason, so look for them to add some scoring help, which will only increase Lundqvist's value.
4. Martin Brodeur, New Jersey Devils: Every season it seems like there are folks waiting for Brodeur's decline, and in 2009-10, he proved he's still got some gas left in the tank. There might be a slight drop-off next season, but not by much, and Brodeur should continue to put up great numbers across the board.
5. Jimmy Howard, Detroit Red Wings: Possibly a bold move, sliding a rising sophomore into the top five, but in fantasy hockey "Fortes fortuna adiuvat" or (for the non-Latin readers) "fortune favors the bold." Simply put, I believe that the 2010-11 iteration of the Red Wings will be more like the one we're seeing now than the version we saw earlier in the season, and notwithstanding Niklas Lidstrom's possible retirement, Howard will have the support to be among the fantasy elite next season.
Two steps forward
7. Ilya Bryzgalov, Phoenix Coyotes Bryzgalov put up solid numbers for the Coyotes in 2007-08 following his trade from the Anaheim Ducks, but took a step back in 2008-09. This season, he'll finish among the top goalies on the Player Rater despite an average draft position of 119.6 in ESPN leagues. It was a pleasant surprise this season, and he'll be off the board much earlier this fall.
10. Jaroslav Halak, Montreal Canadiens: After a battle early in the season, Halak emerged as the clear favorite in Montreal, and is finishing strong with two shutouts in April. The Habs may stick with both Halak and Carey Price for 2010-11, or one might be traded. Either way, Halak appears to be the one to target in drafts next season.
13. Craig Anderson, Colorado Avalanche: A poor finish shouldn't diminish what Anderson accomplished this season; after all, he was carrying fantasy rosters across the globe for quite a while. With a young nucleus in Denver, Anderson will be a steady pick several months from now.
14. Antti Niemi, Chicago Blackhawks: Unless something truly horrific happens in the playoffs, Niemi is the prohibitive favorite to be the starting 'tender for the Hawks next fall. That alone will bring lots of wins your way, and given Chicago's style of play, the GAA should be stellar again, too.
21. Jonathan Quick, Los Angeles Kings: The Kings surprised a lot of people this season, and Quick was one reason. His ratios certainly left something to be desired, but paired with a ratios monster, that could form a nice fantasy tandem. The one mitigating factor for Quick will be the continued development of Jonathan Bernier, who had a cup of coffee for the Kings this season, but appears ready to make the jump from the AHL, where he was named the league's top goalie this season. In three starts for the Kings, Bernier allowed just four goals total.
Three steps back
18. Marc-Andre Fleury, Pittsburgh Penguins: Sure, he's good for padding win totals, but unlike Quick's mediocre ratios, Fleury's were downright brutal. Thing is, the ratios are similar to last season's regular-season output, so it appears this is what we should expect out of the 25-year-old. Not a bad option as part of a battery if you have someone else with great ratios, but that pre-Halloween jump-start from this past season shouldn't be expected as a long-term trend.
27. Nikolai Khabibulin, Edmonton Oilers: An injury ended the 2009-10 season for the Bulin Wall, and a DUI charge added insult and embarrassment to that injury. The Edmonton Journal reported that Khabibulin skated with the team this week and should be good to go by training camp. Of course, here's the thing about drafting goalies with bad backs on bad teams that will turn 38 in the middle of the upcoming season: Don't.
29. Cristobal Huet, Chicago Blackhawks: What a disaster. Ranked No. 7 in our preseason list, Huet had an average draft position of 49.0 in ESPN fantasy leagues; as of now, he sits at No. 35 on the Player Rater among goalies. The 34-year-old is best left to the risk-takers in the draft next fantasy season.
36. Tim Thomas, Boston Bruins: One owner in every league got burned on this one, big-time. Ranked at the top of our preseason list, Thomas plodded along before the bottom fell out and he lost his starting job to Tuukka Rask (more on him in a bit). Thomas has just 251 NHL starts, so he's a "young 35," but a bounce-back season seems very unlikely at this point.
NR. Marty Turco, Dallas Stars (for now): The Stars seem quite all right with letting the Turco era in Dallas end after this season -- he'll start the home finale Thursday night -- and Marty will be in search of a new team. It's not impossible that he becomes valuable again next season, but it will depend greatly on the situation.
NR. Chris Osgood, Detroit Red Wings: With Howard taking over as the Wings' main man, it's tough to project any kind of value whatsoever for Osgood.
Bouncing back?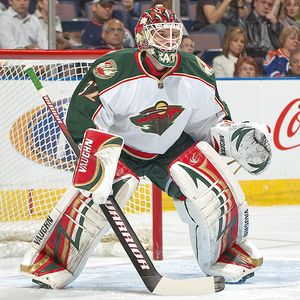 Andy Devlin/NHLI/Getty ImagesInjuries and an anemic Wild offense were reasons for Niklas Backstrom's struggles this season.
9. Niklas Backstrom, Minnesota Wild: Backstrom had some injury issues this season, and the team in front of him was one of the NHL's most impotent. Most pundits projected Backstrom as a top-tier goalie for this season, and he'll finish the campaign in the 40s among goalies on the Player Rater after an ADP of 15.6. But Backstrom is still talented, and with the right offseason moves by the team, he has the potential to unleash a great season next go-round.
15. Cam Ward, Carolina Hurricanes: After making the Eastern Conference finals in 2008-09, the Hurricanes had a massively brutal start to the season before Ward went down with his first long-term injury. Still, he remains one of the league's top backstops from a skills standpoint, and barring another freak injury early next season, he is a dependable source of output across the categories.
17. Ray Emery, Philadelphia Flyers: It's tough to forecast what will happen with free agent Emery this offseason. I expended quite a bit of digital ink on the guy's pre-injury performance (including what he did before when the injury actually occurred), and it looked as if he was poised for a bounce-back campaign this season. But by hiding the injury, it's possible he soured his relationship with teammates and management. If he's back in Philly, he'll be a solid starter; if not, we'll have to re-examine.
24. Steve Mason, Columbus Blue Jackets: In 2009-10, Mason had one of the worst sophomore slumps in recent memory, and Mathieu Garon even took over the lion's share of starts at times. Given our small sample size of data, it's hard to project what Mason will be able to do next season, but consider him somewhat of a sleeper. If he's back "on," he could be a great steal.
28. Kari Lehtonen, Dallas Stars: The Stars are Kari's team now, and technically he's already started to bounce back for our purposes. His ratios aren't stupendous, but with 50 or so starts next season, he'll be able to rack up a fair number of wins.
Free agents
11. Evgeni Nabokov, San Jose Sharks: The Sharks seem content to see what happens in the playoffs before committing, but the 33-year-old Nabokov could be a hot target this summer. If he's back in San Jose, expect another good season. If not, Thomas Greiss' value gets a big boost.
20. Chris Mason, St. Louis Blues: Mason could very well get a new deal from the Blues given the lack of a true franchise goalie in the pipeline. On the other hand, the Blues might let him take a hike and go after another free agent themselves. If he's back in the Lou, I expect another steady season.
25. Michael Leighton, Philadelphia Flyers: Leighton was playing pretty lights-out before an injury ended his season. He could be a difference-maker next season, but his value will depend greatly on how he fits into a time-share on whichever team signs him.
33. Jose Theodore, Washington Capitals: The Caps have yet to make any indication that they'll bring Theo back for next season; after all, they've got a slew of promising young netminders in the system. Unfortunately, Theodore will not be nearly as valuable on a team with less offensive firepower.
34. Antero Niittymaki, Tampa Bay Lightning: The streaky Finn will continue his up-and-down play regardless where he winds up. But given the price the Lightning paid for Mike Smith, I think Smith will get a bigger stake in the duties going forward.
35. Dan Ellis, Nashville Predators: For much of the season, Ellis was locked into one of the most even time-share splits in the league, oftentimes alternating consecutive starts with Pekka Rinne. But Rinne is the one who got the big extension this season, and Ellis will have a chance to go somewhere and start a bit more. This ranking could go up accordingly depending on what happens.
Super sophs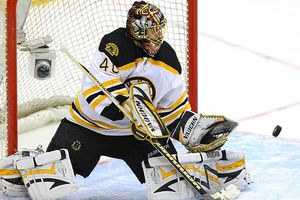 Tom Szczerbowski/US PresswireTuukka Rask seized the job from Tim Thomas this season and is a likely top-10 option next season.
8. Tuukka Rask, Boston Bruins: Rask wrangled the starting job away from Tim Thomas this season, and there was very little looking back. He'll enter training camp as the top option, and with a full slate of starts in 2010-11, he could be one of the elite.
16. Semyon Varlamov, Washington Capitals: As of now, it would appear the Caps will hit training camp with Varly as their lead dog, but re-signing Theodore could change that. Varlamov had streaks of brilliance in the 2008-09 playoffs before going through an inconsistent and injury-plagued season. But let's face it: Whoever gets the starting job in D.C. is going to be incredibly valuable for the foreseeable future.
22. Jonas Gustavsson, Toronto Maple Leafs: The Monster improved as the season went along, and was especially good in March: seven wins in eight starts, with a 2.06 GAA and .923 save percentage. The team appears to be trending upward as we hit the offseason, and this ranking could go even higher depending on what GM Brian Burke has up his sleeve this summer.
32. Jeff Deslauriers, Edmonton Oilers: This will have a lot to do with what happens with Khabibulin this offseason and at training camp. It didn't appear that Deslauriers was quite ready this season, but he did have the occasional great start, which yields some hope for him to be the future franchise goalie.
Tim Kavanagh is a fantasy hockey analyst for ESPN.com.
Fantasy and Insider
Tim Kavanagh is an associate editor for ESPN Fantasy and Insider, with specific responsibility for NHL and fantasy hockey coverage in addition to other sports.